May, 7, 2014
5/07/14
3:00
PM ET
The
Denver Broncos
honored their history this week and tied up a few loose ends along the way.
The team selected three more people for its Ring of Fame, and did it with a needed nod to the past. Too often, whether it's the Pro Football Hall of Fame, a team's list of all-time greats or simply somebody's all-everything team in cyberspace, too much attention is paid to the highlight generation, not enough to when the trail was carved in the first place.
So, it was good to see the Broncos add Gene Mingo, Rick Upchurch and Dan Reeves to its list of all-timers.
[+] Enlarge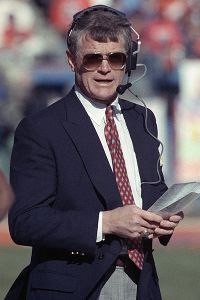 AP Photo/Ron HeflinFormer coach Dan Reeves says late comebacks are his favorite memories from his Denver days.
For some, the Broncos' history starts with Hall of Famer John Elway or even Mike Shanahan's long tenure with the team that included Super Bowl wins in each of the final two seasons of Elway's playing career. So, many of the "omissions" folks want to talk about in the Ring of Fame, or even the Hall of Fame, are often just a discussion of the post-90s Broncos.
So, to see Mingo honored, an original Bronco who played in the team's first five seasons, shows some respect for what came before the Broncos were the Broncos for many people.
Upchurch spent nine years with the Broncos, his last season was Elway's rookie year in 1983, but was good enough to make the league's all-decade team for the 70s as a kick returner. All-decade players are rare, all-decade players not in their team's Ring of Fame are rarer still.
And Reeves' selection shows time has perhaps healed some old wounds, at least enough to honor what was done in his tenure. Owner Pat Bowlen fired Reeves in 1992 after 12 seasons with the team and there are plenty of stories still swirling in the city about the level of friction that did or didn't exist between Reeves, Shanahan and Elway in those years.
Reeves is the first coach in the team's Ring of Fame. He won five division titles and made three Super Bowl appearances in a four-year span. As a player, assistant or head coach Reeves has participated in more Super Bowls -- nine -- than any other player or coach in league history.
"It'll probably be a tremendous emotion, I know that," Reeves said of the Week 2 ceremony in the coming season. "So many great memories. My family basically grew up, my three children, they only had to move one time from the time they got into school and the time they went to college. That wouldn't happen with many football coaches."
When asked about his most memorable games as Broncos head coach, Reeves was quick to invoke the team's top football executive -- Elway.
"We talk so much about the Super Bowls and all, but you know we played probably one of the more exciting championship games in Cleveland," Reeves said. "Every year you get to see that because that was noted as "The Drive" and the next year was "The Fumble," but those were two great championship games. Probably one of the championship games we lost up in Buffalo was one we very easily could have won, but that was a great year for us, too. It's something where when you win that many games, there were so many phenomenal comebacks that we had. One that sticks out was when John was a rookie and we played Baltimore, the Colts you know, and it was such a big deal about John not going to play for the Colts and they came in there and had a big lead in the fourth quarter and we came from behind and I think that's when we all realized that as long as we had John Elway, we could have a chance in the fourth quarter if we just even kept it close. When you look back at all the many comebacks that we had in the fourth quarter, it gave me a lot of grey hairs, but it was exciting."
When the names go up on the stadium fašade in September, it will be a deserved honor for all three whose time had come. And those who don't remember their history are often doomed to not enjoying all of the good parts, too.
December, 31, 2008
12/31/08
6:44
PM ET
Posted by ESPN.com's Bill Williamson
It is being reported the Cleveland Browns are planning to talk to Mike Shanahan about their open position. Shanahan could be intrigued by the power that the Cleveland job would offer and the chance to work with young quarterback Brady Quinn. The word is Shanahan is as open to coaching in 2009 as he is intrigued by the idea of talking the season off.
In his press conference, Pat Bowlen said that Broncos' personnel staff is safe. The thinking of the organization at this point is to bring in a new coach and have him work with the current front office.
The team may keep passing game coordinator Jeremy Bates. If so, that could mean the team is leaning toward keeping a defensive-minded coach.
Here are some of the more interesting quotes from Bowlen and Shanahan's press conference in Denver Wednesday:
BOWLEN
On whether he has a role available for John Elway

"John Elway has lots of things to do and he's got a business life of his own and he is a very busy man, involved with the (Arena Football League) Crush. I haven't talked to John, and I don't have any idea if he has any interest."
On whether he has talked with any of the players and gotten their reactions

"I talked to (QB) Jay Cutler, and Jay understood the conversation. I talked to him this morning. I didn't get any negative feedback. I think he understands enough about the business of football, the game of football, that there are going to be coaching changes and changes in organizations. I didn't sense that Jay had any negative feelings about it, and I'm sure he is very interested in who is going to be the next head coach. Obviously, he is the man around here now, so I will be talking with Jay."
On how he would react if Shanahan got a job within the AFC West

"I wouldn't be too happy if it was Kansas City. But Mike will have a lot of opportunities to go to different teams. If I am consulted by one of those teams, I will give him the highest marks I can."
SHANAHAN

On what he thought Bowlen was going to talk to him about

"I wasn't really sure. Maybe lunch, my new restaurant that I have to promote that I'm not getting any cash for right now."
On what he is looking for in his next job

"Everything... and players. (Whatever) gives you the best chance to win. A person (owner) that wants to compete, a person that wants to win the championship as badly as you do. That would be No. 1. Ownership that wants to win just like you do and is willing to go to extremes to get that done."
On if he talked with QB Jay Cutler

"I did talk to Cutler this morning. He tried to get in contact with me last night, and I called him this morning."
On the importance of Denver keeping some of its offensive staff

"Whoever the head coach that comes in (is), if he doesn't see what the offense did both in the running game and the passing game and the youth, (he) would have to be crazy not to try to keep the people that made it happen."
On if he wants to coach in college or the NFL

"Yeah, I think I'm an NFL guy. I'm not ruling anything out because when you don't have any jobs, beggars cannot be choosers. I'll just kind of wait and see. I'll look at anything out there to be honest with you, but I do love the NFL."
On if he would be surprised with John Elway working in Denver

"I think it would be great. You know what John Elway means to Denver. If I was a free agent coming in and John Elway was there, I would sign for no money. So it all depends on what John wants to do. There is a lot of time involved and John has got a lot going on. But I think John would be perfect for any organization, especially this one, if that's what he wanted to do."
This is what former Denver coach Dan Reeves had to say about Shanahan's firing on SIRIUS NFL radio:
"First of all it's a shock. I had no idea that that would happen. I don't think anybody did. Gosh, I think Mike had three years left on his contract and he and [owner] Pat [Bowlen] seemed to have such a great relationship. I certainly didn't see that. I know that had to be a big disappointment, having a three-game lead with three games to go and to have that happen. It had to be disappointing for everybody. I was shocked. They have constantly been one of the top offensive teams in the National Football League since Mike has been there and their defense over the last six or eight years has really struggled. But, you know, when you're in charge of everything then certainly the brunt of the decision has to fall on your shoulders."