AFC West:

Darnell Dockett
August, 30, 2010
8/30/10
10:39
AM ET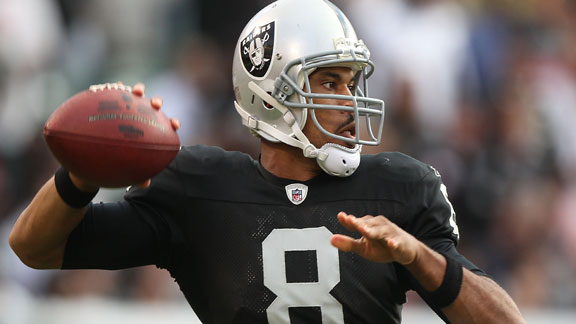 The NFC West is accustomed to catching its share of grief, and then some.
The
St. Louis Rams
own six victories over the past three seasons, the
Seattle Seahawks
own nine over the past two and the
San Francisco 49ers
haven't posted a winning record since
Mike Rumph
was a promising rookie cornerback for them (2002). The
Arizona Cardinals
have been better lately, but now they're reduced to
Derek Anderson
versus
Matt Leinart
.
No wonder AFC West blogger Bill Williamson thinks the new-and-improved
Oakland Raiders
would win the NFC West. But would they? NFC West blogger Mike Sando would put them third, behind the 49ers and Cardinals, even with
Jason Campbell
under center in Oakland.
[+] Enlarge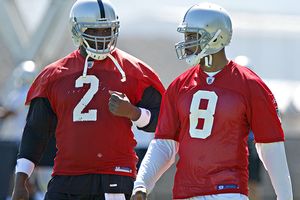 AP Photo/Ben MargotJason Campbell (8) is in, JaMarcus Russell (2) is out and that alone should make the Raiders a better team in 2010.
Bill Williamson:
Advocating for the Raiders is neither easy nor perhaps sane. After all, the Raiders have been the bastion of football futility for much of the past decade. Oakland has lost 11 games or more for the past seven seasons. That is an NFL record for bad, bad times.
The misery has to end sometime and this year may be the year Oakland finally emerges from the dregs of the league and becomes a legitimate, competitive team. The horrendous
JaMarcus Russell
era has ended. Jason Campbell is far from an elite player, but he is an established NFL quarterback who knows what he is doing. That alone should allow Oakland to be much more productive on offense. This is a team that scored just 17 offensive touchdowns in 2009. Campbell could help the team score 20-25 more touchdowns this season.
Mike Sando:
Let's say Campbell posts a passer rating in the mid-80s and the Raiders back him with a defense ranked in the top 10. The Raiders would take that scenario, no questions asked. The reality, though, is that Campbell's passer rating last season was 86.4 and the Redskins -- his old team -- fielded a defense ranked 10th in yards allowed. It all added up to a 4-12 record against a weak schedule. I like some of the Raiders' talent on defense, but 25 teams allowed fewer yards per game last season. It's a stretch to pencil in Oakland for a No. 10 ranking on defense in 2010 and a greater stretch to say they'd win the NFC West.
Williamson:
The defense in Oakland is going to improve. The Raiders have added two potential stars in middle linebacker
Rolando McClain
and defensive end
Lamarr Houston
, both in the first two rounds of the draft. The run defense has been horrible in recent seasons, but it should be much improved.
Sando:
I watched
Frank Gore
carry twice against the Raiders' starting defense Saturday night. He gained 58 yards on those runs, and
Mike Iupati
, the 49ers' rookie left guard, took out McClain pretty easily on one of those Gore carries. Preseason isn't much to go on, but Gore probably could have had 150 yards if the 49ers had left him in the game.
Williamson:
I can see why the 49ers removed Gore from the game. He's always getting nicked up and that probably will be the case again this season. Follow me for a minute here. Oakland should easily compete to win eight games. Sure, it is not the stuff of playoff dreams -- at least in a real division -- and it won't be enough to unseat San Diego in the AFC West, but this isn't about the Raiders' division. It's about the NFC West, which managed a league-low 12 victories outside the division last season (the AFC West had 18). There is no anchor team in the NFC West, unless you count the sinking Cardinals. San Francisco? Come on. These teams are not markedly better than the Raiders. Arizona is a mess as it enters the post-
Kurt Warner
era and San Francisco always seems to fall short of its potential. Put Oakland in the NFC West and you'd have your 2010 division favorite.
Sando:
There's no way Campbell would hold up in the NFC West behind that horrible offensive line. The 49ers roughed him up Saturday night (Campbell has a stinger and wrist injury as a result). A week earlier, the 49ers roughed up
Brett Favre
(the Vikings had to yank him after only four plays). The Cardinals' defensive front also would mangle Campbell. They feasted upon the
Chicago Bears
'
Jay Cutler
when both teams' starting units were on the field Saturday night. Cutler had zero points, four sacks and two interceptions in five drives.
Darnell Dockett
and
Calais Campbell
would feast on the Raiders' offensive line. It'll happen soon enough. The teams meet in Week 3.
Williamson:
Let's get back to the quarterbacks. No legitimate contender in the NFC West has one better than Campbell. Matt Leinart's career is on life support in Arizona and his replacement, Derek Anderson, is the quintessential stop-gap solution.
Alex Smith
is as fragile as a porcelain vase.
Matt Hasselbeck
is very much on the back nine of his career and
Sam Bradford
is just not ready to carry a team on his back. Not this year, at least.
Campbell is the most reliable of all of the above-mentioned quarterbacks heading into this season. He is a smart game manager who is not going to lose games. He will trust his young receivers and his potentially strong running game.
Sando:
Granted, the whole Leinart-Anderson debate isn't helping the NFC West's credibility. But the coaching in Arizona is solid and the team still has good talent throughout its roster. Jason Campbell might be an upgrade for the Raiders, but the Redskins did bench him during an ugly loss to the
Kansas City Chiefs
last season. Last time I checked, the Chiefs weren't good, even by AFC West standards.
[+] Enlarge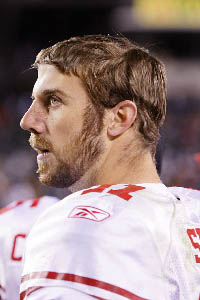 AP Photo/Matt SlocumAlex Smith threw 18 touchdowns and 12 interceptions in 11 games last season.
Williamson:
Campbell might not win games alone, but nine times out of 10, he won't lose them alone, either. The Kansas City game was an aberration. Campbell posted a passer rating of at least 90 in nine regular-season games last season. Kurt Warner did it eight times despite playing with a far superior supporting cast. Campbell has the potential to lead Oakland to around 20 points a game while throwing 20-25 touchdown passes and limiting his interceptions to under a dozen or so. Can any quarterback in the NFC West say that this season? In a league where quarterbacks reign supreme, Campbell would be the best quarterback in the NFC West. He'd give Oakland a strong chance to be the best team in the division.
Sando:
The 49ers had a chance to go after
Donovan McNabb
and they chose Smith instead. I didn't think it was the wisest move, but it's no stretch to think Smith will finish the 2010 season with better numbers than Campbell will post in Oakland. Smith had 18 touchdown passes with 12 interceptions in 10-plus games last season. Campbell was at 20 touchdowns and 15 interceptions over a full season. Smith has a clear edge over Campbell in available weaponry, and he's finally getting comfortable. Don't tell Al Davis this, but
Michael Crabtree
was a better choice than
Darrius Heyward-Bey
. Crabtree had more catches in 11 games last season (48) than any wide receiver for Oakland, and his total would have ranked tied for third on Campbell's Redskins. Better yet for Smith, Crabtree isn't necessarily the best option in his arsenal.
Vernon Davis
is a first-team Pro Bowl tight end,
Josh Morgan
is a decent No. 2 and newcomer
Ted Ginn Jr.
looks like he'll provide a welcome speed element on the outside. It's ironic that the 49ers have the pure burners -- Ginn and Davis -- Oakland usually covets.
Williamson:
Smith and Campbell have both faced tough circumstances in recent seasons. They've gone through coaching changes, gotten knocked around and faced criticism. Campbell has persevered far more impressively. He's held up physically and finished with more touchdown passes than interceptions in each of the four seasons he has played. Smith has done it just once -- last season -- and never as a full-time starter. He couldn't even beat out
Shaun Hill
heading into last season.
Sando:
Drawing the NFC West as part of the NFL's scheduling rotation is going to help Campbell, but it's not like the Redskins played a tough schedule last season. I heard Mike Shanahan call it soft during a recent radio interview. He's right. With Campbell at quarterback in 2009, the Redskins lost to the Lions, Panthers, Chiefs and Giants (twice). They barely beat the Rams, 9-7. They scored 17 points or fewer in 11 of 16 games. That doesn't look very good on a quarterback's résumé.
Williamson:
The Raiders are not all about Jason Campbell. Quietly, Oakland has added some very talented pieces throughout its roster. While Oakland has crashed and burned in the first round lately, it has not gotten enough credit for late-round finds. The unheralded results form the makings of a solid roster.
There are legitimate stars on this team.
Start with left cornerback
Nnamdi Asomugha
. If league observers would take their eyes off Revis Island for a minute, they would realize there is dominant cornerback play on the left coast, sans the snazzy nickname and lengthy contract holdout. Asomugha is one of the brightest, most instinctive players in the NFL. Consider that he plays a premium position and you have a highly valuable player.
The linebacking corps has a chance to be very good with McClain and Cleveland refugee
Kamerion Wimbley
. Wimbley showed his pass-rushing potential with four sacks in a limited role against Chicago in the second preseason game. Three-time Super Bowl champion
Richard Seymour
is anchoring a new-look and potentially outstanding defensive front.
Offensively, Campbell has some young, intriguing weapons to play with. Tight end
Zach Miller
is a blossoming star and one Campbell should utilize often. Young receivers
Chaz Schilens
,
Louis Murphy
and Heyward-Bey all have a chance to reach their immense potential very soon. Running backs
Michael Bush
and
Darren McFadden
could give defensive coordinators fits on a weekly basis because of their varied skills. There's talent in Oakland that teams in the NFC West simply can't match.
Sando:
Asomugha arguably would be the best player in the NFC West, but
Larry Fitzgerald
,
Patrick Willis
and
Steven Jackson
wouldn't be far behind. Kamerion Wimbley? I'll take Dockett,
Adrian Wilson
, Gore, Davis,
Dominique Rodgers-Cromartie
,
Justin Smith
, Matt Hasselbeck,
Marcus Trufant
-- the list goes on, and I've probably missed a few.
This debate will be tough to settle, but we can say the scheduling rotation should help one or more teams from each division pump up their records. NFC West teams eagerly can look forward to facing the Chiefs,
Denver Broncos
and possibly the Raiders. AFC West teams can feel the same way about games against the Rams and Seahawks, at least.
I'll be heading to Oakland in Week 2 for the Raiders' game against the Rams. St. Louis has managed only three victories over the past two seasons, but they're 1-1 against Campbell during that time, losing by two points at Washington in 2008 after suffering a fourth-quarter fumble inside the Washington 10.
If Bradford plays as well as he has recently, I won't be shocked if the Rams make it 2-1 against Campbell over the past three seasons.
May, 6, 2009
5/06/09
1:00
PM ET
Posted by ESPN.com's Bill Williamson
Mid-week mail call:
Jordan from Austin: Hey Bill I was wondering what you thought about the idea of playing antonio cromartie(Chargers) at free safety. He really got exposed last year after having a breakout season the year prior. He has immense physical talent and I think that if he were given the chance to roam the backfield at the safety position, he would be the dangerous threat at safety the chargers are looking for. Plus if he doesn't step up this year it looks as though antoine cason is going to supplant him.

BW: I agree that Cason could take over for Cromartie if he continues to struggle. But Cromartie will get the chance to bounce back from a disappointing 2008. If anyone is moved to safety, I think it will be Cason.
---
Brenden from Denver: Do you think the Broncos have any interest in trading for Darnell Dockett? Does he fit in their new defensive scheme?

BW: I'm sure Denver would be interested in Dockett. He'd fit in the 3-4 defense Denver is transitioning to. He'd be Denver's best defensive lineman. But the problem is Arizona is reluctant to trade him. So, this is likely only a pipedream for Denver fans.
---
Moreno Valley: do you think the raider chief rivalry will heat up this year, with both teams looking to regain ther winning ways?

BW: The Oakland-Kansas City rivalry will always be heated no matter how good or bad the two teams are faring. Of course, the rivalry will be more interesting if each team improves. But this is a good rivalry, no matter the two teams' records.

---
Jesse from Chula Vista:
Hey Bill. You're the man, love the blog! I wanted to ask a question regarding SD's sixth round pick,
Kevin Ellison
(SS from USC). He dropped to the sixth round because of his injury history and his slow forty time at the combine (4.87), but do you think he really plays that slow? I'm wondering if he wasn't 100% at the combine and that caused him to have a bad time. Bottom line, is this kid quick enough to play in the NFL and if so, what type of player do you see him becoming?
BW: That's nice of you, Jesse. I like the Ellison pick. He has a chance to help fairly soon. There is a need at safety and if Ellison can perform well in the preseason, I think he will work himself into the playing rotation. He is a smart, big hitter.

---
Ryan from Hagerstown:
Just got done reading the article on Merriman, where he says he wants to be in SD. What are the chances of him getting a big contract from the Chargers. Especially since Rivers, Gates and Jackson all need big contracts
BW: I think the Chargers realize how important Merriman is to the defense. If he has a big year, I think the Chargers will have to address a long-term contract for their best defensive player.
May, 5, 2009
5/05/09
4:49
PM ET
Posted by ESPN.com's Bill Williamson
There are still some big names available this offseason, and the Kansas City Chiefs have both the need and the salary-cap room to accommodate them. Here is a look at the possibilities:
Arizona receiver Anquan Boldin: The Chiefs could use Boldin, who wants to be traded. Kansas City has an extra second-round draft pick next year and has the ability to give him a big, new contract. Boldin also played for new Kansas City coach Todd Haley while they were both in Arizona. Yes, the two had a blowup in the playoffs, but they could coexist again.
Arizona defensive lineman Darnell Dockett: Dockett would fit in with Kansas City and he could play end in the 3-4 defense. There also is a connection with Haley and new Kansas City defensive coordinator Clancy Pendergast, who was Dockett's coordinator in Arizona. But the Cardinals are not expected to accommodate Dockett's request for a trade.
Free-agent linebacker Larry Foote: The former Pittsburgh linebacker has expressed an interest in playing for the Lions, and he reportedly will visit Detroit this week. While he would fit in Kansas City, it seems as if Foote is going to see if he can work out a deal first with the Lions.
Free-agent defensive end Jason Taylor: ESPN's John Clayton said Tuesday on SportsCenter that Taylor probably will end up either in New England or Miami. I still say Kansas City should pursue Taylor. He'd be a perfect fit for the Chiefs as he would give the team a much-needed pass-rushing presence. But it doesn't seem likely at this point.