October, 28, 2013
10/28/13
12:00
PM ET
A review of four hot issues from the
San Francisco 49ers
' 42-10
victory
against the
Jacksonville Jaguars
in London on Sunday:
[+] Enlarge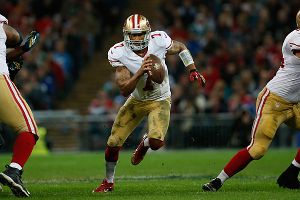 AP Photo/Matt DunhamColin Kaepernick and the 49ers ended the first half of their season with a dominant performance.
49ers are rolling:
The 49ers ended a 10-day road trip in style. They thrashed winless Jacksonville in London. This game was never in question as San Francisco led 28-0 in the second quarter. Last Sunday, the 49ers led the Titans 24-0 at one point. San Francisco has won five straight games and is 6-2 at its bye. The 49ers have scored at least 31 points in every game during the win streak. Sunday was an all-around great day for the 49ers. Kansas City improved to 8-0, so a third-round 2014 draft pick became a second-round pick to complete the trade of quarterback
Alex Smith
. The 49ers ended up with two second-round picks in the deal. It's a win-win.
Trade deadline looms:
Will the 49ers make a trade? The NFL trade deadline is 4 p.m. ET on Tuesday. They have been rumored to be interested in receivers for weeks. Still, it is unlikely a trade is made with
Michael Crabtree
and
Mario Manningham
returning. The NFL Network reported the team is willing to deal backup running back
Anthony Dixon
. He is a free agent at the end of the season. The 49ers likely wouldn't get much in return for Dixon. He is a key special teamer and might be the new kick returner.
Kyle Williams
was benched Sunday after a miserable game.
Kaepernick is explosive:
For the second straight game, 49ers quarterback
Colin Kaepernick
made big plays with his legs. He had 69 yards and a touchdown on 10 carries at Tennessee. Sunday, he had 54 yards and two touchdowns on seven carries. The 49ers are opening up Kaepernick in the ground game as the season goes on, and that's dangerous for opposing defenses.
Greg Roman sends message?
San Francisco's offensive coordinator Greg Roman had a great night calling plays on Sunday. It was varied and aggressive. The Jaguars' defense had no answer. It could serve as a retroactive reminder to first-year Jacksonville general manager David Caldwell, who didn't wait to interview Roman for the Jaguars head coaching job when the 49ers went to the Super Bowl, even though Roman and Caldwell were college teammates. Caldwell went with Gus Bradley. It seems it's just a matter of time before Roman gets the head-coaching call somewhere.
April, 5, 2013
4/05/13
6:15
PM ET
If a team wants to move up into the top three picks of the NFL draft, there will be plenty of opportunities to do so.
However, for the teams that hold the top picks, it may be difficult to get rid of the pick because of all of the competition. Add the
Jacksonville Jaguars
to the list of teams willing to jump out of the top of the draft. Jaguars GM David Caldwell told the
NFL Network on Friday
that the No. 2 overall pick could be up for sale. And that piece of news is, of course, of interest in the AFC West.
The
Kansas City Chiefs
have the No. 1 overall pick and the
Oakland Raiders
select at No. 3. Representatives from both teams have made it clear they are willing to trade the pick. Actually, I think Kansas City and Oakland would both prefer to deal to the pick, and same with the Jaguars.
The problem is there hasn't been much demand for the top choice, yet. An issue is the lack of quarterback prospects at the top of the draft. It seems as though many teams are willing to let the draft field fall to them.
Yes, there might be a trade or two, but it appears there will be competition between the three teams on top to get rid of the pick. That could potentially behoove Oakland since it has the lowest of the three picks and, thus, would command less than Kansas City and Jacksonville. The Chiefs will have to hope a team feels it is necessary to go as high as possible to ensure they get their coveted player.
January, 8, 2013
1/08/13
7:35
PM ET
Denver running back
Willis McGahee
returned to practice Tuesday for the first time since suffering a knee injury Nov. 18 against San Diego. He is eligible to play in the AFC Championship Game if Denver beats Baltimore on Sunday.
The decision on whether he does play will likely not be made until late next week. If Denver doesn't think he is ready to play on Jan. 20, the Broncos can wait, then activate McGahee for the Super Bowl if they qualify.
"He's worked very hard," Denver coach John Fox said of McGahee. "Greek (head athletic trainer Steve Antonopulos), our trainer, his staff and Willis have worked very hard to get him back. He had a good first day."
In other AFC West news:
On the general-manager front, CBS Sports reports that Green Bay executive John Dorsey
interviewed for the open job in Kansas City
. This is no shock -- Dorsey has been considered the favorite to be Andy Reid's right-hand man.
CBS Sports also reports that
the Chargers are expected to hire their general manager Wednesday. In-house candidate Jimmy Raye and Colts executive Tom Telesco are considered favorites. Once they settle on a GM, the Chargers will focus solely on a new coach.
The Broncos named guard
Chris Kuper
their winner of the Ed Block Courage award. Kuper has dealt with injuries since training camp.
ESPN columnist Jeffri Chadiha wonders
when
Peyton Manning
will be ready to hang 'em up. My opinion? I see at least two more years. He fought all the way back from a neck surgery that could have ended his career. He had a career year at age 36. Why consider quitting now?
Atlanta executive David Caldwell has become Jacksonville's general manager. That leaves an opening that could potentially fit Scott Pioli, whom the Chiefs let go from that position last Friday. Pioli has strong ties to the Falcons. If he wants to work next season, this could be his opportunity.
January, 1, 2013
1/01/13
9:10
PM ET
U-T San Diego adds
Atlanta Falcons front-office man David Caldwell to the group the San Diego Chargers will interview for their general manager job.
CBS Sports reports
Indianapolis Colts executive Tom Telesco will interview with the Chargers as well.
How badly do the Kansas City Chiefs need a quarterback? So badly that
the Football Outsiders believe
they had two of the worst five quarterbacks in the league this season.
In an Insider piece,
the playoff predictor

sees the Lombardi Trophy coming back to Denver for the first time in 14 years.