July, 24, 2014
Jul 24
8:00
AM ET
NAPA, Calif. -- What was the first question
Oakland Raiders
rookie quarterback
Derek Carr
had for veterans as time grew short to report for training camp?
"Where do I park when I get there?" Carr sheepishly admitted.
Carr, the Raiders' second-round draft pick out of Fresno State and QB of the future, found the Napa Valley Marriott Hotel & Spa's players-only lot on Wednesday -- yes, he drove himself rather than ride the "rookie" bus from Alameda -- and, just like that, his future was kickstarted.
"I'm starting to learn how to be an NFL quarterback," Carr told a cluster of reporters after checking in. "But I've still got a long way to go. So I'm just going to rely on my coaches and the team to help me get through my first camp."
Carr has first-hand experience, so to speak, what with older brother David spending 11 years in the NFL after the
Houston Texans
made him the No. 1 overall pick in 2002.
In minicamp, Carr was elevated to second-string on Oakland's depth chart, ahead of
Matt McGloin
and behind new starter
Matt Schaub
.
Ironically, it was Schaub who replaced the elder Carr in Houston and, if all goes according to plan in Oakland, the younger Carr will replace Schaub in the near future.
Schaub has been an accommodating mentor.
"Hopefully, Matt doesn't get too annoyed at me for asking too many questions," Carr said with a laugh. "Because I'm going to ask even more now. I'm going to try and pick his brain as much as I can."
May, 21, 2014
May 21
8:00
AM ET
ALAMEDA, Calif. --
Matt Schaub
replaced
David Carr
as the
Houston Texans
' quarterback and, if all goes according to the
Oakland Raiders
' plan,
Derek
Carr will end Schaub's run with the Raiders.
Funny how things work out, even if it might take a few years to come to fruition.
Because make no mistake about it, the Raiders acquired Schaub this offseason to be their franchise quarterback for the now, and they drafted Carr to be their franchise quarterback of the future.
"Matt Schaub is our starting quarterback," Raiders coach Dennis Allen said last week at the team's rookie minicamp. "We feel very good about that. I've said this before -- he's been a top 10 quarterback in this league and he's performed at a very high level.
[+] Enlarge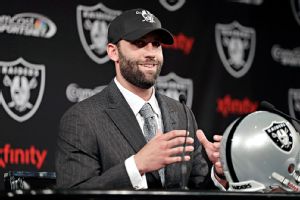 AP Photo/Ben MargotMatt Schaub reached out to his heir apparent, Derek Carr, after he was drafted, telling Carr, "Whatever you need, I'm here to help you."
"But yeah, we like
Derek Carr
, and we're going to let him go out and compete and see how things work out. You can't have enough good quarterbacks in this league. You never know when injuries are going to occur, and you've got to be prepared for that, so when you have an opportunity to get a guy like Derek Carr that you feel good about, you go and get him."
One of the first messages Carr received after the Raiders used their second-round pick (No. 36 overall) on the record-setting Fresno State signal-caller came from Schaub himself.
"He just said he's here to help me with whatever I needed," Carr said. "He said, 'Hey, man, I know you have your brother, who has played 13 years ... [but] we're teammates. I'm here for you every day. Whatever you need, I'm here to help you.'
"That meant a lot."
At Fresno State, Carr was the BMOC in throwing for 5,083 yards last season, on 68.9 percent passing, with 50 touchdowns and eight interceptions. In Oakland, he is a rookie biding his time, albeit with a serious pedigree. He was breaking down NFL tape with older brother David when he was 12 years old.
But that doesn't mean Carr, who will continue to wear the No. 4 he wore in Fresno in honor of
Brett Favre
, is being brash or outspoken ... yet.
"I'm just trying to encourage guys," Carr said. "This is a stressful environment. You're in the NFL. There's a lot of guys out here just trying to make the team. All of us, we're trying to make the team and trying to prove ourselves and these things. I'm just here to encourage guys, try to make it easy on them.
"If a guy dropped the ball, tell them, 'Great route,' those kinds of things. That's something I've done since I've been little. That's how I was brought up. I just try to encourage people."
Besides, Carr has his own things to work on as a newbie. He fumbled his first snap as a pro under center in Friday's practice.
"The main thing is throwing it to the right spot," he said. "There's so much that goes into one play, more so at this level than college or high school. I can't believe it. It's been fun to learn. It's something I enjoy. Absolutely I threw it to the right spot and again I have a lot to work on. I'm learning ... hopefully, there's a lot more after this."
May, 9, 2014
May 9
8:00
AM ET
ALAMEDA, Calif. -- Minutes after selecting Buffalo linebacker
Khalil Mack
with the fifth pick of the 2014 NFL draft,
Oakland Raiders
general manager Reggie McKenzie was asked if he thought his quarterback of the future might still be available.
Mind you, this was when
Blake Bortles
had been the only quarterback taken.
"Yes," McKenzie said softly, "there's an opportunity for that. Yes."
[+] Enlarge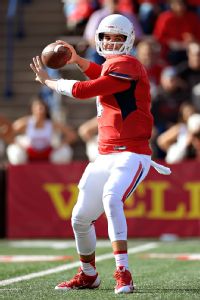 Thearon W. Henderson/Getty ImagesDerek Carr passed for 5,082 yards with 50 TDs and eight interceptions in 13 starts last season.
So by the time the dust cleared on the first round Thursday night, Bortles, who was taken third overall by the
Jacksonville Jaguars
, was joined by
Johnny Manziel
, who fell to 22
nd
and the
Cleveland Browns
, and
Teddy Bridgewater
, who went 32
nd
in the final pick of the night to the
Minnesota Vikings
, who traded up to get him.
Might Fresno State's
Derek Carr
, who has long been linked to the Raiders, still be on the docket when Oakland is scheduled to make the fourth pick of the night, No. 36 overall, or will the
Houston Texans
, who badly need a quarterback and lead off the second round, make it a family affair by drafting the younger brother of the man they made the first overall pick in 2002, David Carr?
From the Raiders' perspective, it's no secret they believe they are set with
Matt Schaub
for at least the next two years, and they even feel comfortable with backups
Matt McGloin
and
Trent Edwards
. But the feeling is also they would like to draft a project in the middle rounds, someone like Pittsburgh's
Tom Savage
. Currently, the Raiders' fourth-round pick is at No. 107 overall.
One plausible scenario has the Raiders, who do not have picks in the fifth or sixth rounds but hold three in the seventh, trading back in the second round to acquire more selections, especially if they are not truly in love with a player at No. 4 in the second round today.
McKenzie, though, said "no deal was presented, only interest" for the No. 5 overall pick on Thursday. With it not clear if there will be a market today for the Raiders' second-rounder, they have options.
Mack certainly addressed a need and was the best player available as well.
So, besides Carr, who passed for 5,082 yards with 50 touchdowns and eight interceptions and completed 68.7 percent of his passes in 13 starts last season, who is a potential target for the Raiders in the second round?
Here is a look at five possible prospects:
USC receiver
Marqise Lee
was the 2012 Biletnikoff Award winner as a sophomore, but had a down junior year. At just under 6-foot and 192 pounds, there are questions about his durability, but he is a playmaker after the catch.
Alabama offensive tackle
Cyrus Kouandjio
is massive at 6-7, 321 pounds, but there are concerns about his surgically repaied knee. He is considered an ideal fit to work in a power-blocking scheme.
Minnesota defensive tackle
Ra'Shede Hageman
is a disruptive if inconsistent force at a tick under 6-6 and 310 pounds. His athleticism might force a move to defensive end.
Utah cornerback
Keith McGill
is big at 6-3, 213 pounds, and his long arms make him an ideal fit for press coverage. Still, he only had one interception in two seasons for the Utes.
Nebraska cornerback
Stanley Jean-Baptiste
is also big for the position at 6-3, 218 pounds and had seven interceptions in 19 starts for the Cornhuskers.
April, 1, 2011
4/01/11
12:00
PM ET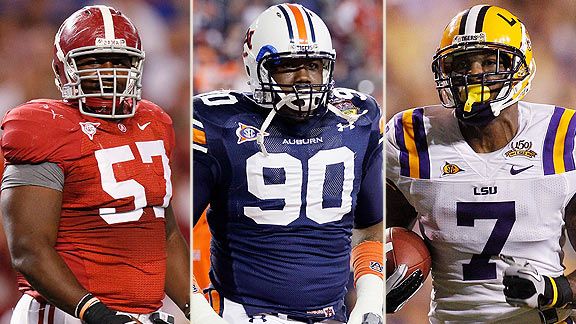 Getty ImagesMarcell Dareus, Nick Fairley and Patrick Peterson are all options for Denver at No. 2.
There wasn't a debate in the Carolina Panthers' draft room in 2002.
The Panthers' brain trust was certain it had identified the player who best fit their needs. All they had to do was wait to see what direction the one team in front of them would take.
"It was stressful because we knew what we wanted, but we still had to wait," former Panthers executive Tony Softli said. "At No. 2, you can almost control what you want to do, but not totally."
Softli and the rest of the Carolina brass were overjoyed when the
Houston Texans
used the No. 1 pick to take quarterback
David Carr
. That left the Panthers to take their top choice, and they grabbed defensive end
Julius Peppers
. They survived their short wait.
That was John Fox's first year as the Panthers' coach. That experience of having the No. 2 pick ended happily for Fox. Will it happen again? In his first season as the Denver Broncos' coach, Fox also has the No. 2 pick.
"Knowing John, he'll want defense," Softli said. "We'll see what happens with picking at No. 2 again."
The Broncos have been busy this offseason studying players at several positions in their attempt to get it right at No. 2. The only team in Denver's way is Carolina, which has the No. 1 pick. No matter what the Panthers do with the No. 1 pick, the Broncos know they must get this pick right. The Broncos were 4-12 in 2010 and haven't made the playoffs since 2005. They need an infusion of talent.
[+] Enlarge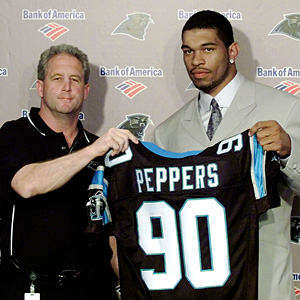 AP Photo/Rick HavnerJohn Fox found success the last time he had the No. 2 pick in the draft -- in 2002 when he and the Carolina Panthers took Julius Peppers.
"We know that the key thing is -- and we have talked about the fact that we have to be good in the draft -- we cannot miss in the draft, especially with where we are," said John Elway, the Broncos' new vice president of football operations. "We have to be dead on. … We cannot miss in the draft. We have to be good there."
Added Fox: "There'll be a player there who's worth that pick in this draft. Some years you don't want to be there, but there's a lot of players there in this draft."
Softli knows plenty about picking at No. 2. In addition to being in Carolina in 2002, Softli was an executive with the
St. Louis Rams
in 2008 and 2009 when they had the No. 2 pick.
"Picking No. 2 is a great place to be if there are multiple players to pick from at the spot," Softli said. "This is a good year to be at No. 2. There are a number of high-quality players. Denver can't go wrong."
Softli said it will help the Broncos that there is a chance the Panthers will take a quarterback at No. 1. The Panthers have been linked to Auburn's
Cam Newton
and Missouri's
Blaine Gabbert
.
The Broncos finished last in the NFL in total defense and points allowed. The draft is stacked with top defensive prospects. If the Panthers take a quarterback, Denver would have its pick of any defensive player on the board.
"I think a great spot to be in is No. 2 and not need a quarterback if there is a top quarterback available," said Matt Williamson of Scouts Inc. "The stud quarterback is going No. 1. If you pick No. 2 and you really need a quarterback, you probably aren't going to get him. But otherwise, it's a solid place to be."
There haven't been many quarterbacks taken at No. 2 in recent history. Since 1990, only three quarterbacks have been taken with the No. 2 pick. Each time, a quarterback was taken No. 1. The last time it has happened was 1999, when Philadelphia took
Donovan McNabb
at No. 2 after Cleveland took
Tim Couch
No. 1. In the same time span, a quarterback has been picked at No. 1 12 times.
"Usually, there aren't two quarterbacks worthy of the first two picks," Softli said. "So, the presence of a quarterback can really make a difference between one and two. If you pick No. 1 and you need a quarterback, you usually take one. That can help the team picking No. 2."
While the failures of the team picking No. 1 are most remembered, success at No. 2 has been far from guaranteed. There have been epic failures at No. 2 in the past 20 years.
Ryan Leaf
, taken by the Chargers in 1998, is considered one of the greatest draft busts in NFL history. The Colts took
Peyton Manning
at No. 1 that year. Other major busts since 1990 at No. 2 include Jets running back
Blair Thomas
(1990), Seattle quarterback
Rick Mirer
(1993, taken after New England drafted
Drew Bledsoe
) and Detroit receiver
Charles Rogers
(2003).
There have been plenty of draft hits at No. 2 in the time span. Some of the solid picks in that spot include running back
Marshall Faulk
(Colts, 1994), McNabb, Peppers, receiver
Calvin Johnson
(Lions, 2007) and defensive tackle
Ndamukong Suh
(Lions, 2010).
Softli was with the Rams last year when they picked No. 1. Softli said he feels there is nearly as much pressure drafting No. 2 as there is at No. 1.
"It's almost as hard," Softli said. "I know everyone concentrates on the No. 1 pick, but an owner will look at you funny if you mess up the No. 2 pick, too."
November, 3, 2008
11/03/08
6:15
PM ET
Posted by Scouts Inc.'s Keith Kidd
| | |
| --- | --- |
| | |
| | Kyle Terada/US Presswire |
| | Raiders quarterback JaMarcus Russell has not had an easy transition to the NFL. |
The Oakland Raiders' schedule is only half finished, and already it has been a long, brutal season for quarterback JaMarcus Russell.
Without a doubt, the low point came in Sunday's 24-0 loss to the Falcons, in which Russell completed just six of 19 attempts for 31 yards. He absorbed four sacks, coughed up a fumble and threw a pick. Wasn't this guy a No. 1 draft pick? With Atlanta's Matt Ryan and Baltimore's Joe Flacco more than holding their own as rookie starters, has Russell already proven that he won't live up to his draft status?
First, let's get a few things straight. Quarterback is the most difficult position to play in the NFL, period. Doing it well as a rookie is rare (Ryan and Flacco notwithstanding). And because Russell held out before last season and didn't arrive in training camp until September, he missed an enormous developmental opportunity. Camp is about learning fundamentals, improving the understanding of concepts and getting in reps. The whole dynamic changes once the season starts, when teaching takes a back seat to game planning. And because he played very little until the last two weeks of the season (after leaving LSU as a junior), Russell might as well be a rookie now.
That explains why his reads, progressions and processing are so far behind. And because young, big-armed quarterbacks often believe they can throw through anything, he has predictably forced some balls into coverage. I see no significant flaws in Russell's mechanics, but he has so little experience running a pro-style offense and breaking down complex back-end coverages that it's no surprise he has struggled.
Russell's surroundings in Oakland have been just as detrimental. Say what you will about Lane Kiffin, but he had a solid track record of working with quarterbacks and he played to Russell's strengths while carefully developing his young quarterback. Though Kiffin's West Coast offense was complex (another reason behind Russell's slow progress), the Raiders' run game thrived and the passing scheme's shorter drops and routes allowed Russell to get the ball out quicker. Under Kiffin, Russell also seemingly was asked to read only half the field on a majority of plays, which made for simpler reads and helped the quarterback avoid game-changing mistakes and build his confidence. Since Tom Cable took over as interim coach, the Raiders are stretching the field more (a good thing), but they're doing it without the benefit of good protection, receivers who are able to create separation or a run game that creates favorable down-and-distance scenarios (a very bad thing).
Consider the Falcons game "Exhibit A." Russell never had a chance. Oakland couldn't run the ball, receivers weren't getting open and the offensive line looked like a turnstile as Russell got blown up time after time on five- and seven-step drops. Eventually, that sort of treatment gets to a quarterback. Russell already looks like a quarterback playing with minimal confidence, and if he isn't already a bit skittish in the pocket, he will be. Just ask David Carr.
So where do the Raiders go from here? If they're going to let Russell play, they must downsize the offense and use fewer formations and fewer route combinations. They must go back to allowing Russell to read half the field and give him levels to throw to on the strong side. The Raiders need to put him in more situations that allow him to be successful and must continue to find things that work for him. Until the rest of this team shows improvement, Oakland must protect Russell's body and psyche as much as possible.
A better plan: Let him learn. Send Russell to the sideline to regroup and get a different vantage point of the game, which can be helpful for a growing quarterback. The Raiders may believe they don't have that luxury, but what is the alternative? This situation looks like a runaway train with no stops along the way. Hopefully, Russell has the mental toughness to handle it, but Oakland is at risk of letting its franchise quarterback slip away.
Scouts Inc. watches games, breaks down film and studies football from all angles for ESPN.com.