September, 22, 2013
9/22/13
6:50
PM ET
DENVER – Upon arriving in Colorado on Sunday, the
Oakland Raiders
added starting strongside linebacker
Sio Moore
to their injury report with a concussion. The rookie's status for Monday night's game against the
Denver Broncos
is questionable.
Moore
The Raiders did not elaborate on the cause of Moore's concussion, though
he did tweet
: "Talk about a scary morning man. Just thank god I'm safe and made it safely to CO."
Moore, who dealt with a toe injury and came off the bench in the season opener at Indianapolis, started the Raiders' home opener against Jacksonville last week. He was not on the Raiders' injury report during the week.
Strong safety
Tyvon Branch
(ankle), left tackle
Menelik Watson
(knee) and tight end
David Ausberry
(shoulder) already were ruled out of the Broncos game, while left guard
Lucas Nix
(ankle) was listed as questionable.
August, 3, 2012
8/03/12
12:00
PM ET
NAPA, Calif. -- One of the biggest curiosities in the NFL this summer is what is occurring in Wine Country. Graced with the prettiest training camp setting in the league, the
Oakland Raiders
are changing in front of our very eyes.
On the same practice field where the late Al Davis used to famously stalk practice from a nearby golf cart, the Raiders are a drastically different franchise as they enter their first full season since Davis died last October at the age of 82.

The team is now run by first-time general manager Reggie McKenzie, a respected former Green Bay executive and former Raiders linebacker. He was handpicked by several of Davis' closest confidantes. McKenzie chose Dennis Allen, who at 39 is the NFL's youngest coach, to take over the team.
For a franchise that was closely ruled by Davis until his death, the Raiders are hoping a dose of NFL modern structure will pay dividends. Even though it has been 8-8 in the past two seasons, Oakland hasn't had a winning record in 10 years and it is tied for the second-longest playoff drought in the league.
Perhaps McKenzie and Allen are the winning combination for Oakland.
"I think everybody is interested to see what happens," said Oakland safety
Michael Huff
, who has been with the Raiders since 2006. "I've only known one way. To have this new structure is new to me."
THREE HOT ISSUES
1. Keep McFadden healthy:
The Raiders' best player is running back
Darren McFadden
. He has to stay healthy, but that hasn't been easy for the fifth-year player. He has missed at last three games in each of his four NFL seasons. He missed the final nine games of last season with a serious foot injury. If McFadden can stay healthy, the Oakland offense will be dangerous and it will help quarterback
Carson Palmer
make a difference in his first full season in Oakland. If McFadden can't stay healthy, the Raiders could be in trouble. They are not deep behind him and lose a major dimension with McFadden sidelined. McFadden has looked good so far, but the key is that he looks healthy.
2. Improve on defense:
Allen is the first defensive-minded head coach of the Raiders since John Madden, who was hired in 1969. There is a reason McKenzie went with a defensive coach: the Raiders need the most help on that side of the ball. Oakland has been sloppy and has allowed too many big plays on defense. Allen helped change the defensive culture in Denver last year during his one season as the defensive coordinator there. His quest to improve Oakland's defense begins now.
[+] Enlarge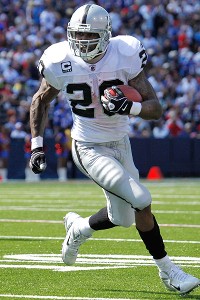 AP Photo/Derek GeeA healthy Darren McFadden is crucial for Oakland's success.
3. Cut down on penalties:
The Raiders set NFL records for penalties and penalty yardage last season. It has long been a problem in Oakland. Now, it is up to Allen to get it figured out. Playing disciplined, correct ball is a focus of every camp. It has to be drilled into this team on a daily basis. To his credit, former coach Hue Jackson tried to fix penalties on a weekly basis last year and it didn't work. It's now one of Allen's greatest challenges. Allen stresses the importance of discipline every day and he will need to change this self-destructive trend.
REASON FOR OPTIMISM
This roster has a lot of talent on it. The Raiders were on the edge of the playoffs last year, and there are lot players who think they are capable of taking the next step. Palmer has talked playoffs, and McKenzie says he thinks his team is headed in that direction.
The offense has the capability to score a lot of points, and the defense is loaded up front. It's not like this team is going to be horribly overmatched on a weekly basis. You can watch training camp and you see good players on the field.
REASON FOR PESSIMISM
This team is pretty thin at a lot of places because of the loss of several players through free agency, salary dumps and small draft classes the past two years. Again, there is talent assembled in this camp, but there are holes on this team. Positions such as running back, tight end, offensive line, linebacker and the secondary cannot afford too many injuries.
This camp is about keeping the top players healthy and hoping it all comes together. If injuries occur, Oakland will have to get creative to stay competitive.
OBSERVATION DECK
The offense looks crisp. The pace of practice has been fast as the team adjusts to playing in the West Coast offense under coordinator Greg Knapp. The unit does not look behind.

Harry How/Getty ImagesCarson Palmer threw for 2,753 yards in 10 games with the Raiders last season.

Palmer throws a pretty deep ball. With the Raiders' speed at receiver, they should parlay that combination into a lot of fast scores this season.

There is a lot of talent at receiver. I can see this team using five receivers in a game. There will be a lot of options.

Defensive lineman Tommy Kelly looks to be in good shape. He is one of the more underrated defensive linemen in the league.

Defensive linemen Matt Shaughnessy is looking good after missing much of last season with a shoulder injury. He is known as a stronger pass-rusher, but he can also stop the run. He is aiming for a big year.

I don't anticipate a big adjustment period for second-year player Stefen Wisniewski as he moves from guard to center. He has played center before and he originally projected as an NFL center. He is a smart player who seems comfortable at the position.

Don't expect too much from quarterback Terrelle Pryor right away. He is a work in progress and he will be up and down in camp. I think Matt Leinart has a pretty strong hold on the No. 2 job as of now.

Second-year cornerback DeMarcus Van Dyke has a chance to make a push for a starting job. He opened camp as a starter with Ronald Bartell out with a hamstring injury. I could see Van Dyke pushing Bartell or Shawntae Spencer at some point.

The team is impressed with rookie linebackers Miles Burris and Nathan Stupar. Both players are instinctive and professional. I wouldn't be surprised if Burris earns major playing time.

The team is high on third-round guard Tony Bergstrom. The game doesn't look too big for him, and he is a mature player.

New defensive coordinator Jason Tarver has a lot of energy. Watching him operate with his lively personality and blond hair invokes memories of a young Jon Gruden wearing the Silver and Black. Like Gruden, the intelligent Tarver is a young coach to watch.

I think we will see tight ends Brandon Myers, David Ausberry and Richard Gordon all get ample playing time in the preseason. I think that can continue into the regular season if each player carves their own niche.

Safety Mike Mitchell is the early leader in the clubhouse to replace Rock Cartwright, now in San Francisco, as the punt protector.

Receivers Denarius Moore and Jacoby Ford will get most of the camp looks at punt returner for now.

Undrafted rookie receiver Rod Streater has taken off where he left off in the OTAs. He has been an early camp star.

I could see a scenario in which the Raiders keep fullback Owen Schmitt in addition to Marcel Reece. The tough Schmitt and the versatile Reece offer different things to the offense.
July, 24, 2012
7/24/12
10:35
PM ET
The return of the Kansas City Chiefs' health officially begins Friday.
Kansas City general manager Scott Pioli
told the Kansas City Star
that three standouts -- safety
Eric Berry
, running back
Jamaal Charles
and tight end
Tony Moeaki
-- are all expected to practice Friday. All three players suffered season-ending torn ACL injuries last September.
All three players were expected to be ready, but now that Pioli has said it, it has to be a relief for the Chiefs.
In other AFC west news:
New England signed tight end Visanthe Shiancoe. He was one of the better tight ends on the market and there has been some talk Oakland could sign him. The Raiders are inexperienced at tight end. The Raiders have said they believe in the trio of David Ausberry, Brandon Myers and Richard Gordon.
Denver standout guard Chris Kuper will practice on a limited basis Thursday when camp opens. He suffered a severe ankle injury in Week 17.
May, 29, 2012
5/29/12
8:00
AM ET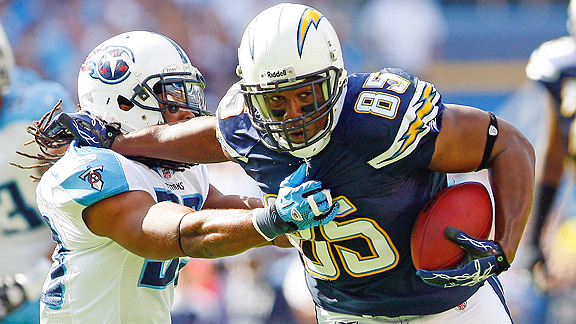 Jody Gomez/US PresswireSan Diego veteran Antonio Gates remains one of the NFL's elite tight ends.
We are continuing our AFC West positional rankings with the tight ends. It's a group that is great at the top and young and workmanlike after that. Here we go:
1. Antonio Gates, San Diego:
Gates is getting older and health has been an issue. But he is still the class of this division.
2. Tony Moeaki, Kansas City:
It will be interesting to see if Moeaki can quickly rebound from missing his second season with a torn ACL. He had a terrific rookie season. I think he has star potential.
3. Jacob Tamme, Denver:
I went with Tamme over his teammate because Tamme already has a relationship with
Peyton Manning
from their Colts' days.
4. Joel Dreessen, Denver:
We will see a lot of Tamme and Dreessen. Both are professionals who are capable of making big plays.
5. Kevin Boss, Kansas City:
Boss is best suited as a second option, and he is a good one. Moeaki-Boss is a nice combination.
6. Randy McMichael, San Diego:
A gritty, hard-nosed veteran who the San Diego coaching staff loves.
7. Brandon Myers, Oakland:
He's a good player who is limited in the receiving game.
8. Julius Thomas, Denver:
The Broncos love the potential of this former college basketball player. Injuries robbed him of most of his rookie season, but he showed preseason flashes.
9. David Ausberry, Oakland:
A converted receiver who gets a chance to show what he can do for the Raiders at one of their most vulnerable positions.
10. Richard Gordon, Oakland:
A blocker who will be given a chance to develop for the Raiders.
11. Ladarius Green, San Diego:
Don't expect much from this fourth-round pick right away, but I can see him being given an opportunity or two. The Chargers think he can be Gates' eventual replacement.
May, 15, 2012
5/15/12
4:30
PM ET
ALAMEDA, Calif. -- Observation from the Raiders' OTA day on Tuesday:
Oakland is opening up its OTA days with a four-man defensive front. New coach Dennis Allen is adamant the Raiders will use multiple sets and we will see some 3-4 sets.
Running back
Darren McFadden
practiced fully for the first time since last October. He missed the final nine games of the season with a foot injury. He looked good. Allen said McFadden is at full speed.
Even if the Raiders sign fullback
Owen Schmitt
(who is here on a tryout basis), don't expect
Marcel Reece
to be moved to tight end on a permanent basis. Reece is versatile and he will line up at tight end in some packages, but I expect him to stay a fullback.
Reece has not signed his restricted free-agent tender and he was among the players who were not at the voluntary camp Tuesday. Defensive lineman
Richard Seymour
was not at this camp. Allen said Seymour was at a previous camp and he has been in contact with the coaching staff. Allen called missing this session a "tradition" for Seymour. Middle linebacker
Rolando McClain
also was absent from the session, instead dealing with legal issues in Alabama.
Safety
Mike Mitchell
has a knee injury and was not practicing. Among the other injured players are defensive end
Matt Shaughnessy
(shoulder), center
Stefen Wisniewski
(he had a minor shoulder procedure this offseason) and guard
Mike Brisiel
(hamstring). None of the injuries appear serious and Allen said Shaughnessy is doing well in his rehabilitation from the injury that prematurely ended his 2011 season.
Quarterback
Carson Palmer
looked good. Backup
Matt Leinart
looked so-so and third-string quarterback
Terrelle Pryor
was often off-target. Pryor very much remains a work in progress.
Allen said he likes his stable of running backs, but he is on the lookout (like at all positions) for more help if the situation is right.
Receiver-turned-tight end
David Ausberry
has bulked up to help him as a blocker. Allen said he still sees Ausberry as a pass-catching tight end.
Allen said the emphasis to cut down on penalties -- the Raiders set a record for penalties last season -- has begun in the meeting room and will continue to evolve.
The Raiders are one of six NFL teams to participate in the launching of a new helmet for youth football programs to promote increased safety.
April, 30, 2011
4/30/11
10:30
PM ET
ENGLEWOOD, Colo. -- Denver plans to bring back veteran safety
Brian Dawkins
at this point. He may need to take a pay cut. New Denver coach John Fox loves veterans and Dawkins' presence should help rookie safeties
Rahim Moore
and
Quinton Carter
.
Denver never took a defensive tackle, despite it being its greatest need. It's no surprise Denver didn't take a defensive tackle on Saturday. Once the second round passed, there weren't many quality prospects available.
The rumor mill in Denver is already spinning a Kyle Orton-Albert Haynesworth trade. Washington needs a quarterback and Denver needs defensive tackle. Makes senses, would Denver want to pay Haynesworth?
Expect Denver's starting linebacker crew to look this way: Von Miller at strongside linebacker, third-round pick Nate Irving in the middle and veteran D.J. Williams on the weakside.
Denver second-year quarterback Tim Tebow said he was pleased to hear Denver leader John Elway is behind him. Elway said Saturday that Denver will look at the top quarterbacks in every draft. Denver looked at the top eight quarterbacks this year without taking one. Fox, once again, said Orton is the starter as of now. Still, I expect Tebow to get the chance to play in 2011.
The Raiders took two receivers who played for former Oakland coach Lane Kiffin. They took Tennessee receiver Denarius Moore in the fifth round and USC receiver David Ausberry in the seventh round. Moore is fast, but he has issues with his hands. Ausberry is very big and he is an interesting prospect. Oakland has a lot of young receivers so these two players will have to work to make the team.
In his first draft, Elway took a player from Cal -- linebacker Mike Mohamed -- without taking a player from his alma mater. Mohamed, a candidate to play right away on special teams, said Elway noted that fact in a phone conversation Saturday.
Denver entered the draft wanting four immediate starters. It may have gotten five in Miller, Moore, Carter, Irving and right tackle Orlando Franklin.
Fox noted that Denver tight ends coach Clancy Barone was part of Antonio Gates' development in San Diego. Barone is in charge of making fourth-round pick Julius Thomas an NFL player. He played one year of college football after playing college basketball. Gates played college basketball but not college football.
The Chiefs made an intriguing pick in the sixth round in defensive tackle Jerrell Powe of Mississippi. He fills a need for the Chiefs. He is the massive run plugger that the team has been seeking. He was considered a first-round possibility a year ago. He has stamina issues, but he could help in a limited role as a rookie.
Denver took Oklahoma defensive end Jeremy Beal, who was productive in college even though he didn't test well at the combine. He had 28.5 sacks and 53.5 tackles for losses in college. That's a steal in the final round.