AFC West:

De'Anthony Thomas
August, 10, 2014
Aug 10
3:00
PM ET
ST. JOSEPH, Mo. -- The punt that rookie
De'Anthony Thomas
returned 80 yards for a touchdown in the Kansas City Chiefs' preseason opener last week guarantees him nothing when the regular season begins on Sept. 7 against Tennessee.
But in the bigger picture, it's not meaningless that Thomas, returning a punt for the first time in an NFL game, scored a touchdown. That kind of thing can provide benefits for the Chiefs and Thomas on Sept. 7 and beyond.
"It's very meaningful for him,'' special teams coordinator Dave Toub said. "He's a rookie. He went in there, and he showed a lot of courage. Those are the things we wanted to see. He showed a lot of courage catching the ball. He took a good hit and still held on to the ball, didn't go down, kept his balance. Once he's able to get in the open field you can see how dangerous he is.
"It was good for everybody's confidence. It's going to lift us up. Guys will block even harder next time.''
The Chiefs, in their first season with Toub as their coordinator, established themselves in 2013 as among the league's best teams in the kicking game. They scored four touchdowns on kick returns and set an NFL record for average kickoff return.
Already, they're serving notice that won't change. Thomas is replacing
Dexter McCluster
, who made the Pro Bowl last year as a punt returner but moved to the Titans as a free agent.
The Chiefs will use
Knile Davis
as their main kickoff return specialist. But another rookie,
Albert Wilson
, had a 65-yard kickoff return in last week's game.
The immediate success of two rookie kick returners makes it look like the Chiefs can plug anyone into those spots and fare well. That's an oversimplification, but it is true that Toub seems to have the magic touch with returners.
Before joining the Chiefs, he coached special teams for the
Chicago Bears
for nine seasons. The Bears scored 22 touchdowns on kick returns in that time, and they weren't all the work of
Devin Hester
-- but six different players.
There's no question that in Kansas City, Thomas and Davis are talented kick returners. That's particularly true for Thomas, who can make the first defender miss and showed his world-class speed on last week's touchdown.
But with Toub as their coach, the Chiefs might have a good return specialist no matter who they put back there to shag the kicks.
August, 5, 2014
Aug 5
4:00
PM ET
As NFL offenses continue to evolve and the passing game takes on more prevalence, the running back is losing his value. No back has been selected in the first round of the draft in the past two years.
That trend hasn't reached Kansas City and the Chiefs, at least when it comes to the value of the featured back. The Chiefs celebrate their backs, who are as important as ever to Kansas City's offensive fortunes.
Charles
The Chiefs realize this. They recently gave a contract extension to running back
Jamaal Charles
, who led the Chiefs in rushing, pass receiving and touchdowns last season. Despite the presence of Charles, the Chiefs drafted a running back in each of the past three years and two of them,
Knile Davis
and rookie
De'Anthony Thomas
, join Charles as Kansas City's preeminent big-play threats.
The Chiefs will wind up cutting at least one back or perhaps two who could play for other teams,
Cyrus Gray
and
Joe McKnight
.
So excuse Charles if he takes offense at the notion that running backs just aren't as important as they once were.
"I don't think it's changed,'' he said. "I think it depends on what style of running back you have. You can have a power back, [but] there are a lot of power backs [who] can't catch the ball. Or you can have a skilled back [who] is an athlete, can run and catch the ball like a wide receiver. I think that can bring the game back.
"I think running back is the most important [position] on the field because we pick up the blitz, we run the ball, and we catch the ball. So I think we do more than the wide receivers, O-line, and maybe the quarterback. So I think the running back job is really important."
Charles' role was even important for the Chiefs in last year's preseason opener against the Saints in New Orleans. He got the ball eight times, five times on a handoff and three as a receiver and scored a touchdown on a 1-yard run.
But that was the Chiefs' first season under Andy Reid, and they were still trying to find themselves an identity. Charles may not get as much work Thursday night when the Chiefs open their preseason, this time at Arrowhead Stadium against the Cincinnati Bengals.
"Whatever the coaches do, I'm all with it,'' Charles said. "If I have to play, I have to play. It's my job to play football.
"Whatever the coaches think I need . . . I guess I've got to go out there and do it. I can't complain. I'm not going to be selfish. I'm going to do what they tell me.''
July, 28, 2014
Jul 28
4:00
PM ET
ST. JOSEPH, Mo. – Dave Toub has been fortunate to work with some great return specialists in his years as a special-teams coach. Toub has another such candidate this year in Chiefs rookie
De'Anthony Thomas
.
Thomas is fast and quick but has more going for him than that as a punt returner.
"His ability to make the first person miss, he's got that,'' said Toub, whose returners over the years have included
Devin Hester
in Chicago. "It's the same thing Devin Hester had. The thing we need to work on with [Thomas] right now is his catching and his ball reads. You'll see him in practice occasionally have to run late to make a catch. It's just a matter of him seeing the ball where it's going to be and have the ball chase him and not him chase the ball.''
The presence of Thomas and
Knile Davis
as their leading kickoff returner has the Chiefs thinking they can match or surpass the four kick return touchdowns they scored last season. Davis returned one kickoff for a touchdown, as did
Quintin Demps
.
Dexter McCluster
scored twice on punt returns.
Demps and McCluster now play for other teams, but the Chiefs are in a good spot with the addition of Thomas. He had five returns for a touchdown in his three collegiate seasons at Oregon.
While Davis will be the main kickoff returner, the Chiefs plan to use Thomas there on occasion.
"There might be a situation where you might have Knile and him in the game at the same time and have a special return designed specifically for De'Anthony,'' Toub said. "He can do a lot of different things that Knile can't. Knile is more of a power, speed, straightahead [runner]. That fits our scheme but you can do other things with De'Anthony.''
June, 19, 2014
Jun 19
8:05
AM ET
KANSAS CITY, Mo. -- Rookie De'Anthony Thomas hasn't been a constant at
Kansas City Chiefs
' offseason practice, which concludes Thursday. He had to skip 10 of their 16 practices because of NFL rules prohibiting players from participating while their college was still in session, as Oregon was until last week.
But Thomas has been around enough to flash his speed, which is world class. The Chiefs have used Thomas at running back, as a wide receiver and as a kickoff and punt returner, or as Thomas said, "a little bit of everywhere.''
The Chiefs need to put that speed to good use. There's a limit to how much they can play Thomas, who at 5-foot-9 and 174 pounds probably isn't the most durable player around. In his first practice in the true heat of a Kansas City summer this week, Thomas couldn't cope and had to leave the field early.
At a minimum, the Chiefs need to use Thomas as their return specialist. He's the best they have. On offense, they should be able to pick their spots and get him the ball a few times every game. Though he had to miss a majority of offseason practice, he would Skype regularly while he was gone with running backs coach Eric Bieniemy to review practice video and go over his assignments.
If the Chiefs can get the ball to Thomas just 10 times a game, they should see the reward.
June, 17, 2014
Jun 17
7:45
AM ET
The
Kansas City Chiefs
begin their three-day minicamp on Tuesday. Here are three things I'll be looking for:
The full-squad debut of De'Anthony Thomas. The Chiefs' fourth-round draft pick, Thomas hasn't been able to practice since the rookie camp shortly after the draft. Classes had still been in session at Oregon, where Thomas went to college, and NFL rules prohibited him from working with the Chiefs. That ban is now over and it will be interesting to see how Andy Reid utilizes Thomas' speed in the offense. He lined up in a variety of spots during rookie camp, including wide receiver, slot receiver and running back. He also should get a turn as the kickoff and punt returner.
The return of Travis Kelce. Another player who could provide an offensive boost, Kelce also hasn't practiced this spring. He had knee surgery last year, missing all of the season, and has been rehabbing, but Reid held out some hope Kelce could get some work this week. That's good news for the Chiefs, who other than Thomas added no significant new offensive skill players. Kelce is a tight end, but also lined up in a variety of spots before his injury last year. He showed then the ability to get down the field to beat coverage and make plays.
Life without Brandon Flowers. The Chiefs have been practicing without Flowers all spring but there was always the sense that having Marcus Cooper in the starting lineup was a temporary thing. The spot is Cooper's now and there doesn't appear to be anyone who can challenge him for the job. Ron Parker, who has been getting recent snaps in the starting lineup, has been beaten several times. Rookie Phillip Gaines, a third-round pick, doesn't look like he's ready to help yet.
May, 25, 2014
May 25
5:45
PM ET
KANSAS CITY, Mo. -- Some observations from the second day of the
Kansas City Chiefs
' rookie camp:
-- The Chiefs continued to utilize
De'Anthony Thomas
in a variety of spots but he received more work as a wide receiver than he did on Saturday. Thomas, a fourth-round draft pick, still lined up plenty of times as a running back. Though he could get some work there when the regular season begins, I still don't see how the Chiefs will get much out of him as a running back. First, the Chiefs are loaded there with
Jamaal Charles
and
Knile Davis
. Life is also not just difficult for 5-9, 175-pound running backs, but also the teams that utilize them. Until such a time comes that the Chiefs move Thomas to receiver full-time, running backs coach
Eric Bieniemy
will work Thomas hard. Bieniemy yelled at Thomas to finish on several plays Thomas thought were over. Bieniemy did the same thing with other backs, but not as often as with Thomas.
-- Similarly, the Chiefs are trying to figure out where offensive lineman
Laurent Duvernay-Tardif
best fits. He worked at left guard in this practice after spending his time at right tackle on Saturday. Duvernay-Tardif, a sixth-round draft pick who played in college at Canada's McGill University, has the athletic skills to play either position.
-- One of the developmental veterans participating in camp is wide receiver
Frankie Hammond
Jr., who has made several nice catches. Hammond is fast and would challenge for a roster spot with a strong training camp. Hammond joined the Chiefs last year as an undrafted rookie and spent all season on the practice squad.
-- The numbers are in on the contract signed by fifth-round quarterback
Aaron Murray
. Murray's four-year contract is worth $2,402,424. He received a signing bonus of $182,424.
May, 24, 2014
May 24
5:35
PM ET
KANSAS CITY, Mo. -- Some quick observations from the opening practice of the
Kansas City Chiefs
' three-day rookie camp on Saturday:
Murray

Quarterback Aaron Murray, a fifth-round pick from Georgia, was a full participant. Murray wore a brace on his left knee but moved around well. He is only six months removed from surgery after tearing knee ligaments last fall. Murray's first pass was deflected and intercepted by linebacker Dee Ford, the first-round draft pick. Murray made some nice throws, none better than a fade pass that was caught down the left sideline by former Missouri receiver Jerrell Jackson. But heMurray also threw a number of interceptions.
Ford, of Auburn, signed his contract moments before the start of practice. All six draft picks are now signed and the Chiefs still have two months before the start of training camp.
Fourth-round pick De'Anthony Thomas of Oregon lined up in a variety of spots, mostly as a running back. These three days of practices will be all Thomas can participate in until the mandatory minicamp in the middle of June. School is still in session at Oregon.
Sixth-round offensive lineman Zach Fulton of Tennessee and Laurent Duvernay-Tardif were on the first-team offensive line -- Fulton at right guard and Duvernay-Tardif at right tackle. Duvernay-Tardif jumped the snap count twice.
A handful of veterans are participating in rookie camp. That list includes wide receivers Weston Dressler and Frankie Hammond Jr. and tight end Demetrius Harris.
May, 23, 2014
May 23
10:00
AM ET
»
NFC Wrap:
East
|
West
|
North
|
South
»
AFC:
East
|
West
|
North
|
South
»
Grades

With free agency and the draft in the rearview mirror and training camp just a couple of months away, we assess the
Kansas City Chiefs
' offseason moves.
Best move:
It wasn't a popular move for the Chiefs to allow five of last season's regulars to depart in the opening moments of free agency and another a few days later, but the Chiefs did the right thing in each case. The players are more valuable to their new teams, and Kansas City would have had to overpay to keep them. The Chiefs had also built enough depth to withstand the losses.
[+] Enlarge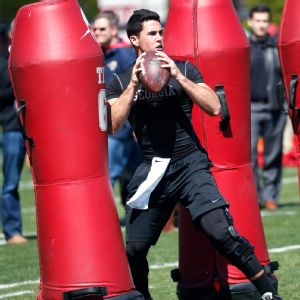 AP Photo/John BazemoreAaron Murray's selection by the Chiefs is surprising, but Andy Reid has been known to develop QBs.
Riskiest move:
The Chiefs failed to add a proven wide receiver, a decision they could easily come to regret later. They had one of the NFL's least productive groups of wide receivers last season and then lost slot receiver
Dexter McCluster
to free agency. They have hopes for improvement from young
A.J. Jenkins
and acquired CFL veteran
Weston Dressler
and speedy rookie
De'Anthony Thomas
, but their needs would have been better served by adding a player with proven production.
Most surprising move:
The drafting of Georgia quarterback
Aaron Murray
was a reasonable gamble because it happened in the fifth round, but the Chiefs looked to be set at the position without him. They have their starter in
Alex Smith
, a veteran backup in
Chase Daniel
and a developmental prospect in
Tyler Bray
. But Murray appears to have the skills to succeed in the offense of coach Andy Reid, who has shown a nice touch in developing quarterbacks. The addition of Murray sets up an interesting training camp battle at the position.
Progress from young players:
It's clear the Chiefs are counting on improvement from a group that includes three of last season's draft picks. Foremost is tackle
Eric Fisher
, who moves to the left side after a rocky rookie season on the right. Tight end
Travis Kelce
missed all of last season with a knee ailment after showing impressive receiving skills in the offseason and training camp.
Sanders Commings
also missed most of his rookie season with an injury but could wind up starting at free safety.
May, 21, 2014
May 21
7:30
AM ET
Bigger is better when it comes to wide receivers. That's not a secret around the NFL, and it's not a notion that's particularly new. Speed matters, but size is generally what wins out.
That's something all teams, the
Kansas City Chiefs
included, believe. Bigger, stronger receivers are more capable of shucking physical coverage and making catches in a larger radius, thus giving the quarterback more room for error. That's accepted fact in the NFL, not opinion.
Now comes my ESPN colleague, Mike Rodak, who covers the
Buffalo Bills
, with an interesting story. Rodak went through NFL rosters and
figured an average height
for the wide receivers for each team.
The Bills led the league with an average height of 6-2. Of more interest to you, the Chiefs came in next to last at slightly less than 5-11 1/2. And that doesn't even count rookie
De'Anthony Thomas
, who should be playing at least some as a slot receiver but is being listed for the time being as a running back.
Thomas is 5-9.
A height of 6-2 is generally considered the dividing line for a receiver between having the right size and not.
Dwayne Bowe
at 6-2 is the only Chiefs' receiver who passes the test. Among the others who could or might play a significant amount next season,
Donnie Avery
is 5-11,
A.J. Jenkins
6-0,
Junior Hemingway
6-1 and
Weston Dressler
5-7.
The Bills, as a comparison, have seven wide receivers who stand at least 6-2.
The Chiefs have some tall tight ends who can help compensate.
Travis Kelce
, who showed some impressive receiving skills last year before a knee ailment ruined his rookie season, is 6-5, as is
Sean McGrath
.
Anthony Fasano
, who caught three touchdown passes last year despite missing seven games with injuries, is 6-4.
But this is an issue for the Chiefs. Their receivers were at or near the bottom of the league in production last year and a lack of size is one reason why.
It's not just my opinion here. Read what Bills general manager Doug Whaley had to say. The Chiefs may not go on the record as saying so, but they agree, too.
May, 12, 2014
May 12
12:45
PM ET
Nobody could catch
De'Anthony Thomas
from behind with the ball in his hand when he played at Oregon. He's not planning for it to happen in the NFL, either.
"Not at all," said Thomas, the fourth-round draft pick of the
Kansas City Chiefs
. "Once I get out of the gates, I feel like I'm going to score that touchdown."
[+] Enlarge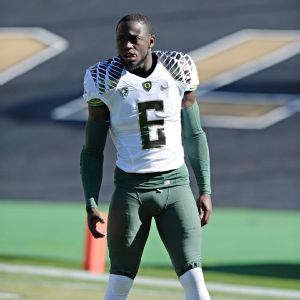 Ron Chenoy/USA TODAY SportsThe Chiefs selected Oregon RB De'Anthony Thomas with the 124th overall pick in the fourth round.
Thomas is fast enough to back up that claim. He is world-class fast and for that reason, Thomas could wind up having the biggest immediate impact among any of the six players the Chiefs drafted this year.
The Chiefs would be smart to unleash Thomas immediately as their kickoff and punt-return specialist. He returned four kickoffs and a punt for touchdowns in his three seasons at Oregon. He'll be coached on special teams by Dave Toub, who has had a nice touch working with skilled return specialists before.
"Let's don't underestimate what (Toub has) been able to do in his career with unique talents at returner," Chiefs director of player personnel Chris Ballard said. "He did it in Chicago, I was with him. I watched him take four guys and all were very good players and then he came in here and what he did with
Dexter McCluster
and our kickoff returners. So we've got some unique staff here to take advantage of his unique skill set."
On offense, Thomas played a lot of running back at Oregon. The Chiefs' backfield is already crowded with
Jamaal Charles
and
Knile Davis
, so he may not get much work there in Kansas City.
But the Chiefs are looking for a slot receiver to replace McCluster and Thomas immediately becomes the most intriguing candidate for that job. At 5-9 and 174, he is of similar size to McCluster. His skills are similar as well, though Thomas is faster.
"He offers a lot of the same traits in terms of being both a very good receiver out of the backfield and as a runner," said Trey Koziol, the Chiefs' west coast scout. "I think you see similar traits in the open field, guys who can make people miss, guys who are a threat to take it to the house.
"I think when you've got a guy that's got kind of a Swiss Army Knifetype versatility, you can move him all over the place. Just look for the best mismatch. I'll leave that up to coach and the offensive staff. But from the scouting perspective, I think that he has all the physical tools you could look for in the receiving game as well. He's a guy that catches the ball very, very well for them there and has had a lot of production in the pass game for Oregon."
Chiefs coaches and officials said many of the same things over the years about McCluster. Though McCluster had decent numbers in terms of catches and yards, he delivered few big plays on offense.
While the speed and ability are there for Thomas, the Chiefs need to find a way to get more from him. If the Chiefs can just get from Thomas what they got from McCluster, he is worth the pick. And if they can get Thomas to achieve his full potential, he is worth so much more.
May, 10, 2014
May 10
6:20
PM ET
»
NFC wrap-ups
:
East
|
West
|
North
|
South
»
AFC
:
East
|
West
|
North
|
South
KANSAS CITY, Mo. -- A wrap-up of the
Kansas City Chiefs
' draft.
Click here
for a full list of Chiefs draftees.
[+] Enlarge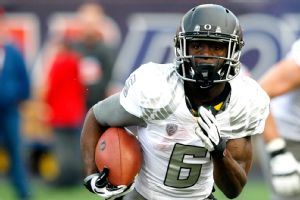 AP Photo/Rick ScuteriThe addition of De'Anthony Thomas should help out the Chiefs offense, as well as special teams.
Best move:
Though they had only six picks, the Chiefs covered a lot of ground. They selected a pass-rusher, a cornerback, a combination slot receiver/running back/kick returner, a quarterback and two developmental offensive linemen. Not all were immediate needs, but the potential is there for the Chiefs to get a lot from this class. Oregon's
De'Anthony Thomas
, a fourth-round pick, might represent the best value. The Chiefs will plug him into the spots on offense and special teams vacated by the free-agent departure of
Dexter McCluster
. Thomas has world-class speed and will be given opportunities to play as a slot receiver and kick-return specialist.
Riskiest move:
Despite having one of the least productive groups of wide receivers in the NFL last season, the Chiefs added nobody at the position, Thomas excepted. The Chiefs will search for help in free agency before they get to training camp in late July, but they might not be able to find a receiver who gives them more than what they already have on the roster. The Chiefs might come to regret passing on the chance to get USC receiver
Marqise Lee
in the first round or Mississippi's
Donte Moncrief
in the third. Thomas could help as a slot receiver, but on the outside, the Chiefs need improvement from a group that includes
Dwayne Bowe
,
Donnie Avery
and
A.J. Jenkins
.
Most surprising move:
The selection of Georgia quarterback
Aaron Murray
in the fifth round qualifies, given the Chiefs already gave up their second-round choice for a quarterback, starter
Alex Smith
, in last year's trade with the
San Francisco 49ers
. The Chiefs also appeared set at quarterback with Smith, veteran backup
Chase Daniel
and developmental prospect
Tyler Bray
. But the Chiefs couldn't resist Murray, whose senior season was ended early by a torn ACL. At about 6-foot and 200 pounds, Murray doesn't have classic size for an NFL quarterback or a huge arm, but the Chiefs think he has the necessary skills to thrive in coach Andy Reid's offense. Murray does a nice job of finding available passing lanes despite his size. He has also been an accurate passer.
Murray says he has been cleared to practice
when the Chiefs get on the field later this month. That sets up an interesting battle for available roster spots at quarterback. Bray is the most likely candidate to be crowded off the roster, but if the Chiefs believe he or Murray is advanced enough to be their backup, a trade market could develop for Daniel.
File it away:
First-round outside linebacker
Dee Ford
of Auburn will become the second-best pass-rusher to emerge from this year's draft behind only
Jadeveon Clowney
, the top overall pick. The Chiefs have Pro Bowlers
Tamba Hali
and
Justin Houston
to start at Ford's position, so he has time to develop his skills in pass coverage and against the run. He can focus immediately on his pass-rush skills, and the Chiefs need to find ways to get all three players on the field at the same time. Kansas City's pass rush was on pace at midseason to set an NFL record for sacks. It tailed off badly the second half of the season, but Ford's presence should help revive their pass rush.
May, 10, 2014
May 10
2:25
PM ET
The
Kansas City Chiefs
selected Oregon running back
De'Anthony Thomas
with the No. 24 pick in the fourth round Saturday.
Thomas has electrifying ability and now it's up to the Chiefs to get it out of him. He is world-class fast, though he inexplicably ran a 4.5 40 at the combine in February. He is of similar size and has similar skills to the
Dexter McCluster
, who recently departed as a free agent to sign with the
Tennessee Titans
.
Though he is listed as a running back, the Chiefs may use Thomas in a variety of roles and he could spend most of his time as a slot receiver. Look for Andy Reid to have some fun figuring out ways to utilize Thomas. Thomas is also one of the best return specialists available in this year's draft. Look for him to claim the vacant punt returner's job left by McCluster's departure as well as become the main kickoff returner.
February, 20, 2014
Feb 20
10:15
AM ET
Like most other NFL organizations, the
San Diego Chargers
are a team that builds and maintains its roster through the draft. General manager Tom Telesco doesn't necessarily put any more value on securing impact players through the draft, versus trade or free agency.
But annually selecting rookies that can make an impact on a team's roster is important, particularly when you consider the player will be under the team's control for at least four years, likely at an inexpensive salary.

So getting detailed medical evaluations and vetting players through the intense interviewing process are the most important things for teams this week at the NFL scouting combine in Indianapolis. Of the 53 players that finished the season on San Diego's roster, 23 were secured through the draft, compared to 27 free agents, two through trades, and one claimed off waivers.
The Chargers have seven original picks in this year's draft, one in each round beginning with the No. 25 overall pick. So they will be paying close attention to the more than 330 players invited to this year's combine.
Along with evaluating draft prospects, Telesco will have an opportunity to meet with middle linebacker
Donald Butler
's representation as the Chargers try to get him signed to a multi-year deal before he hits free agency next month.
Here are five things to keep an eye on regarding the Chargers.
1. Physical cornerbacks who can turn and run:
A major area of need for San Diego is improving the overall talent and depth at cornerback. Last year's top free agent signee
Derek Cox
likely will not be back after being supplanted in the starting lineup by
Richard Marshall
. San Diego's 2013 fifth-round selection
Steve Williams
could work into the conversation at corner in 2014. The Cal product sat out his rookie year after suffering a torn pectoral muscle during preseason play. But the Chargers need to add a couple physical corners who can cover -- through the draft, free agency or trade. Some names to keep an eye on include Oklahoma State's
Justin Gilbert
, Ohio State's
Bradley Roby
and Florida's
Loucheiz Purifoy
. Those players stand out to me because of their length, athleticism and playmaking ability.
2. Edge rushers needed:
The Chargers have several veterans at this position, but you can never have enough athletes who can rush the passer. And San Diego struggled at creating consistent pressure, particularly on third down. Three guys potentially available on Day 1 of the draft who could make an impact include Missouri's
Kony Ealy
, BYU's
Kyle Van Noy
, and Auburn's
Dee Ford
.
3. A run-stuffing defensive tackle:
San Diego gave up an average of 4.59 yards per carry on defense in 2013, No. 29 in the NFL.
Cam Thomas
started the most games at defensive tackle, but will be a free agent in March.
Sean Lissemore
finished as the team's starter at the end of the season, but needs to add some bulk to effectively fill this position. San Diego could certainly use a two-gap defensive tackle to control the middle of the defense, similar to
Dontari Poe
in Kansas City. Potential candidates in the draft include Notre Dame's
Louis Nix III
, Minnesota's
Ra'Shede Hageman
, and Penn State's
Daquan Jones
.
4. Improved interior offensive line depth:
With center
Nick Hardwick
contemplating retirement and veteran guard
Jeromey Clary
a potential salary-cap causality, the Chargers need to add some depth to the interior of the offensive line. Mississippi State's
Gabe Jackson
and Stanford's
David Yankey
are the top rated guards in this year's draft. And USC's
Marcus Martin
could be the long-term answer for a team at center.
5. Add a couple explosive playmakers:
San Diego could use some help in the return game.
Keenan Allen
should not be the team's main punt returner. He's too valuable on offense. And the Chargers could use someone with some juice in the kick return game. Washington's
Bishop Sankey
, Oregon State's
Brandin Cooks
, and Oregon's
De'Anthony Thomas
makes some sense because of their ability to create explosive plays on offense and in the return game. Chargers quarterback
Philip Rivers
needs a few more weapons on offense to make his job easier, and all three of these players would fit the bill.