August, 31, 2012
8/31/12
2:05
PM ET
It is going to be a long day of roster-cutting. The deadline for teams to hit the 53-man limit is 9 p.m. ET Friday, and I think at least a couple of the teams in the AFC West are going to go down to the wire.
However, names have been trickling out around the league, and some of the names who will reportedly be cut could attract some interest in the AFC West.
Running back
Tim Hightower
is reportedly being cut by Washington. The Raiders need a veteran backup to
Darren McFadden
. Hightower is coming off a knee injury. However, he is 6-foot, 220 pounds and he has five years experience. The Raiders need a bigger, experienced back with
Michael Bush
gone. There will be other running backs that come available, but Hightower could interest Oakland, I'd think.
Green Bay is reportedly cutting veteran offensive lineman
Reggie Wells
. He can play several positions. I could see the Chargers being interested in the versatile offensive lineman because of injuries.
Another early reported name who is being cut is Eagles' cornerback
Joselio Hanson
. I could see San Diego, Oakland and Kansas City (because of injuries) showing interest in Hanson. He is a decent nickel cornerback, who should find work quickly.
New England reportedly is cutting offensive lineman
Dan Koppen
and receiver
Deion Branch
. You'd have to think Kansas City general manager Scott Pioli could be interested in players he worked with in New England. The Chiefs have a bigger need on the offensive line than receiver. But Branch could be tempting.
January, 14, 2012
1/14/12
9:52
PM ET
FOXBOROUGH, Mass. – Random
halftime
thoughts:
The Broncos are being Brady'd and Gronk'd.


New England quarterback
Tom Brady
– perhaps a tad upset about being the second-most-talked-about quarterback in this game – is beating down the Denver defense. Brady has thrown five touchdown passes. The Patriots went up 28-7 with a 61-yard touchdown pass to
Deion Branch
— then scored again on a Brady-to-
Rob Gronkowski
strike.
As they did in Denver four weeks ago, the New England tight ends are slicing up the Broncos defense. Gronkowski has eight catches for 97 yards and two touchdowns.
Aaron Hernandez
has two catches for 29 yards but he has three runs for 58 yards.
Denver's defense is just not giving the Broncos a chance to stay in this game in a game the Patriots are dominating in the field-position battle.
Denver quarterback
Tim Tebow
is having a decent game. He lost one fumble, but he hasn't been a major disappointment. Still, Denver just can't keep drives going.
The Broncos are running the ball well, at least — 100 yards on 21 carries.
December, 17, 2011
12/17/11
8:55
PM ET
The Raiders placed cornerback
Chris Johnson
on the reserve/non-football illness list Saturday. Johnson's sister was shot to death and his mother was wounded in an attack in Texas recently; Johnson has been traveling back and forth from California.
The Raiders signed defensive end Mason Brodine to the 53-man roster to fill Johnson's spot.
In other AFC West news:
The Patriots ruled out
Deion Branch
,
Patrick Chung
,
Shane Vereen
,
Brandon Spikes
and
Sebastian Vollmer
for Sunday's game at Denver.
Denver signed safety
Kyle McCarthy
and cut fullback
Quinn Johnson
. McCarthy was cut earlier in the week. The Broncos are banged up at safety — starter
Brian Dawkins
is questionable with a neck injury that knocked him out of the Chicago game and held him out of two days of practice.
Detroit safety
Louis Delmas
has been downgraded to out for Sunday's game at Oakland.
Offensive coordinator Bill Muir is
back to the press box
to call the game as the Chiefs shift from the Todd Haley regime to the Romeo Crennel regime.
Gunther Cunningham, who spent many years in the AFC West before landing in his current gig as Detroit defensive coordinator,
is looking forward to going back to the Black Hole
on Sunday with the Lions.
Major kudos
to Oakland quarterback
Jason Campbell
for continuing to be a stalwart in the community after being injured. It's been a tough season for Campbell, but he's handled the situation with immense class.
September, 18, 2011
9/18/11
10:16
PM ET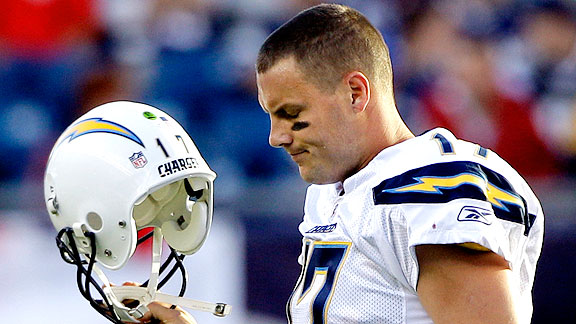 AP Photo/Stephan SavoiaSan Diego quaterback Philip Rivers was out-played by New England quarterback Tom Brady in a loss on Sunday.
FOXBOROUGH, Mass. -- I have written several times this year that
Philip Rivers
is the best player in the NFL who doesn't own a Super Bowl ring.
Sunday, he showed he may not be quite ready to shed that complimentary, yet potentially haunting title.
The fact that the
San Diego Chargers
traveled three time zones and
lost
to the
New England Patriots
in Week 2 of the NFL season doesn't mean a whole lot. The Chargers' season is not shot. They are still the favorite to emerge from the AFC West. However, Sunday's defeat was a reminder to San Diego, which can get well quickly with back-to-back home games against Kansas City and Miami in the next two weeks, there is one thing missing from its quest to be the best:
Tom Brady
.
As long as Brady is quarterbacking the New England Patriots, the San Diego Chargers can't be considered an AFC favorite to play in February. The Chargers can't stop Brady on defense and Rivers can't keep up with Brady on offense. Until those facts change, the Chargers will be a level behind the Patriots.
Sunday's game proved that once again.
The Chargers were not blown out. They had their chances. They failed when it counted. Brady didn't.
Rivers, who took over San Diego's offense in 2006, is now 0-5 in head-to-head matchups against Brady. The only time Rivers has beaten New England was in 2008 when Brady was out with a torn ACL.
Rivers was good Sunday, as he usually is. But he wasn't flawless. He threw two interceptions, both in key situations. In all, the Chargers had four turnovers, including a killer fumble by running back
Mike Tolbert
in New England territory with San Diego attempting to take the lead.
New England? It didn't have any turnovers.
Miscues have long killed the Chargers, who have played the role of the lesser team in this rivalry for a solid half decade. San Diego coach Norv Turner has preached the importance of eliminating key turnovers early in the season, where the Chargers stumble most. It was another sloppy effort that has caused the Chargers to fall to 7-9 in September under Turner. The Chargers haven't started 2-0 in five seasons under Turner.
Watching the film of this game will burn the Chargers. They made it into New England territory on all eight of their possessions. Yet, they scored just three times. San Diego punted the ball once. Turner will have to find a way to stop the mistakes.
Bill Belichick has no such concerns. Brady doesn't seem to make mistakes. He surely capitalizes on them.
While Rivers was forced to ruminate on his two picks (he also lost a fumble late in the game on a sack), Brady took advantage of San Diego's offensive miscues.
When San Diego couldn't punch the ball in from inches on fourth down in the second quarter (the Chargers were primed to take a 14-10 lead), Brady engineered his offense on a 10-play, 99-yard touchdown drive to give the Patriots a 10-point lead.
Shortly after, when
Vince Wilfork
intercepted Rivers, Brady jumped off the bench to hit
Deion Branch
for two short passes on two plays to spark a field goal and give New England a 13-point lead at the half. Moments earlier, it was Rivers who seemed poised to lead his team to a crucial field goal. He failed. Brady pounced.
When Tolbert fumbled at the New England 39, Brady smelled blood. His team was up by six with just over 10 minutes to play. The Chargers' defense was actually starting to have their way with Brady. The Patriots were stopped in their first two series of the second half after scoring on all four of their first-half possessions.
Brady put an end to San Diego's momentum by leading his team on a four-play, 61-yard touchdown drive to convert the Tolbert mistake into a 14-point lead. After San Diego struck quickly to pull within seven, Brady led the Patriots on an 80-yard touchdown drive to seal the win.
In the end, Rivers just couldn't keep up with Brady.
Rivers, who led San Diego on 10-of-12 third-down conversions, threw for 378 yards on 29-of-40 passing with two touchdown passes, highlighted by connecting with receiver
Vincent Jackson
10 times for 172 yards. But Brady was better as he also unleashed 40 passes. He completed 31 for 423 yards. He threw three touchdown passes.
Rivers' defensive teammates didn't do him any favors. After keeping
Donovan McNabb
to 39 yards passing last week and holding Minnesota to 26 yards of offense in the second half of a comeback win, the San Diego defense simply couldn't harass Brady enough. Brady completed a team-record 23 passes for first downs.
"You never knew what the call was," San Diego pass-rusher
Antwan Barnes
said. "I didn't know what it was."
When Brady had to be stopped, he wasn't. When Rivers had to be perfect, he wasn't.
That's the difference between these two quarterbacks right now, other than the three Super Bowl rings in Brady's possession.
"We lost a game and the guys hate to lose. But we know this season is a 20-week deal, at least that is what the goal is to make it a 20-week deal, and we are only in two weeks," Rivers said.
Rivers is right. This loss wasn't the end of the season for the Chargers. Still, it has to be in the back of their heads. If they are going to finally get a chance to play in the Super Bowl, the Chargers must get past Brady at some point.
They simply weren't ready to do it Sunday.
October, 11, 2010
10/11/10
10:10
PM ET
The Denver Post is reporting
that Denver linebacker Robert Ayers is out for 2-3 months with a broken foot.
This is a blow for Denver. Ayers, the No. 18 overall pick in 2009, was the Bronco's best pass rusher with linebacker Elvis Dumervil out for the season with a chest injury.
Expect Denver to scour the waiver wire for help at outside linebacker, but there is little available. Also, safety Brian Dawkins is out for the next 2-3 weeks. Dawkins is Denver's leader and the loss will also hurt the team.
The Chargers announced left tackle Marcus McNeill has been activated. It was expected since he had to spend three games on the roster exempt list after ending his holdout. Cornerback Fred Bennett and safety C.J. Spellman were cut.
San Diego coach Norv Turner
shot back at a comment
made by Tony Dungy with some pretty funny scoreboard material. My take: good for Turner. Defend yourself.
Matt Williamson
of Scouts Inc.
has a look at how strong Kansas City linebacker Tamba Hali has been playing.
The Chargers will not fire special teams coach Steve Crosby,
Turner said.
The special teams have allowed 30 points on special teams in five games.
The Football Outsiders
look at how strong Denver quarterback Kyle Orton has been.
March, 6, 2010
3/06/10
5:50
PM ET
Brandon Marshall
is getting the
royal treatment
in Seattle as his visit there commences.
However,
don't expect a fast resolution.
Just because Seattle struck quickly to arrange a visit for the restricted free agent receiver, it doesn't mean he will sign quickly. This situation may percolate for a few days or longer.
There are going to be layers to this situation. First, Seattle has to feel comfortable with Marshall. That is the purpose of this visit. He has had several off-field issues, so Seattle has make sure it has a good feeling about Marshall. It has a good start because former Denver assistants Jeremy Bates, Jedd Fisch and Pat McPherson are on Seattle's staff. They know Marshall and they like him.
Then, if Seattle does get a good feel for Marshall, it will start to negotiate a long-term deal. It wouldn't make sense for Seattle to deal for Marshall and not give him an extension with just one year remaining on his contract. The contract discussions could take a while. Like any team dealing with Marshall, Seattle will likely pursue contract protection in case Marshall gets in trouble in the future.
Finally, if Seattle gets through the first two steps, it will be time to negotiate trade terms with Denver. Don't expect Seattle to sign Marshall to a classic offer sheet for the first-round tender. Seattle very likely won't want to surrender the No. 6 overall draft pick. Seattle also has the No. 14 pick, which was acquired from Denver last year on draft day when the Broncos traded for the chance to take cornerback
Alphonso Smith
at No. 37.
Seattle could be willing to trade a second draft pick. I wouldn't be surprised if receiver
Deion Branch
was part of a deal. He flourished in New England when Denver coach Josh McDaniels was there and he could help in McDaniels' system.
Still, there is a lot to hash out and it could take awhile. Seattle may not feel any urgency to finalize this deal until another team comes forward with interest. Thus far, that has not happened. Baltimore was expected to be interested, but that interest probably waned since the Ravens traded for
Anquan Boldin
on Friday.
February, 17, 2010
2/17/10
9:05
PM ET
The Kansas City Star and ESPN's Mel Kiper both wonder
if there is any way the Chiefs would reunite new offensive coordinator Charlie Weis with his quarterback at Notre Dame, Jimmy Clausen. The Chiefs have the No. 5 pick and Clausen is expected to be selected high in the draft.
Kiper also wondered if Kansas City would trade
Matt Cassel
to Denver -- Broncos coach Josh McDaniels loves Cassel.
This scenario is obviously juicy and fun, although also unlikely. But we've seen wild scenarios involving quarterbacks in the AFC West before, haven't we?
• Speaking of wild scenarios
, NFC West blogger Mike Sando
looks at potential trades in the division. Sando matched two AFC West teams in potential deals. He proposes that Arizona deals receiver
Anquan Boldin
to Kansas City for linebacker
Derrick Johnson
and Seattle sends receiver
Deion Branch
and draft picks to Denver for
Brandon Marshall
.
I could see plenty of reason why both of these deals would work: Seattle would love to get Marshall and Kansas City coach Todd Haley would probably like to work with Boldin again. Stay tuned.
•
The San Francisco Chronicle reports
Oakland will put the franchise tag on defensive end
Richard Seymour
if a long-term deal isn't worked out by Feb. 25. Really, Oakland has no choice. It can't let Seymour walk after giving up a 2011 first-round pick for him five months ago.
•
Several current and former Denver players
are on the witness list for the
Darrent Williams
murder trial, which is set to start next week. The cornerback was murdered in downtown Denver on Jan. 1, 2007.
• New England guard
Stephen Neal
will test the free-agent market.
I expect Neal to reunite with either McDaniels in Denver or Scott Pioli in Kansas City.
•
The Oakland Tribune
looks at Oakland's potential free agents and who should and who shouldn't be brought back.
February, 16, 2010
2/16/10
8:25
PM ET
The Seattle Times
looks at whether the Seahawks will deal receiver
Deion Branch
. If so, both Denver and Kansas City could be options. Because of Branch's ties with both Denver coach Josh McDaniels and Kansas City general manger Scott Pioli. Reuniting with McDaniels likely would be more feasible than Pioli because Branch had a sticky departure from New England. Perhaps Branch could be part of a
Brandon Marshall
deal between Seattle and Denver.
The Kansas City Star
believes
Matt Cassel
needs a lot of help this season.
I couldn't agree more.
The Oakland Tribune
breaks down the
Sebastian Janikowski
signing.
I hear there has been little communication between San Diego and likely restricted free agent
Vincent Jackson
about a new deal. Do not take that as a sign of San Diego not being interested in retaining Jackson. It is. It's just been a slow start like many other free-agent situations around the league.
September, 5, 2009
9/05/09
8:20
PM ET
Posted by ESPN.com's Bill Williamson
Biggest surprise:
The decision to cut safety
Bernard Pollard
. He will likely be picked up on waivers elsewhere. It was reported that Pollard was being offered in a trade Friday. Pollard did struggle in coverage and the Chiefs wanted veteran newcomer
Mike Brown
to start, so Pollard was expendable. Zach Thomas' release has to be looked at as a mild surprise, because he was brought in to be a leader. But Thomas couldn't stay healthy and the Chiefs like young linebacker
Corey Mays
, so Thomas was expendable.

No brainer:
The Chiefs' decision to keep four quarterbacks on the roster to start the season. That decision was forced because the team doesn't know if starter
Matt Cassel
will be ready to play in the season opener Sept. 13 at Baltimore. He has a knee injury. Cassel will try to practice this week and play, but if he can't,
Brodie Croyle
or
Tyler Thigpen
(probably Croyle) will have to play against the Ravens. The team also has
Matt Gutierrez
on the roster. He has a history with new Kansas City general manager Scott Pioli from their New England days and he has played well in the preseason. When Cassel is fully healthy, Kansas City will likely get rid of a quarterback (perhaps Thigpen). But they can't do anything until Cassel's health improves
What's next:
Expect the Chiefs to be busy. They have the third highest waiver priority in the league and I'd expect Kansa City to scour the waiver wire for help at several positions. The Chiefs will search for help on the offensive line and on at receiver in particular. I wouldn't be surprised if they tried to obtain multiple players at both positions. Perhaps Kansas City will look at tackle Ryan O'Callaghan, who was just cut by the Patriots. He has seven starts and Pioli needs tackles and knows O'Callaghan. It's been reported that Seattle would like to trade receiver
Deion Branch
. I wouldn't be shocked if Kansas City showed interest.
September, 1, 2009
9/01/09
5:20
PM ET

Posted by ESPN.com's Bill Williamson
The Chiefs' cut down to the league mandated 75-man roster Tuesday couldn't have been any more newsworthy.
Usually, the cut down from 80 to 75 is filled with no-name free agents. Not the Chiefs' list.
Kansas City cut veteran receiver
Amani Toomer
and defensive end
Alfonso Boone
. Toomer was signed in early August and Boone has been with the Chiefs the past two years and he was working with the first team defensive line at times this summer.
Kansas City also put receiver
Devard Darling
on the injured reserve after he suffered a serious knee injury Saturday against Seattle. Running back
Kolby Smith
was put on the reserve physically unable to perform list. He can be activated later in the season.
Rookie tackle
Cameron Goldberg
was also released. But he's not the story Tuesday.
Toomer, a former standout for the Giants, was signed to bring leadership and maybe create a spark at receiver. Yet, by all accounts, he offered little on the field, so the Chiefs quickly ended that experiment.
His career is probably over. If the receiver-hungry Chiefs don't have room for Toomer, who'll turn 35 next week, not many teams likely will.
Boone's release means the Chiefs must feel like their youngsters on the defensive front are ready to carry the load. Young players
Tyson Jackson
.
Glenn Dorsey
and
Alex Magee
are all going to play a lot.
Darling was going to be in the receiving rotation. The Chiefs were planning on scouring the waiver wire and free-agent list after the final 53-man rosters are announced and this will only make that a certainty. It looks like the newly-signed
Ashley Lelie
has a strong chance of making the team.
August, 31, 2009
8/31/09
11:25
PM ET

Posted by ESPN.com's Bill Williamson
Wrapping a wild day in the AFC West:
The speculation is that Oakland will cut defensive tackle Terdell Sands. He has been a disappointment. The team loves undrafted rookie Desmond Bryant, who could make Sands expendable.
The Oakland Tribune wonders whether Nnamdi Asomugha's wrist injury could be problematic. The Raiders better hope not.
The speculation in Seattle is that veteran receiver Deion Branch could be cut. Branch has New England blood in him. Both Kansas City and Denver, which now have plenty of New England blood in their respective organizations, could use receivers.
The San Diego Union-Tribune is reporting that rookie cornerback Brandon Hughes has a significant knee injury. The Chargers had high hopes for Hughes.
Denver receiver Eddie Royal talks about the Brandon Marshall situation in a radio interview.
AFC WEST SCOREBOARD
Thursday, 10/23
Sunday, 10/26