January, 21, 2014
Jan 21
9:35
PM ET
ALAMEDA, Calif. --
Oakland Raiders
fullback
Marcel Reece
will play for
Team Sanders
in this weekend's Pro Bowl in Honolulu.
Reece
Reece, the lone Raiders player selected to the NFL's re-imagined all-star game, was one of two fullbacks selected, along with
Carolina Panthers
All-Pro
Mike Tolbert
. And when
Team Rice
selected Tolbert, Reece went to Deion Sanders' team.
"That's who we want," Sanders said on the NFL Network's broadcast of the Pro Bowl Draft's Day 1 Tuesday evening. "We love him because he's not getting the ball. All we want him to do is block, for that man over there."
Sanders pointed to team co-captain
Jamaal Charles
of the
Kansas City Chiefs
.
Reece, who is making his second consecutive Pro Bowl appearance, garnered a more positive scouting report, of sorts, from Jerry Rice.
"Marcel Reece, I feel like he can do everything," Rice said. "He can come out of the backfield, he can catch the ball, he can run the ball, he can do all those things. But then when it comes down to really blocking guys, I feel like Mike Tolbert, he's the guy."
Indeed, Reece is the more versatile offensive threat, with 549 yards from scrimmage this season, including four touchdowns as the only Raiders player with a score by ground as well as by air.
Tolbert, meanwhile, rushed for 361 yards and five TDs on 101 attempts and led the Panthers with seven scores.
The
Indianapolis Colts
' staff, with coach Chuck Pagano, will coach Team Sanders while the Carolina Panthers and coach Ron Rivera will head up Team Rice.
December, 21, 2012
12/21/12
12:00
PM ET
It has been a special season in Denver. Could it also be historic?
The Broncos, which clinched the AFC West on Dec. 2, are 11-3, have won nine consecutive games and are on pace for a first-round bye in the playoffs. They are widely considered a legitimate Super Bowl contender.
Denver has been dominant on both sides of the ball. Although its season has been a team effort, the work of two players stands out: quarterback
Peyton Manning
and linebacker
Von Miller
.
Manning and Miller have arguably been the best offensive and best defensive players in the NFL this season. Both are leading candidates for major hardware; Manning is in the mix for the NFL MVP award, and Miller is a top candidate for the league's Defensive Player of the Year award.
If both players win, it will, according to ESPN Stats & Information, be just the second time in league history that teammates have won the MVP and Defensive Player of the Year awards in the same season. San Francisco's Steve Young won the NFL MVP and cornerback Deion Sanders won the Defensive Player of the Year award in 1994. The 49ers went 13-3 and won the Super Bowl.
Let's look at Manning's and Miller's candidacies:
Manning:
This is shaping up as a close, intriguing race. There is no runaway MVP choice. Minnesota running back
Adrian Peterson
and New England quarterback
Tom Brady
are competing hard with Manning. Green Bay quarterback
Aaron Rodgers
could make a case.
Still, there is reason to think Manning -- in his first season with the Broncos -- has a chance to win his fifth MVP award.
Brady is having a strong season, but the Broncos are 11-3 and the Patriots are 10-4. If the Broncos finish with a better record, Manning could have the edge. Coming back at age 36 from a neck injury that kept him out last season, he has had an immense impact on his new team.
Like Manning, Peterson is coming off a major injury, so the two will fight it out for the NFL Comeback Player of the Year award as well. Peterson needs 294 yards to break Eric Dickerson's single-season rushing record of 2,105 yards, set in 1984.
[+] Enlarge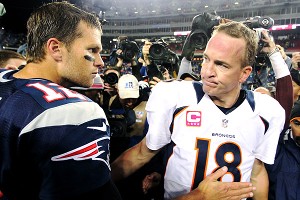 Stew Milne/USA TODAY SportsTom Brady, left, and Peyton Manning are in another tight competition for MVP honors.
Dickerson was not the MVP that year. Miami quarterback Dan Marino won the award. Marino had a monster year, breaking six NFL season pass records, including most touchdowns and most passing yards.
Manning is not having quite that type of season, but his team is having a much better season than Peterson's and Manning's stats are strong.
Consider these numbers supplied by ESPN Stats & Information: This is Manning's 12th season with 4,000 yards; he leads NFL in Total QBR, which measures the all-around impact of quarterback play; and his 11 wins are the most by a player after missing an entire season. Denver hasn't won this many games since 2005. If the season ended today, Manning would be the fifth player ever with at least 4,000 passing yards, 30 passing touchdowns and a 67 percent completion rate while throwing 10 or fewer interceptions. Three of the four previous players won the MVP award.
The vote will be close, but there is no doubt Manning will be in the MVP conversation. If history is any indication, it could come down to Manning and Brady. The last time a nonquarterback won the award was in 2006, when San Diego's LaDainian Tomlinson won. A quarterback has been shut out just four times in the past 20 years.
Miller:
Denver took Miller with the No. 2 overall draft pick in 2011. Last season, he was named the NFL Defensive Rookie of the Year. He could easily win the Defensive Player of the Year award in his second season.
Miller was considered a top-flight pass-rusher as a rookie, but he has worked to improve his overall game. He is now strong in coverage and against the run in addition to being a complete terror as a pass-rusher.
"To me, Miller is the best defensive player in football," said Matt Williamson of Scouts Inc.
Still, the chase for top defensive honors this season is as close as the MVP race. Miller is competing with a pair of fellow 2011 first-round picks --
Aldon Smith
of San Francisco and
J.J. Watt
of Houston -- and Cincinnati defensive tackle
Geno Atkins
.
When asked about his chances of winning the award, Miller said he wants it, but his plan is this: "I'm just going to keep on playing with a fanatical effort and a relentless pursuit to the ball."
It's working.
Miller has 16 sacks, 3.5 off the pace set by Smith and Watt.
Watt leads the league with a combined 37 sacks and tackles for losses. Miller is second with 29; Smith is third at 21.5.
Watt has made several big plays and is the best player on a strong defense for a winning team, so he is probably the leading candidate for the award. But Miller has his supporters.
I think Manning's chances of winning may be higher than Miller's, but both have had major impacts on Denver's success in 2012.
July, 27, 2012
7/27/12
8:00
AM ET
ENGLEWOOD, Colo. --
Champ Bailey
has been preparing for these days since he entered the NFL in 1999 with the
Washington Redskins
.
As a 21-year-old rookie, he was teammates with 39-year-old future Hall of Fame cornerback Darrell Green. The next year, cornerback
Deion Sanders
, then 33, joined the Redskins.
It gave Bailey an invaluable lesson.
"Playing with those two guys toward the end of their careers really helped me prepare for this time in my career," Bailey said. "Even back then I was thinking of the future and it is paying off now."
Oh, is it ever paying off.
Bailey, 34, is entering his 14th NFL season and he is still playing at a high level. He's entering the second season of a four-year contract extension and is performing so well that he has no timetable for how long he is going to play.
"I don't even think about it anymore," Bailey said. "As long as I can play well, I'm going to play."
There have been suggestions that Bailey could end his career at safety. Yet he said as long as he is effective playing cornerback, he is going to stay there. Bailey said the key to his late-career success is that he is still finding ways to improve.
"I think I did a lot of the little things better last season than I did before," Bailey said. "It's mental stuff that you have to do to keep going. I want to continue to find a way to get better in my 14th season as well. ... I just want to keep going like Darrell Green did all those years. He showed me you can do it regardless of age."
November, 15, 2011
11/15/11
5:40
PM ET
Denver coach John Fox made some very interesting comments in an interview with
NFL.com this week.
It is way too early to tell if the Broncos will stay with
Tim Tebow
as their long-term quarterback. But if they do, it's clear Tebow will remain an option quarterback. It seems like Fox is no longer worried about making Tebow a pocket passer and he is willing to keep the option offense going as long as it works.
Check out these quotes by Fox:
"You don't get points for style in this league. Let me tell you something: My man is really good in this offense. You know what I mean? If we were trying to run a regular offense, he'd be screwed."

"We don't have a passer. We have a runner. Not to say he can't pass at all, but we're recognizing his strengths."

"Hey, Tim thinks he deserves to have these plays in this offense. And you know what? After watching our games the last two weeks, it's hard to argue with him."
Yes, it's seems to be the option or bust for Tebow in Denver. The idea of making Tebow a traditional passer seems to be, at the very least, on hold for the foreseeable future.
If the Broncos keep on winning, Tebow and the option clearly will remain in Denver, regardless of convention. If defense catches up to it, the Broncos will likely consider moving on to a conventional offense with a different quarterback.
Whatever happens, Tebow's presence as Denver's quarterback has ignited Fox's stay in Denver. His entire team is playing better and they seem to be talking well to Fox's leadership.
New York Jets' cornerback
Darrelle Revis
– whose team visits the Broncos on Thursday night – doesn't think Denver's type of offense
can last through an entire season
.
Meanwhile, Pro Football Hall of Famer
Deion Sanders
believes Denver quarterback Tim Tebow
has "it
."
February, 8, 2011
2/08/11
6:15
PM ET
It's been joked about in the past three days that
Shannon Sharpe
and
Deion Sanders
will compete in August for the longest Pro Football Hall of Fame induction speech in Canton, Ohio.

Sharpe
Both players were elected Saturday.
In a radio interview with a Denver station,
Sharpe made it clear he is going to take his full allotted speech time so he can address all the important people in his life, starting with his beloved grandmother. That's no surprise. Like Sanders, Sharpe's was one of the game's all-time most loquacious players. Sharpe said in the interview that he has been preparing his speech for the 42 years he's been alive.
"The thing is, I have been thinking about the speech for 42 years," Sharpe said."The thing is with something like this there are moments and people in your life that make it very, very easy and the thing is when people are like 'when you speak do you ever write it down?' This will be the first time that I actually write something down that I talk about because when you write it down it's too well-rehearsed and I want it to be heartfelt. The only reason I'm going to write it down this time is because I want to make sure that 25 years from now when people hear this speech that I make sure I didn't leave anybody out. They want you to be between eight and twelve minutes. Well I can talk for an hour about my grandmother alone. But I'm gonna have to throw Mike Shanahan in there, I'm gonna have to mention Dan Reeves, I'm gonna have to talk about my high school coach William Hall, I'm gonna have to talk about my sister, my kids, the guys I played with that helped me get to here, but I want to make sure I do my grandmother justice. Most of the people that will listen to my voice in that stadium or watching me on television will have never seen my grandmother, but when I'm done they will know who she is and they will know why I am who I am."
August, 18, 2010
8/18/10
6:00
PM ET
ST. JOSEPH, Mo. -- If
Kansas City Chiefs
fans went to training camp this year and didn't come away with
Eric Berry
's autograph, it wasn't his fault.
He was signing. Every day and every request.
Berry told a story during that draft that he was once stiffed by
Deion Sanders
when he requested an autograph as a child. Berry then vowed if he was ever in the position to sign autographs, he'd never turn down anyone.
As the Chiefs' No. 1 pick, Berry's autograph is a hot ticket. It should get even hotter. In between signing autographs, Berry has been a star of Kansas City's camp.
The No. 5 overall pick has been as good as advertised. He is a smart, instinctual player who is always around the ball. The Tennessee product is already showing strong leadership skills. While it is early, the Chiefs look to possess one of the game's brightest young safeties.
He is expected to make an immediate impact.
However, Berry is also humble. He appreciates all things that are said about him, but he is not taking anything for granted.
"I never want to say I'm comfortable," Berry said. "I'd say I'm adjusting well …. I've really enjoyed being around this environment. It's all football. Everything is football."
Berry said a key is listening to his coaches. He has so far and he is glad he does. Berry said Wednesday that Chiefs coach Todd Haley warned him the NFL game is much faster than training camp before Friday's preseason opener in Atlanta. He noticed it right away.
"The first couple of plays were really fast," Berry said. "You can tell it is a different level."
Still, the speed of the game was not too much for Berry. He made the tackle on the opening kickoff.
Whether it's on the field with his teammates or after practice with the fans, Berry seems to be at the top of his game.
May, 6, 2010
5/06/10
7:30
PM ET
You are off the hook,
Ryan Leaf
.
Now that he has been cut by Oakland
, quarterback
JaMarcus Russell
has to be considered the biggest all-time NFL draft bust. Here is my list of the five greatest busts in draft history:
1. JaMarcus Russell:
He is 7-18 as an NFL starter, which is the worst record by a quarterback who was a No. 1 overall pick. He is the fastest quarterback who was a top pick to be released by his drafting team. Russell, 24, lasted three years in Oakland. He cost the Raiders $39 million.
2. Ryan Leaf:
Leaf was the No. 2 pick in 1998, being taken one pick after the great
Peyton Manning
. Leaf was a disaster on and off the field in San Diego. He lasted three injury- and controversy-plagued seasons with the Chargers. He won four games with the Chargers. Still, Russell is a bigger bust because he was a top pick and he was much more expensive than Leaf.
3. Charles Rogers:
The Lions took Rogers with the No. 2 pick, one slot ahead of when Houston took
Andre Johnson
. Rogers lasted three seasons in Detroit. His stay there was marred by injuries and off-field issues.
4. Tim Couch:
Cleveland picked him with the first pick in 1999 over No. 2 pick
Donovan McNabb
. Couch lasted five horrible seasons in Cleveland.
5. Tony Mandarich:
The Packers took the tackle No. 2 in 1989, ahead of the likes of
Barry Sanders
,
Derrick Thomas
and
Deion Sanders
. He lasted three years in Green Bay and never made an impact.