October, 30, 2014
Oct 30
5:00
PM ET
ENGLEWOOD, Colo. -- In in the end, it's the minds that matter.
Bill Belichick and
Peyton Manning
. Again.
Sunday will be the 23rd time, as either a head coach or defensive coordinator, Belichick has faced Manning. The 23rd time the matchup coach, the guy who has been more successful than most at taking away what you do best, has faced the matchup quarterback.
Former
Indianapolis Colts
and
Denver Broncos
wide receiver Brandon Stokley has always said Manning works every play to the open guy. He doesn't play favorites, that "if you're the matchup, the open guy, you get the ball."
[+] Enlarge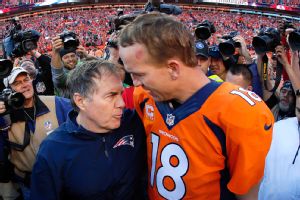 Kevin C. Cox/Getty ImagesBill Belichick said this week that Peyton Manning was the best quarterback he has ever faced as a coach.
Manning was asked this week if he thought deep down Belichick, who is 12-10 when facing Manning as a coordinator or head coach, might be tired of facing Manning after all these years.
"I don't know. I can't speak for that, but somebody was asking me if I ever see the schedule come out and say, 'boy, I wish we didn't have to play them again,' but in reality they're always winning the division, they're always there, and so ... you're going to play them," Manning said. "... The main reason we've played them so many times is because we've won the division the year before also. So it's a challenging consequence of being a good team the year before, that's what you want. You want to win the division, it gives you the chance to get in the playoffs, gives you the chance to win a world championship. That's kind of your goal every year."
Through the years, Belichick, who is 10-5 against Manning with
Tom Brady
as his starting quarterback, has routinely chosen coverage over pressure with Manning. The Patriots have often filled the passing lanes with defenders dropping into coverage and hoped a four-, three- or sometimes even a two-man rush on a smattering of snaps can get there if Manning has to consistently go deeper into his progressions.
Last November, on a cold blustery night in Foxborough, Mass., Manning threw for 150 yards -- his lowest output of his record-setting 2013 season -- and was sacked twice as the Broncos chose to run the ball plenty against defensive sets with so many defenders off the line of scrimmage and in coverage. The Broncos ran for 280 yards, 224 of those from
Knowshon Moreno
. But in the end the Broncos could not protect a 24-0 lead, losing 34-31 in overtime.
Manning sees the same attention to detail in the Patriots' defense this time around, even with the Patriots missing Pro Bowl linebacker
Jerod Mayo
, who is now on injured reserve with a right knee injury suffered during an Oct. 12 victory in Buffalo. New England also played this past Sunday's win against the
Chicago Bears
without defensive lineman
Chandler Jones
, who suffered a hip injury in the Patriots' Oct. 16 win against the
New York Jets
.
"That's why Bill's been so successful is they've done a tremendous job," Manning said. "They've taken a 'next-man-up' philosophy. They've lost some key components to their defense and plugged guys in and done a terrific job. They're not giving up explosive plays. They're high both in scoring offense and scoring defense, and part of that is pass rush. It's just pass defense as a whole."
For Manning, it always means patience is a key. Belichick tends to try to take away a quarterback's favorite routes, favorite receivers, and make him put the ball into the hands of others. That means the Patriots will try to limit the Broncos' bread-and-butter crossing routes with plenty of attention given to receiver
Demaryius Thomas
and tight end
Julius Thomas
.
The make-somebody-else-beat-you philosophy usually makes someone else in the offense make the plays that make the difference. Last season it was Moreno, with a career night, who almost pushed the Broncos over the top.
In the AFC Championship Game, in Denver, this past January, the Patriots' secondary, especially after
Aqib Talib
left the game, wasn't up to the challenge as Manning remained on schedule in his reads and finished with 400 yards passing, with 134 of those going to Demaryius Thomas. The Broncos believe they have enough depth, with
Wes Welker
and
Emmanuel Sanders
capable of 100-yard games -- Sanders has two this season, to go with a three-touchdown game -- if that's what it takes to end the Patriots long home winning streak (33 regular-season games in a row) against AFC opponents.
"When you've got Bill Belichick and Tom Brady, two first-ballot Hall of Famers in my eyes, those guys are definitely winners and going at home with the crowd and the environment, it's definitely a tough place to play," said Sanders. "But at the same time, we've got to go out there. We've got to handle business. We've got to go out there and execute at a high level, we've got to be assignment-detailed, we've got to be physical."