AFC West:

Dennis Allen to Raiders
January, 25, 2012
1/25/12
12:00
PM ET
There will be no team in the NFL next year that will be better positioned to defend Denver quarterback
Tim Tebow
than the
Oakland Raiders
.
New Oakland coach Dennis Allen was the Broncos defensive coordinator last season. He practiced against Tebow every day — so there will be no surprises when Allen has to prepare to face Tebow twice next season.
Sure, the Broncos will try to build Tebow's game in the offseason, but Allen knows Tebow's nuances and how the Denver coaches approach their game plans with Tebow.
It doesn't necessarily mean the Raiders – who were gutted by Denver and Tebow in November – will shut down Tebow in 2012, but there is no defensive coach in the league who will know more about Tebow than Allen.
January, 25, 2012
1/25/12
10:00
AM ET
Here are three Oakland players who could be affected by the hiring of Denver defensive coordinator Dennis Allen as head coach:
Michael Huff, defensive back:
It was reported right after the season that the Raiders would move Huff from safety to cornerback. However, that was when Hue Jackson was the coach; all bets are off now. Allen was a standout safety at Texas A&M and was a secondary coach during his stint with the
New Orleans Saints
. I could see Huff staying at safety, but it will be interesting to see what Allen does with him.
Kamerion Wimbley, linebacker:
Denver pass-rushers
Von Miller
and
Elvis Dumervil
excelled under Allen. Wimbley has a lot of ability and he can take over games, but the Raiders need to see him do it more often than he did last season. Wimbley had seven sacks in 2011, but four of them came in one game at San Diego. It's inexcusable that someone with Wimbley's ability had sacks in just four games last season.
Rolando McClain, linebacker:
Allen needs to take McClain under his wing. The No. 8 overall pick in 2010 has potential — but he has a long way to go to become a consistent player. McClain is not terrible, but he needs some good coaching and it will be worth Allen's time to work with McClain.
January, 25, 2012
1/25/12
8:00
AM ET
There's no doubt the
Denver Broncos
should be disappointed that they are losing defensive coordinator Dennis Allen.
When the Broncos hired Allen last year, they knew he'd likely get some head-coaching opportunities, but they thought he'd stick around Denver for two or three years. Yet Allen was plucked by Oakland as its head coach after one season as head coach. The Broncos' defense improved immensely under Allen's guidance.
Now Denver's defense will have its seventh defensive coordinator in seven seasons. Think about that.
Champ Bailey
and
D.J. Williams
have both worn a Denver uniform since 2004. They will now have their seventh coach in seven years.
The transition this year will not nearly be as difficult because Denver head coach John Fox is defensive-minded. While Allen did a good job, Fox deserves a lot of credit for Denver's improvement and will ensure the Broncos don't take a step backward on defense.
I think the two names we have to look at as a candidate to replace Allen are former Jacksonville coach Jack Del Rio and Denver linebacker coach Richard Smith. Del Rio was a coordinator for Fox in Carolina and Smith is extremely experienced as well.
The Broncos will miss Allen, but I think they are in better shape on defense than it may appear.
Here is a look at the Broncos' defensive coordinators in the past six years: Larry Coyer (2006, fired), Jim Bates (2007, fired), Bob Slowik (2008, fired), Mike Nolan (2009, departed in mutual decision), Don Martindale (2010, fired), Allen (2011, hired by Oakland).
January, 25, 2012
1/25/12
1:00
AM ET
It will be interesting to see how Dennis Allen builds his staff in Oakland.

Allen
Allen, the youngest head coach in the NFL, spent only one year as a defensive coordinator in Denver. He spent the previous eight years in Atlanta and in New Orleans.
Allen's most important hire will be offensive coordinator. With Allen's defensive background, he will need a strong offensive leader.
I'd have to think incumbent Oakland offensive coordinator Al Saunders has a solid chance of staying on. He is reportedly in Mobile, Ala., scouting the Senior Bowl for the Raiders. Allen is in Mobile, so the two will get a chance to talk immediately.
Saunders would provide stability to the Oakland offense, which is on steadier footing than the Raiders defense. Make no mistake, former head coach Hue Jackson ran the offensive show in Oakland. But Saunders is familiar with the Raiders offense and is capable of running it.
I also wouldn't be surprised if assistant offensive line coach Steve Wisniewski sticks around, along with some other offensive coaches. Wisniewski is a bright, young coach and the uncle of Raiders guard
Stefen Wisniewski
, who was a standout out as a rookie.
Because Allen will run the defense, the defensive coordinator job is not as important. But perhaps someone such as Denver linebackers coach Richard Smith (who will also be a candidate for Allen's spot on the Broncos staff) could interest Allen.
January, 24, 2012
1/24/12
11:50
PM ET
New Oakland coach Dennis Allen will likely speak at length about his new team soon. However, we found (thanks to the Broncos public-relations staff) some comments he made about the Raiders during the 2011 season, when he was Denver's defensive coordinator. Here is a sampling of his thoughts of the team he is about to take over:
On preparing for an Oakland team with a new quarterback in Carson Palmer:
"We don't have a lot of new tape on him, but we've seen him a lot. I've played him in the past; he's obviously an outstanding quarterback. With them having the bye week, I'm sure there will be a few new wrinkles that they'll have for us, so we'll have to be able to prepare for the unexpected and be able to react to it."
On running back Darren McFadden and Oakland's ground game:
"This guy is an outstanding player. He's had a lot of 100-yard games against a lot of people. He's one of the better backs in this league, but I think when you go back and look at last week's game, he gets hurt, and they hand the ball off to [RB
Michael] Bush
, and I think he had about 100 yards rushing in the game. I think schematically what they do, their personnel allows them to be a really good running football team, and when you put a special talent like Darren McFadden back there, it makes it even that much better."
On Oakland running back Taiwan Jones
"He's extremely fast and extremely talented. He's one of those guys that every time he gets the ball in his hands, he's a threat to go all the way. Again, I see him a little bit more in the lines of McFadden, where you've got to make sure you set down the edges and not let him get to the boundary, not let him get outside on you. If you can do that, you've got a chance."
January, 24, 2012
1/24/12
11:25
PM ET
New gig: Allen was hired as the Raiders' head coach Tuesday night.

Previous job: He was the defensive coordinator in Denver for the past season.

Age: 39. Allen will be the NFL's youngest active head coach — six months younger than Pittsburgh's Mike Tomlin.

Coaching history: From 2002-10, he was an assistant in Atlanta and New Orleans.

Playing history: He was a standout safety at Texas A&M and earned an invitation to Buffalo's training camp in 1996.

Known for: He is an aggressive, smart coach who has seen several players develop under his guidance.

Did you know? New England coach Bill Belichick is the only other active NFL coach who was hired directly from a division rival. He was with the Jets prior to joining the Patriots in 2000.
January, 24, 2012
1/24/12
10:59
PM ET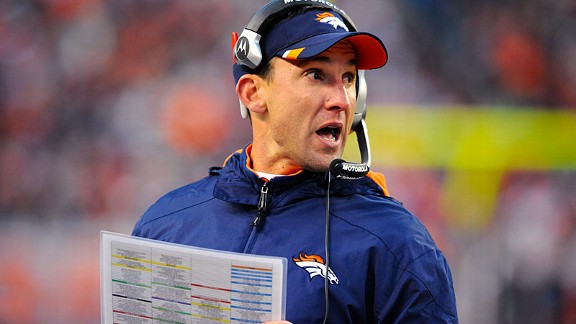 Ron Chenoy/US PresswireThe Oakland Raiders are looking to Dennis Allen to revitalize their struggling franchise.
Reggie McKenzie just took a big risk.
Al Davis would be proud.
In his first move as the late Davis' replacement at the helm of the
Oakland Raiders
, McKenzie, a longtime lieutenant in Green Bay, made a hire few could have guessed two weeks ago when he fired coach Hue Jackson after an 8-8 season. That man is
Denver Broncos
defensive coordinator Dennis Allen.
Allen was hired despite having just one year experience as a coordinator and has no previous ties with McKenzie. At 39, Allen is the youngest active head coach in the NFL.
A former Raiders linebacker, McKenzie -- who was recommended to Oakland owner Mark Davis (Al Davis' son) by former Oakland and Green Bay executives Ron Wolf and Ken Herock -- was expected to stick to his Green Bay roots. Packers assistant Winston Moss and Dom Capers were reportedly candidates, but it was Allen who emerged after an active 14-day search. McKenzie centered his search on Allen in the past day or so. An agreement was made after Allen was interviewed a second time Tuesday.
Allen is the first Raiders head coach who is a defensive specialist since Al Davis hired a 32-year-old John Madden in 1969. While Al Davis was partial to offensive minds, he certainly wasn't afraid to hire a young coach and he no doubt would have saluted McKenzie for sticking to his gut and hiring the coach who he thought was the most impressive. This isn't the first time a hot-shot Denver assistant has become the Raiders' head coach, either. Al Davis hired Denver assistant Mike Shanahan in 1988.
There is no doubt Allen has a chance to be a strong coach. He is regarded as one of the better young defensive minds in the NFL, and he had instant success in Denver while earning the respect of the Broncos' defensive players.
Denver was ranked last in the NFL in almost every defensive category following the 2010 season. After Allen took over, the unit improved immensely in 2011 and the defensive resurgence was a big reason why Denver advanced to the playoffs after a 4-12 record in the previous season.
Prior to the start of the season, Allen talked about what he liked from his new players in Denver, and I'm sure he will have the same approach in Oakland.
"I think they're trying to play fast," Allen said. "I think they're trying to play physical, and at the end of the day I've tried to preach to them, we've preached as a coaching staff, that it's not really about the X's and O's but it's about the way we go out there and play the game. That's what we're trying to do, and I think the guys are buying in and believing in it and trying to do that."
Allen ran a 4-3 defense in Denver, and the Raiders could stay with the 4-3, as well. Oakland has a talented defense, but it sagged badly down the stretch as the Raiders lost four of their final five games. The Raiders gave up way too many big plays. Fixing that issue will be one of Allen's top priorities, along with solving the Raiders' penalty problems. Oakland set NFL record for penalties and penalty yardage in 2011.
He will also be expected to provide stability where the three past Oakland coaches -- Lane Kiffin, Tom Cable and Jackson -- could not. All three of those men created their own distractions at one point.
Allen has a reputation for being hard-working and for stability, as does McKenzie. The dysfunction at the top of the organization must end in Oakland. The Raiders have not been to the postseason since 2002 -- tied for the second-longest streak in the NFL.
In McKenzie and Allen, the Raiders have two young, hungry leaders. But there are risks. Allen, who was New Orleans' secondary coach before getting the Denver job, is fairly inexperienced, and if it doesn't work, people will question why McKenzie didn't go for a more experienced coach or hire somebody he is more familiar with.
But give McKenzie credit going out of his comfort zone and hiring the man he felt best about. Al Davis certainly wouldn't have had a problem with that.
January, 24, 2012
1/24/12
9:04
PM ET
The post-Al Davis
Oakland Raiders
will be a McKenzie-Allen show.
Three weeks after he was hired to run the Raiders and two weeks after he fired coach Hue Jackson, new Oakland general manager Reggie McKenzie hired
Denver Broncos
defensive coordinator Dennis Allen to be the team's head coach,
according to ESPN's Adam Schefter.
Allen has just one year of coordinator experience. At 39, he is the youngest head coach in the NFL and he is the Raider's first defensive-minded coach since John Madden. The hiring puts pressure on Denver, which saw its defense improve immensely under Allen. The Broncos will be looking for their seventh defensive coordinator in seven seasons.
I had some thoughts on an Allen-Oakland paring earlier Tuesday
.
I will be back with much more on this story.