June, 16, 2011
6/16/11
3:00
PM ET
Despite the fact that he has not won a Super Bowl, San Diego quarterback
Philip Rivers
is generally considered an elite NFL quarterback. Baltimore's
Joe Flacco
, however, isn't. Flacco is widely respected, but he is more known as a gritty game manager.
Rivers

Flacco
In an ESPN.com Insider piece
, though, KC Joyner writes that Flacco is in Rivers' company. Crunching the numbers in the way only he can, Joyner makes the argument that Flacco is in Rivers' league as a deep passer. Rivers is considered by many NFL observers to have the prettiest deep ball in the league.
Here is some of Joyner's thinking on the subject: Last year, the San Diego receiving corps suffered through a slew of injuries and suspensions that cost the team the services of starting wideouts
Vincent Jackson
and
Malcom Floyd
and starting tight end
Antonio Gates
for a total of 22 games.
Those losses meant that Rivers ended up throwing a total of 189 pass attempts to the following receivers:
Seyi Ajirotutu
,
Patrick Crayton
,
Buster Davis
,
Randy McMichael
,
Legedu Naanee
and
Kelley Washington
. Those six players would be lucky to crack the starting lineup of any NFL team, yet Rivers ended up committing 34.9 percent of his targets to them last season.
For most quarterbacks, a situation of this nature would cause a significant drop-off in yards per attempt (YPA) production in the areas of vertical (aerials thrown 11 or more yards downfield) and stretch vertical (20 or more yards) passing, but that didn't happen with Rivers. He ranked fourth in the league in vertical YPA (12.1) and seventh in stretch vertical YPA (14.8).
One of the ways he was able to do this was by getting quality YPA figures from both the big name and non-big name pass-catchers. His 13.0 vertical YPA on passes to Floyd, Gates and Jackson alone would have been good enough to rank second in the league in that category, but his 11.2 YPA on vertical targets to other pass-catchers would have been good enough to rank 13th in that same category.
This shows that Rivers is capable of finding a way to get above-average vertical performance from backups. That ability kept the Chargers' downfield passing offense moving even when injuries and suspensions could have hamstrung it.
Flacco was faced with a somewhat different situation in that his wideouts and tight ends were healthy, but they all had vertical receiving limitations.
Anquan Boldin
has a very limited history of being a vertical threat and he was paired up with
Derrick Mason
and
T.J. Houshmandzadeh
, a tandem of aging possession receivers.
Flacco was able to do more than just work around these limitations. He actually excelled with this trio, evidenced by 1,472 yards on the 133 vertical targets aimed at these three.
That equates to an 11.1 vertical YPA overall, but what is more impressive is that each of the three ended up posting a double-digit vertical YPA mark (11.3 for Boldin, 11.9 for Houshmandzadeh, 10.4 for Mason). To put that into perspective, consider that only five other teams ended up with three qualifying pass-catchers in double digits in vertical YPA (47 total targets needed to qualify).
Flacco's downfield passing expertise did not stop there. He posted a 12.5 vertical YPA and 15.1 stretches vertical YPA on throws to targets other than the aforementioned three. Both of those figures are more than a yard higher than what the possession trio posted, and they should increase further with a legitimate deep-threat possibility this year in second-round pick
Torrey Smith
.
My thoughts: It's difficult to argue with Joyner and his numbers. He's a mad scientist when it comes to NFL statistics. And I do like Flacco. The guy is a winner. Still, for my money, I'd rather have Rivers on my team. His pure ability, gumption and leadership make him special.
Who would you rather have quarterback your team, Rivers or Flacco? Fill up the comment section below with your thoughts.
July, 2, 2010
7/02/10
10:00
AM ET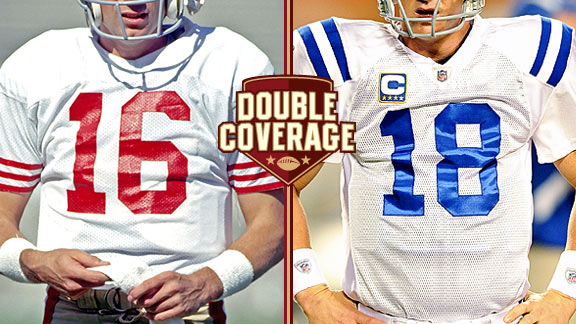 US PresswireLongstanding records would likely fall if the NFL moved to an 18-game regular season. But does that matter in the long run?
Who's up for more football?
The NFL would like to expand the regular season to 18 games and eliminate two preseason games by 2012. Seems like a no-brainer.
But at such a politically charged time, the NFL Players Association isn't willing to concede anything. There are reasons against lengthening the regular season. Injuries are prominent in the discussion, and players would like to be paid for playing additional games.
If the NFL wants an "enhanced season," as it's calling the proposal, then the players would like "enhanced compensation."
Beyond that, however, there are many reasons to debate the idea. That's why ESPN.com's Tim Graham and Bill Williamson are squaring off over it.
Tim Graham:
Let's waste no time here, Bill, and get to a fundamental aspect about the proposed expanded season. We can deliberate on injuries and tradition and whether the NFL needs to increase revenues -- and we will. But the root of the 18-game concept is that fans want more meaningful action and less preseason silliness. Season-ticket holders must pay full price to watch undrafted rookies and retreads with no shot of making the roster run around in exhibitions. Those games are irrelevant. What matters is the enthusiasm NFL fans have for getting the season started as early as possible. Take a look at the message boards and listen to the talk shows. They're frothing in anticipation of the upcoming season. More and sooner is better.
Bill Williamson:
OK, slick, let's get this right: We're supposed to see the greatest sport of mankind completely change its world because fans shouldn't have to pay for parking during the preseason? I totally agree the preseason is a waste of time after the first two games. But cutting back the preseason to add two games to the regular season -- risking further injury and mucking up the tradition of the game -- just doesn't make any sense. Cut the preseason to two games, keep the 16-game regular-season slate and be done with it. That's a win-win to me.
TG:
You know darn well lopping off two preseason games won't cut it with the owners, especially guys like Jerry Jones and Robert Kraft and Woody Johnson. Those games are moneymakers for the individual teams because they can sell local broadcast rights and advertising without having to share with the
Buffalo Bills
and
Jacksonville Jaguars
. That kind of cash grab can't evaporate without a trade-off. Two more regular-season games increase revenue streams for all 32 teams. As for your contention it would completely change the greatest sport of all time, I disagree. The fact the game is so remarkable is why we should be able to watch more of it.
BW:
Tim, you hit on two points that are going to be the reasons we ultimately end up seeing an 18-game regular season: revenue and fan base. Roger Goodell is a fine commissioner. He is a visionary. He is going to capitalize on the country's absolute rabid desire for the NFL. Fans will jump at the chance to see an 18-game regular-season slate (two more weeks of beer and chicken wings is admittedly appealing), and the owners will bathe in more money. But that doesn't make it right. Sometimes, enough is enough, and Goodell is going to be messing with a good thing. The players are the product, and they are going to suffer because of this. Then, in turn, the game is going to suffer. Who wins there?
[+] Enlarge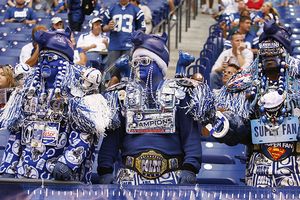 Brian Spurlock/US PresswireSundays during the regular season have become an event for NFL fans.
TG:
You just mentioned chicken wings and beer. I can think of two winners already.
BW:
Tim, I think we can both agree the toughest task for any NFL team to navigate a 16-game season is staying healthy. Nothing ruins a Super Bowl dream like a couple ripped-up knees. Going to an 18-game season will only increase season-ending injuries. Look, it's a month before training camp starts and there already have been several players lost for the season, including
Willie Colon
,
Limas Sweed
and
Thomas Davis
. It's a nasty game. Why make these guys risk further injury and further dampen their teams' Super Bowl hopes by playing two more games in the regular season?
TG:
I agree additional games will escalate the likelihood a given player gets seriously hurt. But some injuries are going to happen no matter what.
New England Patriots
receiver
Wes Welker
, for example, crumpled to the Reliant Stadium turf while making a cut in the regular-season finale. He wasn't touched. Who's to say he wouldn't have suffered the same injury the following Wednesday at practice?
BW:
Right, injuries happen all the time. That's my point. Why increase the season by 14 days and give players 14 more chances to get hurt in a game or in a practice? In an 18-game world, a team would have to play a minimum of 21 games to win a Super Bowl. It's currently 19 games. It may be only two more games, but that is a big difference down the stretch. It would be physically and mentally draining for players to wake up Dec. 1 and realize they have two extra games to play to reach their ultimate goal.
TG:
Wake up on Dec. 1 and then realize they have two extra games? Will the expanded schedule make comas more prevalent? The players, coaches and training staffs will prepare their players for the extra games from the start of the offseason conditioning program. Maybe, for once, organized team activities will become truly voluntary. Subtract some of those workouts. But there are possible in-season remedies too. I understand players will get beaten up with the accumulation of hits and strains. So return to a two-bye schedule, increase the roster size or do away with game-day inactives to give a team more players to use. The NFL also is talking about another developmental league to replace NFL Europa. That would help improve the quality of substitute players.
[+] Enlarge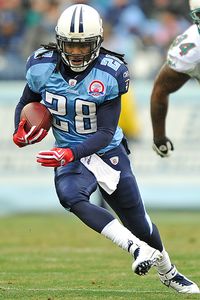 Don McPeak/US PresswireChris Johnson eclipsed 2,000 yards in 16 games. What would his target be in 18 contests?
BW:
The 16-game slate has been in play for 32 years, and it's working great. Every Sunday in the NFL is an event. Even in Detroit and Oakland, where the losses have been suffocating, game day is a cherished occasion. That's because there are only 16 game days a year. An NFL Sunday is a rarity. I love baseball. But if I miss my San Francisco Giants (who are killing me these days, by the way) on a busy Tuesday night, I know I'll have Wednesday to catch them. That's not the case with the NFL. Sundays in the fall are must-see NFL days. It also makes the season more urgent for the participants. "Don't mess up one of these 16 chances" is often the message from NFL coaching staffs to players. Increasing the number of games would take away from the game. What's next? Twenty games? Twenty-four games? Stop the madness. The football season is compact and intense. Why change it?
TG:
NFL games are events not because of how many there are, but because your team plays once per week. Fans revel in or grouse about the last game from the final whistle until about Wednesday morning, when they start looking forward to the upcoming opponent. The tension rises steadily as they talk trash about what's going to happen, they set their fantasy lineups, they maybe wager a few bucks, they attend a tailgate party and then settle into their seats for the opening kickoff. It's an unfailing routine. That's why fans go through a hangover the moment the season is over, and why they can't wait for the next season to commence. NFL games would remain an event if we had a 52-game schedule.
BW:
Let's not underplay the value of records. There are some stirring records out there that will be broken by the virtue of two extra games. That's not cool. Let baseball corner the market on asterisks. Why should the NFL have to play that game? It's just one more reason why moving to an 18-game slate would damage the integrity of the game. It's just not worth it. My message to Roger Goodell is this: Be happy with what you got. It's perfect.
TG:
Records, schmecords. NFL milestones stood up when the schedule was lengthened to 16 games in 1978. Running backs still target 1,000-yard seasons, but they stopped being special a long time ago. Last year,
Fred Jackson
hit quadruple digits. He'll be called a 1,000-yard rusher for the rest of his life.
Chris Johnson
rushed for 2,000 yards, and he was lumped in with O.J. Simpson, who did it in 14 games. Besides, records don't mean nearly as much as they used to because the game itself has changed. Steve Largent retired as the NFL's all-time leading receiver in 1989.
Derrick Mason
and
Larry Centers
, a fullback, have more catches, for crying out loud. Eighteen games. Bring it on.
February, 25, 2010
2/25/10
9:25
PM ET
The San Diego Union Tribune
believes the Chargers will deal cornerback
Antonio Cromartie
soon. The Chargers have been shopping him recently.
ESPN.com's rumor page thinks the Chiefs could make a run at New Orleans safety Darren Sharper. The Chiefs definitely have a need at the position, but I'm not sure spending the money on Sharper would be worth it. The Chiefs could get help in other areas.
The Chiefs have hired former Cleveland contract negotiator Trip MacCracken. He will be the Chiefs' director of football administration. He will work with general manager Scott Pioli in the administrative side. The team also hired Mike Clark as strength and conditioning coach. He was previously with Seattle.

AFC WEST SCOREBOARD
Friday, 8/22
Saturday, 8/23
Sunday, 8/24