January, 2, 2013
1/02/13
12:55
PM ET
Maybe Andy Reid will be heading to the AFC West after all.
There were reports that Reid -- fired by Philadelphia on Monday after 14 years with the club -- would be interested in returning to his native Southern California and coaching the Chargers. They have not shown interest.
Their rival
Kansas City Chiefs
, however, do.
In a move that makes a lot of sense,
ESPN's Chris Mortensen is reporting
that Reid will interview with the Chiefs on Wednesday.
This answers our question: The Chiefs do have interest in a big-name coach.
The first names that emerged in Kansas City were Atlanta offensive coordinator Dirk Koetter and Atlanta special teams coach Keith Armstrong. Koetter talked to the Chiefs on Tuesday and on Wednesday announced he will no longer pursue a head-coaching job.
Pursuing Koetter and Armstrong really didn't jibe with the plans of Kansas City owner Clark Hunt. He is still evaluating general manager Scott Pioli. The plan is for Hunt to lead the coaching search and then discuss Pioli's future with the new coach.
That makes perfect sense with an experienced coach like Reid. Reid had power in Philadelphia that extended beyond the sideline and that could be the case in Kansas City.
Perhaps a Reid-Pioli relationship could work as Pioli's relationship with Bill Belichick did in New England. Pioli would be in the background and in he would be in this circumstance as well. But there is also reason to believe Pioli could still be dismissed.
I think a Reid-Kansas City pairing could work.
He is an established coach who could bring a good staff. He is an offensive mind and the Chiefs need big help on offense. The team has to find a quarterback, but Reid could help that process move along quickly by indentifying a good fit.
Reid would bring some legitimacy to this program.
I have heard that this possibility is real. I know there were many reports Tuesday that said Reid was nearing a deal in Arizona. But I think the Chiefs are very much in the mix and they can get Reid if they want him.
Reid is now clearly the focus of Hunt's search. With both the Chiefs and Cardinals hot for Reid, I think we will see a decision made quickly.
If Reid is the man in Kansas City, the next step is figuring out Pioli's future, then it is finding a quarterback. Then the franchise must decide what to do with the No. 1 pick.
There could be worse first steps than hiring Reid.
December, 31, 2012
12/31/12
8:25
PM ET
Kansas City Chiefs
owner Clark Hunt is clearly mulling different options and I think he is open to keeping general manager Scott Pioli.
I think one of the ways this could happen is if Hunt decides to hire a coach who is powerful enough to run a big part of the organization and allow Pioli to operate as a top decision maker behind the scenes.
That's how Pioli made his name in New England. He was Bill Belichick's right-hand man. In that role, Pioli worked on personnel moves and such. For that to work in Kansas City the right coach would have to be brought in and everyone would have to be on board.
Hunt hasn't closed the door on Pioli yet and if he does stay, it's clear it will be in a reduced role. Hunt has said the coach and general manager will report directly to him.
Meanwhile, Kansas City center
Ryan Lilja
told
the Kansas City Star
he is retiring. He had a nice season. The Chiefs will be fine because youngster
Rodney Hudson
will be coming back from an injury. The team likes him. But Lilja's leadership will be missed.
Fox Sports is reporting the Chiefs will interview Atlanta special teams coach Keith Armstrong. The Chiefs are also talking to Atlanta offensive coordinator Dirk Koetter. I think both may be long shot candidates.
Meanwhile, Hunt sent emails to season-ticket holders Monday, promising better days ahead.
In other AFC West news:
The NFL Network reported that the Chargers have been granted permission to speak to 49ers' executive Tom Gamble about San Diego's general manager's job. Gamble is a hot candidate.
ESPN's Adam Schefter is reporting Denver offensive coordinator Mike McCoy will interview with Chicago and Arizona. McCoy is also a hot candidate. I expect him to get a job.
AFC South blogger Paul Kuharsky
thinks recently-fired Oakland offensive coordinator Gregg Knapp could provide instant help to his former team, Houston, in the playoffs.
I wonder if the Raiders will consider making offensive assistant Al Saunders Knapp's replacement. He did a fine job under Hue Jackson in 2011.
Oakland coach Dennis Allen said he doesn't plan to make any other coaching changes. He needs to find an offensive coordinator, special teams coach, offensive line coach and a linebackers coach. Allen had some issues filing his staff last year as far not getting his first choice. Now, he will have a jump on the process and this will give him a chance to build a better staff.
ESPN columnist Ashley Fox thinks the
Broncos are heading toward a victory parade.
December, 31, 2012
12/31/12
2:40
PM ET
Monday's events
make the
Kansas City Chiefs
' head-coaching job one of the most intriguing openings in the NFL.
It makes me wonder if Kansas City owner Clark Hunt is priming to go after a big-name coach.
There are clearly some indications that that could be the case. Hunt fired coach Romeo Crennel but said this about general manager Scott Pioli in a statement announcing Crennel's dismissal: "The entire football operation will remain under review, and there may be additional changes to come. No final determination has been made at this point on the future of general manager Scott Pioli."
[+] Enlarge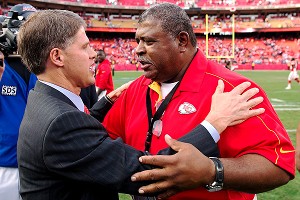 Zumapress/Icon SMIClark Hunt now shifts his focus to finding a new coach to replace Romeo Crennel.
ESPN's Adam Schefter reported Hunt will lead the coaching search and then he and the new coach will discuss Pioli's future.
That means the team will not be hiring another high-powered general manager. It seems like the coach will have more power than Pioli. I think that means Pioli will likely go. Remember, four years ago, Hunt kept coach Herm Edwards on board until he hired Pioli. The reverse may be in play here.
I just don't see it working between Pioli and a new coach unless the choice is someone like Iowa coach Kirk Ferentz or former New England assistant and current Penn State coach Bill O'Brien.
But it seems like the focus is more on the future, instead of making it work with Pioli.
So, perhaps Hunt will go for a big fish such as Oregon coach Chip Kelly. There has been some speculation Hunt could be interested in former Eagles coach Andy Reid.
However, a wrinkle in that, though, is the report from ESPN's Chris Mortensen that the
Chiefs will interview Atlanta offensive coordinator Dirk Koetter
this week. Koetter is not an experienced NFL coach and he is not considered a big-ticket candidate. I'd have a hard time thinking Koetter is prepared to give any input on the future of the general manager.
But it's early in the process. There is a lot to play out. But Monday's steps show that Hunt is going about his search in a way that was unexpected. Hunt has a reputation for being immensely private, and he doesn't show his cards much. The word is even his closest confidantes are in the dark.
Hunt apologized to the fans in his statement Monday, and he used strong words like "embarrassed." He knows Kansas City fans are fed up. He saw the empty seats in beautiful Arrowhead Stadium. He knows dramatic changes are needed.
So, this might be the time for a big splash. If Bill Cowher ever would want to get back in the NFL, maybe it could be for the team for which he was the defensive coordinator from 1989 to 1991.
I think anything is on the table, and I think coaches will listen to Hunt.
Of course, the biggest ding on this team is the lack of a quarterback. That is a huge problem and the Chiefs will have to figure something out, perhaps bringing in a bridge veteran opposed to staking its future to a risky rookie from a weak quarterback class. But there are a lot of things to like about this team.
It is a talented roster with a lot of salary-cap room. After all, the Chiefs had five Pro Bowl players despite going 2-14. They also have the No. 1 pick in the draft. The fan base is good and the team's facilities are top-notch.
This is an attractive situation.
For those who think Hunt will not shell out financially for a big-name coach, remember that Pioli was the general manager prize four years ago and Hunt got him. Hunt may think it is time to go for it again, this time with a high-profile coach.
January, 12, 2012
1/12/12
1:15
PM ET
I had the opportunity to speak to new Kansas City coach Romeo Crennel on Thursday morning about an upcoming project. However, I was able to ask him about the team's progress toward hiring offensive and defensive coordinators.

Crennel indicated that the offensive and defensive coordinator positions will likely not be filled in the immediate future. Crennel said he is in the early stages of the process and that the team needs to get some permission to talk to some candidates. That could be an indication that the Chiefs might have some candidates who are position coaches elsewhere in the league.
Crennel said he hopes to interview candidates next week and at the Senior Bowl in Mobile, Alabama the following week.
He did not discuss specific candidates. Among the potential candidates for the offensive coordinator job could include Kansas City quarterbacks coach Jim Zorn, former Jacksonville offensive coordinator Dirk Koetter and perhaps even former Oakland coach Hue Jackson. Possible defensive candidates could include Kansas City assistant Gary Gibbs, former Jacksonville defensive coordinator and interim coach Mel Tucker, and San Francisco assistant Jim Tomsula.
In other AFC West news:
Matt Williamson of Scouts Inc.
lists Kansas City's
Tamba Hali
as the third best pass-rusher in the NFL.
The San Diego Union-Tribune
believes its time
the Chargers give
Vincent Jackson
a long-term deal. I agree. I believe the sides will talk seriously about it. The Chargers would rather not put the hefty franchise tag on Jackson, so a long-term deal might be the best option.
Late-night television has gotten in on Tebowmania.
January, 10, 2012
1/10/12
9:45
PM ET
I would think the events in Oakland on Tuesday were duly noted in Kansas City.

A day after the Chiefs promoted former defensive coordinator and interim coach Romeo Crennel to permanent head coach, the Raiders fired head coach Hue Jackson.

Jackson immediately goes to the front of the line of available offensive coordinators. The Chiefs need an offensive coordinator, and reports say they are looking for a dynamic offensive leader to allow Crennel to worry about other things.

In my mind, Jackson qualifies as a dynamic offensive-coordinator candidate. He turned the Raiders' offensive around during the past two seasons — as coordinator in 2010 before becoming head coach last year.

The names of Chiefs quarterback coach Jim Zorn and former Jacksonville offensive coordinator Dirk Koetter are also floating around for the Chiefs job. Jackson would be intriguing, though. I think he'd fit with the Chiefs' personnel, and you would have to think the freshly fired Oakland coach would be interested in staying in the AFC West.

Will the Chiefs end up hiring Jackson? We'll see, but his sudden availability has to at least be discussed in Kansas City. There will be competition for Jackson, though. Miami is interviewing Cincinnati defensive coordinator Mike Zimmer for its head-coaching vacancy. If he gets the job, a Zimmer-Jackson combo could be in play. The two are longtime associates.
January, 9, 2012
1/09/12
4:30
PM ET
Now that Romeo Crennel has been hired as the permanent coach in Kansas City, the focus will be on his coordinator hires.

Reports suggest Kansas City will pursue a high-profile, dynamic offensive coordinator to help Crennel, who is a defensive specialist. Former Kansas City coach Todd Haley was an offensive-minded coach. Bill Muir, the Chiefs' current offensive coordinator, reportedly may retire.
The problem with finding a star offensive coordinator is the fact there aren't many available. One name to consider may be former Jacksonville offensive coordinator Dirk Koetter. He is considered an up-and-comer. He interviewed for the head-coaching job in Denver last year. Other available names include former NFL head coaches Brad Childress and Mike Martz.
Koetter might be a safer pick, though, since Childress and Martz have reportedly had issues with getting along with co-workers and/or players in the past. After firing the volatile Haley, the Chiefs want stability and that is a big reason why Crennel was promoted.
One name to keep in mind is current Kansas City quarterbacks coach Jim Zorn. He is a respected, experienced coach, who knows this team and he works well with Crennel. Considering the Chiefs have had three different offenses in the past three seasons, sticking with a familiar coach makes sense.
The defensive coordinator search is less importance since Crennel will still have a big hand in the running the unit.
One name that may surface is former Jacksonville defensive coordinator and interim coach Mel Tucker. He was on Crennel's staff in Cleveland. Another candidate could be San Francisco defensive line coach Jim Tomsula. Kansas City linebackers coach Gary Gibbs is also reportedly a candidate.
Crennel will likely get right to work on the assistant coach search and I could see the key openings being filed in the next week or so.
January, 12, 2011
1/12/11
9:30
PM ET
The Denver Broncos
met with
former Carolina coach John Fox on Wednesday. He is the fifth candidate to meet with the Broncos,
who are giving fans an inside look of the interview process
.
Denver is now expected to review the candidates and decide whether to bring in any other possibilities. At this point, Denver is not preparing to ask permission to talk to speak to any other candidates. There is a strong chance that Denver's new coach has already been interviewed.
The following is a look at the five candidates:
Rick Dennison, offensive coordinator, Houston Texans
When interviewed:
Tuesday
The skinny:
Dennison is a former Denver player and assistant coach. He is the most connected of the candidates to John Elway, Denver's new chief of football operations. Dennison interviewed to replace Mike Shanahan two years ago and is a quiet, smart coach. I'd be surprised, however, if he was the choice.
Perry Fewell, New York Giants, defensive coordinator
When interviewed:
Sunday
The Skinny
: He is considered one of the better young defensive minds in the NFL. He is a detailed coach, who impressed Denver's brain trust with leadership abilities. I could see him getting a second interview.
John Fox, former Carolina Panthers head coach
When interviewed:
Wednesday
The skinny
: Fox is the headline name of this mostly unknown group. He has coached Carolina for the past nine years, is a strong presence, and is a good football man. Even though the Panthers tumbled terribly this season, hiring someone as experienced as Fox could be considered a coup. I wouldn't be surprised if he was the leader in the clubhouse.
Dirk Koetter, Jacksonville Jaguars, offensive coordinator
When interviewed:
Tuesday
The skinny:
Koetter may be a sleeper candidate. He is well respected as a strong offensive mind. Koetter is a reserved, quiet man who is known for his dedication. He was the coach at Arizona State and at Boise State and has the head-coaching experience that Elway desires. He could score with another interview.
Eric Studesville, Denver Broncos interim head coach
When interviewed:
Sunday
The skinny:
Studesville is the underdog candidate. He was Denver's running backs coach before he took over for the fired Josh McDaniels in the final four games. Studesville finished with a 1-3 record, but Denver's brass appreciated how hard he worked and how he kept the team together in the final month of the season. I'd be stunned if he got the head-coaching job, but I wouldn't be surprised if the team tried to keep him in some capacity.
Note:
Former Stanford and new San Francisco coach Jim Harbaugh, Atlanta offensive coordinator Mike Mularkey and New Orleans defensive coordinator Gregg Williams all declined interview opportunities. If the Falcons lose to Green Bay on Saturday, Mularkey could still interview.
January, 11, 2011
1/11/11
1:50
PM ET
The
Denver Broncos
have lost another candidate for their head-coaching job.
It is being reported that New Orleans defensive coordinator Gregg Williams
has withdrawn himself from consideration
. Williams interested Denver partly because he has head-coaching experience from his time in Buffalo. Williams was scheduled to interview in Denver on Wednesday.
He is the third candidate Denver has pursued that has declined to talk to the team. Former Stanford coach Jim Harbaugh ended up going to San Francisco and Atlanta offensive coordinator Mike Mularkey has postponed his interview until after the Falcons' season is over. He'll likely interview with the Broncos if they don't already have a new coach by that time. The Broncos were not upset with Mularkey's decision, but they will not purposely wait for him, either.
While Harbaugh would have been a slam-dunk hire, Mularkey and Williams were not considered sure things in Denver.
Denver is talking to Houston offensive coordinator Rick Dennison (a former Denver player and coach who interviewed for the job two years ago) and Jacksonville offensive coordinator Dirk Koetter on Tuesday. Former Carolina head coach John Fox will interview on Wednesday.
Giants defensive coordinator Perry Fewell and Denver interim coach Eric Studesville have already interviewed. The team could add to the list;it hopes to hire a new coach by next week after a round of second interviews for the finalists.
After disposed coach Josh McDaniels alienated many fans, the team -- led by new vice president of football operations John Elway -- is doing its best to regain the trust of the fan base. Tuesday, Elway
asked fans what they'd ask candidates
, via Twitter. Also, the team is showing clips of the interview process on
its website
. No other team has ever done that.
January, 10, 2011
1/10/11
7:05
PM ET
There is heavy talk
that San Diego defensive coordinator Ron Rivera is going to be named the head coach in Carolina.
The deal is not done, but Rivera is expected to meet with Carolina ownership Tuesday in a second interview, and if all goes well, a deal could get done soon. Rivera deserves this chance. He has had several interviews for head-coaching jobs in recent years and he did a great job in San Diego. The Chargers had the No.1 ranked defense in the NFL this season.
There is talk around the NFL that San Francisco defensive coordinator
Greg Manusky
could replace Rivera in San Diego. Chargers head coach Norv Turner and Manusky have a history together.
If Rivera gets the Carolina job, there will be key openings in every AFC West city. Denver and Oakland will have new head coaches and Kansas City is looking for a new offensive coordinator, where Denver offensive coordinator
Mike McCoy
is considered an option.
Denver's head-coaching search continues to take shape. New Denver football leader
John Elway
announced
New Orleans defensive coordinator Gregg Williams will interview Wednesday. Former Carolina coach John Fox
will interview
Wednesday instead of Monday because of travel issues. Houston offensive coordinator Rick Dennison and Jacksonville offensive coordinator Dirk Koetter
will be interviewed
Tuesday. Giants' defensive coordinator Perry Fewell and Denver interim coach Eric Studesville were interviewed on Sunday.
Denver could add to its list of six and could eventually talk to Atlanta offensive coordinator Mike Mularkey after the Falcons' season is over if the Broncos' search, which could be 7-10 days from conclusion, is not concluded. Mularkey postponed his interview last week.
The Raiders' search has been typically quiet. Still, Oakland offensive coordinator Hue Jackson is expected to be promoted, although names such as former Oakland offensive coordinator Marc Trestman continue to emerge. Still, I'd be surprised if Jackson doesn't get the job.
January, 8, 2011
1/08/11
7:35
PM ET
Now, there's some juice to the Denver Broncos' coaching search.
Finding a new coach is not necessarily about name recognition. There was a time Vince Lombardi was a no-name. I get that.
But the fact
the
Denver Broncos
are pursuing former Carolina head coach John Fox should be reassuring to Broncos' fans. It shows the team isn't just going to settle for a cheap, inexperienced coach. Denver was trying to nail down an interview date for Fox on Saturday.
The Broncos said they were going to make a push for Stanford coach Jim Harbaugh before he took a five-year, $25 million deal from San Francisco on Friday. But Harbaugh never really gave the Broncos an opportunity to woo him. The other top name on the list, Atlanta offensive coordinator Mike Mularkey, has postponed his interview until the Falcons' season is over, which may preclude him from interviewing.
Other names on Denver's list include Giants' defensive coordinator Perry Fewell, Houston offensive coordinator Rick Dennison and Jacksonville offensive coordinator Dirk Koetter. It's not exactly a who's who of NFL coaching greats, although Fewell has been sought after.
However, Fox is at a different level. He is a legitimate, proven NFL head coach. Don't be swayed by his final season in Carolina, where he went 2-14. Fox was forced into a youth movement he didn't want to be part of and his departure was basically mutual.
He'd probably be refreshed to be with a new organization after nine seasons in Carolina, in which the Panthers were usually solid contenders in the NFC. Fox was known as one of the better defensive coordinators in the NFL before he went to Carolina and his defenses there were NFL stalwarts.
Denver could surely use a strong defensive influence. The Broncos allowed an NFL-high 471 points as it went 4-12 in 2010. Fox has a strong group of assistants who he'd likely bring with him and the Broncos' defense would be bound to improve under his watch.
The key for Fox to be a successful head coach is to have a strong offensive coordinator. But his impact on defense would be a good start to re-establishing Denver's program.
Fox was very complimentary of Denver quarterback
Tim Tebow
prior to the draft and he likely would be on board with continuing the Tebow project and make him the starter in 2011, which is the preference of the Broncos.
There are a lot of reasons to think this could be a good fit. Again, Fox shouldn't be considered the frontrunner merely on name recognition, but adding him to the mix surely gives Denver a stronger pool of candidates.
January, 7, 2011
1/07/11
6:35
PM ET
New Denver football czar John Elway
just announced
that the Broncos have received permission to speak to Jacksonville offensive coordinator Dirk Koetter to talk to about their head-coaching job.
Koetter has head-coaching experience, which Elway has said is a positive. He coached both Arizona State and Boise State. Koetter is known for his work with quarterbacks.
Koetter is a good football man. But like the
other names currently
on Denver's list, he's not exactly a headliner. Expect more names to emerge in this search, which could be a slow process.
AFC WEST SCOREBOARD
Saturday, 12/20
Sunday, 12/21
Monday, 12/22