January, 24, 2012
1/24/12
10:59
PM ET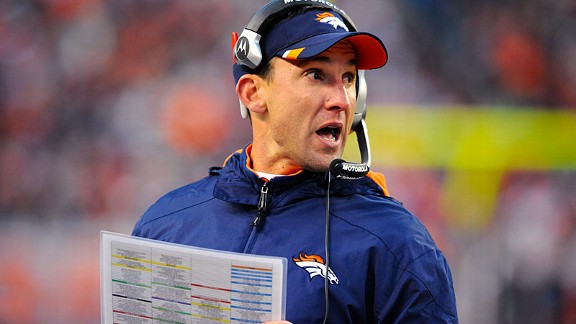 Ron Chenoy/US PresswireThe Oakland Raiders are looking to Dennis Allen to revitalize their struggling franchise.
Reggie McKenzie just took a big risk.
Al Davis would be proud.
In his first move as the late Davis' replacement at the helm of the
Oakland Raiders
, McKenzie, a longtime lieutenant in Green Bay, made a hire few could have guessed two weeks ago when he fired coach Hue Jackson after an 8-8 season. That man is
Denver Broncos
defensive coordinator Dennis Allen.
Allen was hired despite having just one year experience as a coordinator and has no previous ties with McKenzie. At 39, Allen is the youngest active head coach in the NFL.
A former Raiders linebacker, McKenzie -- who was recommended to Oakland owner Mark Davis (Al Davis' son) by former Oakland and Green Bay executives Ron Wolf and Ken Herock -- was expected to stick to his Green Bay roots. Packers assistant Winston Moss and Dom Capers were reportedly candidates, but it was Allen who emerged after an active 14-day search. McKenzie centered his search on Allen in the past day or so. An agreement was made after Allen was interviewed a second time Tuesday.
Allen is the first Raiders head coach who is a defensive specialist since Al Davis hired a 32-year-old John Madden in 1969. While Al Davis was partial to offensive minds, he certainly wasn't afraid to hire a young coach and he no doubt would have saluted McKenzie for sticking to his gut and hiring the coach who he thought was the most impressive. This isn't the first time a hot-shot Denver assistant has become the Raiders' head coach, either. Al Davis hired Denver assistant Mike Shanahan in 1988.
There is no doubt Allen has a chance to be a strong coach. He is regarded as one of the better young defensive minds in the NFL, and he had instant success in Denver while earning the respect of the Broncos' defensive players.
Denver was ranked last in the NFL in almost every defensive category following the 2010 season. After Allen took over, the unit improved immensely in 2011 and the defensive resurgence was a big reason why Denver advanced to the playoffs after a 4-12 record in the previous season.
Prior to the start of the season, Allen talked about what he liked from his new players in Denver, and I'm sure he will have the same approach in Oakland.
"I think they're trying to play fast," Allen said. "I think they're trying to play physical, and at the end of the day I've tried to preach to them, we've preached as a coaching staff, that it's not really about the X's and O's but it's about the way we go out there and play the game. That's what we're trying to do, and I think the guys are buying in and believing in it and trying to do that."
Allen ran a 4-3 defense in Denver, and the Raiders could stay with the 4-3, as well. Oakland has a talented defense, but it sagged badly down the stretch as the Raiders lost four of their final five games. The Raiders gave up way too many big plays. Fixing that issue will be one of Allen's top priorities, along with solving the Raiders' penalty problems. Oakland set NFL record for penalties and penalty yardage in 2011.
He will also be expected to provide stability where the three past Oakland coaches -- Lane Kiffin, Tom Cable and Jackson -- could not. All three of those men created their own distractions at one point.
Allen has a reputation for being hard-working and for stability, as does McKenzie. The dysfunction at the top of the organization must end in Oakland. The Raiders have not been to the postseason since 2002 -- tied for the second-longest streak in the NFL.
In McKenzie and Allen, the Raiders have two young, hungry leaders. But there are risks. Allen, who was New Orleans' secondary coach before getting the Denver job, is fairly inexperienced, and if it doesn't work, people will question why McKenzie didn't go for a more experienced coach or hire somebody he is more familiar with.
But give McKenzie credit going out of his comfort zone and hiring the man he felt best about. Al Davis certainly wouldn't have had a problem with that.
January, 24, 2012
1/24/12
3:25
PM ET
Earlier Tuesday,
ESPN's Adam Schefter and Chris Mortensen reported
the Oakland Raiders are focusing on Denver defensive coordinator Dennis Allen.
They reported that the team and Allen are trying to take the final steps to making Allen the Raiders' coach. They reported that candidates Marty Mornhinweg and Mike Tice were told Oakland is going in another direction.
Later Tuesday,
CSN Bay Area reported
the Raiders are considering Allen, Green Bay linebackers coach Winston Moss and a mystery candidate. The report said New Orleans offensive coordinator Pete Carmichael has also been told he not be the head coach in Oakland.
Other candidates named for the job are former Miami interim coach Todd Bowles, Green Bay defensive coordinator Dom Capers and Denver offensive coordinator Mike McCoy. However, McCoy backed out of his interview in Oakland to concentrate on a second interview in Miami. He did not get that job.
I know what many of you may be thinking when you read the "mystery" candidate? It is Jon Gruden? I know many Oakland fans would want nothing more to see Gruden head back to Oakland. But I'd still characterize that chance as a long shot. I heard Tuesday former Baltimore coach Brian Billick would be interested to returning to the sideline if the right job opened. However, it is not clear if Oakland would have interest.
The bottom line is, these report are indications that Oakland's 14-day search may be winding down.
UPDATE:
CSN Bay Area is reporting
that Oakland general manager Reggie McKenzie said Allen is not a "lock" for the job. But by reading McKenzie's comments, it is clear Allen has an opportunity to nail down this job.
January, 24, 2012
1/24/12
11:00
AM ET
New
Oakland Raiders
general manager Reggie McKenzie is certainly doing his due diligence as he makes his head-coaching hire.
McKenzie has interviewed several candidates and has said he may make his hire by Saturday. ESPN's Adam Schefter has reported
Denver Broncos
defensive coordinator Dennis Allen is getting a second interview and that
Philadelphia Eagles
offensive coordinator Marty Mornhinweg may also be a favorite.
Green Bay Packers
defensive coordinator Dom Capers has also been mentioned as a candidate. Our polls do not hold more than five options, so he is not included in our voting -- but he could still emerge as the Raiders' coach.
What do you think? Please take our poll on who you think should be the Raiders next head coach.
We will review the poll results Wednesday.
January, 22, 2012
1/22/12
5:20
PM ET
Here's the run of Green Bay assistants in play in Oakland.
Earlier Sunday,
ESPN's Adam Schefter reported
that Green Bay linebackers coach Winston Moss has interviewed for the Raiders' head-coaching job. Now,
CBS' Charlie Casserly reports
the Raiders have asked permission to talk to Green Bay defensive coordinator Dom Capers.
New Oakland general manager Reggie McKenzie was hired from Green Bay, where he was an executive, earlier this month. There are several other candidates for the job. McKenzie is expected to make the hire in the next seven to 10 days, Casserly said.
Schefter reported Philadelphia offensive coordinator Marty Mornhinweg may be one of the favorites for the job. He worked in Green Bay with McKenzie in the 1990s and he is a former head coach in Detroit.
In other AFC West news:
Former Oakland coach Hue Jackson is
reportedly a candidate
to be the quarterbacks coach in Arizona.
San Diego quarterback Philip Rivers is a finalist for the NFL Man of the Year award. The prestigious award will be given Feb. 4.
January, 15, 2012
1/15/12
8:20
PM ET
The
Green Bay Packers
' unexpected pain may be the
Oakland Raiders
' unexpected gain.
With No. 1 seed -- and Super Bowl favorite -- Green Bay being shocked at home by the
New York Giants
on Sunday, the Raiders are now free to pursue any Green Bay assistant coach for their head-coaching opening.
Former Green Bay executive Reggie McKenzie was recently hired as the Raiders' general manager. Among the candidates he could interview to replace the fired Hue Jackson includes Packers' assistant Winston Moss, Dom Capers, Joe Philbin and Darren Perry. Former Miami interim coach Todd Bowles was interviewed Friday. ESPN's Adam Schefter reported earlier Sunday that the Raiders were expected to interview four candidates.
It was thought that the Raiders' search could be delayed by the Packers' season because no coach can be hired until after his season is over.
Well, the Packers are in the books, so McKenzie is free to plunder from his old home if he wishes.
January, 13, 2012
1/13/12
11:45
AM ET
NFL.com is reporting
Green Bay defensive coordinator Dom Capers will be added to the list of candidates for the
Oakland Raiders
coaching job.
It makes sense. Basically, any quality Green Bay assistant will be considered by new Oakland general manager Reggie McKenzie. He came from Green Bay and he will consider good people from the great organization he came from.
Capers definitely qualifies as a quality football man. Capers, 61, had four-season stints as a head coach in Carolina and in Houston. He is considered one of the best 3-4 defensive coaches in the NFL. Oakland could do a lot worse than Capers. Still, Capers can't be hired until after the Packers' season is over. The interview process in Oakland reportedly started Friday with former Miami interim coach Todd Bowles being interviewed.
In other AFC West news:
An ESPN Stats & Information post
looks into whether Tim Tebow's time is about to run out.
Oakland kicker
Sebastian Janikowski
made the
Football Outsiders' All-Pro team.
Former Jacksonville interim coach Mel Tucker is starting with the Jaguars. He had been considered a potential defensive coordinator in Kansas City. That job is taking on less of a role because coach Romeo Crennel is going to continue to call the defensive plays.
January, 7, 2011
1/07/11
2:55
PM ET
With the Jim Harbaugh pipedream all but over for the
Denver Broncos
, new Denver football czar
John Elway
is streamlining his wish list.
If Denver fans are looking for a household name or seat filler, they may want to temper your hopes. While the list can change at any time, the current group of the Broncos' candidates is not filled with bright-light names.
Elway said Friday
the Broncos are likely out of the Harbaugh talks. Elway did say he is seeking permission to talk to former Denver assistant and current Houston offensive coordinator Rick Dennison and he may call former Giants coach Jim Fassel. Elway has ties to both men.
Other people Denver is going to interview are Giants defensive coordinator Perry Fewell (who may be the top choice at the moment) and Denver interim coach Eric Studesville. New Orleans defensive coordinator Gregg Williams is expected to be interviewed when the Saints' season is complete. Atlanta offensive coordinator Mike Mularkey (considered by many as a top Denver choice) has postponed his interview until after the Falcons' season ends.
Once you get past Mularkey and perhaps Fewell, this isn't an overly exciting list. It's not to say these aren't good coaches, but they are far from Harbaugh when it comes to name recognition.
In the end, I'm not surprised Harbaugh probably isn't going to end up in Denver. He was too costly for the Broncos' blood. Plus, I'm not sure if it was a great fit. It seems to me that Harbaugh is the type who will want to make his own decisions. After moving away from Mike Shanahan and Josh McDaniels in the past two years, the Broncos want their coach to just coach and not make personnel decisions.
Any of the above names would surely be fine with that arrangement.
I wouldn't be surprised if other names pop up. They could include former Baltimore coach Brian Billick, Miami defensive coordinator and former Denver defensive coordinator Mike Nolan, Philadelphia assistant Marty Mornhinweg, San Diego defensive coordinator Ron Rivera and Green Bay defensive coordinator Dom Capers.
Billick could be an interesting candidate. He likely wouldn't be overly expensive and he has had a lot of NFL success.
January, 19, 2009
1/19/09
12:53
PM ET
Posted by ESPN.com's Bill Williamson
With new Kansas City general manager Scott Pioli still pondering the future of coach Herm Edwards and the Raiders still considering candidates in Oakland, there is plenty of work to be done in the AFC West.
Here are some coaching news and developments as we wait for the two major decisions remaining in the division.
Green Bay has hired Dom Capers as their defensive coordinator. It had been reported that Denver was hoping to add Capers to the staff as a defensive assistant. That would have been intriguing because it would have meant new Denver coach Josh McDaniels would have two former head coaches on his defensive staff. Former San Francisco coach Mike Nolan is his new defensive coordinator.
One Kansas City columnist believes Pioli should hire Arizona offensive coordinator Todd Haley to replace Edwards. Haley is a hot name thanks to the Cardinals' success. Haley is believed to be on Oakland's radar.
It's being reported that the Chargers are bringing aboard two former Chicago assistants.
January, 17, 2009
1/17/09
9:13
PM ET
Posted by ESPN.com's Bill Williamson

It's clear that Josh McDaniels, Denver's new coach, wants to put his own stamp on the Broncos' passing offense. At the same time however, expect him to be open to finding ways to maintain Denver's successful running game.
McDaniels will call the plays and he has brought in Carolina assistant Mike McCoy to be the passing coordinator. Former San Francisco assistant Adam Gase will coach the receivers. They replace Jeremy Bates and Jedd Fisch, respectively.
Some in Denver's building wanted to keep Bates and Fisch but McDaniels was given the final call. Still, he kept Denver's running attack in place by keeping run-game coordinator/offensive line coach Rick Dennison and running backs coach Bobby Turner. Bates is being considered in Detroit and could emerge as a candidate in Tampa Bay.
Elsewhere in the conference:
The Oakland Tribune reports the Raiders are warning against fans expecting freshly fired Tampa Bay coach Jon Gruden and and general manager Bruce Allen to return to Oakland. The return of the two men, especially Gruden, is a long shot for many reasons. Give Oakland credit for trying to keep the speculation of a Gruden return from growing.
The Kansas City Star is reporting defensive coordinator Gunther Cunningham is interviewing in Detroit. Two other Kansas City assistants have taken jobs elsewhere. The fact that Cunningham is talking to another team could be a sign inside the building that the expectation is that new general manager Scott Pioli will end up firing coach Herm Edwards.
The idea earlier in the week that Steve Spagnuolo would be high on Pioli's wish list. That, of course, is out of the question as Spagnuolo became the coach in St. Louis Saturday. Chris Mortensen's report that the Giants are targeting Dom Capers as Spagnuolo's replacement could affect Denver's pursuit of him as an assistant.
Former Chicago secondary coach Steve Wilks is a candidate for the same job in San Diego.
January, 13, 2009
1/13/09
9:30
PM ET
Posted by ESPN.com's Bill Williamson
• It is expected around the league that new Kansas City general manager Scott Pioli will fire coach Herman Edwards. But the word in Kansas City is that the situation is still being mulled.
Edwards has a big fan in owner Clark Hunt.
Don't be surprised if Edwards attends Pioli's introductory news conference on Wednesday. Pioli is expected to meet with Kansas City coaches Thursday.
If Pioli does fire Edwards, don't be surprised if San Diego defensive coordinator Ron Rivera gets a look. Rivera interviews in Detroit on Wednesday for the Lions' head job.
• San Diego running back LaDainian Tomlinson admitted he has heard rumors he could be traded but he hasn't heard anything concrete. I get the feeling San Diego hasn't even thought about that notion.
• The idea of the Chiefs heading to Missouri for training camp in 2010 has taken another step toward becoming a reality.
• In Denver, the offensive coaches are expected to talk to new coach Josh McDaniels about staying. However, assistants Jeremy Bates and Rick Dennison already have had or will have interviews elsewhere.
• Don't be surprised if former Denver general manager Ted Sundquist's name is connected to a potential opening in Detroit's front office.
• San Diego cornerback Antonio Cromartie said he played the season with a fractured hip. That could help explain a down season for Cromartie.
• Kansas City special teams coach Mike Priefer interviewed for the same job in Green Bay.
• The Rocky Mountain News is reporting that Mike Nolan is officially Denver's defensive coordinator and the team is also pursuing Dom Capers for a spot on the coaching staff.
January, 12, 2009
1/12/09
10:00
AM ET
Posted by ESPN.com's Bill Williamson

Here are some random thoughts on Denver's hiring of New England offensive coordinator Josh McDaniels:
The Broncos became a passing team in 2008 partly because quarterback Jay Cutler emerged into a Pro Bowl player and the team had major injury issues at running back. Thus, Mike Shanahan, perhaps the premier running head coach in NFL history, slowly changed his team's approach.
Under McDaniels, it is very likely the Broncos will stay a throwing team.
His background is in the air and he has had great success with Tom Brady and Matt Cassel. The team is excited about Cutler's development under McDaniels.
It is being reported that former San Francisco coach Mike Nolan will be the Broncos' defensive coordinator. Dom Capers and Sean McDermott have also been mentioned for that job in Denver.
Nolan would be an interesting choice. Despite his issues as a head coach, he is a noted defensive coaching star and he is experienced. Like Capers, he'd be a help to McDaniels. The Broncos have had one of the league's worst defenses in recent years so an experienced coach is needed on that side of the ball.
McDaniels isn't the first branch of the Bill Belichick coaching tree. But can he have success? Two former Belichick assistants, Romeo Crennel and Eric Mangini were just fired from NFL jobs. Charlie Weis has been under fire at Notre Dame. Can McDaniels buck the trend? We'll see.
The Broncos may have indirectly stolen McDaniels away from Kansas City. The Chiefs are talking to New England's Scott Pioli about being the general manager. There was speculation that Pioli could take McDaniels to Kansas City with him. Now, if Pioli ends up with the Chiefs, he'll be division rivals with his former co-worker.
January, 12, 2009
1/12/09
12:21
AM ET
| | |
| --- | --- |
| | |
| | Greg M. Cooper/US Presswire |
| | ESPN's Chris Mortensen is reporting that Patriots offensive coordinator Josh McDaniels will be hired as the new head coach of the Broncos. |
Posted by ESPN.com's Bill Williamson
The Denver Broncos are banking on Josh McDaniels to be a better offensive coach than Mike Shanahan.
At least that's what this hire, reported by ESPN's Chris Mortensen, implies.
McDaniels, New England's 32-year-old offensive coordinator, is considered one of the best young offensive minds working in the league today. Shanahan -- fired by Denver less than two weeks ago after 14 years -- is one of the best offensive minds the NFL has ever seen.
Because Denver's defense was Shanahan's eventual demise, many expected Denver would hire a defensive-minded coach. Three of the seven candidates interviewed in Denver were defensive coaches.
But in the end, Denver is staying with offense.
It is another reminder that Denver owner Pat Bowlen just wanted to make a change. He needed fresh blood to give his organization a new message.
McDaniels is as fresh as it gets. Now, can he get more points out of an offense that ate up yards but didn't score as much as it could have in 2008?
There is no doubting McDaniels' ability. New England has been excellent with him. The final proof that he is ready to be a head coaching candidate was when backup quarterback Matt Cassel blossomed into a standout after starter Tom Brady was lost for the season in Week 1.
The Broncos have a franchise quarterback in Jay Cutler. Perhaps McDaniels was chosen because the team's brass believes he can help Cutler improve. The team was originally thinking about keeping passing game coordinator Jeremy Bates. But he is a similar coach to McDaniels, a young passing-game guru. It is not known if Bates will be kept.
Run game coordinator Rick Dennison, one of seven candidates for the head coaching job in Denver, is interviewing Monday in San Francisco for the 49ers' offensive coordinator job.

While McDaniels will clearly be in the charge of the offense and refreshing the atmosphere that got stale under Shanahan, he will need to address the defense. The Broncos have gone 24-24 over the past three seasons.
It was being reported out of Denver on Sunday night that McDaniels could bring in longtime defensive coach and former NFL head coach Dom Capers to run the defense. A respected veteran hand like Capers could help McDaniels make the transition.
McDaniels, by all accounts, is a coaching star in the making. He now has the most closely watched job in the state of Colorado and he replaces a legend.
Easy? No. But neither was the idea of replacing Brady and McDaniels managed that.