AFC West:

double coverage
January, 11, 2013
1/11/13
10:00
AM ET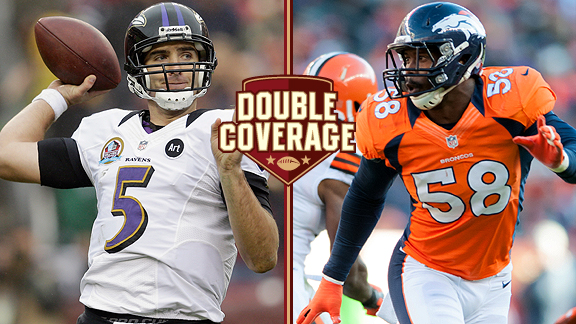 Getty ImagesThe Ravens must do a better job of protecting Joe Flacco, left, from Von Miller and the Broncos pass rush than they did during the team's meeting last month.
This feels like Double Coverage déjà vu. It was only four weeks ago when we were talking about these same two teams. If you don't remember, or you're a Ravens fan trying to forget, the Broncos rolled to a
34-17 win in Baltimore
.
Since that time, the Ravens regrouped with a 33-14 win over the Giants and delivered an emotionally charged 24-9 playoff win over the Colts in the wild-card round. Baltimore has now won at least one game in each of the past five postseasons.
The Broncos finished out the regular season with 11 straight wins to capture the top seed in the AFC. In the previous 42 seasons, there have been eight teams to enter the playoffs with an active win streak of at least 10 games, and half of them made the Super Bowl.
AFC West blogger Bill Williamson and AFC North blogger Jamison Hensley discuss whether Saturday's AFC divisional playoff game will be a repeat of the regular-season rout.
[+] Enlarge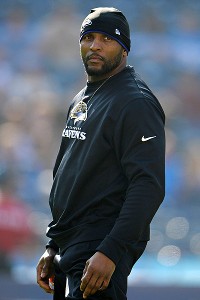 Kirby Lee/US PresswireTeam leader Ray Lewis was not in uniform for the regular-season meeting between the Ravens and Broncos, a 34-17 Denver win.
Hensley
: The Ravens are decided underdogs in this game, and they should be. Baltimore hardly looked like a playoff team in getting beat by 17 points by Denver last month, and
Peyton Manning
didn't even have a great game. The Ravens believe the outcome will be different because they're healthier. Middle linebacker
Ray Lewis
and the Ravens' top two tacklers (safety
Bernard Pollard
and linebacker
Dannell Ellerbe
) will play this time after missing the last game against the Broncos. The Ravens' best offensive lineman, guard
Marshal Yanda
, will also be back in the lineup. This, at least, gives the Ravens some hope.
Williamson
: There's no denying this: The
Denver Broncos
are confident going into this game. They should be. They are 13-3. They have won a league-high 11 straight games. They pounded the Ravens in Baltimore four weeks ago in their best overall game of the season. But be sure of this: Denver respects Baltimore. It is not overlooking this game because of a potential Manning-
Tom Brady
showdown in the AFC title game. The key to Denver's winning streak has been its focus on the upcoming game and its ability not to get ahead of itself. As Jamison said, the Ravens are healthier this week than they were in December, and the Broncos know it. They have spoken of that fact all week. This is a good approach for Denver. The Broncos feel good about themselves, but they are focused on the Ravens. Let's face it, the Broncos should win this game, but an upset is not out of the question. Jamison, what do you think are some keys to this matchup?
Hensley
: The biggest matchup is one the Ravens lost badly the first time. It's the Ravens' offensive line against the Broncos' pass rush.
Joe Flacco
was sacked three times, and he's not the same quarterback when he gets hit early. Pressure on Flacco often results in turnovers. It's kind of a running theme, but the Ravens hope it will be different this time because their line looks different. For the wild-card victory Sunday, the Ravens put
Bryant McKinnie
at left tackle, moved
Michael Oher
to right tackle and shifted
Kelechi Osemele
to left guard. McKinnie allowed one quarterback pressure against the Colts, and the Ravens gave up one sack. As you know, Bill, it's an entirely different challenge with
Von Miller
and the Broncos. What's the key matchup from the Broncos' standpoint?
Williamson
: I think it starts here. I don't know if the Ravens are going to have an answer for that. Sure, they did some line shuffling last week. But that is a sign of desperation. Denver's pass rush is top-notch. It was all over Flacco last month. It set the tone for the game. Expect Denver to bring the heat early. The Broncos are well coached, but there isn't a lot of mystery. They focus on what they do well, so don't expect any funny business. Denver knows it got to Flacco easily four weeks ago and it will try to do the same thing. Miller is one of the best pass-rushers alive. According to ESPN Stats & Information, Miller had 11.5 of his 18.5 sacks on third downs in 2012. It was the highest total in the NFL in 20 years. But Denver's pass rush is much more than the menacing Miller.
Elvis Dumervil
is a standout, and Denver gets great push from the defensive front. According to ESPN Stats & Information, the Denver defense has sacked or put the quarterback under duress on 28 percent of opponent dropbacks this season. It was the highest rate in the NFL. Against Baltimore, Denver put Flacco under duress 33 percent of the time. That is extremely taxing for an offensive line and quarterback. It is something Baltimore will have to account for.
[+] Enlarge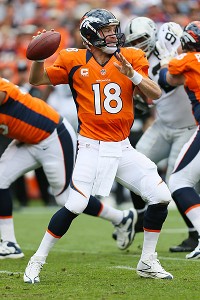 Rich Gabrielson/Icon SMIPeyton Manning has a less-than-stellar playoff record, having gone 9-10 in postseason games.
Hensley
: Bill, there's no doubt the Ravens have to keep the pressure off Flacco. Baltimore's pass rush, which had its moments against
Andrew Luck
last Sunday, has been hampered by
Terrell Suggs
. Injuries to his Achilles and biceps this season have kept him from looking like the reigning NFL Defensive Player of the Year. Suggs has only two sacks this season and made one tackle against Denver.
Paul Kruger
has been the Ravens' best pass-rusher this season. He had a career-high nine sacks in the regular season and added 2.5 more in the playoff game. But the biggest pressure on Manning might not involve Suggs or Kruger. Since he won the Super Bowl, Manning has been one-and-done in three of his past four postseasons. Manning has had a reputation of faltering in the playoffs. Now, with the Broncos being the top seed and Manning being an MVP candidate, all of the pressure is on No. 18. Bill, do you see that being a factor?
Williamson
: The guy has been so spectacular all season, I don't see a lot of pressure. I mean, this is a 36-year-old man who missed all of the 2011 season because he had four neck surgeries. His recovery was the story of the NFL offseason. He responded with one of his best NFL seasons in a new setting and he is a top MVP candidate. I think the pressure is off. Now, it's true that he has not been great in the postseason. He is 9-10 in his career. If Denver loses Saturday, it will certainly be a major storyline. But I don't think there is a lot of worry in Denver about Manning's playoff history. Maybe because everyone is so confident in how he fits with this team and the supporting cast around him. This is arguably the best team he's played on.
Hensley
: Well, Bill, I'm not breaking new ground by saying this isn't the best defense Lewis has played on. No one will be making any comparisons to the 2000 record-setting defense, but the 2012 defense is better than what people think. The Ravens were the second-best red zone defense in the NFL this year and stopped the Colts on all three trips inside the 20-yard line last Sunday. Over the final six games, Baltimore allowed the NFL's fourth-fewest yards per game. But the best defense against Manning might be the weather. Bill, do I need to bring my snow shovel?
Williamson
: You might want to pack an ice scraper, but nothing too serious. The forecast calls for a chance of snow. I think the biggest issue will be the cold. That could help the defense. Interesting that you mention the Ravens' defensive success in the red zone. There have been times when Denver's offense has stalled in the red zone. For Baltimore to win this game, it needs to hold Denver to three points more often than not and create big plays on defense. I don't think it is out of the question that Baltimore wins this game, but the truth is that Denver is balanced and rolling. The Broncos will need to make an unusual amount of mistakes and the Ravens will have to cash in every time. I'm not sure if that will happen. I think this game will be closer than the last meeting, but I still give Denver the edge.
March, 5, 2009
3/05/09
12:30
PM ET
| | |
| --- | --- |
| | |
| | US Presswire |
| | Matt Cassel and Jay Cutler will face off twice a year in the AFC West. |
Posted by ESPN.com's Tim Graham and Bill Williamson
Tremors rumbled though the NFL after the New England Patriots traded quarterback Matt Cassel to the Kansas City Chiefs. But the actual deal wasn't as startling as the plot lines that emanated from it.
We learned that a three-way trade was possible in which Cassel would have gone to the Denver Broncos, who would have sent Jay Cutler to the Tampa Bay Buccaneers. The trade didn't materialize, but the mere fact the Broncos considered such a swap has caused considerable strain in Denver.
Does Broncos rookie head coach Josh McDaniels really think a breakout backup is a better quarterback than the 11th overall pick in the 2006 draft?
In this edition of Double Coverage, AFC West blogger Bill Williamson and AFC East counterpart Tim Graham debate the merits of Cutler and Cassel in an attempt to determine who the superior option is.
Why would McDaniels prefer Cassel over Cutler?
Tim Graham: Let's go ahead and cut to the chase, Bill. Cutler is one of the worst decision-makers in the NFL. He might be the league's most reckless starter now that Brett Favre has retired. McDaniels was raised within the Patriots organization, which places a premium on efficiency and accountability. McDaniels groomed Cassel from a player who hadn't started since high school into one of the NFL's more trustworthy passers. Cassel had a 2.1 interception percentage compared to Cutler's 2.9, but he rarely killed a drive with a bone-headed play.
Bill Williamson: Tim, there is no doubt about it. Cutler makes his share of mistakes. This guy is from the Brett Favre school of gun-slinging. He is fearless. Cutler has never seen a route he doesn't like. Often, it works in his favor; sometimes it doesn't. He does need to cut down on his interceptions. But the thing that teammates like so much about Cutler is that he tries to make the big play. And he is capable. Cutler has the ability to carry a team on his back. Cassel, again, is a system guy. In the fourth quarter, I'd take Cutler's arm and gumption any day.
TG: Cassel is no slouch late in games. Let's not forget that amazing play at the end of regulation in Week 11. With eight seconds left and the Patriots down by seven points from the New York Jets' 16-yard line, Cassel rolled right and threw a pin-point pass to Randy Moss along the sideline to send the game into overtime. It was a gutsy throw. But he never was tougher than in Week 15. A few days after his father passed away and before the funeral, Cassel threw for four touchdowns against the Raiders. Nobody can question the guy's heart.
BW: Good point, Tim. Cassel has been impressive in a short period of time. Cutler has his share of fourth-quarter magic as well. I think it all comes down to individual talent. Cutler possesses more talent than Cassel. There is a greater chance for Cutler to make a play by himself than Cassel. I think Cutler can freelance a little bit more, and he has the ability to wait out a play more because of his arm. If a play breaks down, Cutler can still make the best out of it because of his arm, field intelligence and scrambling ability.