May, 2, 2012
5/02/12
4:57
PM ET
San Diego couldn't keep its eyes off
Junior Seau
.
There were a few minutes remaining in the first half of the Chargers' home game against the
Denver Broncos
this past November when the entire stadium roared.
It was for Junior.
Seau and his family emerged from a tunnel, and stood near the home sideline he used to rule. Seau looked regal in a suit adorned with a traditional Samoan money lei, which marks moments of celebration. This was one of the biggest parties of Seau's life. The Oceanside kid was being inducted into the Chargers' Hall of Fame, and he was being presented by Dan Fouts, another face of the franchise.
[+] Enlarge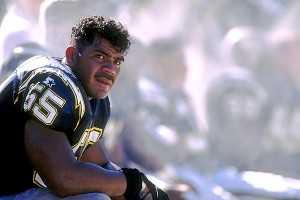 J.D. Cuban/Allsport/Getty ImagesJunior Seau was the face of the Chargers for many seasons and is their greatest sports icon.
It was as if the Chargers and Broncos didn't matter. All eyes were on Seau, and the stadium rocked with chants of "Junior."
It was the last time Seau shined in Qualcomm Stadium. However, the memory of Tiana Baul "Junior" Seau will never fade in San Diego.
Handsome, vibrant and caring, Seau was the perfect role model for a self-assured, laid-back beach town. He laughed. He surfed. He helped. He was San Diego.
San Diego stopped Wednesday morning.
Seau died at the age of 43
at his Oceanside home. Police are investigating his death as a suicide.
I have been on the phone with some people in San Diego, and the news of Seau's death has been a devastating blow to the city. News video shows a large group of people crying in front of Seau's home. Seau's mother tearfully addressed media. At Chargers Park, the team's flag flew at half-staff.
Even though Seau last played for San Diego in 2002, he remains its greatest sports icon. The San Diego sports Mount Rushmore starts with Seau.
He was from San Diego, and he stayed in San Diego even though he finished his NFL career with Miami and New England. The sight of No. 55 jerseys has been an every Sunday occurrence at Qualcomm Stadium. I expect it to remain that way. Seau's restaurant (which is a couple miles from the stadium) remains one of the most popular eateries in San Diego.
Adding a chilling factor to this devastating story is that Seau is the eighth member of San Diego's only Super Bowl team, the 1994 Chargers, to die. The others are running back Rodney Culver, linebackers Dave Griggs, Lew Bush and Doug Miller, defensive tackle Shawn Lee, defensive end Chris Mims and center Curtis Whitley.
The deaths of so many young men have haunted the memory of that team. Now the face of the team joins that sad list.
Seau has been a hero in San Diego for 25 years. He was a nationally known high school football and basketball star in Oceanside. When his hometown Chargers took Seau from USC with the No. 5 pick in 1990, the city, hungry for NFL success, rejoiced. The party lasted for 13 years.
Seau -- who probably will make the Pro Football Hall of Fame in three years -- was named to the 1990s All-Decade team and to 12 Pro Bowls.
He was a fierce playmaker with unmatched emotion and passion. Off the field, he was a major fundraiser for his hometown charities. He recently held his annual golf tournament.
There have been some recent tough times for Seau. He was divorced. In 2010, he was arrested after his girlfriend accused him of abuse. He was never charged. Hours after the incident, he drove his vehicle off a cliff. Seau denied it was a suicide attempt. He said he fell asleep.
If Seau's death is ultimately ruled a suicide, so many questions will remain. But this fact is unquestioned: Seau was a San Diego legend. That will never change.
December, 8, 2011
12/08/11
7:20
PM ET
The San Diego Union Tribune reports
that former Chargers linebacker Lew Bush died Thursday at 42.
It continued a terrible trend. He was the seventh player from the Chargers' 1994 Super Bowl team to die before the age of 45. Bush joined San Diego in 1993 as a rookie and played seven seasons there before three seasons in Kansas City.
The other players to die from the AFC title team were linebacker
David Griggs
(28, auto accident, 1995), running back
Rodney Culver
(25, airplane crash, 1996), linebacker
Doug Miller
(28, struck by lightning, 1998), center
Curtis Whitley
(39, overdose, 2008), defensive lineman
Chris Mims
(38, heart, 2008) and defensive lineman
Shawn Lee
(44, cardiac arrest, 2011).
Our condolences go out to Bush's family and to the Chargers organization.
In other AFC West news:
Oakland middle linebacker
Rolando McClain
told the Oakland Tribune
that he is done talking to the media for his career. That might be difficult as players are contractually obligated to speak to reporters. McClain was arrested on assault charges in his hometown in Alabama last week.
Denver's Von Miler isn't the only
impressive rookie pass-rusher
.
Chargers linebacker
Donald Butler
missed his second day of practice with a foot injury he suffered at Jacksonville on Monday night. Linebacker
Shaun Phillips
didn't practice Thursday because of a nagging foot injury.
February, 28, 2011
2/28/11
6:50
PM ET
A
sad trend has continued
.
Former San Diego Chargers defensive tackle Shawn Lee has died at the age of 44. The cause of death has not been determined.
Lee is the sixth member of the 1994 San Diego Super Bowl team to die.
Linebacker David Griggs was killed in an automobile crash. Running back Rodney Culver was killed was in a commercial plane crash. Linebacker Doug Miller was struck by lightning. Offensive lineman Curtis Whitley died of a drug overdose. Defensive lineman Chris Mims died of heart failure.
Lee played 87 games for the Chargers from 1992-97. He was half of the Chargers' "Two Tons of Fun" defensive tackle combo along with Reuben Davis.
Our condolences go out to Lee's family and to the Chargers.