September, 18, 2014
9/18/14
6:00
PM ET
ENGLEWOOD, Colo. – In the written record that is the play-by-play from Super Bowl XLVIII, it's listed simply as; "P.Manning pass short middle to D. Thomas to DEN 40 for 2 yards (K. Chancellor)."
But for many, including Seahawks safety
Kam Chancellor
and linebacker
Bobby Wagner
, Chancellor's hit on Broncos wide receiver
Demaryius Thomas
just over five minutes into the title game set the tone for what was to come. Wagner went as far, in an offseason TV appearance, to say the Broncos wide receivers were intimidated after the hit.
[+] Enlarge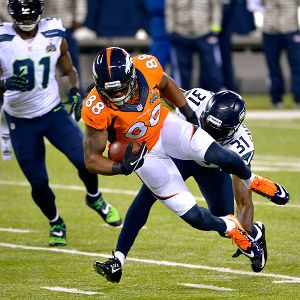 AP Photo/Bill KostrounDenver receiver Demaryius Thomas took a hard hit from Seattle's Kam Chancellor early in Super Bowl XLVIII.
At the time, Wagner said: "That first hit [Chancellor] came across the middle and smacked him … they were very timid."
With the rematch of the Broncos 43-8 loss in the title game set for Sunday in Seattle, Thomas offered some thoughts all these months later. Asked if the hit had the impact on him, as well as the other Broncos, that many have said it did, Thomas said:
"Nah, it's just a hit. You play football, you're gonna get hit. It didn't bother me; I got up and kept playing."
Asked if it was the game's turning point, Thomas added:
"I think about it, and now that the game is over, I laugh about getting hit. It doesn't bother me. They came out that day and played better football than us and all I can say is give them their props and try to come back Sunday and try to do better."
Thomas suffered a shoulder injury on the play and, after a trip to the sideline, returned to finish with 13 receptions for 118 yards and the Broncos' only touchdown on a day that was largely a struggle for the Broncos' offense. In general, Thomas, who has had back-to-back 1,300-yard, 10-touchdown seasons to go with two Pro Bowl trips, had high praise for the Seahawks secondary. He called cornerback
Richard Sherman
"one of the best … I think he's one of the smarter guys in the game."
And on the Seahawks safeties, Thomas said "Kam Chancellor, big hitter, Earl [Thomas] is all over the field, very good at what they do"
On the Seahawks defense, Broncos offensive coordinator Adam Gase put Seattle's group among some fast company.
"You're talking about three teams in the history of football – the '85 Bears, the 2000 Ravens and these guys, that's where these guys rank in defensive football," Gase said following Thursday's practice. "These guys are one of the best teams to ever play and they are trying to show it again this year."
July, 17, 2012
7/17/12
12:00
PM ET
In the AFC West, it is easy to focus on the passing attacks led by
Philip Rivers
and now
Peyton Manning
, or the fantastic crop of running backs in the division.
But the purpose of this post is to predict which defensive player in the AFC West will have the best season in 2012. There are plenty to choose from, including some young, up-and-coming stars. In fact, the Broncos, Chiefs and Chargers all drafted defense in the first round of this year's draft, while the Raiders didn't make their first selection until the third round.
[+] Enlarge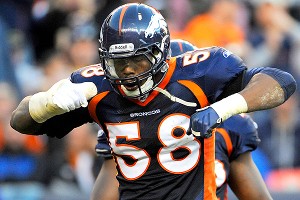 AP Photo/Jack DempseyDenver's Von Miller is the type of talent who can thrive in any defensive scheme.
I have narrowed my pick for this honor down to three players, but first, the honorable mention list -- and certainly any of these players could validate themselves as the best in the division once the 2012 season is completed. They are
Elvis Dumervil
,
Champ Bailey
,
Justin Houston
,
Derrick Johnson
,
Brandon Flowers
,
Lamarr Houston
,
Richard Seymour
,
Shaun Phillips
and
Eric Weddle
.
All of these players are great. Some are ascending like Houston and Houston. A few could fall off as they age another year like future Hall of Famers Bailey and Seymour. But overall, I am pretty confident these nine players will prove to be very difficult for opposing offenses to play against.
Without further ado, here are my thoughts on the three defensive studs who have the best chance to emerge as the best in the AFC West in 2012.
Eric Berry, S, Kansas City Chiefs:
At this time next year, it wouldn't surprise me at all if Berry was considered the best safety in all of football.
Earl Thomas
and stalwarts
Troy Polamalu
and
Ed Reed
-- along with Weddle -- could have something to say about that, but Berry is a unique talent who simply can do everything well at this position.
We have just seen the tip of the iceberg in terms of what he is capable of doing on the field. But of course, the issue in 2011 for Berry was getting on the field, as an ACL injury derailed his second season before it started.
If we knew Berry was going to be the same physical specimen in terms of his movement skills as he was when he entered the league, I might just pull the trigger on making Berry my selection as the best defensive player in the division for 2012. I couldn't be higher on this young man overall, and from all reports he is back to full health. Still, I want to see it for myself. With that being said, I can't wait to scout him this preseason. Berry is special.
Tamba Hali, LB, Kansas City Chiefs:
Hali is one of the very best -- and chronically underrated -- defensive players in the entire league. And he seems to get better every season. Hali is truly an elite edge pass-rusher.
In the past, Hali disrupted quarterbacks consistently even though the Chiefs didn't have a dangerous edge presence on his opposite side. Now, with the emergence of Justin Houston, Hali should be primed for the best season of his fantastic career.
The relentless and explosive Hali is more than just a great pass-rusher, though. In fact, he plays the run right at him very well with excellent strength, leverage, hand-usage and recognition skills. But Hali also has to be accounted for as a backside pursuit player who can track down a running back from behind.
As quarterbacks around the league and especially those in the AFC West know all too well, Hali closes on his prey about as well as any upfield player in the league. As you can see from the players I have listed -- not to mention Romeo Crennel's defensive mind -- I am expecting Kansas City to have one of the very best defenses in football this season.
Von Miller, LB, Denver Broncos:
You could certainly make the argument that Miller was the best rookie in the NFL last season. Many thought Miller was miscast as a strongside linebacker in Denver's 4-3 defense -- and I actually tend to agree, which just shows how amazing Miller would be as an every-down 3-4 outside linebacker.
Some of the very best players can transcend scheme. They are just great pretty much no matter where you put them. That applies to Miller, who is obviously renowned as a fantastic upfield pass-rusher, but also proved to be extremely effective as a run defender and even in coverage. He will only improve in these departments as well, especially with his coverage skills.
Much like Hali, Miller is an extreme handful versus the run at him or away. This guy is just flat out fast, and few pursue the ball carrier as well. But not only is Miller fast, he is also extremely quick, nimble, agile and demonstrates fantastic balance and awareness in every phase. If the Manning experiment works out and forces the Broncos' opponents to throw the football more as a result, that will translate into more opportunities for Miller to attack the quarterback, which is what he does best.
After dominating for about the first two-thirds of his rookie season, Miller's play dropped off a bit after he broke his thumb. Obviously that can have a major effect on a defensive player who relies on hand usage to take on blocks, defeat pass protectors and tackle the ball carrier as much as Miller. He also could have hit a bit of a rookie wall to go along with that substantial injury he suffered.
I do not expect his play to fall off in any manner in 2012. In fact, I am so high on Miller as an overall player that he will be my preseason prediction for the 2012 NFL Defensive Player of the Year.
September, 4, 2010
9/04/10
5:40
PM ET
What a disaster.
That is the only way to describe the short
Alphonso Smith
era in Denver.
The Broncos traded the second-year cornerback to Detroit for tight end
Dan Gronkowski
. He is a former seventh-round pick who was on the Lions' practice squad for all of two games last year. That is pretty weak compensation for what turned out to be the No. 14 overall pick of the 2010 draft.
Yes, Smith was essentially the No. 14 pick of this draft. On draft night in 2009, Denver fell in love with the small but decorated Smith as he fell out of the first round. Denver apparently stopped the Wake Forest product's fall at No. 37 when it sent its 2010 first-round pick (which turned out to be No. 14) to Seattle to take Smith. The Seahawks ended up taking safety
Earl Thomas
with the pick. He was considered a value pick, but the idea of giving up a future No. 1 pick seemed extreme.
Making the decision worse was that Smith never developed. He was twice replaced as the nickel cornerback last year -- including once by an undrafted rookie. Things didn't get better for Smith this summer as rookies
Perrish Cox
(fifth-round pick) and
Syd'Quan Thompson
(seventh-round pick) clearly outplayed him.
The only credit Denver gets in this deal is that it had the guts to admit a major mistake. But that's it.
The lesson for Denver's young leadership is that you should never fall in love on draft day. So Smith fell. Big deal. Players fall during every draft. You can't get everybody, plus, there is always someone else down the road.
Denver traded Smith because they learned Cox and Thompson are better players. It's a costly lesson to learn.
Also, making this trade a bit embarrassing is that Denver got a tight end who may have been cut in Detroit. One of the reasons why Gronkowski was on the bubble in Detroit was the presence of
Tony Scheffler
. Yes, the talented player Denver dumped prior to the draft for a late-round pick. Had Scheffler not been traded, Denver wouldn't need a tight end.
Gronkowski is an interesting prospect, but he can't be counted on for a big contribution on right away. But today, Gronkowski is Denver's only consolation for giving up a No. 14 pick.
Brutal.
April, 23, 2010
4/23/10
1:10
AM ET
ENGLEWOOD, Colo. -- Let's wrap up Thursday night's draft and look forward to the second and third rounds on Friday:
The big loser in the Tim Tebow selection in Denver is new backup Brady Quinn. Any time the Broncos were going to spend developing Quinn will now be spent on Tebow.
The Raiders will hope to grab a tackle at No. 39. Maryland's Bruce Campbell is a possibility.
Oakland coach Tom Cable said the Raiders will remain a 4-3 defense, but will use more 3-4 looks this year.
The Broncos love the size and speed of No. 22 pick Demaryius Thomas. McDaniels was impressed with Thomas' explosiveness on the field and his ability to learn in the class room.
Denver has three picks Friday – Ns. 45, 80 and 87. Watch for Denver to try to get a center at some point Friday.
Denver coach Josh McDaniels said Alabama linebacker Rolando McClain was not on his list at No. 11. McClain was taken at No. 8 by the Raiders. McDaniels did praise Oakland's pick of McClain.
McDaniels has made seven daft-day trades in two years so far. The final nine years of the Mike Shanahan era produced 13 trades.
McDaniels said the Patriots' staff installed some of Florida's offense a few years ago. New England coach Bill Belichick and Florida coach Urban Meyer are close friends.
The Chargers don't pick until No. 91 in the third round a result of their big trade or Ryan Mathews. Don't expect San Diego to be able to snag a top nose tackle there.
The Chiefs could take a look at Notre Dame receiver Golden Tate at No. 36.
The Seahawks took Texas safety Earl Thomas at No. 14. The pick was acquired from Denver lest year. The Broncos took Alphonso Smith with the No. 37 pick last year as part of the deal. Smith has been a disappointment so far.
Tebow will make his NFL debut in his hometown of Jacksonville. Perhaps it will help the Jaguars sell tickets for one game, at least.
Tebow's arrival in Denver will be greeted by a large group of Florida alumni. Several Gators fans greeted him in Denver's parking lot when he visited last week.
April, 21, 2010
4/21/10
1:00
PM ET
»
NFC dream/Plan B
:
East
|
West
|
North
|
South
»
AFC
:
East
|
West
|
North
|
South
»
Draft Watch
:
Biggest needs
(2/17) |
Busts/gems
(2/24) |
Schemes, themes
(3/3) |
Recent history
(3/10) |
Needs revisited
(3/17) |
Under-the-radar needs
(3/26) |
History in that spot
(3/31) |
Draft approach
(4/7) |
Decision-makers
(4/14) |
Dream scenario/Plan B
(4/21)
Each Wednesday leading up to the NFL draft (April 22-24), the ESPN.com blog network will take a division-by-division look at key aspects of the draft. Today's topic: Dream scenario/Plan B.

Denver:
The Broncos will hope that both Alabama middle linebacker
Rolando McClain
and Oklahoma State receiver
Dez Bryant
are on the board when it makes its first pick at No. 11. Denver has needs at both positions and has investigated both players closely. If both players are on the board, Denver may have a tough decision to make. However, because of the Brandon Marshall trade to Miami, Denver may lean toward Bryant. If both McClain and Bryant are off the board (that may be unlikely,) Denver will likely attempt to trade down. The Broncos need a center and they could take Florida center
Maurkice Pouncey
in the mid-to-late part of the first round.

Kansas City:
The Chiefs would love for Washington to bypass Oklahoma State left tackle
Russell Okung
. However, that may be wishful thinking. The Redskins may take him. However, Washington could also consider Oklahoma left tackle
Trent Williams
. The Chiefs like both Okung and Tennessee safety
Eric Berry
a lot. They would love for both players to be on the board. If so, Okung may be the choice. If Washington does take him, the Chiefs could easily nab Berry to anchor their defense. In the unlikely event both Okung and Berry are gone, that would likely mean either
Ndamukong Suh
or
Gerald McCoy
would fall to No. 5. The Chiefs would likely entertain trade possibilities if that were the case. There have been some recent thoughts the Chiefs could take Texas safety
Earl Thomas
over Berry. If that's the case, the Chiefs could look to trade down a few slots. Here is one thought that the Chiefs could
shock the draft
and take McClain at No. 5.

Oakland:
The Raiders are in a pretty good position. They have several needs and they should be available to satisfy a need at No. 8. The Raiders need an offensive tackle and they should have several options. Williams, Iowa's
Bryan Bulaga
,
Anthony Davis
of Rutgers and
Bruce Campbell
of Maryland could all be available for Oakland. Oakland could also look at McClain or Florida cornerback
Joe Haden
. Talk about Idaho guard
Mike Iupati
is
picking up.
I think the Raiders will have at least three players to choose from on the board when they pick. The Raiders should be very pleased with their choices at No. 8. Because Oakland is flexible, it could also trade down some slots to add more picks.

San Diego:
The Chargers have a lot of options as well. They have the 28th and 40th overall picks. They also have some pressing needs, most notably at running back and nose tackle. If Fresno State running back
Ryan Mathews
falls to No. 28, the Chargers will be temped to take him. If Mathews falls past Houston at No. 20, he could be available at No. 28. San Diego will also look at defensive tackles at No. 28 because the running back class is so deep and a good player could be available at No. 40. Alabama nose tackle
Terrence Cody
will be considered. But keep an eye on UCLA's
Brian Price
, too. There has been late talk that the Chargers are looking to him fairly intently. The Chargers will likely also look to trade up and down the draft from the 25-40 range.
April, 17, 2010
4/17/10
3:00
PM ET
Tom from Kansas City wants to know
if the Chiefs could look at Texas safety
Earl Thomas
ahead of Tennessee safety
Eric Berry
at No. 5.
Bill Williamson:
Thomas is making a push up the draft boards. I think some teams may like him more than Berry. At least
one draft expert
thinks Thomas is better than Berry. I think there is a decent chance Kansas City could draft a safety. I still think the Chiefs would take Berry over Thomas. But it seems like Thomas is making a charge. Both players should have excellent NFL careers.
Ben Ford from Ramona, Calif., wants to know
if Chargers could package their two 2011 third-round picks acquired in trades this offseason to move up into the first round next week.
BW:
The picks were acquired from the Jets (
Antonio Cromartie
) and the Seahawks (
Charlie Whitehurst
). I think the Chargers have a lot of firepower and general manager A.J. Smith likes being in this position. Smith loves moving up and down the draft board. So, I wouldn't be surprised if the Chargers get a second first-round pick, perhaps using No. 40 this year (acquired in the Whitehurst deal) to get there.
Jordan wants to know
if the Chargers could draft California running back
Jahvid Best
.
BW:
Best is a fine running back. But I think he may be a bit smaller than what San Diego is looking for. If the draft class wasn't so deep with big, strong running backs, I'd think Best would be a sure thing for San Diego. But I do think the Chargers will look at bigger backs such as
Ryan Mathews
,
Jonathan Dwyer
and
Toby Gerhart
first. Plus, Dwyer and Gerhart may require a lesser draft picks than Best.
April, 7, 2010
4/07/10
2:30
PM ET
The latest version of Mel Kiper and Todd McShay's mock drafts are available for
ESPN.com Insiders

. Let's look at their picks for the AFC West teams:
Kansas City, No. 5
Kiper's pick:
Eric Berry
, Tennessee, safety
McShay's pick:
Bryan Bulaga
, Iowa, tackle
My thoughts:
I think I'd go with Berry here. Both experts have Oklahoma State tackle
Russell Okung
going to Washington at No. 4. If that's the case, I'd take Berry and address the tackle position with one of the Chiefs' two second-round picks.
Oakland, No. 8
Kiper's pick:
Jimmy Clausen
, Notre Dame, quarterback
McShay's pick:
Trent Williams
, Oklahoma, tackle
My thoughts:
The Clausen choice certainly jumps out. If this happens it would be the story of the draft in the division. It's possible. Clausen should be available at No. 8 and the Raiders have been sniffing around quarterbacks.
Denver, No. 11
Kiper's pick:
Earl Thomas
, Texas, safety
McShay's pick:
Rolando McClain
, linebacker, Alabama
My thoughts:
The Thomas pick is interesting. He is moving up draft boards. I think Denver would be served well with either pick. But I'd lean toward McClain because he appears to be a safe pick at a position of need.
San Diego, No.28
Kiper's pick:
Ryan Mathews
, Fresno State, running back
McShay's pick:
Terrence Cody
, Alabama, defensive tackle
My thoughts:
This is the Chargers' great dilemma: A running back or a nose tackle in the first round? Mathews would be tough to bypass if he fell to No. 28. Cody is intriguing because he's a perfect fit.