April, 30, 2010
4/30/10
8:01
PM ET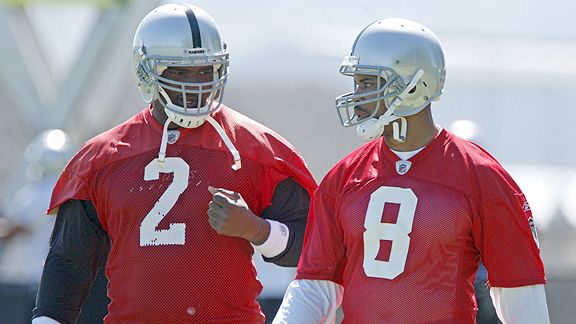 AP Photo/Ben MargotJaMarcus Russell (2) and Jason Campbell (8) took the practice field together Friday.
ALAMEDA, Calif. -- Funny thing happened to
JaMarcus Russell
this offseason: He learned how to be a fighter.
After being saddled with a reputation for being a poor worker who gave little thought about his future or legacy, Russell arrived for the
Oakland Raiders
' mandatory minicamp Friday a determined player.
Russell appeared to be in decent shape (he was not allowed to say how much he weighs, but more about that later). He threw several lasers. There still was the occasional patented Russell pass that sailed above the intended receiver. But there were much fewer than in the past. I was told a big part of Russell's offseason training in Arizona was intended on correcting his high floaters.
Russell was truly the most impressive quarterback on the field Friday. He was much sharper than expected standout
Jason Campbell
. Don't lose faith in Campbell yet, though. He has been a Raider for six days. He clearly isn't comfortable in the system yet. Expect that to change over the course of the next four months.
However, Russell showed that he is not ready to surrender his job.
"My thing is to keep coming out to work until they tell me not to," Russell said. "I'm going to keep coming out to compete for the job and work my tail off."
Russell said he has not been told what his role with the team will be.
"

"My thing is to keep coming out to work until they tell me not to. I'm going to keep coming out to compete for the job and work my tail off."

"

-- JaMarcus Russell
"The only thing I'm here to do is compete until we get a word," Russell said. The NFL's No. 1 overall draft pick in 2007 seems to understand his job's in jeopardy. At one point in his interview session, Russell said this about working with Campbell:
"Another guy here to compete," Russell said. "We're on the same team as of now."
Russell almost seemed surprised that he is still in Oakland. The Raiders can save more than $6 million if the team waives Russell, who seems destined to be a backup if he is kept. Russell said he has not been approached about taking a pay cut.
Oakland coach Tom Cable didn't shed light on what the Raiders plan to do with Russell. He did praise him, though.
"He competed and he worked his tail off," Cable said of Russell. At the end of last season and in the offseason, Cable has been slow to give good reports on Russell.
Friday, he said he expects Russell to compete for the starting job. Asked about Russell's future, Cable said "he's here today and I expect him to be here (Saturday)."
Cable scoffed at the notion of the team keeping Russell out of the minicamp to avoid an injury.
"We're trying to build a team," Cable said. Now that Russell is working with the team at the minicamp, there is no timeline on a decision about his future.
The assumption has to be that Russell will go to training camp and try to win the job. Still, Campbell has to be considered the heavy favorite to win the job.
Give Russell credit for not running away from the competition. "Nothing's changed," Russell said. "I just keep coming to compete every day."
I'm on the record saying the Raiders
should move on from the Russell era. However, I am impressed with how Russell handled himself on the field and with the media Friday. He tried hard to perform well and then he kept a positive attitude when talking about his situation.
The same can't be said for Oakland employee
Eddie Anderson
, a former player. One of his chief duties is to hang with Russell. He stood by Russell's side during his interview session. You'd think Oakland had just traded for
Joe Thomas
. I've never seen Russell get this much protection.
Four times, Anderson shot down reporters' questions aimed at Russell. The rebuked questions included whether Russell thinks he'll be in the starting mix, whether he'll take a pay cut and his current weight. The last subject caused Anderson to pull Russell away from the media.
Anderson should have allowed Russell address the subject. Russell looked pretty good. He's nowhere near the 300-pound level some have speculated he's approaching. Cable expressed satisfaction with Russell's conditioning.
Does Russell's good day mean he'll end up beating out Campbell? Probably not. But he showed he is, at least, going to try.
For his part, Campbell is focusing on his own task. After arriving via trade last week, the former
Washington Redskins
signal-caller said he'd be the starter in Oakland. But Cable has stressed there will be a competition.
Friday, holdover backup
Charlie Frye
and recently signed
Kyle Boller
were among the four quarterbacks who took snaps;
Bruce Gradkowski
, the Raiders starter in the second half of the 2009 season, is recovering from pectoral tear. He'll be back for summer training camp.
"I'm just here to work. Just here to work, get better every day," Campbell said. "I'll let coach Cable makes that decision and Mr. Al Davis. My job is to come out here every day and compete, keep working on things and try to improve the offense."
If Friday's performance is any indication, Campbell might have company in the form of a revived Russell.
February, 26, 2010
2/26/10
9:00
PM ET
The Denver Post
has an account of Brandon Marshall's intense testimony at the
Darrent Williams
murder trial on Friday. Marshall pointed out suspect
Willie Clark
as a man who argued with Marshall and Williams on the night Williams was murdered.
Witnesses said Marshall was involved in an argument with Clark and that evening at a nightclub and Marshall admitted he had words with Clark. Marshall later broke down on the stand.
Marshall may be on his way out of Denver, but this day will be remembered for a long time.
The Cowboys have
no intention
of trading running back
Tashard Choice
to San Diego.
Marshall and Denver's other restricted free agents, including
Elvis Dumervil
and
Kyle Orton
, are expected to get
one-year tenders
and not long-term deals at this point.
NFL prospect
Golden Tate gave high marks to new Kansas City offensive coordinator Charlie Weis and Tate's former coach at Notre Dame.
Oakland has hired former safety
Eddie Anderson
in an undetermined role. Anderson is expected to work with players off the field.
Kent State will retire the basketball No. 44 of San Diego tight end
Antonio Gates
on Saturday night. Gates was an honorable mention All-American in 2003.
The University of North Florida honored Kansas City coach Todd Haley on Friday night as part of an alumni achievement event. Haley is at the combine in Indianapolis and was unable to attend the event.