March, 26, 2013
3/26/13
1:40
PM ET
September, 30, 2011
9/30/11
5:15
PM ET
San Diego tight end
Antonio Gates
is not expected to play against Miami, because of a lingering foot injury that kept him out of six games last season and last week's game. I could see San Diego holding Gates out until after its Oct. 16 bye. Gates will be replaced by veteran
Randy McMichael
.

Cornerback
Quentin Jammer
is also doubtful. He suffered a hamstring injury last week. Promising rookie
Marcus Gilchrist
is expected to play for Jammer against Miami on Sunday.
The battered Chargers listed starting receivers
Vincent Jackson
(abdomen) and
Malcom Floyd
(groin) as questionable. But they both practiced fully Friday, so that is a good sign they will play Sunday. Running back
Ryan Mathews
(foot) and rookie defensive end
Corey Liuget
(ankle) are both probable after they both practiced fully Friday.
The
Denver Broncos
do not know if they will have the services of two key defensive players Sunday at Green Bay.

Both cornerback
Champ Bailey
(hamstring) and defensive end
Elvis Dumervil
(shoulder) have been listed as questionable on the injury report. Neither has been on the field since Week 1, and both were limited all week in practice.
Denver's defense -- which was ranked No. 32 last season -- is ranked No. 16 this season. Getting Bailey and Dumervil back should only improve the Broncos.
Running back
Knowshon Moreno
is listed as probable. He has missed the past two games with a hamstring injury. He'll likely back up
Willis McGahee
on Sunday while he shakes off the rust.

In Oakland
, safety
Michael Huff
(concussion), defensive end
Matt Shaughnessy
(shoulder) and fullback
Marcel Reece
(ankle) are all questionable to play against New England on Sunday. All three are key cogs for the Raiders. Cornerback
Chris Johnson
(hamstring) and receiver
Louis Murphy
(sports hernia) are out, as expected. Receiver
Jacoby Ford
(hamstring) is listed as questionable, but he is expected to play for the first time since Week 1.
There are several Oakland players listed as probable, but they are all expected to play.

In Kansas City, cornerback
Brandon Flowers
(ankle) and safety
Jon McGraw
(shin) are questionable to play against visiting Minnesota on Sunday. They were both limited all week in practice. Rookie first-round pick
Jon Baldwin
is out. He has been limited in practice the past two weeks. He suffered a thumb injury in a reported fight with teammate
Thomas Jones
six weeks ago. It seems like Baldwin will play at some point, but you have to wonder how long it will take him to catch up when he does hit the field.
September, 28, 2011
9/28/11
6:55
PM ET
September, 10, 2011
9/10/11
4:00
PM ET
DENVER -- It was weeks into John Elway's new role in his old home and he was explaining how he could best help the
Denver Broncos
take advantage of having the No. 2 overall draft pick.
While taking a break from scouting players at the NFL combine, the legendary quarterback stood in an Indianapolis hotel and said he thought he knew how to evaluate pass-rushers as well as any position on the field (quarterback and receiver included) because those were the players he spent all his time studying to beat.
There was no pass-rusher –- or any player regardless of position -– available in the 2011 draft who would have worried Elway the quarterback more than
Von Miller
. That's why Elway, the lead decision-maker of the Broncos, jumped at the opportunity to make Miller the centerpiece of his organization -- a team that no longer resembles the perennial contender of Elway's heyday.
As the Elway-John Fox era officially begins when the Broncos host the
Oakland Raiders
in the second half of an ESPN "Monday Night Football" doubleheader (kickoff is set for 10:15 ET), all eyes will be on No. 58. Miller picked the number of his hero, the late
Derrick Thomas
. The
Kansas City Chiefs
' Hall of Fame linebacker sacked Elway 26 times, the most of any player in Elway's career. This time, though, Elway won't mind seeing that No. 58 drop the quarterback.
[+] Enlarge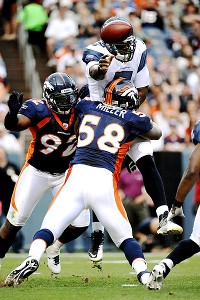 Garrett W. Ellwood/Getty ImagesVon Miller was drafted to revitalize a defense that ranked last in the NFL in 2010.
Elway -- who was hired by owner and close friend Pat Bowlen to bring stability to an organization that fired two head coaches in less than a two-year span -- is trying to fix the defense that was ranked last in the NFL last season and had a league-low 23 sacks in 2010. A team that is usually focused on offense hired Fox, one of the more respected defensive specialists in the NFL.
The Broncos zeroed in on several defensive players, including Alabama defensive tackle
Marcell Dareus
, LSU cornerback
Patrick Peterson
and Auburn's
Nick Fairley
. But in the team's meetings, everything pointed to drafting Miller.
Denver concluded that Miller was the most sure of all the prospects. He starred on the field at Texas A&M. He had strong character. He stole the show during the Senior Bowl week. He blew away scouts at the combine with his size, speed and power. Elway told people his explosiveness was off the charts. And the Broncos marveled that someone could run like a cornerback while being built like a prototypical pass-rusher.
On the eve of the regular season, the Broncos are not regretting the pick. Big things are expected from Miller,
including by ESPN's panel of experts
.
During training camp, I asked Fox about Miller's development. He gave the typical coach party line that Miller was a work in progress. Then, I asked whether Miller's ability was as advertised. Fox didn't hesitate. "Oh yeah, he's going to be a player," Fox said.
Miller dominated the preseason. He had three sacks in limited action. He knocked down Seattle quarterback
Tarvaris Jackson
four times in the third preseason game. Denver believes the pass-rush combination of defensive end
Elvis Dumervil
(who led the NFL with 17 sacks in 2009 before missing all of last season with a pectoral injury) and Miller will immediately improve the defense.
If the Broncos have any chance of beating the Raiders -- who won 59-14 in Denver last season -- Dumervil and Miller have to knock Raiders quarterback
Jason Campbell
onto the Mile High ground a few times.
Miller knows what is expected of him in Denver. He is not shying away from the task of changing the defensive atmosphere in Denver.
"I've been ready since a few weeks ago," Miller said earlier this week. "Every week is game week for me, but these are the ones that are really going to count and you can definitely feel it in practice. It's a little more tense."
Miller, known for being a team-oriented player in College Station, has impressed the Broncos by acting like an undrafted free agent. He studies the playbook diligently and doesn't act like he's already arrived. He is bent on fixing mistakes.
"Every week I have to take a step to get better and that is what I have been trying to do," Miller said. "I feel as if there is still a lot of room to improve. I need to improve my practice habits. I could run a little bit better in the games and get my assignments down. I can get my assignments down; you can't have a guy out there who is inconsistent. That is one of the things I'm working on now, getting my plays down and being there for my team in crunch time."
Crunch time begins Monday night, as does a new defensive era in Denver.
"I like him a lot," future Hall of Fame cornerback
Champ Bailey
said. "You can see every day why he was the No. 2 pick. I'm glad he's the guy we took."
June, 11, 2010
6/11/10
6:20
PM ET
ENGLEWOOD, Colo. -- Notes and thoughts from the first day of Denver's mandatory minicamp:
[+] Enlarge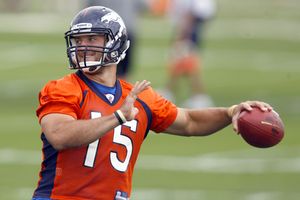 AP Photo/David ZalubowskiTim Tebow had a rough day at camp on Friday, but coach Josh McDaniels still praised his progress.
First-round pick
Tim Tebow
struggled some. He threw two interceptions and was off target at times. Denver coach Josh McDaniels still praised Tebow's progress in learning the system. However, Tebow showed it could be a lengthy process.
Meanwhile, McDaniels said he hasn't made up his mind yet, but he is leaning toward keeping two quarterbacks active on the game-day 45-man roster because having more would "put us behind the eight ball at other spots."
McDaniels said he hasn't decided who his two quarterbacks would be if he goes that route. Currently,
Kyle Orton
is the starter,
Brady Quinn
is the backup and Tebow is third string. Even though Tebow has a long way to go, it would be a surprise if he is a game-day inactive.
Star linebacker
Elvis Dumervil
downplayed whether he will sign his restricted free-agency tender by Tuesday. Dumervil attended the minicamp, but didn't do team drills.
"It is what it is," Dumervil said repeatedly. "We'll see what happens … Time will tell."
McDaniels also downplayed it. He said the team sent a letter saying it would reduce Dumervil's offer if he doesn't sign his tender by Tuesday. McDaniels said the letter is a formality and he expects the situation to resolve itself.
Denver's other first-round pick, receiver
Demaryius Thomas
, had an up-and-down day. He made some nice grabs and ran some nice routes. But he also dropped some passes and struggled in some routes. McDaniels deemed it a "typical day" for a rookie. The Broncos expect Thomas, taken at No. 22, to contribute right away.
Linebacker
Robert Ayers
, a first-round pick in 2009, didn't do much at all. McDaniels said it was a coaching decision. Ayers needs to bounce back from a weak rookie season.
Tight end
Richard Quinn
, a second-round pick in 2009, has dropped several balls in practice and he has been slow to develop.
Rookie offensive lineman
Zane Beadles
worked at left guard after working at tackle earlier in the offseason.
McDaniels praised the conditioning and leadership of veteran defensive tackle
Jamal Williams
, who signed with Denver after starring in San Diego for several years. McDaniels said he expects a big contribution from Williams.
McDaniels said linebacker Darrell Reid's rehabilitation from knee surgery could extend into training camp.
October, 14, 2009
10/14/09
10:00
AM ET

Posted by ESPN.com's Bill Williamson
Thanks to a mailbag question from Adam Tyer of San Diego, I thought I'd breakdown the Broncos and Chargers as they head into a pivotal AFC West game Monday night in San Diego.
The Broncos are 5-0 and lead San Diego (2-2) by 2.5 games. This isn't a must-win for the Chargers, who always seem to play well when they have to, but it is close. The Chargers have games against Kansas City and Oakland after facing the Broncos, so they can get well in a hurry.
But it won't be easy. Denver's 5-0 start is not a fluke. The team is much improved. Tyer wanted to know what I thought of Denver and San Diego by position. So, I rated the teams based mostly on 2009 performance. Here's who I think has the advantage at each position.
Quarterback: San Diego
Why:
Philip Rivers
is one of the best quarterbacks in the league.
Kyle Orton
has been terrific, but Rivers is a franchise player.
Running backs: Denver
Why:
The Chargers are ranked No. 32 in run offense.
LaDainian Tomlinson
is coming off an injury and has been unproductive. Denver running backs
Correll Buckhalter
and
Knowshon Moreno
have been very strong.
Wide receivers: Denver
Why:
I love
Vincent Jackson
, but Denver is deeper at the position. Plus,
Brandon Marshall
and
Eddie Royal
are really emerging.
Tight end: San Diego
Why:
Antonio Gates
is one of the best tight ends in the league. It's that simple.
Offensive line: Denver
Why:
The Broncos have an outstanding line, anchored by superstar left tackle
Ryan Clady
. The Chargers' line misses injured center
Nick Hardwick
.
Defensive line: Denver
Why:
I never thought I'd rank Denver's defensive front over San Diego's. But Denver's no-name front three is setting the tone for a great defensive effort. San Diego is really missing tackle
Jamal Williams
, who is out for the year with a triceps injury.
Linebackers: Denver
Why:
If I had to draft a unit, I'd likely take San Diego's over Denver's and this rating could change later in the year. But Denver's defense has been so much better than San Diego's in the first five games.
Elvis Dumervil
and
D.J. Williams
are both making Pro Bowl cases.
Secondary: Denver
Why:
The Broncos' defensive backs have been terrific. San Diego's pass defense has suffered at times. It's no contest at this point.
Special teams: San Diego
Why:
The Broncos' special teams almost cost them the New England game. San Diego has several top notch players on this unit.
Coaching: Denver
Why:
So far, the performance by head coach Josh McDaniels and defensive coordinator Mike Nolan have been the coaching story of the NFL.
October, 9, 2009
10/09/09
8:05
PM ET
Posted by ESPN.com's Bill Williamson
The Chiefs will honor former star running back
Priest Holmes
on Sunday prior to the game against Dallas.
Holmes finished his Kansas City career as the team's all-time leader in rushing yards (6,070), rushing touchdowns (76), and total touchdowns (83). The city of Kansas City honored Holmes on Thursday. Holmes was a big part of the Kansas City community when he played there.
A Cowboy
doesn't think much
of the Chiefs, apparently.
Oakland tight end
Zach Miller
is expected to play
at the Giants on Sunday. He suffered a concussion last week.
Greg Garber has
a great story
on Denver pass rusher
Elvis Dumervil
on ESPN.com
San Diego quarterback
Philip Rivers
talks about the
issues facing his team
in a radio interview.