April, 18, 2014
Apr 18
7:30
AM ET
The
Kansas City Chiefs
drafted last year for the first time with John Dorsey as their general manager and Andy Reid as their head coach. This will be a much different draft for the Chiefs, who had four of the top 99 picks last year. They have just one of the top 86 this year.
But a look back can provide some idea of what the Chiefs can expect from this year's draft.
The season behind:
The Chiefs didn't get much from this group when they were rookies. In fact, their rookie of the year was a seventh-round draft pick of the
San Francisco 49ers
, cornerback
Marcus Cooper
. Fisher started 13 games at right tackle but his season wasn't what could reasonably be expected from the first overall pick in the draft. His play was uneven at best, particularly earlier in the season. He struggled as a pass-blocker against stronger opponents and their power moves. He proved unreliable, missing three regular-season starts plus the playoff game with injuries ranging from shoulder to concussion to groin. The Chiefs were counting on productive playing time from Kelce and Commings before injuries cost them all of their rookie seasons. Kelce in the preseason developed a knee ailment that eventually required surgery. Commings broke his collarbone during the first practice of training camp. The Chiefs were hopeful Johnson could be a starter at inside linebacker, but a preseason injury set him back and he never made a serious challenge. Kush and Catapano were drafted as developmental players and that's the role both settled into, though injuries forced the Chiefs to use Catapano at times and he showed some pass-rush ability. Wilson was a huge disappointment, even as a sixth-round pick. He was cut during the preseason and the Chiefs didn't think enough of him to bring him back to their practice squad.
The seasons ahead:
Fisher may be the only full-time player from this group again in 2014, but it's reasonable to believe the Chiefs could still get some production from the others -- Wilson being the exception. The Chiefs are confident that despite his rocky debut season, Fisher will eventually become the player they envisioned when they drafted him. He will move over to left tackle after playing on the right side and should benefit greatly from an offseason in the Chiefs' weight program. Commings could wind up as the starter at free safety if the Chiefs don't draft a player to fill that position. Otherwise, the Chiefs will look for ways to get him on the field. He was going to challenge for playing time in their nickel defense last year before his injury. The Chiefs are eager to get Kelce involved in their passing game. He was very involved before his injury. The Chiefs lined him up in a variety of spots to best use his ability to get down the field and beat coverage to make catches. Davis became more involved as last season went on and should get more playing time this year, assuming the leg he broke in the playoff game allows him to and his fumbling habit doesn't reappear. Eventually, Davis could be the replacement for
Jamaal Charles
. At 227 pounds, he's bigger and more powerful than Charles and he's fast for a player his size. He probably won't ever give the Chiefs what Charles delivered as a pass receiver last season. It speaks to what the Chiefs think of Johnson that one of their first moves in free agency was to sign veteran
Joe Mays
to be a starter at inside linebacker. Johnson may be a special-teamer for whatever remains of his Chiefs career. Catapano may never develop into a full-time player but his ability as a pass-rusher gives him a shot at a lesser role. Similarly, Kush may continue to be a backup, but watch what the Chiefs do with starting center
Rodney Hudson
, who is scheduled to become a free agent next year. If he doesn't re-sign with the Chiefs, Kush could inherit the spot if he develops as the Chiefs hope.
Best pick:
As expected for the first overall pick, Fisher should become this draft's best player. Despite his struggles last season, he frequently showed the athletic ability a great offensive tackle needs. But Kelce should eventually become the best pick from a value standpoint. He could become the Chiefs' best pass receiver at tight end since the traded
Tony Gonzalez
.
Worst pick:
Since Wilson couldn't hang around until the end of his rookie preseason, he has to qualify, for now. The others still have a chance to be productive players. But the situation doesn't look good for Johnson, either. As an inside linebacker, he would be a part-time player, coming out of the game on passing downs. But the Chiefs evidently believe he's not advanced enough to handle it yet.
March, 10, 2014
Mar 10
7:30
AM ET
The NFL's free-agent signing period begins Tuesday. Though teams have been able to talk with the representatives of prospective free agents since Saturday, no contracts can be signed until Tuesday.
Once that moment arrives, it shouldn't take long for the
Kansas City Chiefs
to lose their left tackle of their last six seasons,
Branden Albert
. He reportedly will sign with the
Miami Dolphins
shortly after the signing period begins.
The Chiefs have two other free agent offensive linemen who could strike a deal with another club.
Geoff Schwartz
and
Jon Asamoah
shared the starting right guard spot last season and one or both could depart as well. Though Albert is a Pro Bowler and plays a premium position, it would hurt the Chiefs more to lose Schwartz and Asamoah than Albert. The Chiefs began preparing for the eventuality they would lose Albert from the day they drafted
Eric Fisher
with the first overall choice last year. The Chiefs have Fisher and
Donald Stephenson
to play tackle and they believe both will soon develop into high-quality players.
The Chiefs don't have that kind of depth in the middle of their line. In center
Rodney Hudson
and left guard
Jeff Allen
they have two young players in the same category as Fisher and Stephenson. But the rest of their offensive linemen are in the developmental category.
If the Chiefs lose Schwartz or Asamoah or both, they could turn to the draft to replace them. The Chiefs have the 23
rd
pick, but that's their only selection among the top 86. They traded their second-round pick to San Francisco in last year's deal that brought quarterback
Alex Smith
. One of the best guards is Stanford's David Yankey. The Chiefs could plug him in as their right guard from the start. One problem with using a rookie there is that the Chiefs already have a young offensive line. If the Chiefs lose Albert, Asamoah and Schwartz, Stephenson becomes the oldest of their linemen and he doesn't turn 26 until September. Hudson, with three years of experience, is the eldest of the group in that regard.
Free agency is another option for the Chiefs. The problem there is that, according to Pro Football Focus, Schwartz and Asamoah are the best available free-agent guards. PFF has them rated 1 and 2, so the Chiefs would be taking a step or two backward no matter whom they sign, in theory at least.
The Chiefs could also promote into the starting lineup one of the developmental linemen on their roster. They have three:
Eric Kush
,
Rishaw Johnson
and
Rokevious Watkins
. The Chiefs got a peek at all three when they started the final regular-season game last year in San Diego. Each had a negative grade in the game, according to PFF's system. Watkins particularly struggled with his pass blocking and Kush his run blocking. Johnson distinguished himself in neither area.
One of them could wind up in the Chiefs' starting lineup next season. Those chances increase if the Chiefs fail to re-sign either Asamoah or Schwartz.
November, 7, 2013
11/07/13
7:30
AM ET
KANSAS CITY, Mo. -- The
Kansas City Chiefs
have eight rookies on their active roster, four on each side of the ball. In this post, we'll look at their offensive rookies. We'll examine the defensive rookies later today.
Offensive tackle Eric Fisher:
The first pick in this year's draft, Fisher has started all but one game at right tackle. For much of the time, Fisher hasn't looked anything like the draft's best player. He has demonstrated superior athletic skills and those have allowed him to survive, but a pronounced lack of strength has left him vulnerable against powerful pass-rushers. The Chiefs are encouraged after Fisher played his best game of the season last week against Buffalo that perhaps his game is ready to soar. Whether or not it does during this season, Fisher remains a bright prospect. An offseason in the Chiefs' weight program should do him wonders and Fisher should come back in 2014 as a much better player.
Running back Knile Davis:
The Chiefs were hopeful that by this time they would be getting much more from Davis, a third-round pick. But he was in for just one snap against the Bills and returned one kickoff. Davis was a notorious fumbler in college at Arkansas and the problem has continued since he joined the Chiefs. He occasionally lines up in the wrong spot or runs the wrong play and, like a lot of young backs, has trouble at times with pass protection. Taken together, it's no wonder the Chiefs don't seem comfortable with Davis. But running backs coach Eric Bieniemy said Davis has made a lot of progress and is ready for a bigger workload. If that's the case, Davis needs to play more. He's big and fast and has the kind of ability that can help a struggling offensive team.
Center Eric Kush:
Drafted in the sixth round as a developmental prospect, that's what Kush has been. He played in just two games and the prospect of him getting more time the rest of the season is slim. Kush could eventually develop into a competent backup or even an adequate starter. He had trouble with his snaps during training camp and the preseason, both from conventional and shotgun formations.
Quarterback Tyler Bray:
He has been inactive for all nine games, but don't let that fool you. Bray has uncommon skill for an undrafted quarterback. He showed the ability in training camp and the preseason to make all the necessary throws. The key for Bray is whether he's willing to put in all the hard work necessary to become a great player. If so, his future could be bright. With a strong offseason, he could push
Chase Daniel
for the backup spot next season.
September, 27, 2013
9/27/13
7:30
AM ET
KANSAS CITY, Mo. – There's not a
Kansas City Chiefs
player listed in the top 20 of this week's installment of
Mel Kiper's NFL rookie rankings
.

Let's hope you weren't disappointed or surprised by this. Who was he supposed to throw in there?
A proper judgment on this year's draft class can't be made for some time yet, but it's a fact this year's Chiefs group is off to a very slow start. The Chiefs were missing their second-round pick, having sent it to the
San Francisco 49ers
in return for quarterback
Alex Smith
.
Still, with the Chiefs holding the first overall pick and a choice at or near the top of every round from the third on, it was reasonable to expect them to get more than what they've received so far from their eight draft picks.
Maybe with the Chiefs at 3-0 we shouldn't complain. But looking into the near future, it's easy to see where they're going to need help from players like
Travis Kelce
and
Knile Davis
. That doesn't look likely to happen.
Here is a look at what the Chiefs have received so far from each of their eight draft picks:
First-round OT Eric Fisher.
I'll have a more detailed look at Fisher's play in a Friday post, but it hasn't been pretty. Say this for Fisher: At least he's playing. He's their starting right tackle and played on all but one offensive snap.
Third-round TE Travis Kelce.
He looked during the offseason as if he was a major part of the Chiefs' offensive plans. He hasn't played a snap during the regular season other than on special teams because of soreness in his knee. Kelce Thursday referred to the injury as "a microscopic stress fracture in a bone in my knee. I've never dealt with this before so it was kind of all new to me. It's been frustrating. I'm getting better slowly but surely. It's feeling a lot better than what it was but I'm not quite there yet. I'll definitely be back out there within the next couple of weeks." But he hasn't practiced yet this week, so it appears unlikely he will be available for Sunday's game against the
New York Giants
at Arrowhead Stadium.
Third-round RB Knile Davis.
He has played on 24 of the Chiefs' 212 offensive snaps, or about 11 percent. He has 37 rushing yards and caught one pass but the Chiefs obviously are still uneasy about using him in a lot of situations. His signature play was his fumbled kickoff in the game against the
Dallas Cowboys
.
Fourth-round LB Nico Johnson.
A high-ankle sprain he received during the preseason has set him back. Johnson has resumed full practice but has yet to dress for a regular-season game.
Fifth-round DB Sanders Commings.
He broke his collarbone during the first practice at training camp and is on the injured-reserve list. He could return later in the season, but of what value is a rookie who hasn't practiced for months?
Sixth-round C Eric Kush.
It was obvious in the preseason that Kush, from tiny California University of Pennsylvania, needed more time to develop. Sure enough, he got in for the last snap of the game in the opener in Jacksonville but has been inactive for each of the past two games.
Sixth-round FB Braden Wilson.
The former Kansas State player was released during the preseason.
Seventh-round DE Mike Catapano.
In terms of playing time, he's been the most productive of this year's draft picks other than Fisher. Catapano played 31 snaps in Jacksonville, though he has played only on special teams since.
September, 3, 2013
9/03/13
11:56
AM ET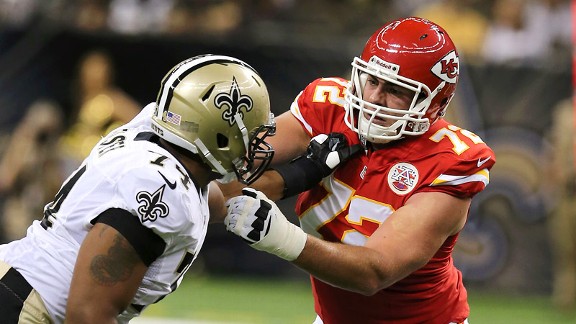 Chuck Cook/USA TODAY SportsDespite injuries, No. 1 draft pick Eric Fisher impressed the Chiefs with his preseason work.
The Chiefs have 10 rookies on their 53-player active roster as they prepare for Sunday's regular-season opener against the Jaguars in Jacksonville. Five rookies on offense, five on defense. In this post, I will look at the offensive players. In a post later today, I will provide an update on the defensive rookies.
August, 28, 2013
8/28/13
7:00
AM ET
Not much intrigue left to the preseason for the
Kansas City Chiefs
. Just trying to stay healthy through Thursday night's final exhibition game against the
Green Bay Packers
at Arrowhead Stadium.

That, and the final round of roster cuts that loom afterward. The Chiefs, like all NFL teams, must trim their active roster from 75 to 53 players by Saturday evening.
Here's my prediction on how their roster will look for the Sept. 8 regular-season opener against the Jaguars in Jacksonville, Fla., at offensive positions and in the kicking game. I'll post defensive predictions later today.
Quarterback (3):
Alex Smith
,
Chase Daniel
,
Tyler Bray
. This might be the only position where there is no intrigue. They are set and in this order on the depth chart.
Running back (4):
Jamaal Charles
,
Anthony Sherman
,
Knile Davis
,
Shaun Draughn
. The only real mystery here is whether the Chiefs keep Draughn or
Cyrus Gray
as the third halfback. Draughn has been more productive than Gray. The Chiefs don't use their fullback enough to keep more than just Sherman.
Wide receiver (6):
Dwayne Bowe
,
Donnie Avery
,
Dexter McCluster
,
Junior Hemingway
,
Devon Wylie
,
A.J. Jenkins
. This position has come into focus since the Chiefs traded
Jon Baldwin
and released
Terrance Copper
. Bowe and Avery are the starters, McCluster the slot receiver. Hemingway has been steady during camp and the preseason and deserves a spot. Wiley and Jenkins are fast, and coach Andy Reid likes speed. The Chiefs might also keep undrafted rookie
Rico Richardson
, who caught the touchdown pass in overtime in Pittsburgh last week, but I'm not going to predict that.
Tight end (4):
Anthony Fasano
,
Tony Moeaki
,
Travis Kelce
,
Demetrius Harris
. The shoulder injury to Moeaki might lead the Chiefs to place him on the injured-reserve list. Either way, the Chiefs will need to keep another tight end now, and that's likely to be Harris. A former basketball player who didn't play football in college, Harris needs more time to develop, so the Chiefs might be in search of veteran help at this position.
Offensive line (8):
Branden Albert
,
Eric Fisher
,
Donald Stephenson
,
Jeff Allen
,
Jon Asamoah
,
Geoff Schwartz
,
Rodney Hudson
,
Eric Kush
. Stephenson is too good to be a backup for long. He and Schwartz will be the first reserves off the bench. Kush is a developmental player.
Specialists (3):
Ryan Succop,
Dustin Colquitt
,
Thomas Gafford
. They're the only players still on the roster at their respective positions.
July, 8, 2013
7/08/13
10:17
AM ET
By
ESPN.com staff
| ESPN.com
The Washington Times
generated a list of the 17 greatest characters in AFC history
, including Bill Romanowski of the Broncos, Hank Stram of the Chiefs and Sid Gillman of the Chargers. And the Raiders took the cake with having numerous "characters."
Denver Broncos
There's only one other team that Denver Post columnist Mark Kiszla
predicts could prevent the Broncos from winning the Super Bowl this upcoming season
. Which team is it?
Local TV in Denver
will have a plethora of Broncos-themed shows
this fall, according to the Denver Post.
Kansas City Chiefs
Offensive lineman Eric Kush, selected by the Chiefs 170th overall in the sixth round of the 2013 draft, talks with the team's website
about the most important lessons he's learned as a rookie
.
Ted Burgmeier, a three-year starter at cornerback for Notre Dame and member of the 1977 national championship team, died at age 57. He
played one season with the Chiefs
.
Oakland Raiders
Rookie quarterback
Tyler Wilson tells Arkansas TV station 5 News
that "it's been an eye opener experience playing in a new system and a new environment," in Oakland.
San Diego Chargers
Often the greatest strides an NFL player makes come between his first and second season. With that in mind, the
Chargers look for Kendall Reyes to build on his rookie debut
, writes Michael Gehlken of the San Diego Union-Tribune.
May, 11, 2013
5/11/13
11:50
AM ET

Give credit to
Branden Albert
for deciding to join the
Kansas City Chiefs
on Monday.
Albert previously said he would stay away from the team until the mandatory session begin, Yet, Albert will join voluntary session. New Kansas City coach Andy Reid called Albert, and the two have come to an accord.
Expect both sides to continue to talk about coming to terms on a long-term deal. No deal is close, but both sides are interested in getting a deal done. If not, Albert will play for the $9.8 million franchise tag and be a free agent next year.
In the meantime, Albert is joining his team and putting a spring holdout behind him.
In other AFC West notes:
The draft-pick signings continue to roll in for the AFC West. Denver has signed three picks, defensive end
Quanterus Smith
, receiver
Tavarres King
and offensive lineman
Vinston Painter
. Kansas City signed center
Eric Kush
and linebacker
Mike Catapano
. San Diego has signed four of its six picks.
The Chiefs named Marvin Allen director of college scouting. He was formerly with the Falcons.