March, 13, 2013
3/13/13
6:50
PM ET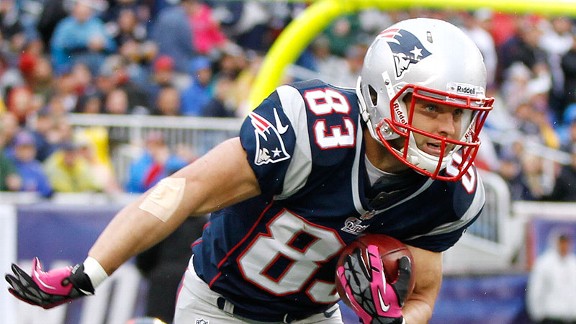 Greg M. Cooper/USA TODAY SportsDenver is making a free-agency statement by signing receiver Wes Welker to a two-year deal.
At the NFL combine last month, I asked
John Elway
if the Denver Broncos' limited Super Bowl window with star quarterback
Peyton Manning
turning 37 this month would it cause him to try to make a big splash.
Elway, who won his two Super Bowls as the Broncos' quarterback at the ages of 37 and 38, didn't brush off the notion. He said it was a possibility and the team had to see how free agency played out.
Well, in the second day of NFL free agency, Elway showed the NFL, once again, he is as powerful in the front office and he was on the field.
In one of the biggest shockers of the NFL offseason, and a move that could shift the power of the AFC, Elway gave Manning a one-year anniversary present in the form of sure thing receiver
Wes Welker
, formerly of the
New England Patriots
.
Welker has led the NFL in receiving over the course of the past six seasons. Slot receivers are magnets for Manning. The idea Welker and Manning on the same field is mind boggling.
"This is a great signing for Denver," ESPN analyst Eric Mangini said on the air shortly after the news broke. "This is a perfect fit."
Much credit goes to Elway for striking it big once again. Last March, Elway, who inherited a mess of a franchise when he took over the Broncos early in 2011, pulled in Manning last season to make the biggest splash of the NFL offseason.
The follow-up signing of Welker shows the urgency in Denver. The Broncos went 13-3 last season and ended the regular season with an 11-game winning streak. The Broncos, the No. 1 seed in the AFC playoffs, lost to eventual Super Bowl champion Baltimore in double overtime in their first playoff game.
This is a move the Broncos think can help push them over the edge and into the Super Bowl. This was a go-for-it-move. Elway knows what it takes to wins Super Bowls and he knows his chance is now.
The fact that the move both strengthens Denver and weakens major conference rival New England is a brilliant stroke. With Baltimore losing key players at startling pace and
Tom Brady
losing his security blanket, this move puts Denver in a great place.
Financially, Denver seems to have gotten a bargain. ESPN's Adam Schefter has reported Welker will sign a two-year, $12 million deal. Denver's salary cap is in good shape and this move doesn't mortgage the future. It is a good value and it shouldn't hurt the Broncos to keep their young players down the road.
Two of those young players are receivers
Demaryius Thomas
and
Eric Decker
. Add Welker to this mix, and this is arguably the best group of receivers in the NFL. All three of these players will help each other out.
Thomas and Decker will play on the outside with Welker in the slot. Denver also uses tight ends
Jacob Tamme
and
Joel Dreessen
often. Last year,
Brandon Stokley
-- a slot favorite of Manning early in his career with the Colts -- had 45 catches at the age of 36.
"This will give Welker a new lease on life," ESPN analyst Bill Polian said on the air Wednesday. "Decker and Thomas will stretch the field. Welker hasn't had that in a while. He had to work in congested areas … Welker will not be surrounded by linebackers anymore."
This ESPN Stats & Information blog
shows the affect Welker has on an offense and
KC Joyner thinks the Broncos' passing game will be unstoppable
. In the end, it gives Manning another option.
Elway clearly thinks those options will increase Denver's chances of winning the Super Bowl. This move was designed for nothing less.
January, 11, 2013
1/11/13
1:30
PM ET
»
NFC Final Word
:
Packers-49ers
|
Seahawks-Falcons
»
AFC
:
Ravens-Broncos
|
Texans-Pats
Five nuggets of knowledge about the Baltimore Ravens-Denver Broncos AFC divisional-round game, which will be played at 4:30 p.m. ET Saturday at Denver's Sports Authority Field:
Justify his glove:
A quarterback wearing a glove is a fairly common occurrence. But when a quarterback the caliber of
Peyton Manning
starts to wear a glove, it's noticeable. When it happens after Manning missed an entire season because of a neck injury that required four surgeries, it is going to be newsworthy. This week, Manning admitted he is wearing the glove as a result of his surgery. He wore the glove in the past two games -- both at home -- because he has had difficulty gripping the ball in the cold. Snow is a possibility Saturday, and temperatures might dip below 20 degrees at game time. Expect to see the glove make its third appearance. If the first two games are any indication, Denver shouldn't be worried about the fit: Manning has thrown for 643 yards, six touchdowns and one interception while wearing the glove.
[+] Enlarge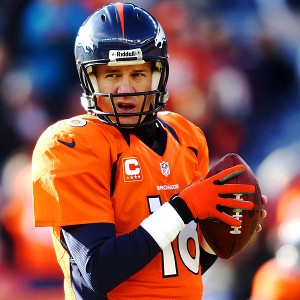 Chris Humphreys/USA TODAY SportsWearing a glove to combat the Denver chill hasn't slowed Peyton Manning his past two games.
Is Rice suddenly a fumbler?
There is a curious trend developing for Baltimore running back
Ray Rice
. Once the postseason begins, normally ball-secure Rice becomes vulnerable to fumbling. Rice has seven fumbles in 1,527 touches in his regular-season career. But after fumbling twice Sunday against the Colts, Rice has fumbled five times in 152 touches in the playoffs. Nothing can unravel an upset bid on the road in the playoffs like a key fumble. It will be something Rice -- and the entire Denver crowd -- will be thinking about Saturday.
Pees has playoff experience against Manning:
Baltimore defensive coordinator Dean Pees was an assistant coach in New England from 2004 to 2009 and faced Manning in the postseason twice, winning once and losing once. This week on ESPN's "NFL Live," another former Bill Belichick defensive assistant, Eric Mangini, said Pees' time planning for Manning with Belichick's playoff staffs could come in handy. Mangini said there were times when Belichick changed an entire defensive scheme against Manning at halftime to get an edge. Thus, Mangini said, Pees is adept at doing what it takes to try to stop Manning in the playoffs.
Will the Ravens be worn down?
Denver will try to strike quickly and set the tone. Expect to see some fast-paced, no-huddle offense against what could be a fatigued Ravens defense. Baltimore had a short week after beating the Colts on Sunday -- after which the Ravens had to travel west into the thin air of Denver. The Colts ran 87 offensive plays and kept the ball for 37 minutes, 32 seconds Sunday. All of these factors could come into play Saturday.
Will Caldwell give different looks?
When Denver beat the Ravens 34-17 in Baltimore in Week 15, it was the Ravens' first game with Jim Caldwell as their offensive coordinator. The Ravens promoted Caldwell, who was Manning's head coach in Indianapolis, from quarterbacks coach to offensive coordinator after the firing of Cam Cameron. Caldwell's offense was anemic against Denver, which took a 31-3 lead into the fourth quarter. The unit has made some strides in the three games since, meaning Denver should expect to see an improved Baltimore offense.
December, 12, 2011
12/12/11
2:15
PM ET
We knew Scott Pioli wasn't going to lose this battle.
There have been rumblings of a major rift between Pioli, the Chiefs' GM, and Kansas City coach Todd Haley since shortly after the Chiefs were bounced in the first round of the playoffs last season. The talk continued through the offseason and into training camp. Reports of problems between Pioli and Haley churned nearly on a weekly basis during this season of disappointment for the Chiefs.
[+] Enlarge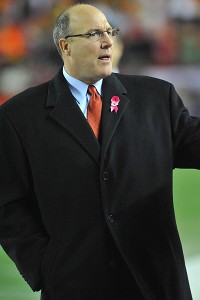 Denny Medley/US PresswireKansas City GM Scott Pioli will have plenty of names to choose from as he prepares to hire his second head coach for the Chiefs.
It reached a head Monday morning when
Haley was fired
after posting a 19-27 record in Kansas City. His four-year contract expires after next season. The Chiefs clearly didn't feel that they could move on with Haley after they were blown out 37-10 by the
New York Jets
on Sunday. It was the Chiefs' fifth loss of 27 points or more this season. They are 5-8 and have the toughest remaining schedule in the NFL, starting with a home game Sunday against 13-0 Green Bay.
Now that the Chiefs are moving on without Haley, the focus is solely on Pioli. He needs to get the next move right to keep this program on the right track. Despite the team's poor record and its inability to compete in many games, I believe the Kansas City program is heading the right direction in the big picture. I realize the NFL has become a microwave league where fast success is now expected. But Pioli has built a good core group that has a chance to compete for several years.
I pin this poor season on injuries that decimated this team. You can't expect to compete when youngsters
Tony Moeaki
,
Eric Berry
and
Jamaal Charles
were all lost for the season with knee injuries before October. Plus, quarterback
Matt Cassel
is out for the season.
So, the Chiefs have a chance to get better quickly when these players return. It's all on Pioli.
He has to ensure that the Chiefs rebound in 2012. If not, he could soon be on the hot seat.
He was the one who hired Haley, so he must take responsibility for it. Hiring Haley -- an old colleague from their shared Bill Parcells days -- was Pioli's first move in Kansas City after being hired in January 2009.
If they couldn't get along, it is partly Pioli's fault. He must be able to get along with his head coach. That's why it is so important that he makes the right call with his next hire. If the next coach is a failure or if Pioli butts heads with him, it probably will be Pioli's turn to pay the price.
We will hear plenty of names connected to this job, including former Broncos coach Josh McDaniels, Iowa coach Kirk Ferentz and former NFL coach Eric Mangini. Expect Pioli to take his time as he tries to get his second coaching hire right.
Pioli has to know his long-term future in Kansas City is reliant on him making the right call.
August, 29, 2011
8/29/11
1:25
PM ET
Denver and Kansas City got an early start on making cuts Monday. Teams need to cut down to 80 players by Tuesday afternoon. The 53-man roster must be set Saturday afternoon.
Denver cut seven players. The most notable was veteran cornerback
Nate Jones
, who has been with the team the past couple of seasons. The other players Denver released are running back
C.J. Gable
, linebacker
Braxton Kelley
, linebacker
Deron Mayo
, guard
Shawn Murphy
, tackle
Curt Porter
and defensive end
David Veikune
.
Kansas City cut seven players: linebacker
Eric Bakhtiari
, running back
Tervaris Johnson
, defensive back
Javes Lewis
, receivers
Chris Manno
and
Josue Paul
, defensive back
Mario Russell
and receiver
Chandler Williams
. Johnson was in the Chiefs' program the past couple of years.
Meanwhile, there is a group of players vying for the
final two rosters spots
at receiver in San Diego.
In a video
, new ESPN analyst and former NFL head coach Eric Mangini takes his turn at breaking down
Tim Tebow
. It's official. Now, every NFL analyst has broken down Tebow.
December, 6, 2010
12/06/10
10:55
PM ET
Remember when the AFC West was going to become New England West?
It was all the rage when on back-to-back days in January 2009, the
Denver Broncos
and the
Kansas City Chiefs
entrusted their future to the Patriots' Way. First, Denver hired New England offensive coordinator Josh McDaniels as head coach. The next day, the Chiefs hired New England executive Scott Pioli to become general manager.
Both McDaniels and Pioli embraced their New England roots and didn't hide their intentions: They were going to build their organizations using the Patriots' model.
Well, it worked in one place.
A day after Pioli's young, tough Chiefs took a two-game lead in the AFC West race, McDaniels was fired after leading Denver to a 3-9 record this season.
McDaniels' firing is further evidence that the Belichick head-coaching tree is far from being a sure thing. McDaniels is the fourth Belichick assistant to be fired from his first job after leaving Belichick's comfort zone. He joins Eric Mangini, Charlie Weis and Romeo Crennel who failed in their first job away from New England.
Weis and Crennel, ironically, are part of the Chiefs' resurgence. They are assisting in the same role as they did in New England. Weis is the Chiefs' offensive coordinator and Crennel is their defensive coordinator.
A big difference why I think Pioli is having success and McDaniels did not is that Pioli has molded his team on the field like New England better than McDaniels did. Pioli fit players where they could be part of a greater plan.
McDaniels' approach to the Patriots' Way was to wear a hoodie and wield power. It was his way and his way only. That was the beginning of the end of his plan. It caught up to him quickly, once again showing that the New England Way isn't for everybody.
October, 9, 2009
10/09/09
12:00
PM ET
| | |
| --- | --- |
| | |
| | Getty Images |
| | Bill Belichick, who has had success against his former assistants, will coach against his former offensive coordinator, Josh McDaniels, this weekend. |

Posted by ESPN.com's Bill Williamson
Perhaps it will be Josh McDaniels who saves the Bill Belichick coaching tree.
It needs some nourishment, no doubt about it. Former Belichick assistants Eric Mangini, Romeo Crennel and Charlie Weis all either had or are having their share of struggles as head coaches. But if the first four games of McDaniels' head-coaching career are any indication, he may be the protégé most like Belichick. McDaniels, who came to Denver after being New England's offensive coordinator, is 4-0 and an early-season candidate for coach of the year.
McDaniels will put his perfect record, along with his growing reputation as a game manager and planner, up against his mentor Sunday when the Patriots visit Denver.
Belichick versus protégés
When the Broncos play New England, Josh McDaniels will face his old boss, Bill Belichick. McDaniels is the third Pats assistant to become an NFL head coach since Belichick became Patriots head coach in 2000. A look at how each fared in his first game against Belichick:
Former Belichick assistant
Team
Date
Result

Josh McDaniels

Broncos

10/10/09

???

Eric Mangini

Jets

9/19/06

Patriots won 24-17

Romeo Crennel

Browns

10/7/07

Patriots won 34-17
For McDaniels, the game is an opportunity to face the man he fully credits for his NFL success. McDaniels lives the Patriot Way.
"The philosophy is about how to win, that comes straight from Bill," McDaniels said. "Most of them, if not all of them, do. I was there for eight years and had a great deal of success being a part of that organization. It is a great organization with a great coach and great players and a lot of great coaches. The things that they do to try to win games, we are doing many of those things here. We are trying to do many of those things, and not because we are copying some other team but because they have been successful, and it is a way of trying to win games in this league. It is showing itself as a very successful way to do that."
Belichick believes McDaniels, 33, has what it takes to continue his fast start. McDaniels was known for his thorough game preparation and detailed game plans while with the Patriots.
"They don't beat themselves," Belichick said of the Broncos. "It doesn't surprise me. It certainly doesn't surprise me. I have all the respect in the world for Josh, both as a coach, personnel evaluator and in general for his football knowledge and his ability to manage the game, whether it is as a coordinator or as a head coach. I think he has great insight into the game, so it doesn't surprise me."
Don't expect a handshake dis this week. Unlike Mangini's frosty relationship with Belichick, McDaniels is one young former Belichick coordinator who still has a strong relationship with the Godfather. The two talk often. They've made trades together and Belichick has congratulated McDaniels after wins.
Perhaps that's why McDaniels talks so glowingly about Belichick.
"Most of the things that we do with our football team in some way, shape or form I get from Bill," McDaniels said. "His preparation, the way he prepares his team, the way that he feels you have got to approach each game a little bit differently in terms of you have got to beat New England differently than you beat Dallas, you have got to beat New England differently than you beat Cleveland, and I am sure he is saying the same thing. You are going to have to beat Denver a little bit differently than you beat Baltimore."
While McDaniels reveres Belichick, he clearly wants to beat his former boss. While it would be an upset, a Denver win is not out of the question. McDaniels' team is playing very well, and in some ways, better than New England.
Here are some areas that McDaniels' team is playing better than Belichick's team as they head into the game. If the trends continue, McDaniels could beat his mentor:
| | |
| --- | --- |
| | |
| | Kyle Terada/US Presswire |
| | Coordinator Mike Nolan has turned around Denver's defense. |
Defense:
It's ironic because McDaniels is an offensive specialist and Belichick cut his teeth on defense. But Denver's defense is playing better than New England's, or any other team in the league. McDaniels works closely with defensive coordinator Mike Nolan.
Denver has allowed a league-low 26 points. The Broncos are excelling against the run, rushing the passer ferociously and creating turnovers. That is how teams win. Even against an offense as powerful as New England's, which McDaniels knows all about.
Preparation:
You have to say McDaniels has prepared better than Belichick so far, because he is undefeated. The Patriots are 3-1. Everyone whom I have talked to about McDaniels' early success points to his incredible preparation. McDaniels has stressed game situations in practice since minicamp. His players feel as if they are prepared for anything.
That may give McDaniels the edge against the Patriots. He knows everything about New England. New England knows everything about McDaniels, but he's only one guy. McDaniels has an entire organization to glean information from.
Mistake-free football:
Denver won't break any scoring records as McDaniels' Patriots did two years ago. The Broncos have scored 79 points. New England has scored 87 points.
But the Broncos aren't making many mistakes. Quarterback
Kyle Orton
has not thrown an interception. New England quarterback
Tom Brady
has been intercepted twice. Denver and Orton are managing games well and playing timely football. The Broncos are not lighting up the scoreboard, but they are doing enough to win.
Still, McDaniels knows that to beat his mentor, his team is going to have to play nearly perfect football.
"It is going to come down to whoever tackles better, who blocks better, who throws better, who catches better," McDaniels said. "It is not going to be a big game of tricks and gimmicks, I don't think. I think they are going to know plenty of what we are doing, if not all, and we are probably going to know a lot about what they are doing. It is going to come down to whose players play the best and who can make the plays and avoid the big mistakes in the game, like most games come down to. I don't think this game is going to be about deception. I think it is going to be about us trying to play good football, and they are going to do the same thing. Whoever plays better on Sunday will win the game."
That's the Patriot Way. Next to Belichick, McDaniels seems to understand it better than anyone else.
January, 12, 2009
1/12/09
6:37
PM ET
Posted by ESPN.com's Tim Graham
When a young coordinator named Eric Mangini informed Bill Belichick he was leaving the New England Patriots to accept an NFL head coaching job, the club reportedly changed the Gillette Stadium security code, preventing Mangini from cleaning out his desk.
New England's sendoff for Josh McDaniels has been more affable.
McDaniels, a 32-year-old offensive coordinator, will be introduced Monday as the Denver Broncos' next head coach.
The Patriots have released a statement from Belichick on McDaniels' departure:
Josh McDaniels is one of the finest people and brightest, most talented coaches I have ever worked with. Since joining us eight years ago, Josh performed a variety of roles and excelled in every one of them. Between his work on defense, in scouting, player evaluation and coordinating the offense, Josh is a very well-rounded coach whose outstanding body of work speaks for itself.

He is the product of a pure football environment which is evident in his approach to the game. On behalf of the entire Patriots organization, we thank Josh for tremendous success in New England and congratulate him and the McDaniels family for this most deserving opportunity for advancement.
January, 12, 2009
1/12/09
10:00
AM ET
Posted by ESPN.com's Bill Williamson

Here are some random thoughts on Denver's hiring of New England offensive coordinator Josh McDaniels:
The Broncos became a passing team in 2008 partly because quarterback Jay Cutler emerged into a Pro Bowl player and the team had major injury issues at running back. Thus, Mike Shanahan, perhaps the premier running head coach in NFL history, slowly changed his team's approach.
Under McDaniels, it is very likely the Broncos will stay a throwing team.
His background is in the air and he has had great success with Tom Brady and Matt Cassel. The team is excited about Cutler's development under McDaniels.
It is being reported that former San Francisco coach Mike Nolan will be the Broncos' defensive coordinator. Dom Capers and Sean McDermott have also been mentioned for that job in Denver.
Nolan would be an interesting choice. Despite his issues as a head coach, he is a noted defensive coaching star and he is experienced. Like Capers, he'd be a help to McDaniels. The Broncos have had one of the league's worst defenses in recent years so an experienced coach is needed on that side of the ball.
McDaniels isn't the first branch of the Bill Belichick coaching tree. But can he have success? Two former Belichick assistants, Romeo Crennel and Eric Mangini were just fired from NFL jobs. Charlie Weis has been under fire at Notre Dame. Can McDaniels buck the trend? We'll see.
The Broncos may have indirectly stolen McDaniels away from Kansas City. The Chiefs are talking to New England's Scott Pioli about being the general manager. There was speculation that Pioli could take McDaniels to Kansas City with him. Now, if Pioli ends up with the Chiefs, he'll be division rivals with his former co-worker.
September, 23, 2008
9/23/08
1:28
AM ET
| | |
| --- | --- |
| | |
| | Stephen Dunn/Getty Images |
| | Philip Rivers was 19-of-25 for 250 yards and threw for three touchdown passes against the Jets. |
Posted by ESPN.com's Bill Williamson

SAN DIEGO -- Philip Rivers is a big Brett Favre guy.
Rivers, 26, has followed Favre, 38, since he was a ball boy for his father's high school team in Alabama. He couldn't get enough of Favre. What was there not to like? Favre was a Southern boy just like him. He was a son of a football coach. Most of all, he was a gunslinger quarterback. Rivers was sold.
This summer, when Favre's saga in Green Bay was in full insanity mode, Rivers politely declined to comment on the situation out of respect for Favre. He meant that much to Rivers. Monday before the game, the two men spoke on the field for several minutes. It was easy to tell it was a big moment for the smiling Rivers.
The night got better for Rivers, though. He outdid his hero.
Continuing a quietly brilliant start to the season, Rivers had a terrific night as he picked apart the Jets, leading the Chargers to a much-needed victory. After two straight games in which they got their hearts smashed in the final 30 seconds, the Chargers cruised to a 48-29 victory over Favre and the Jets.
Rivers completed 19 of 25 passes for 250 yards and three touchdowns. He easily managed the field and made big plays when he needed them.
"He's our leader," San Diego tight end Antonio Gates said. "Philip made some big plays tonight."
Rivers' one mistake was reminiscent of Favre's night. On his first pass play, Rivers threw a bad pass that was intercepted by New York cornerback David Barrett, who easily trotted to the end zone. Rivers' hero also threw an interception that was returned to the house.
In the end, Favre completed 11 more passes than Rivers for 21 more yards. But this was Rivers' night. Afterward, though, in true Rivers form, it was about the Chargers entering the win column, not beating his boyhood idol.
"We needed to win a game," said Rivers, who has led San Diego to 110 points in three games. "This was a good win for us."
Here are some keys we learned from this game:
The Jets have taken the leash off Favre: In Favre's third game with the Jets, coach Eric Mangini clearly thought it was time to let Favre do what he was traded for: sling the ball. Favre threw the ball 42 times.
He was 30-of-42 for 271 yards and he threw three touchdowns. However, Favre also threw two interceptions. San Diego dropped three other potential interceptions.
Favre, who had X-rays taken on a sore ankle after the game, was much better in the second half than he was in the first half. Favre threw 26 times in the second half as the Jets attempted to rally from a 31-14 halftime deficit. The Jets were so bent on having Favre throw, he attempted a pass from the shotgun on a two-point conversion inches from the goal after three San Diego penalties moved the ball closer to the goal. The Jets missed the conversion.
"We're disappointed in the loss, but I think there is something to build on here," Favre said.
Antonio Gates is getting back to form: Gates, the Chargers' Pro Bowl tight end, admitted Monday night that two weeks ago, against Carolina, he thought he was not going to make it through this season. Gates had offseason surgery on his left big toe and missed all of the preseason.
However, Monday night, Gates said he is almost certain he will soon be completely healthy.
"I really feel great tonight," Gates said. "I'm at about 85 percent and going up. It's not going backwards anymore. I'm definitely going to make it. Tonight, I felt the best I have since the surgery. It's really getting better. In pregame warm-ups, I could tell the difference."
Gates had two catches for 25 yards, including a 6-yard touchdown catch.
The Chargers also got a boost from left tackle Marcus McNeill, who played his first game of the season after sitting out with a neck stinger. With running back LaDainian Tomlinson, who got 67 rugged yards on 26 carries, recovering from a turf toe and center Nick Hardwick a few weeks from returning from a foot injury, the Chargers are slowly returning to health.
The Chargers' defense can make big plays: After faltering in the final seconds of the first two games, the Chargers' defense came up with big plays -- even though the unit still gave up too many passing yards.
Cornerback Antonio Cromartie made a huge play, scoring on a 52-yard interception return. And San Diego, which had just two sacks in two games, came up with three sacks. All of them came with New York driving.
"They did some nice things," Favre said.
The Chargers got their groove back: San Diego is just 1-2, but this team will have to be accounted for in the AFC playoff race. The Chargers could easily be 3-0 and they know it. If the defense can continue to make strides, San Diego will creep back in this race.
The Chargers were 1-3 last year before finishing 11-5, so they are no strangers to fighting out of a hole. Now that hole is just a 1-2 record as San Diego heads to Oakland.
"This is what we had to do," Gates said. "Being 0-3 is not San Diego Chargers football."