March, 11, 2014
3/11/14
7:00
AM ET
With the countdown to free agency in its final hours, it's time to conclude the week-long look at the
Denver Broncos
' top needs in the open market.
[+] Enlarge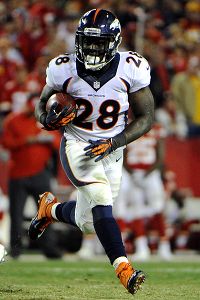 John Rieger/USA TODAY SportsThe Broncos will lean on second-year player Montee Ball to be the lead running back in 2014.
The Broncos are expected to be aggressive and active once the signings formally begin Tuesday at 4 p.m. ET, and have already taken a long look at
Cleveland Browns
safety
T.J. Ward
, as well as linebacker
D'Qwell Jackson
(he signed with the
Indianapolis Colts
). Their executive vice president of football operations/general manager
John Elway
has repeatedly made clear he believes free agency is the time to shop for need and the draft is the time to secure potential long-term Broncos who were the best picks on the board when their picks arrived.
Plenty of folks around the league say they expect the Broncos to buzz in early for some specific targets and then back off to finish out with shorter-term deals weeks later after the initial waves of signings have passed. It was a profile they used last season when they moved quickly to sign
Louis Vasquez
,
Wes Welker
,
Terrance Knighton
and
Dominique Rodgers-Cromartie
and then waited to add players like
Shaun Phillips
,
Stewart Bradley
,
Quentin Jammer
and
Steve Vallos
.
Today: Running back
Why it's an issue:
It's took
Knowshon Moreno
five seasons, two knee surgeries, a pile of ups and downs to go with a teetering roster spot when the Broncos opened 2013 training camp, but in the '13 season Moreno was everything the team hoped he would be all along.
He led the team in rushing, with 1,038 yards, scored 13 touchdowns overall, caught 60 passes and was the go-to guy at the position when it came to pass protection. Moreno was also the poster-child for perseverance and hard work in the team's running backs room.
He's also not expected back. Moreno is an unrestricted free agent and there is at least some feeling inside the Broncos' complex, they got every ounce of what Moreno had to give this past season. And that
Montee Ball
, selected in the second round of the 2013 draft, is ready to move to the front of the line.
Ball closed out last season with 120 carries for 559 yards while steadily improving his work as a receiver and as a pass protector when working out of the backfield in the team's three-wide receiver set. The Broncos want him to be the guy, and Ball has done the work to show them he wants to be the guy, too.
However, the Broncos need some depth, especially if they can't kickstart
Ronnie Hillman
. Hillman went from being handed the starting job last offseason to what the team considered pouting his way down the stretch when he was often a game-day inactive.
Hillman is the potential big-play guy at the position and still has a pile of un-tapped potential, but he has to show something in the offseason work as the Broncos' patience will wear thin if they don't see an uptick in both performance and preparation.
The Broncos had undrafted rookie
C.J. Anderson
on the roster last season, as well. And Anderson is a bigger back, but is seen as a rotation/situational player at the moment.
The best out there:
Teams are not really looking -- ever -- to break the bank on older running backs in free agency, so there is at least a scenario where Moreno returns to the Broncos on a short-term -- one- or two-year deal -- if he doesn't find anything in the open market to his liking.
Overall, however, the Texans'
Ben Tate
, the Colts'
Donald Brown
, the Jaguars'
Maurice Jones-Drew
, the Raiders'
Darren McFadden
, the Raiders'
Rashad Jennings
, the Patriots'
LeGarrette Blount
, the Giants'
Andre Brown
, the Steelers
Jonathan Dwyer
, the Vikings'
Toby Gerhart
, the Steelers'
Felix Jones
and the Buccaneers'
Brian Leonard
lead what is a class full of question marks and plenty of injury history.
The 25-year-old Tate is the youngest of that group with the least wear and tear, but he also wants No. 1 back money and has already dubbed himself "elite" as the market was set to open. Jones-Drew is a former No. 1 coming off two injury-marred seasons, while Jones had just 48 carries for the Steelers last season and did not show the big-play speed he had when the Cowboys made him a first-round selection.
The rest of the backs in the groups, especially Blount, have flashed at times, but the Broncos aren't looking for a potential No. 1, but rather a back who can support their homegrown No. 1. The draft also factors in with the coming rookie class with some depth in the middle rounds for those willing to live with some growing pains that come with a younger player.
Bottom line:
Free agency has not been kind to this high-impact position. As a result, the Broncos, with Ball set to be the lead guy, will take a look for a player who can take some carries from time to time and function in the team's offense, but they have bigger needs with bigger dollars to spend elsewhere on the depth chart.
March, 15, 2012
3/15/12
12:20
PM ET
Peyton Hillis
has been part of a crowded, talented backfield before. This season will be nothing new.
At Arkansas, Hillis was the third back behind
Darren McFadden
and
Felix Jones
. While McFadden and Jones went in the first round of the 2008 NFL draft, Hillis went to Denver in the seventh round.

Four years later, Hillis is joining a talented backfield again, and he has no qualms about working with
Jamaal Charles
and
Dexter McCluster
in Kansas City.
In a conference call with reporters Thursday morning, Hillis said he has not been told of his exact role or the carry breakdown for each Kansas City running back in 2012. Hillis said the carry distribution will not be a "big deal" and he thinks a group of Charles, McCluster and himself will be a "huge backfield that can do great things." Kansas City also is visiting San Diego's
Mike Tolbert
on Thursday.
Hillis said reuniting with 2010 Cleveland offensive coordinator Brian Daboll (he has the same role in Kansas City) was a major factor in his deciding to sign with the Chiefs. Hillis said his comfort level with Daboll and his playbook will allow him to immediately feel comfortable in Kansas City.
Hillis signed a one-year contract with the Chiefs for $3 million. Despite the short-term deal, Hillis said he hopes to have a long, productive career in Kansas City.
"I have never been more excited to play football," he said.
October, 14, 2011
10/14/11
1:30
PM ET
»
NFC Final Word
:
East
|
West
|
North
|
South
»
AFC
:
East
|
West
|
North
|
South
Five nuggets of information about Week 6
All about Al:
It's fitting the
Oakland Raiders
are the only team in the AFC West that is playing this weekend. The other three teams in the division are on their bye. This week should just be about the Raiders. It should be a special scene Sunday when the
Cleveland Browns
visit Oakland. There should be many tears as the Raiders play their first home game since the death of legendary owner Al Davis. The Raiders are planning to pay tribute to Davis throughout the game.
[+] Enlarge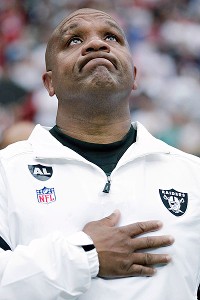 AP Photo/Gerald HerbertIt will be an emotional day in Oakland on Sunday when Hue Jackson and the Raiders play their first home game since the passing of owner Al Davis.
A chance for breathing room:
The Raiders are 3-2. If they beat the Browns and move to 4-2, it will be the first time in nine years that they were two games over .500. Yes, that was the season the Raiders last went to the playoffs ... and the Super Bowl.
Razorback reunion:
This game will be a battle of two top-notch running backs. Oakland's
Darren McFadden
is the leading rusher in the NFL and Cleveland running back
Peyton Hillis
has been one of the league's most effective rushers. Expect the two former backfield mates to try to outdo each other. Hillis blocked for McFadden and Dallas'
Felix Jones
at Arkansas. All three were taken in the 2008 draft. McFadden and Jones were taken in the first round. Hillis was taken by Denver in the final round.
Campbell airing it out:
Davis, one of the kings of the down-field pass, would love this statistic. Oakland quarterback
Jason Campbell
is second in the NFL in passing in the air, according to ESPN Stats & Information. His passes are averaging 9.8 yards in the air. He trails only the Giants'
Eli Manning
is averaging 9.9 yards in the air per toss. Just air it out, baby.
Will the Raiders bring the heat?
The Raiders blitzed more against the Texans than they have against any team this season. According to ESPN Stats and Information, the Raiders blitzed five or more pass-rushers 43.4 percent of the time at Houston. Their season average is 26.8. They blitzed four or fewer pass-rushers in Week 5 56.6 of the time. Their season average is 73.2. Will it continue against the Browns? Davis wasn't completely against his defense blitzing the quarterback. But when it didn't work, he wasn't happy. With plenty of talented pass-rushers on this roster, I wouldn't be shocked if the Raiders continued to blitz more if the coaching staff sees fit.
September, 29, 2009
9/29/09
2:30
PM ET

Posted by ESPN.com's Bill Williamson
Former Oakland quarterback Rich Gannon reacts to his rift with the Raiders.
Speaking of the Raiders, coach Tom Cable says his team is close to getting it together. I understand that Cable believes in staying positive. But we've heard this talk ever since he took over in Oakland. Coach, just show us, please. Sunday's game at Houston is Cable's 16th game as Oakland's head coach, which equals a full season's worth. The Raiders are 5-10 under Cable. Again, show us the improvement and please stop telling us it is on the way.
Lost in the report that Oakland defensive assistant Randy Hanson told police that Cable broke his jaw is the fact that Hanson's attorney said that Oakland defensive backs have sought out Hanson for advice since he has been kept away from the team. It that is the case, it is another example of dysfunction in Oakland.
Denver has allowed just 16 points in the first three games, which is one of the best starts in NFL history.
ESPN's Adam Schefter reported on "SportsCenter" Tuesday that Dallas running back Felix Jones will likely miss the game against Denver on Sunday.
The Chargers believe they are going to get rookie guard Louis Vasquez back on the field this week after he missed two games with a knee injury.
The Chargers are suing former linebacker Steve Foley for owed bonus money.
Oakland tackle Cornell Green is tied for the league lead with three false starts this season.
June, 5, 2009
6/05/09
7:35
PM ET
Posted by ESPN.com's Bill Williamson

The Dallas Cowboys are practicing the "Razorback" formation.
Perhaps the Oakland Raiders are going to work on it extensively this summer. They have the same reason to do so.
Dallas was working on the formation, known around the league as the "Wildcat" because they possess running back Felix Jones. Jones ran a similar offense at Arkansas. His Razorback teammate was running back Darren McFadden, who is a running back for Oakland.
McFadden ran the formation beautifully in college and he is one of the most dynamic young offensive players in the NFL. The Raiders could use some dynamic offensive play in 2009. Oakland toyed with the formation a tad last year. Really, McFadden could never be fully unleashed because of nagging injuries.
It would behoove Oakland to practice the formation often in training camp. With a still-evolving receiving game and a top-notch running game, an added wrinkle such as the Wildcat could keep defenses off balance.
Like in Dallas, the Razorback should be unleashed in Oakland this summer.
December, 5, 2008
12/05/08
12:05
PM ET
Posted by ESPN.com's Bill Williamson
When the Denver Broncos selected Peyton Hillis in the seventh round of the April draft, they weren't expecting him to their next standout tailback.
They simply liked Hillis as a football player. They liked him as an under-the-radar tailback. But they didn't think of him as a starter in the NFL. They liked him equally well as a soft-handed fullback who could be a receiving threat out of the backfield. They also liked him as a potential H-back. The Broncos looked at the big, fast kid from Arkansas _- who was best known as Darren McFadden and Felix Jones' lead blocker in college - and they saw a Dallas Clark-like player.
Denver saw a lot they liked in a player they had a fourth-round grade on. When Hillis was still available in the seventh round, Denver, which thought it solved its need at running back in the fifth round in the form of Arizona State rookie Ryan Torain, the Broncos jumped at the chance to take him. They didn't know where they'd play him, but they knew they got a good football player.
With four games remaining in the regular season and a playoff berth looming for the 7-5 Broncos - whose magic number to win the AFC West is two heading into Sunday's home game against Atlanta -- Hillis has become much more than just a good football player.
He is becoming a savior to their offense. If it wasn't for Hillis, the balanced attack for which Denver is famous for, wouldn't be possible. Hillis is saving Denver's running game.
After season-ending injuries to Torain, Michael Pittman, Andre Hall, Anthony Alridge and a long injury suffered by Selvin Young, the Broncos broke the emergency glass and inserted Hillis in the lineup as a tailback. They had no other choice.
And he has been flourishing.
"We knew he was an athlete when he first stepped foot here in Denver, the way he can catch the ball and the way he can run with the ball, we knew we had somebody special," Denver wide receiver Brandon Marshall told reporters in Denver's locker room Thursday. "There definitely hasn't been a dropoff at running back since he's been back there."
The Broncos are used to this type of sudden impact at this position. Denver has had nine different running backs rush for a 100 yards in a game since 2004. It leads the NFL.
But Hillis? Really? This is a guy who was the fullback. He's only playing because of five, yes, five injuries. But he's made an instant impact. Hillis' rushing yard totals increased in each of his last four games. He had 129 yards on the ground in Denver's 34-17 upset win at the Jets on Sunday. He is averaging 4.8 yards per carry and he has four rushing scores.
With McFadden struggling all season because of turf toe injuries and Jones done for the season in Dallas, the lead blocker for the two first-round picks from Arkansas is stealing the show in the NFL. Hillis' early success after an obscure college existence reminds some in the NFL about the situation Brandon Jacobs endured while at Auburn. He was overshadowed by Ronnie Brown and Carnell Williams before he transferred to Southern Illinois. Now, in the NFL, Jacobs is making his own name for himself.
Hillis, 22, is certainly making a name for himself in Denver. His teammates love the happy go-lucky runner with that lovable southern twang. Hillis won over his teammates in Cleveland on Nov. 6 when he converted a first down on fourth and short with a second-effort run. The play ignited a Denver comeback win which was a spark to a streak in which the Broncos have won three of four games despite all of the injuries at tailback and on defense.
"I'm just glad I have come in here and fit in," Hillis said. "I think some people might be surprised but I feel like I'm a versatile guy who could come in here and help and I hope that's what I'm doing."
The Broncos are winning and Hillis, who is 6-2, 250 pounds, is a big reason why. Denver quarterback Jay Cutler said Hillis, who has 4.5 speed, is a perfect Denver running back.
"I think this running scheme is kind of designed for him," Cutler said. "It is one cut, get downhill, get your five or six yards and every once in a while you can break a 30 or 40 yarder if you get up on the safeties. He has done a good job. He is a smart kid, and I think we have used him effectively. We have tried to play off his strengths. We haven't put him in the position where we have had to ask him to do things he can't do. He has stepped up to the challenge and has been fun to watch."
The Broncos aren't necessarily looking at Hillis as a stop-gap answer at tailback. Yes, that's how he got the job, but the team loves his rugged running style. There are those in the Denver organization who believe he will have a role as a tailback next season. The team also likes Torain and he will get a chance to play next year when he recovers from a knee injury. And it wouldn't be a surprise if Denver added a veteran. But there will be room for Hillis.
"He has proven that he can play tailback," Denver coach Mike Shanahan said."He is better with the ball in his hands at the tailback position running the football or catching the pass out of the backfield. He is going to get a chance to play more tailback because of what he has done and how he can break tackles."
Hillis, a high school star tailback in Arkansas, wasn't expecting the chance to be a running back in the NFL, but he isn't ready to let it go, either.
"I hope I get to continue to play tailback," Hillis said. "But I'll do anything the team wants me to do."
And that's exactly why Denver drafted him in the first place.
November, 10, 2008
11/10/08
9:45
PM ET
Posted by ESPN.com's Bill Williamson
The Broncos are unlikely to do anything drastic at running back before playing at Atlanta on Sunday.
There is still time for Denver to make a splash at the position in which three players went down for the season in a four-day span. However, there isn't much splashing to do in an underwhelming free agent pool.
Denver signed running back Alex Haynes after he worked out with five other running backs in Denver on Monday. Denver looked at veteran Musa Smith and former Chargers Marcus Tomas and fullback Andrew Pinnock.
But Haynes, who had three career carries with Carolina, won the job. He will backup Peyton Hillis, Selvin Young and P.J. Pope, who was just promoted from the practice squad. Young has been dealing with a groin injury for more than a month and is not 100 percent.
That means Hillis will likely be the starter. Hillis finished the game as the tailback in Cleveland last Thursday after Ryan Torain went down for the season with a torn ACL. Four days earlier, Michael Pittman and Andre Hall went down for the season. Denver had the weekend to consider what it wanted to do and decided to have the mass workout Monday.
With very little available on the open market, Denver really had no choice but to stick with what they have, for the most part, even though it is a gamble. Hillis, a seventh-round pick, is primarily a fullback. He was the led blocker for Darren McFadden and Felix Jones at Arkansas.
After Torain was hurt, Denver went to the spread offense and it worked as quarterback Jay Cutler, who is very comfortable using the shotgun offense, threw for 447 yards. All three of Cutler's touchdown passes came in the fourth quarter of Denver's 34-30 comeback win.
At Atlanta, expect Denver to throw the ball more than it runs again as Hillis is eased into his new role and Young is eased back from his injury.
November, 7, 2008
11/07/08
3:25
PM ET
Posted by ESPN.com's Bill Williamson
Ryan Torain looked like he could be the answer.
He was running with authority and was a fine fit for the Denver offense. He was giving the team the offensive balance they lacked all season.
Then he got injured.
Now the Broncos, coming off a much-needed comeback win at Cleveland, have no answers at running back. Torain is out for the season with a torn ACL in his left knee.
Where do the Broncos go now?
The answer isn't overly hopeful for the team. There are two tailbacks on the roster: Selvin Young and P.J. Pope. That's it.
Young tried but couldn't be a factor Thursday night because of a groin injury that kept him out for three weeks. Pope was just promoted from the practice squad.
Denver finished the game with rookie Peyton Hillis at tailback but he's really a fullback. The seventh-round pick is most famous for blocking for Darren McFadden and Felix Jones in college at Arkansas.
Hillis actually did a fair job Thursday night. Hillis got some tough yards, including a tremendous second-effort first down on fourth and 1 on Denver's game-winning drive late in the fourth quarter. Had Hillis gone down on the initial hit hit, Denver very likely would have lost.
Hillis saved the game Thursday. Can the fullback save the season? There really aren't many other choices.
Denver stayed away from the weak list of available running backs Monday a day after Michael Pittman and Andre Hall went down for the season. Now, they will likely be forced to look elsewhere.
The Broncos haven't been enamored with any available tailbacks all season. The Broncos have a specific need to fit their zone-blocking scheme but they aren't thrilled with the available choices.
It is not the time to be choosy.
The 5-4 Broncos are trying to cling onto a lead in the AFC West. They need balance. Expect the Broncos to employ an offensive attack similar to the one they used Thursday. Quarterback Jay Cutler will be operating the spread offense and playing out of the shotgun.
Cutler loves playing out of the shotgun but Denver coach Mike Shanahan doesn't because it kills the running game. Well, the running game is already dead. So, Shanahan may let the shotgun rip. Cutler excelled using it Thursday night. He threw for 447 yards and three touchdown passes in the Broncos' comeback 34-30 win. The Broncos were down 23-10 in the fourth quarter.
Cutler willed the team to win. With the running game broken and five defensive starters out with injuries, he is going to have to continue to play that way.
November, 3, 2008
11/03/08
6:30
PM ET
| | |
| --- | --- |
| | |
| | AP Photo/David Zalubowski |
| | Rookie Ryan Torain could be the solution to Denver's problems in the running game. |
Posted by ESPN.com's Bill Williamson
Coming off a rushing effort in which they compiled 14 yards (the second lowest in team history) Sunday against Miami, the Broncos have to replace half of their running back crew.
Denver put starter Michael Pittman and backup Andre Hall on the injured reserve. Pittman has a neck injury and Hall has has a hand injury. Now, the Broncos' only running backs on the roster are second-year player Selvin Young, who has missed the past three games with a groin injury, and rookie Ryan Torain, who made his NFL debut Sunday, gaining one yard on three carries. Torain broke his elbow in training camp.
And making matters worse, Denver, which has lost four of its past five games, has to play Thursday at Cleveland.
Expect Torain and Young to carry the load against the Browns on a short week. The plan was to ease Torain into the offense against Miami, and he may be ready for more action Thursday. Young was close to being healthy last week and could be ready to help Thursday. Still, Torain isn't ready to help in the passing game and Young has had major durability issues.
It is clear Denver will try to add a running back or two to the mix. But the rest of the season depends on Torain and Young, probably in that order. Torain will be given every chance to become the go-to back. When he was injured, the team was devastated. Denver coach Mike Shanahan, one of the most successful running coaches in the history of the NFL, compared Torain, a fifth-round pick from Arizona State, to Broncos great Terrell Davis.
The Broncos think Torain, who nearly stole the starting job in camp before he was hurt, has the perfect size-speed combination to excel in their zone-blocking offense. The Broncos certainly need him to excel. The running game has been stagnant. The Broncos are ranked 19th in the NFL in rushing, averaging 105.2 yards a game. That is way below Denver's standards.
Another reason Torain is being asked to produce is because there aren't many running backs remaining on the open market. So help isn't necessarily on the way. Former Denver running backs highlight the list of available rushers. They include Tatum Bell, Mike Bell and Ron Dayne. Other running backs available are Anthony Thomas, Vernand Morency and Wali Lundy. Denver has visited with some of those players in the past. Morency visited Denver a few weeks ago. The team also could promote running back P.J. Pope from the practice squad.
Denver also could potentially use rookie fullback Peyton Hillis at tailback. He has experience there and is an emergency tailback for Denver. He is coming off his best NFL game. The seventh-round pick, who blocked for Darren McFadden and Felix Jones in college at Arkansas, had seven catches against Miami.
Still, expect Torain to be given the ball and the opportunity to knock the banged-up Broncos out of their malaise.