March, 17, 2014
Mar 17
11:00
AM ET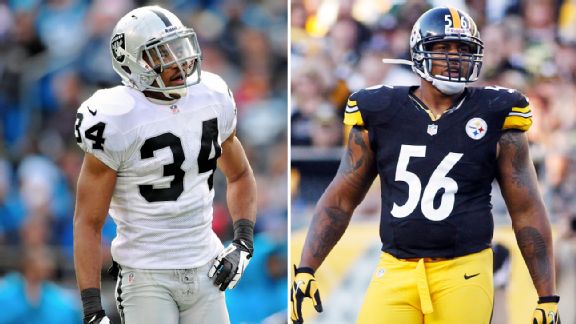 Getty ImagesIn safety Mike Mitchell and linebacker LaMarr Woodley the Steelers and Raiders hope to find free-agent steals.
LaMarr Woodley
is now a Raider as he signed with Oakland last week following his release from the Steelers. The Steelers, meanwhile, made an uncharacteristic signing on the first day of free agency, bringing in
Mike Mitchell
to take over for
Ryan Clark
at free safety. Mitchell played for the Panthers in 2013 but spent his first four seasons with the Raiders.
ESPN.com Steelers writer Scott Brown and ESPN.com Raiders writer Paul Gutierrez take a closer look at Woodley and Mitchell and what their signings mean for their respective teams.
Paul Gutierrez:
The Raiders had many needs entering the offseason, perhaps none greater than pass rush. They seemed to address that by signing
Justin Tuck
and LaMarr Woodley, but I'm sure Raiders fans are wondering just how much Woodley, who turns 30 in November, has left in the tank?
Scott Brown:
The Raiders should be getting a player who will be extremely motivated following his release by the Steelers -- and by how his career played out after they had made Woodley the highest-paid defensive player in franchise history. It proved to be a rather stunning fall from grace for Woodley, and ultimately the Steelers picked
Jason Worilds
, whom they had been widely criticized for drafting in the second round in 2010, over Woodley.
Woodley's inability to stay on the field led to the Steelers making that choice, and if he can stay healthy he could turn out to be a real bargain for the Raiders. Woodley played well until a calf injury sidelined him in the second half of the last season and ultimately shut him down. What has the reaction been to the Woodley signing, and do you think the Raiders view it as a low-risk, high-reward proposition?
Gutierrez:
The reaction has been one of relief from Raiders fans, especially since Tuck had signed earlier in the wake of the
Rodger Saffold
debacle. Now, I'm not saying it "saved" the Raiders' free agent-signing season, but it did wash away some of the bad taste because the Raiders had a huge need at pass rush. In Woodley (57 career sacks) and Tuck (60.5 career sacks) they addressed it even if both guys will be on the wrong side of 30 come midseason. Still, Woodley and Tuck, bring a championship mentality (two Super Bowl appearances) to a franchise that has not had a winning record since 2002. And yeah, the money is right ("only" up to $12 million) as is the length of the deal (two years).
Still, there are questions about how his skill set plays into the Raiders' base 4-3 defense since Woodley was the left outside linebacker in the Steelers' 3-4 scheme. He says he'll play with his hand in the dirt as a defensive end in a 4-3. Do you see that as a realistic possibility, or is that too much to ask of him at this stage of his career?
Brown:
Woodley should be fine moving to defensive end as that is what he played in college when he tormented quarterbacks for Michigan. The move might help him regain some of his pass-rushing mojo as Woodley won't drop into coverage nearly as often as he did with the Steelers. I like the signing for the Raiders, especially if Woodley prepares and plays as if a fire has been lit under him. Did complacency set in after he signed the six-year, $61.5 million in 2011? It sure seems that way and maybe getting released is what Woodley needed to get his career back on track.
The Steelers normally stay on the sidelines during the first wave of free agency but they made a significant signing when they lured Mike Mitchell away from Carolina with a five-year, $25 million contract. Mitchell spent his first four seasons in Oakland and I'm curious about your impressions of him. Did he simply need a change of scenery or did things click for him last season because he played on a better team?
Gutierrez:
Yeah, it's been a couple of years since I covered Mitchell on a day-to-day basis but he definitely left an impression as one of the best interviews in the Raiders locker room, win, lose or draw. The spotlight was on him from the day Al Davis used a second-round pick on a little-known player from Ohio University. Davis had visions of another undersized, hard-hitting safety from the Buckeye State in Jack Tatum but that was a tough bar to reach. Still, he had some flashes… especially in covering San Diego tight end
Antonio Gates
a few years back. A change of scenery, and being with a team that had a better pass rush, definitely helped him out in Carolina. Plus, he was able to freelance more with the Panthers as a free safety, rather than on the strong side. And with his outspoken manner, gritty disposition and, yes, rep as a hard hitter, he seems to fit the mold of Raiders and Steelers' DBs of yore, even if he's not Tatum or even Donnie Shell.
Speaking of old school, Raiders fans still refer to "IT" as the Immaculate DE-ception… so when, if ever, is Frenchy Fuqua going to tell the entire story?
Brown:
I just read a tremendous book on the 1970s Steelers, "Their Life's Work," and it sounds like he is taking that story to his grave. I'm sure Steelers' fans would counter that the Immaculate RE-ception is history and in the books no matter how it went down. It certainly is one of the more intriguing chapters of that storied rivalry and remains so after all of these years. What are the chances that the Raiders and Steelers turn back the clock at some point and resume meeting regularly in the playoffs as they did in the 1970s?
Gutierrez:
Well, that would mean the Raiders have to get BACK to the playoffs, a place they have not visited since 2002. Realistically, I can't see it happening in the next year or two, but in the NFL, things do change quickly. Not sure the rivalry can ever get back to the days of the '70s, though, when the Steelers and Raiders met in
three straight AFC title games
, which I wrote about in January.
July, 27, 2010
7/27/10
3:45
PM ET
Jack Tatum's playing style was true to his nickname. He was "The Assassin.''
I was lucky enough to cut my teeth covering the NFL during the 1970s in Pittsburgh. Back then, no matchup was more anticipated than Pittsburgh Steelers-Oakland Raiders. Part of the reason was Tatum, who made sure receivers venturing into the middle of the field did so at their own risk.
[+] Enlarge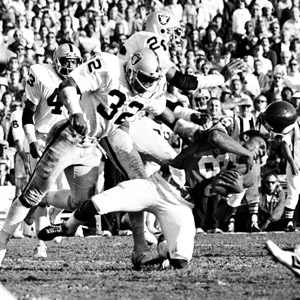 AP Photo/Richard DrewJack Tatum (32), who came from an era of hard running and harder hits, died Tuesday.
What is forgotten is how physical the game was in the 1970s. That was the age of great defense, hard running and harder hits. Situation substitution wasn't part of 1970s football. Cornerbacks were allowed to mug receivers at the line of scrimmage or downfield.
And safeties? Well, the words safety and receiver simply didn't match up in those days. Tatum,
who died Tuesday at 61
, played the position like a linebacker. He hit like no other safety in football.
It was probably fitting that one of his notable hits came against the Steelers. I remember sitting in the auxiliary press box at Three Rivers Stadium during the 1972 playoffs. The Raiders were about to squeak out a come-from-behind victory over an upstart Steelers team. In the final seconds, Terry Bradshaw fired a prayer of a pass toward Frenchy Fuqua.
Tatum saw the ball and Fuqua, so naturally you knew a collision was coming. Tatum's hit caused the ball to fly backward into the hands of running back Franco Harris. The "Ultimate Hit" led to the "Immaculate Reception" as Harris caught the ball just before it hit the ground and scored the winning touchdown.
After Tatum's career was over, I saw him at a celebrity flag football game during a Super Bowl. He led a chorus of former Raiders players who blasted eventual Hall of Fame receiver Lynn Swann of the Steelers for not being tough enough. Tatum and the Raiders made Swann a target back in those days.
What's a shame is the Darryl Stingley incident during a preseason game in 1978. Tatum delivered his usual "Assassin-style" hit, but Stingley never walked again. Tatum didn't show compassion for Stingley, opening the door for plenty of criticism.
Tatum's style might have been outlawed in this new age of football. Research continues into the long-term damage the game inflicts on players. Had he played in the 21st century, Tatum might have had to donate his salary to charity because the league office would be fining him every week.
Is Tatum a Hall of Famer? Well, I am surprised he has not received more attention from voters. The Stingley incident is a huge factor there, so don't count on him making it.