July, 8, 2014
Jul 8
10:00
AM ET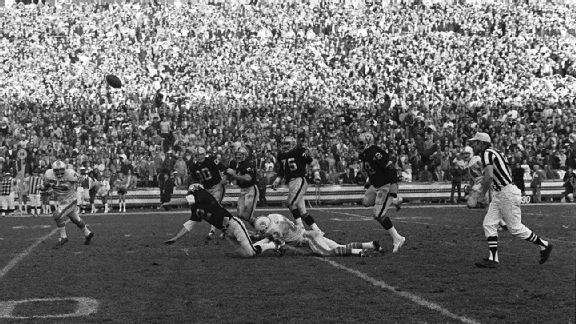 AP Photo
»
VOTE HERE
»
NFC Plays:
East
|
West
|
North
|
South
»
AFC:
East
|
West
|
North
|
South
This is one of three nominations for the most memorable play in Raiders history. Yesterday, we featured the Holy Roller, which gave the Raiders a "zany" victory in San Diego on the final play of regulation when Ken Stabler purposely fumbled forward while being sacked and, after Pete Banaszak batted the ball even further forward, Dave Casper recovered it in the end zone for a game-winning touchdown in 1978. Tomorrow, we'll look at 17 Bob Trey O, Marcus Allen authoring the greatest run in Super Bowl history when he reversed field and went 74 yards to put the dagger in defending champion Washington in 1984. Please vote for your choice as the Raiders' most memorable play.
Score
: Raiders 28, Dolphins 26
Date
: Dec. 21, 1974
Site
: Oakland-Alameda County Coliseum
The Raiders finished the 1974 season with the best record in the NFL at 12-2. The visiting
Miami Dolphins
were the two-time defending Super Bowl champions who had also won the last three AFC titles.
In expected fashion, this divisional playoff game was a back-and-forth affair that featured six lead changes. So it was with 35 seconds to play, and the Raiders facing a first-and-goal situation from the Dolphins' 8-yard line and trailing by five when Oakland made history.

Stabler took the snap and backpedaled about 10 yards to his right. Miami's rush closed in so Stabler stepped up in the pocket to his left and seemed primed to make a run for the goal line. But that's when Miami defensive end Vern Den Herder gained on Stabler and dived at his legs from behind.
A falling Stabler lofted a wobbly pass into the left-center of the end zone, into an aptly-named Sea of Hands, between three Dolphins in linebackers Mike Kolen and Larry Ball and defensive back Charlie Babb. "That ball looked like it was going end-over-end," Dolphins linebacker Nick Buoniconti told NFL Films. "There was no way in hell that anybody was going to catch that thing."
Kolen, though, thought otherwise. "I thought I had a clear interception," he said. "I mean, it was just wide open."
Yet in the middle of that white jersey-clad Sea of Hands was a silver and black uniform, worn by Raiders running back Clarence Davis. After Kolen got his right hand on the ball first, Davis wrestled it away. "He was coming toward the ball and had the leverage and, obviously, a better grip than I had," Kolen said.
Davis yanked the ball toward his chest, took a facemask-first hit from Babb and rolled to the grass for the touchdown at the feet of teammate Cliff Branch, taking a shot from defensive lineman Manny Fernandez for good measure. "I mean, this guy couldn't catch a cold," Fernandez said. "It was probably the only pass he caught in his career. It was a lousy pass, a lucky reception [and] I've never forgotten it."
Neither would the foolhardy Raiders fan who ran on the field to celebrate the play by giving Buoniconti a shot in the stomach before getting absolutely pummeled by Fernandez & Co.
Davis' catch and George Blanda's extra point gave the Raiders the 28-26 lead. "Clarence has a huge heart," Stabler said. "Great runner, tough kid, wonderful person. Worst hands on the team.
"Clarence made the play because he wanted the ball more than anybody else, and it was a throw that probably should have been intercepted."
@PGutierrezESPN I will never forget #SeaofHands game! Hard to believe Clarence Davis came up with the Ball. #Raiders

— RaiderPJ (@raiderpj) June 12, 2014
October, 1, 2010
10/01/10
4:00
PM ET
»
NFC Final Word
:
East
|
West
|
North
|
South
»
AFC
:
East
|
West
|
North
|
South
Five nuggets of knowledge about Week 4:
[+] Enlarge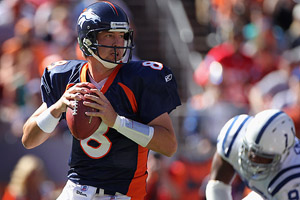 Doug Pensinger/Getty ImagesKyle Orton is second in the NFL in passing yards and is on pace to set a single-season record.
AFC West arms race:
Who says the AFC West is a poor division for quarterbacks? It's no longer
Philip Rivers
and everybody else. Rivers has company -- Denver's
Kyle Orton
. Don't agree? Orton is right on Rivers' heels in the race for the NFL lead in passing yards. Rivers has 1,087 passing yards and Orton has 1,078. Both players are on pace to set an NFL record for passing yards in a single season. It probably won't get to that point, but Rivers and Orton are tossing the ball around. Rivers set a San Diego record with 455 passing yards last week in a loss at Seattle. In Denver's loss to Indianapolis, Orton threw for 476 yards, the second most in Broncos' history.
Stop the slop:
The Chargers are not 1-2 because they are a bad team. They are 1-2 because they have been careless on the road. The result was another subpar September under coach Norv Turner. San Diego has to fix the sloppy play at home Sunday against Arizona. All San Diego has to do is play well fundamentally. San Diego has had nine turnovers and allowed three return scores in three games. If the Chargers clean up their act, they'll easily beat the Cardinals.
Janikowski inspired for redemption:
It was a tough week for Oakland kicker
Sebastian Janikowski
. On Sunday, he missed a 32-yard chip shot at the end of regulation in Oakland's 24-23 loss at Arizona. Janikowski, who missed three field goals Sunday, then had to deal
with the death of mentor
George Blanda on Monday. The legendary Oakland quarterback/kicker died at the age of 83. He and Janikowski had become close in the past 10 years after Janikowski was a first-round pick. On the day Blanda died, Janikowski said that he would love to redeem himself with a game-winning field goal against visiting Houston on Sunday.
Chasing the Chiefs:
The
Kansas City Chiefs
have been the story of the AFC West through the first three weeks. They are one of three unbeaten teams in the league after amassing only 10 wins in the past three seasons. Every other team is 1-2 and two games behind Kansas City. The Chiefs have their bye this week and Denver, Oakland and San Diego are all trying to catch up. Regardless of this week's outcome, the Chiefs will still be in first place after their bye.
Catch the quarterback in Oakland:
It could be a good day for the pass-rusher in Oakland on Sunday. Both the Raiders and Texans have had trouble protecting the quarterback. Oakland has given up nine quarterback sacks and 15 quarterback hits, while Houston has allowed 11 sacks and 17 quarterback hits. Expect pass-rushers on both sides to be licking their chops.
October, 1, 2010
10/01/10
3:00
PM ET
The
Kansas City Chiefs
have captured the imagination of AFC West fans.
Thus, the Chiefs' 3-0 start is the winner of this week's" you pick it "AFC West storyline contest. Kansas City is one of three unbeaten teams after winning a total of 10 games the past three seasons combined.
The other candidates were the death of Oakland legend George Blanda at the age of 83 and San Diego left tackle
Marcus McNeill
ending his holdout. The Blanda and McNeill stories had some support, but the Chiefs' fast start was the clear winner.
I can't argue with it. The Chiefs' 3-0 start is fascinating and it's good to see people are noticing it.
Below are some of your responses. Thanks to everyone who participated:
Marc from Denver:
Story of the week has gotta be the Chiefs. Let's not be too hasty in anointing them as the class of the AFC West just yet, but Chiefs fans are extremely happy about what they're seeing. Not just because they're 3-0, but because the franchise is establishing a foundation for LONG-term success. It's the rookies, 2nd and 3rd year
players that are winning games. Pioli and Haley are building something special in KC, Bill.
Ben from Des Moines:
Its gotta be the chiefs 3-0 start. I think some people thought the chiefs MIGHT be able to compete this year just for the simple fact that the division is considered weak, and even though the year is still young, the chiefs have shown they are for real. They are playing good in all 3 aspects of the game. I think the the mix of new coaching with having the BEST draft in the league this year was huge. We've got a couple good tests coming up with road games at Indy and Houston, but i see us as real contenders this year no doubt!
Andres from Vista:
It has 2 b w/o a doubt McNeill returning 2 the Chargers. many said this team isn't super bowl caliber w/o McNeill & VJ. As shown the the Chargers can get through w/o VJ .
Adam from Nashville:
Gotta be Blanda. When a true legend and a throwback hall of famer dies, that becomes so much more than anything on the field.
Rob from Houston:
AFC Story line: McNeill reporting to the Chargers as the team goes 1-2 brings up a significant question: why didn't Charger General Manger A J Smith anticipate contract problems with McNeill and Jackson and prevent these from occurring? He acts as if he is surprised about their holdouts, when each player clearly signaled their intentions long ago. So, when the
San Diego Chargers
make business decisions that hurts the team's chances of winning games, fans make business decisions not to attend home games.
Bryce from Tucson, Az.:
Respects to Blanda, but the storyline is by far the Chiefs being 3-0. Nobody outside of the most optimistic Chiefs fans could have predicted this start and they are probably the top story (record wise) in the NFL, much less the AFC West. There is always a 'worst to first' team in the NFL, and this year it looks like the Chiefs are it.
Chris from Merriam, Ks.:
It has to be the Chiefs. Cellar dwellars the last 3 years. Underdogs in all 3 games this season. Yet they win. It starts up front win with good line play. They have a stout running game, and electrifying special teams. The coaching has been good. Yes, they have had some good breaks, but this team is putting itself in a good position to win.
Jonah G. from Lawrence, Ks.:
This is a no brainer Bill. Due respect to George Blanda but the story this week as it has been since week one is the Chiefs. There are many doubters but the numbers don't lie. I will go out on a limb and say they will also steal one from either the Colts or Texans. The Chiefs are legitimate contenders for the AFC West title.
Joe from Langdon, Ia.:
It has to be the 3 and 0 Chiefs. After being one of the worst teams the last three years the new look Chiefs are one of the most exciting teams to watch. Every time anyone touches the ball their is a potential for a touch down. They are young and fun to watch and when
Eric Berry
, who is playing great, gets no notice as a rookie you know they had an awsome draft. This is just the beginning for one of the more exciting teams to watch.
Steve James from Great Bend, Ks.:
The story of the week has to be Blanda passing. The Chiefs doing good and another holdout signing pale to that.
Steve from Fallbrook, Ca.:
As a Charger fan, it is good to have McNeill back. The biggest news is the Chiefs 3 ?? 0 start. That organization made solid off-season moves with the draft and coaching staff. They have the best record and so far are the surprise team in the NFL. The Kansas City fan base is faithful and overdue the success their team is having right now.
Mark from Sierra Vista, Az.:
This week's story line has to be the Chiefs. George Blanda is a strong second--I still remember him in the Silver and Black giving the Chiefs fits--but, who'da thunk the Chiefs would be 3-0.
September, 30, 2010
9/30/10
6:25
PM ET
Former
Oakland Raiders
coach John Madden took time this week during his show on SIRIUS NFL Radio to remember the legendary George Blanda.
Blanda died Monday at the age of 83. Madden, nine years Blanda's junior, coached the hall of fame quarterback-kicker from 1969 to 1975 in Oakland. Madden relayed several memories of Oakland during his show, including an example of how confident Blanda was.
"We're playing Cleveland, and we're behind and on the goal line," Madden said. "He comes over, we take a timeout, and I'm going through [play calls], 'Let's do this. Let's go far right 16. No no no, I don't want to do that. Let's go far left 7. No no, let's go near left 65 …' So I'm just bumbling, stumbling trying to find a run down there on the goal line and George said to me, 'I'll tell you what, coach, if you let me throw three slants in a row to Warren Wells, I'll guarantee you a touchdown.' I said 'You'll guarantee it?' He said 'Yeah, I'll guarantee it.' I said 'Well, that's a hell of a lot better than anything that I have.' So first down, he throws a dirt ball on a slant to Warren Wells. Second down, he throws a touchdown. That was George Blanda. I'm the coach and I'm thinking goal-line run, this is what I want. He's thinking, 'What the heck are you talking about? Just put the ball in my hands and I'll win the doggone game for you.' "
Blanda played quarterback well into his 40s and he kicked until he was 48. Blanda played 26 years in the NFL after being drafted by Chicago in 1949. His final season was in 1975 with Oakland.
"He was a football player," Madden said. "He hated to be called a 'kicker.' If anyone says 'kicker George Blanda' or 'George Blanda comma kicker,' he hated that. He wanted to be known as a football player. And he was a football player, who played quarterback and also kicked. That's what he wanted to be known as. There was a time when he was with the
Chicago Bears
and he wasn't playing much quarterback so he told George Halas that he just wanted to play, so he played linebacker. That was the type of guy he was. He was a quarterback that could play NFL football as a linebacker."
September, 29, 2010
9/29/10
12:00
PM ET
The candidates are:
Break up the Chiefs:
Kansas City is 3-0 and is leading the AFC West by two games. They won 10 the past three seasons combined. They are one of three 3-0 teams in the NFL.
McNeill reports:
After holding out since the minicamps, San Diego left tackle
Marcus McNeill
reported to the Chargers despite not getting the long-term deal he desired.
Raiders' legend dies:
George Blanda tied at 83. The former Raiders' quarterback and kicker played in the NFL for 26 years.
Pick your story of the week and
hit my mailbag
with your thoughts. I will post some of your responses later in the week.
September, 28, 2010
9/28/10
5:35
PM ET
September, 27, 2010
9/27/10
6:54
PM ET
George Blanda was
Brett Favre
without the waffling.
Blanda, the quintessential old-school NFL player, played until he was a month shy of his 49th birthday as a kicker. He played quarterback well into his 40s. He won games quarterbacking and kicking on the same day and had a wonderful run in the 1970s for the Raiders.
Blanda, who played a staggering 26 years of professional football, died Monday at age 83.
One of the all-time ironmen in the history of sports, he was a close friend of Oakland owner Al Davis, who is two years younger than Blanda.
There will never be a player like Blanda in the NFL again. We're watching Favre hold on at age 40 now. Add eight more years and that was Blanda.
Blanda, who started playing in the NFL in 1949, joined the Raiders at the age of 38 and was an effective backup quarterback (who came in and saved the Raiders more than once) and kicker.
On ESPN's SportsCenter on Monday, Mike Ditka remembered his old friend as an all-time competitor who hated losing, even if it was "pitching pennies."
My one experience with Blanda certainly backs up that reputation.
In 2000, while I was covering the
Minnesota Vikings
, I contacted Blanda, who was 73 at the time. Vikings kicker Gary Anderson was just about to pass Blanda as the NFL's all-time leading scorer. When the record fell, the old record holder is often sought out to bring perspective. Usually, the old record holder is supportive of his record being broken.
Not old George. He wanted nothing to do with it. In fact, he was pretty salty about it. As Ditka said Monday, Blanda was ultra-competitive even well after his retirement. He hated to lose.
September, 27, 2010
9/27/10
6:15
PM ET
Oakland Raiders
legend George Blanda
died Monday at the age of 83.
The Raiders put out a release honoring the great former quarterback/kicker, including highlighting one of his finest moments. I will be back with some thoughts later. In the meantime, here is Oakland's heartfelt goodbye to one of their greats:
"We are deeply saddened by the passing of the great George Blanda. George was a brave Raider and a close personal friend of Raiders Owner Al Davis.
When the Raiders Owner presented him for induction into the Pro Football Hall of Fame in 1981, Davis called Blanda the greatest clutch player the game of pro football has ever known.
The Miracle of George Blanda in 1970 will live for eternity in the history of the Raiders as well as all of professional football. That year, Blanda's last-minute heroics as a quarterback and place kicker resulted in four victories and a last-second tie for the Silver and Black.
Our heart goes out to his wife Betty and the Blanda family and we grieve with them for our great friend.
A private funeral service will be held for the family. A memorial service will be held with the time and place to be announced at a later date."
THE MIRACLE OF GEORGE BLANDA—1970
"On October 25, 1970 against Pittsburgh, Blanda came off the bench to throw three touchdowns and kicked a field goal to lead the Raiders to a 31-14 victory.
The next week in Kansas City, he kicked a 48-yard field goal with three seconds remaining to tie the Chiefs at 17. The following Sunday, Blanda came off the bench to throw a touchdown pass to tie Cleveland at 20, then kicked a game-winning 52-yard field goal with three seconds remaining to earn the Raiders a 23-20 win.
The magic continued the next week when Blanda threw a touchdown pass late in the game to defeat Denver, 24-19.
The streak culminated with a 16-yard field goal with seconds remaining to beat San Diego, 20-17. For his supreme efforts and accomplishments, Blanda was honored as the AFC Player of the Year in 1970."
September, 27, 2010
9/27/10
3:43
PM ET
By
ESPN.com staff
| ESPN.com
The Oakland Raiders say
Hall of Fame quarterback George Blanda has died
. He was 83.
Blanda spent 26 seasons in the NFL as a quarterback and kicker while playing for three different teams. He spent 10 seasons with Chicago, seven with the Houston Oilers and nine with the Raiders before retiring in 1976 at the age of 48.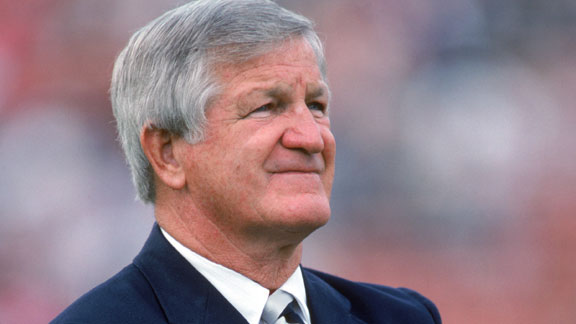 November, 9, 2008
11/09/08
10:55
PM ET
Posted by ESPN.com's Bill Williamson

SAN DIEGO - Let's wrap up Sunday in the AFC West:
* Chargers running back LaDainian Tomlinson said he is completely healed from a turf toe injury he suffered in Week 1. Tomlinson had 78 yards on 22 carries Sunday. He wasn't much of a factor, sans a 17-yard rush.
* I don't get the feeling that the Broncos or the Chargers will run away from one another in the final seven weeks. The AFC West could be decided in San Diego in Week 17 when the Broncos visit.
* It will be interesting to see how much cornerback Cletis Gordon plays down the road for San Diego. He replaced Antonio Cromartie, who is dealing with a hip injury, in the game. But Cromartie, who has struggled some this season, did play some.
* Don't count out tight ends Tony Gonzalez and Antonio Gates. The old vets both had terrific games as they led their respective teams in receiving. Gonzalez had 10 catches for 113 yards and two touchdowns and Gates had eight catches for 66 yards and a touchdown.
* It will be interesting to see if San Diego's home game against Indianapolis on Nov. 23 stays the night game. Games can now be adjusted. After both the Chargers and the Colts both had thrilling wins, the game could benefit for a prime-time audience. An announcement could be made as soon as Monday.
Congratulations to Oakland kicker Sebastian Janikowski. He became Oakland's all-time leading scorer Sunday with two field goals in the Raiders' 17-6 loss to Carolina. Janikowski, a former first-round pick, surpassed legend George Blanda in team scoring lore.
November, 6, 2008
11/06/08
12:00
PM ET
Posted by ESPN .com's Bill Williamson
Here are four players to watch in the AFC West this week:
Denver running back Ryan Torain: Torain's NFL debut was nothing to remember. He had three carries for 1 yard Sunday against Miami. It was his first game of the season after he broke his elbow in training camp. But expect Torain to get more carries Thursday night at Cleveland. Denver starting running back Michael Pittman is dealing with a neck stinger so Denver may need Torain to carry the load. The Broncos are coming off a game in which they had 14 yards rushing, the second-lowest in team history. Denver has high expectations for Torain and against the Browns, there are hopes he shows why.
Kansas City running back Jamaal Charles: The third-round pick from Texas opened eyes in Kansas City's come-from-ahead defeat against Tampa Bay on Sunday. He broke the 100-yard rushing barrier and gave the Chiefs a much-needed spark on the ground after Kolby Smith went down with a knee injury that will keep him out of the rest of the season. The Chiefs' starter, Larry Johnson, is out for another game (he missed the past three games because the Chiefs punished him for off-field issues), serving an NFL suspension. So Charles will be needed Sunday in San Diego.
San Diego defensive tackle Jamal Williams: Williams played very well in the past few games. He started slowly because of knee issues. He looked slow and ineffective, thus the entire San Diego defense appeared slow and ineffective. Williams has long been one of the best defensive tackles in the NFL and he is the igniter of the San Diego defense. With him playing better, the Chargers have a chance to get on a roll.
Oakland kicker Sebastian Janikowski: He needs five more points to break George Blanda's all-time scoring record of 863 points. It's a major accomplishment considering Blanda is a Raider legend. Janikowski made no progress last Sunday against Atlanta in an Oakland shutout. Janikowski is at the mercy of the Raiders' awful offense and he could continue to wait to break this record. With five points Sunday against Carolina, Janikowski goes in the Oakland record book. And that's worth watching.
October, 19, 2008
10/19/08
5:50
PM ET
Posted by ESPN.com's Bill Williamson
OAKLAND - Halftime thoughts from Oakland:
The Raiders are killing themselves with penalties. They have been penalized eight times for 45 yards. One penalty nullified a touchdown pass from JaMarcus Russell to Zach Miller and another allowed the Jets to keep possession after a punting situation.
Even though he has been benched in favor of Hiram Eugene, Oakland safety Michael Huff is playing extensively.
The Raiders are blitzing often.
Oakland running back Darren McFadden still looks like he is slowed by a turf toe injury he suffered in Week 2 in Kansas City. He has 18 yards on four carries.
New York quarterback Brett Favre has completed 14 of 19 passes but for just 97 yards.
Former Raiders' quarterbacks George Blanda, Ken Stabler and Jim Plunkett participated in a halftime ceremony to honor Raiders' hall of famer Gene Upshaw who died after a short bout with cancer in August.
AFC WEST SCOREBOARD
Saturday, 12/20
Sunday, 12/21
Monday, 12/22