AFC West:

Giants-Broncos 112609
November, 27, 2009
11/27/09
1:59
AM ET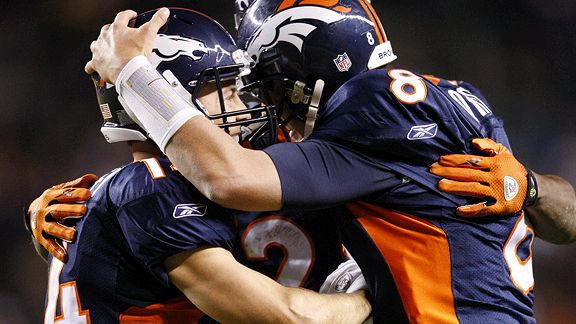 AP Photo/Jack DempseyThe Broncos got back on track with a victory over the Giants Thursday night.
DENVER --
Brandon Marshall
and
Knowshon Moreno
had it all planned out.
Had they been on the field together when one of them scored, they were going to celebrate -- by pushing each other in the end zone. The two were going to remake "Rocky II."
The two skill-position players provided the nadir of Denver's four-game free fall when they engaged in a sideline shoving match after Moreno had a key fumble against San Diego on Sunday in a game that left Denver out of first place in the AFC West.
Moreno did score Thursday night in a
26-6 win
over the
New York Giants
that may have saved the Broncos' season.
However, Marshall wasn't on the field. Still, Marshall is hopeful that the two former combatants can still display their celebration when Denver next plays, Dec. 6 at Kansas City.
"Maybe we'll kiss," said Marshall, hamming it up in a suddenly joyous Denver locker room on a late holiday evening.
Does one night cure all of Denver's ills? No, but it's all the team has and it welcomed the dose of good football and good cheer.
Against the Giants, the Broncos looked like the impressive, balanced bunch that started the season 6-0 and shocked the NFL world. The team played terrific in every phase of the game, and made big, timely plays when it needed to.
The result was Denver's first victory in 38 days.
After looking like they were incapable of ever winning again during a four-game losing streak in which they were outscored 117-37, the Broncos came alive Thursday. They really had no choice.
The Broncos would have been cooked had they lost to the Giants. Now, though, the team is 7-4 heading into the stretch run of December and January. The Broncos have two games remaining against the 3-7 Chiefs and a home game against the 3-8 Raiders. Denver's other two games are on the road against Indianapolis and Philadelphia. Still, the Broncos, who trail the 7-3
San Diego Chargers
by a half game in the AFC West, are still very much alive in the playoff chase.
The complete win ends a trying period for the Broncos, who struggled badly on both sides of the ball and dealt with off-field issues.
Tuesday, veteran safety
Brian Dawkins
called a players-only meeting to help stop the bleeding and to squash any tension that lingered after the Marshall-Moreno incident.
The meeting clearly played a role in re-energizing the Broncos.
"We have a lot of good leaders on this team," said veteran receiver
Brandon Stokley
, who had a 17-yard touchdown catch with 10:15 to go in the game to give Denver a commanding 23-6 lead. "We got back together. Most importantly, we played good football again."
For the first time since Denver beat San Diego on Oct. 19, it enjoyed a dominant performance.
The key was the play of quarterback
Kyle Orton
. Orton showed no signs of a badly sprained ankle that kept him out of about three quarters the past two games. Orton, who struggled in Denver's first two losses of the season, far outplayed Giants quarterback
Eli Manning
.
Orton completed 18 of 28 passes for 245 yards. He had one touchdown. The Broncos moved the ball at ease all game. They also broke out of their two-plus-game red zone funk by scoring two touchdowns from inside New York's 20-yard line.
Orton had plenty of help from an inspired Denver offense that entered the game with just three points in its previous six quarters. Marshall had a fabulous game with six catches for 86 yards.
Moreno also has a big bounce-back game. He had 88 yards on 19 carries and he often carved up the Giants' defense.
"It was just a good overall game by the offense," Marshall said. "We have to continue to play this way."
Defensively, Denver also stepped up. The Broncos' defense carried the team in the first six games. Thursday, it looked like that unit.
Denver went back to the blitz after straying from it in recent games. Manning was uncomfortable all game. Linebacker
Elvis Dumervil
had two of Denver's three sacks and he now leads the NFL with 14. He is in striking distance of Michael Strahan's single-season sack record of 22.5.
Perhaps most encouraging was that Denver played strong run defense. The Giants had 57 yards on 16 carries. Denver was ravaged against the run in the past three games. San Diego had 203 yards on the ground Sunday.
"We made the plays that we needed to make," Denver defensive end
Vonnie Holliday
said. "That's what we did in the early season. It was good to see."
All is well in Denver again. If only for a night.
November, 26, 2009
11/26/09
11:22
PM ET
DENVER -- The
Denver Broncos
are not dead.


They are
still alive
in the AFC West race and in the AFC wild-card chase.
Had Denver lost to visiting New York on Thursday night, the season would be all but lost. There would have been little chance Denver could have been able to recover from a 6-5 record and a fifth straight loss.
Denver entered the Thanksgiving night game fully aware of that fact. The Broncos played with desperation and had one of their best games of the season. The Broncos looked like a 6-0 team, not a 6-4 team.
The Broncos made the big play at the right time on both sides of the ball, just as they did in the first six games. They looked dominant against the befuddled Giants.
One game doesn't make everything right. But it definitely keeps Denver alive and feeling great about itself heading into the final five games of the season.
November, 26, 2009
11/26/09
10:58
PM ET
DENVER -- All
Brandon Stokley
does is make big plays.
Stokley caught a 17-yard touchdown pass from
Kyle Orton
on third-and-8 to give Denver a 23-6 lead and major command of the game over the
New York Giants
with 10:15 to go in the game.
Stokley has been little used this season. He is the team's fourth receiver, but Stokley, known as one of the NFL's all-time great No. 3 receivers, makes his plays count.
He had the game-winning touchdown against Cincinnati on opening day in the final seconds on a deflected pass. Now he made the big play to perhaps ice the game for the Denver and end its four-game skid.
November, 26, 2009
11/26/09
10:39
PM ET
DENVER -- The Broncos' second-half malaise has continued.
The
New York Giants
have kicked two field goals in the third quarter to pull with 16-6 heading into the fourth quarter.
During its current four-game losing streak, the Broncos have played poorly in the second half. Denver had a 16-0 lead at halftime Thursday night.
Denver didn't play poorly in the third quarter, but it did allow the Giants to creep back into the game.
Let's see how Denver reacts in the final quarter.
November, 26, 2009
11/26/09
9:53
PM ET
DENVER -- Notes from halftime where Denver leads the Giants, 16-0.
Denver quarterback Kyle Orton looks very good. He completed 12 of 19 passes for 159 yards in the first half.
Denver is playing very aggressively. It went for it on fourth-and-5 from New York's 29. On the play, Orton hit tight end Tony Scheffler for a 22-yard catch to the 7.
Denver running Knowshon Moreno has 40 yards on nine carries. He is running with great purpose.
Denver receiver Jabar Gaffney made great catch in the first quarter for 28 yards, but he dropped a pass for what would have been a big pass play early in the second quarter.
Denver star cornerback Champ Bailey is working on kick coverage and the punt return unit.
Denver safety Brian Dawkins started despite having a neck injury. He had a very good first half. He made several hard hits.
New Denver punter Mitch Berger continued to improve. He is in his fifth game with Denver.
Denver linebacker Elvis Dumervil got his 13th sack of the season. He leads the NFL in sacks. It is a career high for the four-year veteran.
Denver receiver Eddie Royal is out with a thigh injury. He is questionable to return.
Denver receiver Brandon Marshall had a great, I mean, great leaping, one-handed catch at the Giants' 10 in the second quarter. After the play, Marshall ran over to Denver coach Josh McDaniels and celebrated with him before running back to the huddle.
The NFL Network apologized for an expletive McDaniels said on the air Thursday night. He was wearing a microphone.
November, 26, 2009
11/26/09
9:29
PM ET
Well, Denver's red zone drought is over.
Running back
Knowshon Moreno
scored from the 1-yard line to give the Broncos a 13-0 lead with 7:17 to go in the first half against the Giants.
Denver had to settle for field goals in its first two trips to the red zone Thursday night.
November, 26, 2009
11/26/09
9:18
PM ET
DENVER -- The Broncos' red zone woes are continuing in the first half Thursday night against the Giants. In the first quarter, Denver had a first down at New York's 7-yard line, but it had to settle for a short
Matt Prater
field goal.
In the second quarter, Denver had a first down at the 7 as well. Three penalties later and the Broncos had to settle for another short Prater field goal to take a 6-0 lead.
Since the Washington game Nov. 15, Denver has been in the red zone seven times and it has had to settle for four field goals. Denver turned the ball over twice and lost the ball on downs the other trips to the red zone.
November, 26, 2009
11/26/09
7:59
PM ET
DENVER -- Denver right tackle
Ryan Harris
will miss his fourth straight game with a toe injury.
Denver rookie linebacker
Robert Ayers
is active after being a surprise healthy scratch Sunday.
It is a beautiful, clear night in Denver with the temperature expected to be around 50 degrees.
Josh McDaniels' pregame jawing with San Diego linebackers has garnered
a lot of attention
. The one thing that stands out to me in this story is the reaction from Tennessee coach Jeff Fisher. He indicated that McDaniels may have trouble attracting players in free agency because of his antics.
I respect Fisher as much as any coach in the league, but he's off the mark on this one. First, players are going to go where the money is and I don't think many players would mind playing for a coach who sticks up for them.
In other AFC West news, the Chargers received a 24-hour extension to avoid a television blackout for their home game against Kansas City on Sunday. If the team doesn't sell 3,500 tickets by Friday afternoon, the game will not be shown on local television in San Diego.
San Diego defensive lineman
Luis Castillo
(calf) and linebacker
Shawne Merriman
(foot) both didn't practice Thursday.
November, 26, 2009
11/26/09
7:20
PM ET
Denver -- The following are the inactives for Thursday night's game between the Giants and Broncos. There are few surprises:
Denver Broncos
New York Giants