April, 23, 2010
4/23/10
1:30
PM ET
Because this is such a deep class, there are several terrific players available in the second round.
The following are some of the players I think could be interesting to each AFC West team.
Denver, No. 45
Donald Butler
, LB, Washington
Eric Decker
, WR, Minnesota
Rob Gronkowski
, TE, Arizona
Linval Joseph
, DL, East Carolina
Sergio Kindle
, OLB, Texas
Brian Price
, DT, UCLA
Kansas City, No. 36, No. 50
Jon Asamoah
, G, Illinois
Arrelious Benn
, WR, Illinois
Charles Brown
, OT, USC
Bruce Campbell
, OT, Maryland
Jimmy Clausen
, QB, Notre Dame
Terrence Cody
, DT, Alabama
Brian Price, DT, UCLA
Rodger Saffold
, OT, Indiana
Golden Tate
, WR, Notre Dame
Oakland, No. 39
Charles Brown, OT, USC
Bruce Campbell, OT, Maryland
Jimmy Clausen, QB, Notre Dame
Vladimir Ducasse
, OL, Massachusetts
Carlos Dunlap
, DE, Florida
Colt McCoy
, QB, Texas
Rodger Saffold, OT, Indiana
Cam Thomas
, DT, North Carolina
San Diego
does not have a have a second-round pick. It does have three third-round picks next year, so it could move up to make a run at a player such as Cody or Price.
April, 23, 2010
4/23/10
1:10
AM ET
ENGLEWOOD, Colo. -- Let's wrap up Thursday night's draft and look forward to the second and third rounds on Friday:
The big loser in the Tim Tebow selection in Denver is new backup Brady Quinn. Any time the Broncos were going to spend developing Quinn will now be spent on Tebow.
The Raiders will hope to grab a tackle at No. 39. Maryland's Bruce Campbell is a possibility.
Oakland coach Tom Cable said the Raiders will remain a 4-3 defense, but will use more 3-4 looks this year.
The Broncos love the size and speed of No. 22 pick Demaryius Thomas. McDaniels was impressed with Thomas' explosiveness on the field and his ability to learn in the class room.
Denver has three picks Friday – Ns. 45, 80 and 87. Watch for Denver to try to get a center at some point Friday.
Denver coach Josh McDaniels said Alabama linebacker Rolando McClain was not on his list at No. 11. McClain was taken at No. 8 by the Raiders. McDaniels did praise Oakland's pick of McClain.
McDaniels has made seven daft-day trades in two years so far. The final nine years of the Mike Shanahan era produced 13 trades.
McDaniels said the Patriots' staff installed some of Florida's offense a few years ago. New England coach Bill Belichick and Florida coach Urban Meyer are close friends.
The Chargers don't pick until No. 91 in the third round a result of their big trade or Ryan Mathews. Don't expect San Diego to be able to snag a top nose tackle there.
The Chiefs could take a look at Notre Dame receiver Golden Tate at No. 36.
The Seahawks took Texas safety Earl Thomas at No. 14. The pick was acquired from Denver lest year. The Broncos took Alphonso Smith with the No. 37 pick last year as part of the deal. Smith has been a disappointment so far.
Tebow will make his NFL debut in his hometown of Jacksonville. Perhaps it will help the Jaguars sell tickets for one game, at least.
Tebow's arrival in Denver will be greeted by a large group of Florida alumni. Several Gators fans greeted him in Denver's parking lot when he visited last week.
April, 16, 2010
4/16/10
1:00
PM ET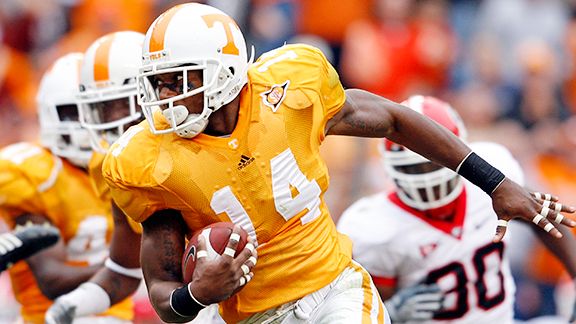 Andy Lyons/Getty ImagesThe draft could take a turn toward the unexpected at No. 5, where the Chiefs may take Eric Berry.
There are several juicy AFC West story lines to watch for as the draft unfolds April 22-24. Let's examine some of the more intriguing questions:
Will the draft change at No. 5?
There are expectations that the drama of the draft will begin when Kansas City picks at No. 5. With
Sam Bradford
,
Ndamukong Suh
,
Gerald McCoy
and
Russell Okung
expected to be the first four picks; the Chiefs represent the first question mark. Kansas City could take safety
Eric Berry
or a tackle such as
Bryan Bulaga
,
Trent Williams
or
Anthony Davis
. A trade down is also possible assuming Okung is off the board. No matter what the choice is, it will be fun when Kansas City is on the clock.
What will the Chargers do?
There will be almost as much drama when the Chargers' turn arrives. I expect them to be big draft-day players. They have the No. 28 and No. 40 picks. San Diego has big needs at nose tackle and running back. There are several solid running backs available and the Chargers will likely make one of them their new primary tailback. It will be interesting to see if the Chargers take a nose tackle or a running back first. They could also trade up (San Diego has two third-round picks in 2011 to use as bait) in the first round and get a premier player at either position. No matter what happens, expect San Diego general manager A.J. Smith to be in wheeling-and-dealing mode.
[+] Enlarge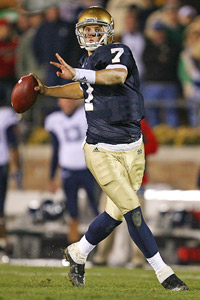 Jonathan Daniel/Getty ImagesCould new offensive coordinator Charlie Weis and quarterback Jimmy Clausen be reunited in Kansas City?
Will the Chiefs look at a Golden Domer?
Kansas City has hired former Notre Dame coach Charlie Weis to be the offensive coordinator. Could he talk the Chiefs into taking quarterback
Jimmy Clausen
at No. 5 or receiver
Golden Tate
with one of the team's second-round picks? The Clausen selection would be stunning, considering Kansas City paid
Matt Cassel
so much money last summer. However, if Tate is available at No. 36, Kansas City may jump on him. He would fill a big need and he would have advantage because he knows the offense so well.
Will Bryant replace Marshall in Denver?
The Broncos visited with Oklahoma State standout receiver
Dez Bryant
this week. Now that
Brandon Marshall
has been traded, Bryant could be the team's choice at No. 11. Bryant is very talented, but the Broncos would be adding a new set off off-field issues after trading Marshall. This would be a big story if he ends up in Denver. The Broncos could trade down from No. 11 and still get Bryant, who could tumble because of his issues.
Will Mt. Cody rise in the AFC West?
The Broncos, Chargers and the Chiefs have all shown interest in
Terrence Cody
, the huge nose tackle from Alabama. He is considered a prototype 3-4 nose tackle, and all three of those teams use that scheme. San Diego has the most pressing need for a nose tackle of the three. It wouldn't be a shock if the Chargers used the No. 28 pick on Cody. The Chiefs could potentially look at him in the second round, and -- if he lasts -- so could Denver. Fellow defensive tackles
Brian Price
and
Dan Williams
could attract interest from AFC West teams. However, Williams may be taken in the first 15 picks.
Will the Raiders address their quarterback needs?
The Raiders are clearly looking to upgrade their quarterback situation this offseason. It could happen in the draft. Clausen has been linked to Oakland with the No. 8 pick. But he does not have the huge arm coveted by Oakland owner Al Davis.
Tim Tebow
has talked to the Raiders. He'd likely require a second-round pick. Oakland has worked out Northwestern quarterback
Mike Kafka
, a likely mid-round pick. It would not be a surprise at all if Oakland drafts a quarterback to develop.
Will there be veteran trades?
The Marshall trade may not stop the veteran action in the division, Denver is also shopping tight end
Tony Scheffler
. He could be had for a mid-round pick. There is also the possibility Oakland could pursue Washington quarterback
Jason Campbell
on draft day. Campbell could likely be acquired for a mid-round pick and Oakland has reportedly shown interest. Baltimore tackle
Jared Gaither
is reportedly on the block. Both Oakland and Kansas City could add a tackle. Gaither would likely cost a second-round pick. There is also the possibility of San Diego acquiring a veteran running back such as
Marshawn Lynch
or
Marion Barber
if they become available. Still, the odds are San Diego looks to the rookie class for its new tailback.
[+] Enlarge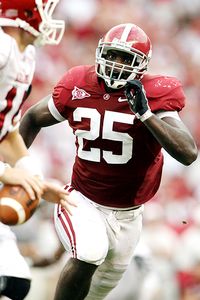 Marvin Gentry/US PresswireThe Raiders may have their eyes on Alabama's Rolando McClain.
Will the Raiders go defense first?
The Raiders' greatest need is at left tackle. But it wouldn't be a stunner if the Raiders used the No. 8 pick on a defensive player. The Raiders are said to have been snooping around Alabama middle linebacker
Rolando McClain
(who Denver could take at No. 11). Florida cornerback
Joe Haden
said he has received a lot of interest from Oakland. A Haden-
Nnamdi Asomugha
cornerback combination would be intriguing for the next few years.
Will the Tebow project continue in the AFC West?
Tebow visited with Denver this week. The Broncos have two picks in the second round and could pull the trigger on the project then. Tebow has met with Oakland officials. It would be wild to see the pristine Tebow in the Silver and Black. He wouldn't be ready to contribute right away, but he could be an interesting project. While I don't think the Chargers would address a quarterback before the third round, Tebow could be a possibility if he fell. The Chargers need to develop a young quarterback and Norv Turner can do wonders with quarterback prospects. It would be an interesting pairing.
Will the Raiders add a receiver?
The Raiders have studied the likes of Bryant, Tate and
Mardy Gilyard
. It's not out of the question that the Raiders will look at receivers early in the draft. It would be intriguing. The Raiders have a lot of young, promising players at the position. What they need is a veteran presence. If a top receiver is taken in Oakland, what does it mean for the development of existing youngsters
Chaz Schilens
,
Darrius Heyward-Bey
and
Louis Murphy
?
Will Toby Gerhart pound his way through the AFC West?
The rough-and-tumble Stanford tailback is on the radar in San Diego and in Denver. The Chargers make more sense because they have more of a pressing need. However, the Broncos also like the Heisman Trophy runner-up. The Broncos need a big back. I could see Gerhart, who is rising up draft boards, ending up in this division.
Will the Broncos find their new center?
If the season started today, the Broncos would not have a starting center. They are looking for one in the draft. The Broncos love Florida's
Maurkice Pouncey
. But taking him at No. 11 may be too high. The Broncos may have to move -- possibly up, perhaps down -- to get Pouncey. He is on their wish list, though. Boston College's Mark Tennant and Baylor's
J.D. Walton
are other possibilities.
April, 6, 2010
4/06/10
1:00
PM ET
»
NFC Big Question
:
East
|
West
|
North
|
South
»
AFC
:
East
|
West
|
North
|
South
The Oakland Raiders have reportedly been eyeing some of the top-ranked receivers. Will they draft one of them?
[+] Enlarge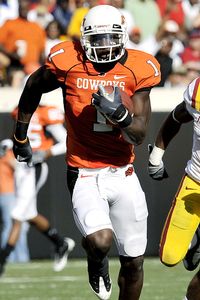 Peter G. Aiken/US PresswireMight the Raiders use a high draft pick on a receiver like Oklahoma State's Dez Bryant?
I've found it very interesting that the Raiders are looking at receivers available in the draft. It has
been reported
that the Raiders have kept
a close eye
on Oklahoma State's
Dez Bryant
, Notre Dame's
Golden Tate
and Cincinnati's
Mardy Gilyard
. Bryant and Tate could be first-round picks and Gilyard is highly regarded as well.
None for these players are expected to go as high as No. 8, where Oakland picks in the first round. The Raiders have the No. 39 pick, which may be too late to get Bryant or Tate. But if the Raiders want a top receiver, they can figure a way to get him.
What's so intriguing is Oakland's roster is stocked with young receivers. They have
Chaz Schilens
(a seventh-round pick in 2008),
Darrius Heyward-Bey
(No. 1 pick in 2009) and
Louis Murphy
(No. 4 pick in 2009). Schilens and Murphy have shown they have solid futures ahead. Heyward-Bey was not good as a rookie, but it far too early give up on him.
What Oakland needs is a veteran receiver to help mold these youngsters and produce while they continue to develop.
But perhaps Oakland is not completely sold on its young receivers. I'd be surprised if the Raiders -- who have bigger needs at tackle, quarterback and defensive tackle -- jumped at a receiver early. But one thing we've learned from Oakland's recent drafts is that we should be prepared for anything.
April, 3, 2010
4/03/10
3:00
PM ET
Weekend mail call:
Tony from San Jose wants to know
if Alabama nose tackle
Terrence Cody
could end up in the AFC West:
Bill Williamson:
There is a good chance. Cody is a classic 3-4 nose tackle and Denver, Kansas City and San Diego use the 3-4 defense. So, there will be interest. I know all three teams are looking at Cody. I'd say San Diego had the best chance to land Cody, then Kansas City and then Denver. San Diego has the No.28 pick and Cody could be the target. The Chargers badly need a nose tackle. If he gets to the second round, Kansas City could jump on him. He'd help immediately. He may not last until Denver picks in the second round and the Broncos have the least immediate need for Cody of the three teams because they upgraded during free agency and signed former Charger
Jamal Williams
.
David from Dallas wants to know
if the Chiefs will add at the receiver position.
BW:
I wouldn't be surprised if Kansas City added a receiver with one of their two second-round picks. A real possibly has to be Notre Dame's
Golden Tate
. He played for new Kansas City offensive coordinator Charlie Weis in college. Tate would fit in with the Chiefs immediately as a reserve as in the future. If it is not Tate, expect the Chiefs to take a receive early. It needs to upgrade at the position.
Jason McConnell from Omaha wants to know
if there are any quarterbacks other than
Donovan McNabb
that would end up in Oakland.
BW:
There aren't many quality veteran quarterbacks available at this time. If Oakland doesn't acquire McNabb, it may be difficult for it to find a sure upgrade over its current crew of quarterbacks. There was a report that Oakland had preliminary talks with Minnesota about No. 3 quarterback
Sage Rosenfels
. But isn't much to get excited about. If McNabb isn't brought to Oakland, the Raiders will likely look at quarterbacks in the rounds 2-4 of the draft. Players such as
Colt McCoy
and
Dan LeFevour
are possibilities. Neither of these players (who both lack the strong arm Oakland looks for in a quarterback) would be able to help right away.
March, 7, 2010
3/07/10
12:00
PM ET
Weekend mail call:
Alan Cuff from Launceston, Tasmania, wants to know
who I think got the better of the
Clinton Portis
-
Champ Bailey
trade between Washington and Denver in 2004.
Bill Williamson:
I think Denver did. Bailey is a future Hall of Fame player. Yes, Portis was productive for the Redskins, but Bailey is one of the best defensive players in the league. Bailey has been the face of Denver's franchise. Again, Portis has been far from a bust in Washington, but Bailey has been brilliant.
Crutch from Albuquerque, N.M., wants to know
if the Chargers will consider more playing time for running back
Mike Tolbert
.
BW:
I think Tolbert will get a chance to carry the ball a little more. The third-year fullback is a bowling ball, who has been effective. Tolbert, 5-foot-9, 243 pounds, averaged 5.9 yards per carry on 25 attempts last season. Still, I expect San Diego to bring in at least two new running backs. Tolbert won't be a featured back, but he has shown he can be efficient.
Tom from Kansas City wants to know
if the Chiefs may pursue Notre Dame receiver
Golden Tate
in the draft.
BW:
I think it is very possible. Tate played for new Kansas City offensive coordinator Charlie Weis in college. Weis loves Tate. Tate really helped his cause with a great performance at the combine. He could have move himself late into the first round. If he is available in the second round, I wouldn't be surprised if Kansas City nabbed Tate. Kansas City coach Todd Haley said at the combine that he team needs more receivers. I'm sure Weis would love to make Tate a new addition.
March, 3, 2010
3/03/10
3:00
PM ET
Mid-week mail call:
Evan from Rancho Bernardo, Ca wants to know
what I think the trade value of San Diego cornerback
Antonio Cromartie
will be.
Bill Williamson:
I think the realistic compensation will be a third-round pick. I've heard whispers of that being a realistic compensation that could pry Cromartie away from San Diego. The Chargers would also take a veteran running back for Cromartie, who they have been shopping in recent weeks. But a draft pick could also help San Diego acquire a running back. Either San Diego could take a running back with the pick acquired in a Cromartie trade or it could package it to move up in the draft.
---
Michael from Council Buffs, Ia. wants to know
if Alabama linebacker Rolando McClain would be available when Denver picks at No.11.
BW:
I think McClain certainly has to be considered as an option for Denver. He would fit in well in Denver's 3-4 defense. But the Broncos will also be looking at defensive and offensive linemen, receivers and perhaps quarterbacks in the first round. But McClain could be an option. Don't be stunned if Kansas City (No.5) and Oakland (No.8) consider drafting McClain as well.
---
Daniel Press from Lawrence, Ks. wants to know
if Kansas City offensive coordinator could influence the Chiefs to take receiver Golden Tate in the draft. Tate played for Weis at Notre Dame.
BW:
I could see it, sure. Weis and Tate get along well and the Chiefs are looking for receivers. I could see Kansas City taking Tate with a second or third-round pick. This is certainly a potential pairing worth keeping an eye on.
March, 2, 2010
3/02/10
12:00
PM ET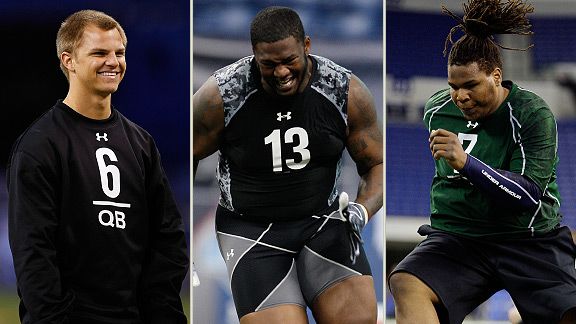 AP, Getty ImagesQuarterback Jimmy Clausen, OT Anthony Davis and DT Terrence Cody took part in the NFL scouting combine and could be attractive options for AFC West teams in April's draft.
With the NFL combine wrapping up in Indianapolis, each AFC West team is preparing for the NFL draft in full force.
Here are five players each team in the division may be studying for various reasons as the combine concludes:

Denver
Dez Bryant, receiver, Oklahoma State:
Bryant did not run at the combine due to a hamstring injury. Still, Denver is keeping a close eye on this game-breaker. If Brandon Marshall is traded, Bryant, the jewel of the receiver class, could be heading to Denver at No. 11. But there are some off-field concerns that could make Bryant
a risk.
Jimmy Clausen, quarterback, Notre Dame:
Clausen is a long shot. However, he fits coach Josh McDaniels' system. Denver has other needs, but if Clausen slips past Washington (No. 4) and Buffalo (No. 9), Denver could be tempted to answer its long-term needs at quarterback.
Terrence Cody, defensive tackle, Alabama:
The Broncos need a sturdy nose tackle as they enter the second season of using the 3-4 defense. Cody, who slimmed down 16 pounds from the Senior Bowl, has a chance to be a dominant force. If he is available in the second round, Denver could make a run at him.
Mike Iupati, guard, Idaho:
Denver is looking to get bigger on the offensive line. The 6-foot-5, 331-pound Iupati would do the trick. He is rising up draft boards. He may not be on the board in the second round, but if he is, Denver could snatch him up.
Rolando McClain, linebacker, Alabama:
This is a legitimate option at No. 11. McClain was impressive in his meetings with teams at the combine. He is a leader and would be a perfect middle linebacker in Denver.

Kansas City
Eric Berry, safety, Tennessee:
The Chiefs would love to get the chance to draft Berry with the No. 5 pick, but they will need some help. If St. Louis drafts a quarterback, Berry could fall to Kansas City, but that could be a long shot. If not, Tampa Bay may take him at No. 3.
Clausen:
This is another long-shot scenario. However, you have to think Clausen intrigues Kansas City. He played for new Kansas City offensive coordinator Charlie Weis at Notre Dame. Although Kansas City likes quarterback Matt Cassel, a Clausen-Weis pairing could be intriguing. Clausen said at the combine that he wants to prove to NFL coaches that he does not have a bad attitude. He would not have to win over Weis, whom already believes in his former player.
Russell Okung, offensive line, Oklahoma State:
Okung is a favorite to be drafted by Kansas City. He would be an instant starter at left tackle and would enable the team to move 2008 pick Branden Albert to right tackle. Okung was impressive in his interviews at the combine and he looks the part. A hamstring injury should not hurt his draft status.
Anthony Davis, tackle, Rutgers:
Davis is a player Kansas City could be eying at No. 5 if Okung is off the board. Davis may be a bit of a reach at No. 5, but Kansas City has to be paying attention to him.
Golden Tate, receiver, Notre Dame:
Tate helped his cause very much at the combine. He ran great and won over teams in his interviews. It is not out of the question that he worked his way into the bottom part of the first round. If he sticks around to the second round, Tate could be reunited with Weis.

Oakland
Bruce Campbell, tackle, Maryland:
Campbell has the look of a player Oakland will seriously consider taking. Campbell was one of the stars of the combine. He tested well, and at 6-foot-6, 314 pounds, Campbell ran a 4.85 40-yard dash. He did not always play well in college, and there are some attitude concerns. However, his combine test and his great size and speed may help him skyrocket up draft boards. Oakland loves combine stars and it really needs a tackle. This could be a pairing.
Davis:
Oakland will also look at Davis. The Raiders will study several tackles. It is the most likely position the Raiders will choose from at No. 8. Davis should still be available.
Dan LeFevour, quarterback, Central Michigan:
There was talk that Oakland could target LeFevour in the mid rounds. Oakland will be looking for a quarterback in the draft and many scouts thought LeFevour would be an excellent prospect to consider in the third through fifth rounds. However, he struggled at the combine and showed a lack of arm strength. That could turn off Oakland. Owner Al Davis likes strong-armed quarterbacks.
McClain:
If some of Oakland's top options are gone, it could make a run at McClain. He should be available at No. 8. He would help the Raiders, who could use a spark on the defensive front seven.
Okung:
The Raiders were surely reviewing Okung in Indianapolis. Drafting him may be wishful thinking. Okung is the best player at Oakland's biggest area of need. If he is available at No. 8, Oakland has to take this star.

San Diego
Jahvid Best, running back, California:
Best may have been too good at the combine for San Diego's liking. He was the fastest running back at the combine. That could move him up the draft board dramatically. He was considered a late first-round talent prior to the combine. Now, Best could move into the top 15 along with Clemson's
C.J. Spiller
. San Diego picks No. 28 and would likely love to get a shot at Best.
Cody:
Along with running back, nose tackle is San Diego's biggest need. Cody is the type of player who could help San Diego. With his improved effort at the combine, San Diego has to consider him a decent option at No. 28.
Jonathan Dwyer, running back, Georgia Tech:
Dwyer said he had a great meeting at the combine with San Diego. He said he thought the team was interested in him and said he is interested in the Chargers. However, he did not have a great performance at the combine. He ran a pedestrian 4.64 40-yard dash. He could be available in the second round. If San Diego feels comfortable with Dwyer's game film and are not swayed by his slow 40 time, perhaps it could consider taking Cody in the first round and Dwyer in the second round.
Toby Gerhart, running back, Stanford:
Although Dwyer had a less-than-stellar combine, Gerhart performed very well. He ran better than expected and showed his versatility by ranking near the top of several combine tests. Gerhart may now be a sure second-round pick. The Southern California native looks like a good fit for the Chargers' system. He did not hurt his chances in Indianapolis.
Trindon Holliday, receiver/returner, LSU:
Holliday could be a decent replacement if Darren Sproles leaves San Diego through free agency. Like Sproles, Holliday is a tiny speedster. Holliday is 5-foot-5 and is awfully quick. He ran a 4.34 40-yard dash at the combine. What better way to replace Sproles than with a Sproles clone?
February, 26, 2010
2/26/10
9:00
PM ET
The Denver Post
has an account of Brandon Marshall's intense testimony at the
Darrent Williams
murder trial on Friday. Marshall pointed out suspect
Willie Clark
as a man who argued with Marshall and Williams on the night Williams was murdered.
Witnesses said Marshall was involved in an argument with Clark and that evening at a nightclub and Marshall admitted he had words with Clark. Marshall later broke down on the stand.
Marshall may be on his way out of Denver, but this day will be remembered for a long time.
The Cowboys have
no intention
of trading running back
Tashard Choice
to San Diego.
Marshall and Denver's other restricted free agents, including
Elvis Dumervil
and
Kyle Orton
, are expected to get
one-year tenders
and not long-term deals at this point.
NFL prospect
Golden Tate gave high marks to new Kansas City offensive coordinator Charlie Weis and Tate's former coach at Notre Dame.
Oakland has hired former safety
Eddie Anderson
in an undetermined role. Anderson is expected to work with players off the field.
Kent State will retire the basketball No. 44 of San Diego tight end
Antonio Gates
on Saturday night. Gates was an honorable mention All-American in 2003.
The University of North Florida honored Kansas City coach Todd Haley on Friday night as part of an alumni achievement event. Haley is at the combine in Indianapolis and was unable to attend the event.