December, 7, 2012
12/07/12
1:52
AM ET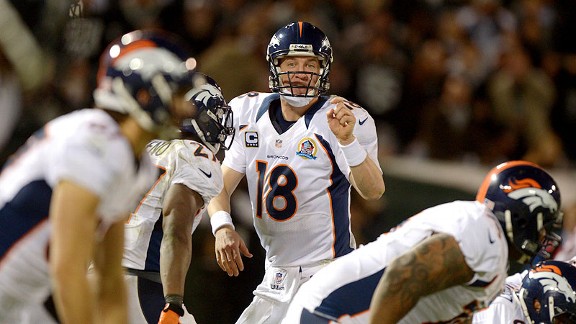 Kirby Lee/USA TODAY SportsPeyton Manning and the Broncos had some red-zone missteps, but still won their eighth straight.
OAKLAND, Calif. --
Peyton Manning
probably will stew all weekend.
While his team enjoys an early-December Sunday away from football, knowing it put heat on the
Baltimore Ravens
and
New England Patriots
, Manning probably will keep himself up at night thinking about those missed red zone opportunities.
"None of us are satisfied with tonight," said the Manning of Denver's defense, future Hall of Fame cornerback
Champ Bailey
. "But it's another win ... and we move on and we try to get better."
While they dominated the struggling
Oakland Raiders
all game Thursday night, the
Denver Broncos
were far from perfect, especially offensively, going just 2-for-7 in the red zone against the NFL's worst scoring defense in a
26-13 Denver victory
that had all the feel of a 45-10 blowout.
Several Denver players spoke with dissatisfaction about their performances -- and warned that it must get better.
"If we are inconsistent," Bailey deadpanned, "we'll go right into the playoffs and right out of the playoffs."
Overly critical self-analysis from the hottest team in football? Sure. Is it exactly what you want to hear from a playoff-bound team in December? Absolutely.
Truth be told, Denver should be happy flying home from the West Coast with a victory of any sort at Oakland, style points be damned.
This contest had all the makings of a classic trap game.
[+] Enlarge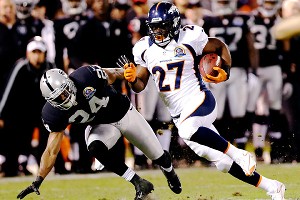 AP Photo/Marcio Jose SanchezRunning back Knowshon Moreno accounted for 167 total yards (119 rushing) and a TD for Denver.
The Broncos had clinched the AFC West title four days earlier. They traveled on a short week. They played an Oakland team that was emotionally charged after the death Tuesday of Grady Allen, the father of Raiders coach Dennis Allen. The Broncos have a huge Week 15 game at Baltimore. The Raiders loathe the Broncos. If ever a team was being set up for a stumble ...
"Yeah, we knew it," Bailey said. "Anything could have happened. We knew all the factors. But this is a good group. Yes, we left plays on the field as a team, but we did enough when we had to. ... Now on to the next step."
In the first year of the Manning experience in Denver, the Broncos are a focused bunch. They now are 10-3 and riding an eight-game winning roll, the NFL's longest current streak.
Most important, Denver is on target for the AFC's No. 2 seed and a first-round bye in the playoffs. Baltimore and New England both are 9-3. Baltimore plays at red-hot Washington on Sunday, and New England hosts 11-1 Houston on Monday. The Ravens and Patriots probably head into the weekend feeling some pressure after watching Denver hit double-digit wins Thursday night.
Regardless of whether Denver gets the edge this weekend, the Broncos know they have a big game coming against Baltimore. That contest is important for several reasons.
If the Broncos can go on the road and take a game from a potential playoff opponent, it will serve as both a confidence-builder and a message to the rest of the AFC -- particularly coming from a Denver team that lost to Houston and New England earlier in the season.
That was before the offense jelled with Manning and before the defense became one of the fiercest in the league.
"We know good things can happen," veteran receiver
Brandon Stokley
said. "But we also know we need to get better. That's all this is about -- getting better. We are glad we won and we are glad we get another game closer to the playoffs with a win, but we know we can do so much better."
At this point, it is about the nuances of the game for a team that has been dominating on both sides of the ball during much of its winning streak.
Most of the things Denver needs to work on after this game are on the offensive side. Sure, Oakland had a few explosive plays, but for the most part, the Denver defense continued its underrated run of excellence.
What Manning and company will rue about this one were the red zone flops. It was un-Manning like. The team eased down the field but failed way too much near the goal line.
"We will work on it," said Manning, 36, who admitted he was tired on the short turnaround. "I think we will get it fixed."
There were plenty of positives for Denver's offense, though. Running back
Knowshon Moreno
continued to show he can be a capable replacement for
Willis McGahee
, who likely is out until the AFC title game, if Denver gets there. Moreno, who was inactive for eight consecutive games, had 119 yards rushing and 48 yards receiving. Denver is trusting Moreno more each week.
Receiver
Eric Decker
, who was not part of the offense much the previous three games, had eight catches for 88 yards. Kicker
Matt Prater
, who missed four field goals in the previous three games, was a perfect 4-for-4 on Thursday.
Considering the short week and the makings of a trap, this was a solid game for a team that has big designs.
"Now, it's a race to the finish," Stokley said. "We're playing with the future in mind."
December, 6, 2012
12/06/12
11:31
PM ET
OAKLAND, Calif. -- A look at the Broncos'
26-13 win
Thursday night:


What it means:
Denver avoided losing a trap game and improved to 10-3. It now is a half-game up on New England and Baltimore, which both are 9-3, in the chase for the No. 2 seed and a first-round bye in the AFC playoffs. Denver has won eight games in a row, which is currently the longest streak in the NFL. Oakland fell to 3-10 and has lost six straight games. The Raiders are currently on pace for the No. 3 pick in the draft.
Can't win for Allen:
Oakland coach Dennis Allen left the team Sunday night to be with his father, Grady Allen, who died Tuesday morning at the age of 66. Dennis Allen returned to the team Wednesday. The Raiders wanted to win for their coach but couldn't.
Broncos' offense far from perfect:
Denver controlled this game, but it could have been better. The Broncos had to settle for field goals four times. Kicker
Matt Prater
was perfect after missing four field goals in his previous three games. But getting into the end zone will be a point of emphasis in practice next week.
McFadden comes back:
Oakland running back
Darren McFadden
had 52 yards on 11 carries, including a 36-yard run. He had missed four games with an ankle sprain and looked like he was banged up near the end of the game.
Palmer struggles:
Oakland quarterback
Carson Palmer
threw a red zone interception and lost a fumble near his goal line. You have to wonder whether the Raiders will take a look at
Terrelle Pryor
in one of the final three games. If Pryor doesn't play, that means this staff doesn't think he is ready at all.
Decker, Moreno have good games:
Denver receiver
Eric Decker
had eight catches for 88 yards. That is important, because he wasn't a big part of the offense in the previous three weeks.
Knowshon Moreno
had 119 yards on 32 carries and four catches for 48 yards. He wasn't dynamic, but he made some tough yards. He is helping with
Willis McGahee
out.
What's next:
Denver plays a big AFC game at Baltimore in Week 15. Oakland closes out its home season against Kansas City. The Raiders are 2-5 at home.
December, 6, 2012
12/06/12
11:00
AM ET
Here are some keys to the
Denver Broncos
-
Oakland Raiders
game on Thursday night:
DENVER

Broncos need to avoid a trap:
This is a textbook trap game for Denver. The Broncos (9-3) just won the AFC West title. They are traveling on a short week. They are playing a team that will be emotionally charged after the death of Grady Allen, the father of Oakland coach Dennis Allen. The Broncos visit Baltimore in Week 15 in a game that could go a long way in determining the No. 2 seed and a bye in the first round of the AFC playoffs. This is the type of game a team can come into flat. But Denver is aware all of these factors and will try to do what it takes -- attacking on both sides of the ball, for starters -- to avoid a clunker in Oakland. Coach John Fox is good at keeping his players focused and
Peyton Manning
is rarely flat. Watch for Denver to try to strike early and take any idea of an upset out of the Raiders' minds.
Getting Prater on track:
Denver kicker
Matt Prater
is in a bit of a slump, missing four of his past nine field goal attempts. This poor stretch is unusual for Prater, who is usually long and accurate. The Broncos need a reliable Prater in the postseason, so this slump must end soon.
Stop Myers:
Oakland tight end
Brandon Myers
had 14 catches for 130 yards against Cleveland last week. It tied a team record for the most catches in a game. One of Denver's flaws on defense has been stopping the tight end. Expect the Raiders to try to go to the hot hand in Myers often. Denver must address this early and keep Myers from getting into the end zone.
OAKLAND

Playing for Allen:
This has been a difficult week for the Raiders. Allen flew to Dallas shortly after Sunday's loss to the Browns to say his final goodbyes to his father, who was 66. He returned to the team Wednesday. Few in the organization knew about Allen's family issue until after the game. Now that he is back with the team, I expect a spirited effort by his players.
Getting McFadden involved:
Barring a late setback, running back
Darren McFadden
is expected to play Thursday night after missing the past four games with a high-ankle sprain. McFadden was not having a good season prior to his injury, averaging 3.3 yards per carry. He had 34 yards on 13 carries at Denver in Week 4. The Raiders (3-9) hope he comes back from his injury in his 2010/2011 form.
Make some plays on defense:
Oakland's defense has struggled all season. It gave up 169 points in Weeks 9 through 12. The Raiders have allowed an NFL-high 376 points this season and have allowed opponents to score at least 31 points seven times. Denver beat Oakland 37-6 earlier this season; the Broncos have scored at least 30 points eight times. If the Raiders are going to pull off this upset, they will need to create some turnovers and perhaps even score on defense. The defense will have to step up and give Manning trouble -- unlike the last time these two teams met.
December, 4, 2012
12/04/12
10:23
PM ET
A report out of Chicago claims that the Raiders are "in talks" to
bring back Jon Gruden as coach
.

OK, OK, Raider Nation, quiet down. I can hear your squeals of delight from here.
But hold off a bit. I don't want to discount any report, but I am not going to get too much into this until there is more. I want to acknowledge it, but until there is more steam, I think we have to say it is a long shot. But anything can happen and it is worth keeping an eye on.
But I think, many, many things would have to happen before something so dramatic would occur. Gruden has said he is committed to ESPN's "Monday Night Football." This is not the first report about Gruden's future and it very likely won't be the last.
UPDATE:
This is Gruden's statement on open jobs:
"I don't have time to get into all that stuff. I like what I'm doing and I'm just trying to hang on to the job I have. Let's leave it at that."
In other AFC West news:
The Raiders' game against Denver on Thursday night will be televised locally.
Broncos linebacker
Wesley Woodyard
did not practice Tuesday with an ankle injury. He could be pressed to play Thursday at Oakland. He was hurt Sunday against Tampa Bay.
The Chargers placed receiver
Seyi Ajirotutu
(hand) and center
David Molk
(thumb) on injured reserve. In addition to center/guard
Colin Baxter
, San Diego signed guard/tackle
Stephen Schilling
to help its battered offensive line. Like Baxter, Schilling has played for the Chargers before.
Denver coach John Fox opened his press briefing Tuesday by expressing his condolences to Oakland coach Dennis Allen. His father, Grady Allen, died Tuesday. Allen was the Broncos' defensive coordinator last season.
December, 4, 2012
12/04/12
12:30
PM ET
There was no greater influence for Dennis Allen than his father, in life and in football.

Thursday, Allen will coach his Oakland Raiders two days after saying goodbye to his father. The Raiders announced Tuesday morning that former NFL player Grady Allen has died. Dennis Allen plans to travel from the family home in the Dallas area and return to California on Wednesday to coach the team Thursday night against the Denver Broncos.

Dennis Allen returned to Dallas immediately after the Raiders' loss to Cleveland on Sunday. Grady Allen was in grave condition in a hospital for a few days before Dennis returned home. Dennis Allen coached the game against Cleveland knowing his he was likely going home to say his final goodbyes to his father.

Grady Allen was 66. He was a linebacker for the Atlanta Falcons from 1968-72.

The two shared a close bond. Both played at Texas A&M and Grady Allen often mentioned his father as an influence in his career. My thoughts go out to Allen and his family in this difficult time.


December, 2, 2012
12/02/12
8:01
PM ET
A look at the Raiders' fifth straight loss,
20-17
to the Browns:
What it means:
A terrible season is getting worse for Oakland. The Raiders are 3-9, and they have lost five straight games. Losing at home to a losing team like Cleveland (4-8) does not make the Raider Nation happy. Things are unraveling.


Allen coaches with a heavy heart:
It's a tough time for Oakland coach Dennis Allen. His father, Grady Allen, is seriously ill in a Texas hospital. Dennis Allen is set to fly to Texas on Sunday night to be with his father and family. Making this sad situation even more difficult is the Raiders have a game on Thursday, so Allen will not have much time to deal with both a pressing family issue and a short week to prepare for a game. He hopes to return Wednesday. Offensive coordinator Greg Knapp will run the team until then.
Owner can't be happy:
Oakland owner Mark Davis has twice talked about his frustrations with the way this season is going. You have to wonder whether Allen may be in danger of being one-and-done if there is not a sudden turnaround. I'd think general manager Reggie McKenzie is safe either way, but the pressure could be on Allen. I'd certainly think some coaches, such as Knapp and defensive coordinator Jason Tarver, will be seriously evaluated after the season.
Is it going to be Pryor's time?
Second-year quarterback
Terrelle Pryor
was active, but he did not play. With four games left, there will be some fans clamoring for Pryor to play.
Carson Palmer
threw for 351 yards, but he didn't make much of an impact. Oakland's offense was stagnant much of the game.
Myers has a huge day:
The season of tight end
Brandon Myers
continues to get better. He tied a team record with 14 catches for 130 yards. He scored with one second left in the game. Myers has been a bright spot for Oakland.
What's next:
The Raiders host AFC West champion Denver on Thursday. Even though the division is wrapped up, Denver will try to win to get a first-round bye in the playoffs.