August, 25, 2013
8/25/13
7:45
PM ET
ENGLEWOOD, Colo. -- The
Denver Broncos
surprised no one Sunday as they took a step toward getting the roster to 75 players by Tuesday's deadline, and it was clear their decisions were influenced by who's hurt and who isn't.

The toughest choices are still to come, of course, with the deadline to get down to 53 players arriving Saturday at 4 p.m. MT. The Broncos will start the clock for the regular season sooner than most teams because they're playing in the league's kickoff game Sept. 5, and so the team will likely make the majority of their cuts this Friday -- the day after the preseason finale against Arizona -- because they will practice on the weekend in preparation for the opener against Baltimore.
Sunday's cuts put the Broncos roster at 77 players, including center
J.D. Walton
, who is on the physically unable to perform list. Walton, who had ankle surgery before training camp, is expected to be ready by late October or early November.
The Broncos can designate only one player to return from injured reserve when the cut goes to 53 players, and they have at least two candidates in Walton and linebacker
Stewart Bradley
(wrist surgery) to go with
Chris Kuper
, who is still trying to return from offseason ankle surgery and has been limited since returning to the practice field. Kuper was not in uniform for Saturday night's game against the Rams.
Among Sunday's decisions, the release of wide receiver
Greg Orton
was notable given he was pushing for the fifth receiver spot. He faced an uphill climb, with
Andre Caldwell
having worked so much with the starters as the No. 4 receiver, both in the slot and on the outside, and rookie
Tavarres King
having shown more athleticism with the ability to play in the slot or outside as well as on special teams. Undrafted rookie
Lamaar Thomas
has also caught the eye of the Broncos' coaches and is a quality candidate for the practice squad.
Orton's ill-timed ankle injury didn't help his cause. The Broncos formally waived him injured Sunday, meaning he'll have to clear waivers before moving to injured reserve, but the Broncos are expected to reach an injury settlement with him in the coming days.
Of the 11 players cut, seven did not play against the Rams, so the Broncos' DNP list provided plenty of hints about who would not make the cut.
To that end,
Jacob Tamme
's return to the field from a thigh injury that cost him several practices made tight end
Deangelo Peterson
, a late signee after camp opened, an extra player at the position and he was released. Tight end
Joel Dreessen
, who is returning from knee surgery, is expected to be ready for the opener.
Undrafted rookie wide receiver
Quincy McDuffie
flashed some special-teams ability but suffered two hamstring injuries that affected his ability to stay on the field and state his case. McDuffie was also waived/injured. Other players released were wide receiver
Kemonte' Bateman
, cornerback
Mario Butler
, tackle
Manase Foketi
, quarterback
Ryan Katz
, linebacker
Uona Kaveinga
, cornerback
Nigel Malone
, guard/center
Quentin Saulsberry
and defensive end
Lanston Tanyi
.
Saulsberry had a troubled time with the Broncos, with a suspension last season for violating the league's policy on performance-enhancing drugs while he was on the practice squad to go with an offseason drunken-driving arrest. Saulsberry served three games of a four-game suspension, and would have to sit out one more game if he were to sign with anyone for the active roster or practice squad.
August, 15, 2013
8/15/13
7:50
PM ET
ENGLEWOOD, Colo. -- The
Denver Broncos
wrapped up the public portion of training camp Thursday morning and quarterback
Peyton Manning
finished his day on the field by tossing a pass or two to Colorado Gov. John Hickenlooper.
In all the Broncos set an attendance record at their practice complex with 41,925 fans over the 15 open workouts held at their Dove Valley complex. The total surpassed the previous record of 41,304 over the 15 open workouts in last summer's training camp, which was also Manning's first year in Denver.
The Broncos do not have bleachers next to the main practice fields, so fans simply sit on a grassy hillside to view the action. The Broncos also drew a crowd of 44,439 to a rain-soaked scrimmage Aug. 3 at Sports Authority Field at Mile High.
"[The fans] are unbelievable,'' said Broncos coach John Fox. "The epitome of that was our practice down at the stadium when it poured rain and they stuck around to see us play.''
[+] Enlarge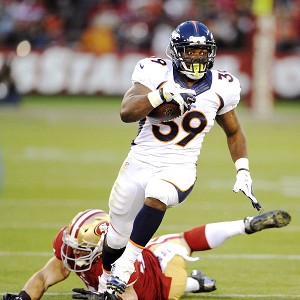 AP Photo/Eric BakkeC.J. Anderson, who has had an impressive training camp, could now be out for as much as six weeks.
• Broncos running back
C.J. Anderson
, an undrafted rookie who led the team with 69 yards rushing in the preseason opener in San Francisco last week, severely sprained his right MCL during Thursday morning's practice.
Anderson, who was taking snaps with the second-team offense because
Knowshon Moreno
is currently sidelined with a bruised right knee, was helped to the locker room with just more than 20 minutes remaining in the workout.
Depending on swelling and how Anderson's rehab goes in the coming days he could miss as much as six weeks in all. The Broncos must cut to 75 players on Aug. 27 and to 53 players on Aug. 31.
"It's awful, just awful," Manning said. " … It surely did not look good. You could hear him out there grimacing, which is not a sound any player likes to hear."
"He's having such a great camp,'' said cornerback
Champ Bailey
. " … I just hope he can bounce back faster than normal.''
With Moreno not expected to play in Saturday's preseason game in Seattle after being held out of practices Wednesday and Thursday,
Lance Ball
figures to get plenty of work in the second half of the game against the Seahawks.
Anderson has made a significant jump on the depth chart with his work thus far in camp. At 224 pounds he is also the team's biggest back and has looked like a potential fit for one of the reserve spots when the roster choices get made.
Ronnie Hillman
and
Montee Ball
have split work with the starters all the way through camp -- Hillman has been the No. 1 -- with Moreno working as the No. 3 and
Jacob Hester
the No. 4. Hester can play at running back when needed and at fullback when the team uses a two-back set. He is also one of the team's most consistent pass protectors at the position and has a full docket of special teams work.
MCL sprains as severe as Anderson's routinely take a minimum of four weeks to heal and players, particularly skill position players, usually are not ready for a full return until six weeks have passed.
The Broncos will likely have to consider Anderson's progress when they make their roster decisions.
• Linebacker
Von Miller
was excused from practice for personal reasons -- he was in Washinton D.C. meeting with officials from the NFL Players Association -- so the Broncos offered a glimpse of how the defense would look to open the regular season if the All-Pro selection does not win his appeal of a four-game suspension for violating the league's substance abuse policy.
As they have shown in recent days,
Stewart Bradley
would play the middle in the base defense while
Nate Irving
, who was the starting middle linebacker through all of the offseason program, lined up on the strong side. When the Broncos went to some of their specialty packages in passing down work, times when Miller moves to defensive end or another rush position,
Shaun Phillips
played in Miller's usual spots.
"Shaun Phillips was in there playing linebacker and playing defensive end some on third downs and you had Nate Irving in there as well with Stewart Bradley,'' Manning said. "Any time you have a player injured or a player that is not able to go, somebody else has to step up and that's what teams have to be able to do."
Miller is expected to start and play in Saturday's game in Seattle.
• Broncos director of pro personnel Tom Heckert, who had been suspended without pay for a month in the wake of a drunk driving arrest in June, returned to the team Thursday. Heckert will travel to Seattle with the team Friday and has resumed his normal duties. He was arrested June 11 in Parker, Colo., just 36 days after he had been hired by the team.
"I walked by his office and he was all smiles,'' Fox said. "It was good to see him back and we support him.''
With Broncos' director of player personnel Matt Russell also suspended indefinitely for a separate drunk driving arrest, Broncos executive vice president of football operations John Elway had not elected to hire an outside consultant or former general manager to help with player evaluations during the suspensions. Instead the duties were divided among other members of the Broncos' personnel department such as Lenny McGill, the team's assistant college scouting director, and assistant pro personnel director Anthony "Champ" Kelly.
• Odds and ends:
With just more than 2,000 fans on hand Thursday, the Broncos still used a speaker system to simulate crowd noise when the offense had the ball in team drills … The starters are expected to play most, or all, of the first half Saturday night against the Seahawks … Bailey intercepted Manning in the endzone during team drills. When asked if he will enjoy watching it later on the practice video, Bailey said; "Oh yeah, love watching that. When Peyton throws it, it's even more meaningful.''
• In addition to Moreno, running back
Jeremiah Johnson
(knee), wide receiver
Quincy McDuffie
(hamstring), wide receiver
Greg Orton
(ankle), wide receiver
Lamaar Thomas
(concussion) and safety
Quinton Carter
(knee) were held out of practice. None are expected to play against the Seahawks unless they show significant improvement in Friday's short workout before the team leaves. Tight end
Joel Dreessen
(knee) is still expected to miss the preseason.
August, 14, 2013
8/14/13
7:30
PM ET
ENGLEWOOD, Colo. -- Quarterback
Peyton Manning
has often spoken about how the Broncos' defense, with its speed all over the formation, can make the team's offense better during training camp.
That the first-team against first-team work -- the kind that rarely, if ever, is done during the regular season as a team gets ready for an opponent each week -- can be revealing for a playoff hopeful.
"Because you've got a lot of talent over there [on defense] and they compete hard on every play, they don't give you anything,'' Manning said. "That's what you want.''
[+] Enlarge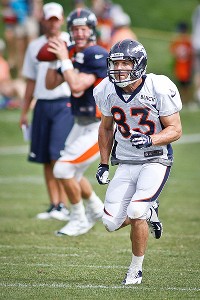 Marc Piscotty/Icon SMICompeting against the likes of Peyton Manning and Wes Welker during camp has benefited Denver's defense, safety Rahim Moore said.
Safety
Rahim Moore
believes turnabout helps just as much. That a Broncos defense good enough to finish second in the league in points allowed last season, is getting as much, or more, from dealing with Manning every day.
"
Wes Welker
is a great receiver, I believe he will be a future Hall of Famer one day, [
Demaryius Thomas
] is a rising star,
Eric Decker
is a rising star and Peyton Manning is the greatest quarterback to ever touch a football to me,'' Moore said. " ... You feel like you go against those guys every day, makes you ready for anything.''
It doesn't always go without the rough spots at times, however. Wednesday Moore and running back
Ronnie Hillman
got into a brief post-play scuffle in a particularly heated set of team drills.
"I look at it like if you're not really out there fighting, having some kind of controversy, you're not really playing,'' Moore said.
"It's like two brothers fighting ... you slap 'em on the side of the head and move on,'' coach John Fox said.
In other Broncos news:
Broncos rookie running back C.J. Anderson, who led the team in rushing in the preseason opener in San Francisco last week, believes he got an advance look at what an NFL no-huddle offense looks like in his last season at California.Anderson, who was signed by the Broncos as an undrafted rookie immediately following the draft, rushed for 790 yards in his senior season with the Bears. And in the summer before the 2012 season began, former Cal coach Jeff Tedford spent a week with the New England Patriots and coach Bill Belichick.

Tedford, at the time, said he was looking for some inspiration to use tight ends and running backs more ways out of a spread look.

"I think it gave me a glimpse of what that kind of offense would like in the NFL,'' Anderson said. "It gave a feel for what it looks like on Sunday. ... I think it's helped me some here.''

Anderson got a few additional plays in Wednesday's practice because Knowshon Moreno was out with a bruised right knee. It meant Anderson got to run a few plays with the second-team offense.

The Broncos have liked Anderson's work with the ball in his hands, but want to see him far more consistent in his assignments and avoid the concentration lapses he's shown at times.

At times Manning takes practice to the next level when it comes to trying to cover every scenario in training camp. the Broncos will, despite the expected presence of a few thousand fans at the last open-to-the-public practice of camp Thursday morning, likely break out the jumbo speakers for the workout.The Broncos use the speakers to pump in crowd noise during the regular season -- when the offense has the ball in the days leading up to road games and when the first-team defense is working in the days leading up to home games. The Broncos want to give the offense a little taste of a road atmosphere before the team heads to Seattle Friday afternoon for Saturday night's preseason game.

In the bad is good department, Broncos running back Ronnie Hillman made a big play out of a botched one during team drills. Hillman fumbled the ball forward as he tried to turn the corner around the right end and the ball bounced twice before he scooped it up on a dead run. Hillman then outraced all of the defenders, including safety David Bruton, for what would have been a scoring run.

Rookie wide receiver Lamaar Thomas, who left Tuesday's practice after a blow to his helmet in a red zone drill, is being treated for a concussion. He was held out of Wednesday's practice. ... In addition to Moreno, safety Quinton Carter (knee), running back Jeremiah Johnson (toe), wide receiver Quincy McDuffie (hamstring) and wide receiver Greg Orton (ankle) did not practice Wednesday. ... Former Broncos coach Red Miller, who guided the team to its first Super Bowl appearance to close out the 1977 season, was at Tuesday's practice. ... NASCAR veteran Kurt Busch is expected to visit Thursday's practice.
September, 1, 2012
9/01/12
2:10
PM ET
The
Denver Broncos
have announced seven members of their practice squad. They have one more move to make.
The list is highlighted by defensive tackle
Ben Garland
. The Air Force product is a team favorite and he has a chance to develop. Also on the Denver practice squad are safety
Duke Ihenacho
, tight end
Cornelius Ingram
, running back
Jeremiah Johnson
, receiver
Greg Orton
, nose tackle
Sealver Siliga
and guard
Wayne Tribue
.
In other AFC West notes:
It's interesting that Oakland has kept punter
Marquette King
. He was put on injured reserve with a toe injury. If star punter
Shane Lechler
leaves after the season as a free agent, perhaps King can be groomed. King is not NFL ready, but he has a live leg and he has potential.
The Chiefs reportedly are considering signing quarterback
Mike Kafka
, who was cut by the Eagles on Saturday.
November, 30, 2011
11/30/11
2:25
PM ET
Kansas City coach Todd Haley said newly claimed quarterback Kyle Orton
will get about 40 percent of the repetitions
in practice this week. Haley continues to say Tyler Palko is the team's starter for now, but he isn't ruling anything out.
I'd still be surprised if Orton doesn't play Sunday. The team is paying him $2.5 million for the rest of the season. Palko has thrown six interceptions in his two starts. Why would Orton be getting snaps if the Chiefs didn't want to use him?
In other AFC West news: