December, 6, 2013
12/06/13
10:00
AM ET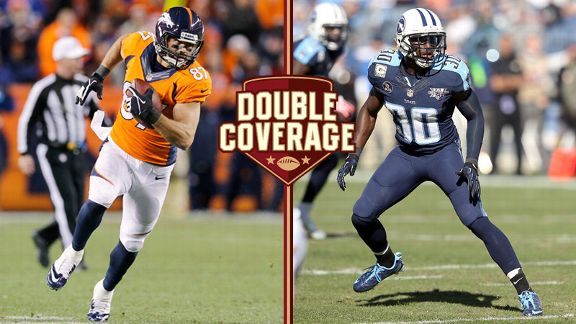 AP Photo Jason McCourty, right, and the Titans' secondary face a formidable challenge in defending Eric Decker and the Broncos' passing attack.
It seemed a little out of place, but as the
Denver Broncos
were about to get to work on the
Tennessee Titans
this week, quarterback
Peyton Manning
said he was going to prepare for an "unfamiliar opponent."
Granted, Manning hasn't faced a Titans team with Mike Munchak as its head coach, but he has faced Tennessee 19 times previously in his career (including a playoff game in the 1999 season), all with the
Indianapolis Colts
. So, while this is the Titans' first look at Manning in a Broncos uniform, the quarterback is a familiar face as Denver tries to keep its grip on home-field advantage in the postseason.
Here, ESPN.com Titans reporter Paul Kuharsky and Broncos reporter Jeff Legwold discuss Sunday's game.
Legwold:
Paul, you've been around the team since it arrived in Tennessee and, before we get to the on-field matchup, how would you say the team has dealt with franchise founder Bud Adams' death earlier this season? Who is making the decisions now and who will make them in the coming offseason, both on and off the field?
Kuharsky:
It was a big loss, of course, for Munchak and general manager Ruston Webster and team employees who worked for Adams for a long time. Most of the players hardly knew him, as he was not around much in his final couple of years, when his health began to fail. So there is a lot of uncertainty now. Three branches of Adams' family share control of the franchise, and Bud's son-in-law, Tommy Smith, is the team president and CEO. He's apparently been paying close attention to things in anticipation of taking over. But we know very little about how he will operate going forward. That means there is some tension, because not every team employee knows if he's secure. That starts with the struggling head coach, Munchak.
Leadership in Denver appeared to remain strong as Jack Del Rio stepped in for John Fox. How much of a boost will Fox's return give the team?
Legwold:
Del Rio, the team's defensive coordinator, earned praise from everyone in the organization, including Fox and the players, for how things were handled in the head coach's absence following open-heart surgery. His return has given the team an emotional boost, because after a month away, Fox came back feeling better than he had in some time and enthusiastic to see where this season can go. It should help the Broncos avoid a late-season stumble as they try to get home-field advantage for the playoffs again. Tactically speaking, not much will change. Coordinator Adam Gase is still calling the plays on offense -- Del Rio has said that, other than being a sounding board from time to time, he left the offense solely in Gase's hands during Fox's absence. Del Rio will continue to call the defense on game day as he has all season. Overall, though, it's likely Fox's return will keep the Broncos from hitting an emotional lull over the final month of the regular season.
On the field, the Titans have seen Manning plenty over the years. How do you think Tennessee will approach things on defense and does it see some differences in the Broncos' offense compared to what it saw from the Manning-led Colts?
Kuharsky:
Well, it's a relief the Titans don't see Edgerrin James, I am sure. And while Denver's pass-catchers are a remarkable bunch, I'm not sure there is a
Marvin Harrison
in it yet. They know blitzing Manning can be fruitless no matter what matchups they like against offensive linemen. They'll try to be unpredictable and force him to throw to a certain spot a few times. But plenty of teams have that idea and fail with it. Under Gregg Williams' influence, the Titans have used an ever-shifting front, and we know that's a popular way to play against Manning in an attempt to minimize his ability to make pre-snap reads. The front is pretty good, especially
Jurrell Casey
, though there is no dominant edge rusher. The secondary has been quite good. It's the linebackers, particularly in pass coverage, who seem vulnerable to me, and I don't know what the Titans will do there to prevent abuse.
Bernard Pollard
's been a leader whose play has matched his talk, but the Titans have kept him out of tough coverage situations and I wonder whether Manning will find ways to try to go at him.
The Titans are rooting for freezing temperatures even though they've been awful themselves in their past two frigid games. I know some all-time great quarterbacks have excelled in the cold even if they haven't loved it. How much of an issue is it for Manning at this stage of his career?
Legwold:
That is the elephant in the room with the Broncos given their playoff loss to the
Baltimore Ravens
last January. Manning threw for 290 yards and three touchdowns in that game, even though the temperature at kickoff was 13 degrees. But folks seem to remember a wobbly incompletion here and there to go with an interception to close out the Broncos' final possession. Until Manning simply cranks it up on a cold day and the Broncos get a key victory, people are going to ask him about it. He had spots in the overtime loss to New England two weeks ago -- in frigid, windy conditions -- in which he threw as well as he ever has, particularly on a sideline pass to
Demaryius Thomas
and a touchdown throw to tight end
Jacob Tamme
. It's not so much his arm that has been an issue post-surgery, it's his grip when he throws. Overall, though, the Broncos push the pace more on offense at home. Manning has terrorized defenses that have played a lot of man coverages against the Broncos' offense, including his five-touchdown game last weekend in Kansas City. The Broncos like that matchup in any weather.
Denver has some injuries on defense that have affected how it plays, especially with the run defense. Where does
Chris Johnson
fit in the Titans' offense these days?
Kuharsky:
He's really had one big game all season. Even when he seems to get going, the Titans can't find a rhythm or a way to stick with him. This was supposed to be a run-reliant, run-dominant team. It isn't. With
Ryan Fitzpatrick
now the quarterback, the Titans like to put him in an empty set and let him do his thing. It's been good at times, but it doesn't do much to enhance the chances of the running game. Johnson doesn't get yards after contact. So if he doesn't find a big hole, he's not going to do a lot of damage. Watch out on a screen or little flip pass -- that's where Johnson has been more threatening.
Denver's defense has dealt with quite a few injuries and
Von Miller
's suspension. How's his health and how is that group playing together?
Legwold:
The Broncos have yet to play the 11 starters on defense in any game this season they expected to have coming out of training camp. They never will now that defensive tackle
Kevin Vickerson
has been moved to injured reserve. Vickerson was a big part of the plan on early downs -- and the Chiefs tested the middle of the defense plenty this past Sunday, so the Broncos are working through some adjustments there.
Champ Bailey
(left foot) has played in just three games this season -- just one from start to finish -- and safety
Rahim Moore
is on injured reserve/designated to return. (The Broncos hope Moore will be back for the postseason.) Toss in
Derek Wolfe
and
Dominique Rodgers-Cromartie
not being in the lineup against the Chiefs and the Broncos are not nearly as consistent as they were last season, when they were a top-five defense. Miller has had moments of top-shelf play since his return, but hasn't been a consistent force like he was last season.
September, 19, 2013
9/19/13
12:00
PM ET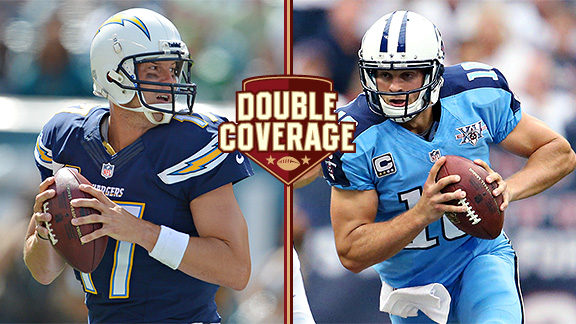 USA TODAY SportsJake Locker, right, will try to keep up with Philip Rivers and the Chargers, who have scored 61 points through two games.
The
San Diego Chargers
are the Tennessee Titans' white whale.
The teams don't play that frequently -- just nine times since 1993, including a wild-card playoff matchup in January 2008. The franchises have undergone all sorts of changes during that span, but one thing has remained consistent when they meet: The Chargers always win.
Bill Williamson, why do you think that is, and what are the odds it continues?
Bill Williamson:
I don't see the Chargers' history with the Titans being a factor. I know in Nashville the word "Chargers" makes fans cringe because of the history. Both teams are rebuilding and trending upward. These are two similar teams, and they will both be in the AFC conversation in the coming years.
The Titans made a lot of changes. This isn't the team the Chargers beat 38-10 last September. What's the biggest difference?
Paul Kuharsky:
The central part of the offseason revamp was the offensive line. The Titans have three new starters on the interior with left guard
Andy Levitre
, center
Rob Turner
and right guard
Chance Warmack
. Turner has been shaky, however, and Warmack is a rookie who is going to take some lumps when he's across from someone like
J.J. Watt
. The group hasn't jelled yet, but the run-blocking has been pretty good.
We've seen the good
Philip Rivers
and the bad Philip Rivers over the years. With the new regime in place, what is your feeling on who he will be now?
Williamson:
I might be the wrong person to ask, Paul. I've always been high on Rivers. Yes, his play sank the past two seasons and he committed 47 turnovers during that span. But it wasn't all on him. The previous regime in San Diego let go of a lot of skill-position talent, and the offensive line was decimated by injuries. Rivers didn't have much help. He was pressing as a result. So far under head coach Mike McCoy, offensive coordinator Ken Whisenhunt and quarterback coach Frank Reich, Rivers has looked re-energized. He has looked relaxed and confident over the first two weeks. He has shown that he is still a high-level player. Stopping him is the main challenge for the Titans.
How's
Jake Locker
coming along?
Kuharsky:
He made a bad throw on a crucial third-and-1 late in regulation in the loss to the Texans. The Titans have hardly turned him loose so far. But since the start of camp, he's shown steady progress. I'm not a complete believer by any means, but I think he has a chance and I didn't always feel that way. We still haven't seen some aspects of the offense that should be featured for him. Maybe this week he'll run around more and we'll see more boots and rollouts.
I'm curious about one of the guys who will be chasing Locker. The Titans have seen a great deal of
Dwight Freeney
over the years. How has he fit in the defensive scheme there?
Williamson:
An old foe, indeed. Freeney is in a tough spot. He was signed (and paid well) to be the Chargers' primary edge pass-rusher after 2012 first-round pick
Melvin Ingram
blew out his knee in May. But at 33, Freeney is best suited as a rotational player. He has half a sack this season. He has been active and will give his best effort, but he needs help. It would be a stretch to think he can still be a premier player. But he knows the Titans, and I'm sure he will be motivated to perform well Sunday.
What can Rivers and the Chargers' offensive line expect from the Titans' pass rush?
Kuharsky:
The best guys so far haven't been the ends.
Derrick Morgan
,
Akeem Ayers
and
Kamerion Wimbley
should key the rush. Ayers moves from stongside linebacker to end on rush downs but has been limited by a bad ankle. Tackle
Jurrell Casey
and weakside linebacker
Zach Brown
have been the best rushers so far. The fronts are less predictable and the blitzes more frequent. That's the influence of defensive assistant Gregg Williams. This defense is far better than I expected.
January, 18, 2013
1/18/13
6:05
PM ET
Mike McCoy continues to make impressive moves with his first NFL coaching staff.
The
San Diego Chargers
have announced defensive coordinator John Pagano will stay with the team. Joe Barry (linebackers), Greg Williams (assistant linebackers) and Don Johnson (defensive line) will be retained as well. They are not expected to bring back defensive backs coach Ron Meeks and secondary assistant
Cris Dishman
. Keeping Pagano was an expected, but critical, move. He did a fine job in his first season on the job in 2012 and deserves to be back. San Diego has good, young talent on defense and they responded well to Pagano. Having continuity and the same scheme on that side of the ball is vital.
He has also made impressive hires by getting offensive coordinator Ken Whisenhunt and quarterback coach Frank Reich.
Meanwhile, potential offensive coordinators for the Oakland Raiders are coming off the market . Stanford offensive coordinator Pep Hamilton is the new coordinator with the Colts. Among the candidates that have been connected to Oakland are Mike Martz, Greg Olsen and Oakland assistant Al Saunders. There is a belief Saunders could emerge as the leading candidate.
Oakland's offensive coordinator spot is the lone remaining high-profile job in the division. Greg Knapp was fired Dec. 31 and every other team in the division has hired at least one coordinator. I'd be surprised if the Raiders don't make a hire before Monday.
A special teams coaching candidate could be Bobby April. He has been a special teams coach in six NFL cities. He was with new Kansas City coach Andy Reid with the Eagles the past three years.
The Chiefs signed defensive lineman Daniel Muir. He spent some time with the Jets last season with new Kansas City defensive coordinator Bob Sutton. He was originally signed by the Packers in 2007 where new Kansas City general manager John Dorsey worked.
March, 3, 2012
3/03/12
2:15
PM ET
Where does Dennis Allen stand in the
New Orleans Saints
' bounty scandal that has rocked the NFL?
He stands in Oakland, focused on revitalizing the Raiders as he begins his tenure as head coach. End of story.
Unless more information comes out (and it seems like the NFL's investigation was pretty thorough) that implicates Allen, I don't expect him to face any punishment for being a part of the scandal. Allen was an assistant coach with the Saints from 2006-10. According to the league's investigation, Saints players were given cash bonuses for hits that caused opposing players to leave games from 2009-2011. Allen was the Saints' defensive backs coach in 2009 and 2010.
Former New Orleans defensive coordinator Gregg Williams, owner Tom Benson, general manager Mickey Loomis, coach Sean Payton and several players were implicated in the scandal per the NFL's investigation. Allen,
who reportedly declined to comment on the story
, was not part of the report.
Unless more information comes out to the contrary, I will assume Allen was not part of it and he doesn't deserve any discipline, scrutiny or criticism. Do I think Allen was aware of the bounty program? I guess it would be difficult for him not to be, but that doesn't make him guilty.
A lot of people I trust tell me Allen is as principled and respectful of the game as they come. In my one meeting thus far with him, I didn't come away with any alternate impressions.
This story shouldn't take any shine off Allen's hire in Oakland nor should it make people think the Raiders just hired some loose cannon who has no regard for the spirit of the game. There shouldn't be guilt by association here unless proven otherwise.
January, 12, 2011
1/12/11
9:30
PM ET
The Denver Broncos
met with
former Carolina coach John Fox on Wednesday. He is the fifth candidate to meet with the Broncos,
who are giving fans an inside look of the interview process
.
Denver is now expected to review the candidates and decide whether to bring in any other possibilities. At this point, Denver is not preparing to ask permission to talk to speak to any other candidates. There is a strong chance that Denver's new coach has already been interviewed.
The following is a look at the five candidates:
Rick Dennison, offensive coordinator, Houston Texans
When interviewed:
Tuesday
The skinny:
Dennison is a former Denver player and assistant coach. He is the most connected of the candidates to John Elway, Denver's new chief of football operations. Dennison interviewed to replace Mike Shanahan two years ago and is a quiet, smart coach. I'd be surprised, however, if he was the choice.
Perry Fewell, New York Giants, defensive coordinator
When interviewed:
Sunday
The Skinny
: He is considered one of the better young defensive minds in the NFL. He is a detailed coach, who impressed Denver's brain trust with leadership abilities. I could see him getting a second interview.
John Fox, former Carolina Panthers head coach
When interviewed:
Wednesday
The skinny
: Fox is the headline name of this mostly unknown group. He has coached Carolina for the past nine years, is a strong presence, and is a good football man. Even though the Panthers tumbled terribly this season, hiring someone as experienced as Fox could be considered a coup. I wouldn't be surprised if he was the leader in the clubhouse.
Dirk Koetter, Jacksonville Jaguars, offensive coordinator
When interviewed:
Tuesday
The skinny:
Koetter may be a sleeper candidate. He is well respected as a strong offensive mind. Koetter is a reserved, quiet man who is known for his dedication. He was the coach at Arizona State and at Boise State and has the head-coaching experience that Elway desires. He could score with another interview.
Eric Studesville, Denver Broncos interim head coach
When interviewed:
Sunday
The skinny:
Studesville is the underdog candidate. He was Denver's running backs coach before he took over for the fired Josh McDaniels in the final four games. Studesville finished with a 1-3 record, but Denver's brass appreciated how hard he worked and how he kept the team together in the final month of the season. I'd be stunned if he got the head-coaching job, but I wouldn't be surprised if the team tried to keep him in some capacity.
Note:
Former Stanford and new San Francisco coach Jim Harbaugh, Atlanta offensive coordinator Mike Mularkey and New Orleans defensive coordinator Gregg Williams all declined interview opportunities. If the Falcons lose to Green Bay on Saturday, Mularkey could still interview.
January, 11, 2011
1/11/11
1:50
PM ET
The
Denver Broncos
have lost another candidate for their head-coaching job.
It is being reported that New Orleans defensive coordinator Gregg Williams
has withdrawn himself from consideration
. Williams interested Denver partly because he has head-coaching experience from his time in Buffalo. Williams was scheduled to interview in Denver on Wednesday.
He is the third candidate Denver has pursued that has declined to talk to the team. Former Stanford coach Jim Harbaugh ended up going to San Francisco and Atlanta offensive coordinator Mike Mularkey has postponed his interview until after the Falcons' season is over. He'll likely interview with the Broncos if they don't already have a new coach by that time. The Broncos were not upset with Mularkey's decision, but they will not purposely wait for him, either.
While Harbaugh would have been a slam-dunk hire, Mularkey and Williams were not considered sure things in Denver.
Denver is talking to Houston offensive coordinator Rick Dennison (a former Denver player and coach who interviewed for the job two years ago) and Jacksonville offensive coordinator Dirk Koetter on Tuesday. Former Carolina head coach John Fox will interview on Wednesday.
Giants defensive coordinator Perry Fewell and Denver interim coach Eric Studesville have already interviewed. The team could add to the list;it hopes to hire a new coach by next week after a round of second interviews for the finalists.
After disposed coach Josh McDaniels alienated many fans, the team -- led by new vice president of football operations John Elway -- is doing its best to regain the trust of the fan base. Tuesday, Elway
asked fans what they'd ask candidates
, via Twitter. Also, the team is showing clips of the interview process on
its website
. No other team has ever done that.
January, 10, 2011
1/10/11
7:05
PM ET
There is heavy talk
that San Diego defensive coordinator Ron Rivera is going to be named the head coach in Carolina.
The deal is not done, but Rivera is expected to meet with Carolina ownership Tuesday in a second interview, and if all goes well, a deal could get done soon. Rivera deserves this chance. He has had several interviews for head-coaching jobs in recent years and he did a great job in San Diego. The Chargers had the No.1 ranked defense in the NFL this season.
There is talk around the NFL that San Francisco defensive coordinator
Greg Manusky
could replace Rivera in San Diego. Chargers head coach Norv Turner and Manusky have a history together.
If Rivera gets the Carolina job, there will be key openings in every AFC West city. Denver and Oakland will have new head coaches and Kansas City is looking for a new offensive coordinator, where Denver offensive coordinator
Mike McCoy
is considered an option.
Denver's head-coaching search continues to take shape. New Denver football leader
John Elway
announced
New Orleans defensive coordinator Gregg Williams will interview Wednesday. Former Carolina coach John Fox
will interview
Wednesday instead of Monday because of travel issues. Houston offensive coordinator Rick Dennison and Jacksonville offensive coordinator Dirk Koetter
will be interviewed
Tuesday. Giants' defensive coordinator Perry Fewell and Denver interim coach Eric Studesville were interviewed on Sunday.
Denver could add to its list of six and could eventually talk to Atlanta offensive coordinator Mike Mularkey after the Falcons' season is over if the Broncos' search, which could be 7-10 days from conclusion, is not concluded. Mularkey postponed his interview last week.
The Raiders' search has been typically quiet. Still, Oakland offensive coordinator Hue Jackson is expected to be promoted, although names such as former Oakland offensive coordinator Marc Trestman continue to emerge. Still, I'd be surprised if Jackson doesn't get the job.
January, 9, 2011
1/09/11
1:15
PM ET
This could be terrible news for Oakland.
ESPN's Adam Schefter is reporting
that the contract of star Raiders cornerback
Nnamdi Asomugha
has voided and the Raiders will not be able to put the franchise tag on him.
The contract has voided because of a little-known clause in his contract, Schefter reports. Initially, this was supposed to be a team option year on the record deal Asomugha signed in 2009.
So Asomugha will be allowed to walk away from the Raiders in a couple of months if he likes. He and Denver cornerback
Champ Bailey
will be two of the most attractive defensive players available. Asomugha will likely be the free-agent prize.
But Oakland fans shouldn't think it's a foregone conclusion that Asomugha will walk. He is a very principled man and he is the type that likes to finish what he starts. I think Asomugha was encouraged by Oakland's 8-8 season and he could be willing to stick around. However, Asomugha was a fan of the fired Tom Cable, so that could bother him.
Still, Oakland owner Al Davis loves Asomugha and has already paid him a mint. I expect Davis to do everything in his power to keep Asomugha. However, Oakland has several other free agents, including defensive lineman
Richard Seymour
, safety
Michael Huff
, running back
Michael Bush
, cornerback
Stanford Routt
and guard
Robert Gallery
. The Raiders won't be able to keep everyone, and adding Asomugha to the to-do list complicates matters.
Meanwhile, it is being reported
that San Diego defensive coordinator Ron Rivera will get a second interview in Carolina. That could be a strong sign that Rivera is close to getting the job. The Chargers had the No. 1-ranked defense in the NFL this season.
Schefter reports
Denver will interview former Carolina coach John Fox on Monday. Fox could be one of Denver's top targets, along with Giants defensive coordinator Perry Fewell, who is interviewing in Denver on Sunday.
The Broncos have shown interest in New Orleans defensive coordinator Gregg Williams as a head-coaching candidate. Since the Saints lost in Seattle, Denver can now talk to Williams. He has head-coaching experience at Buffalo and is known as one of the better defensive coaches in the NFL.
January, 7, 2011
1/07/11
2:55
PM ET
With the Jim Harbaugh pipedream all but over for the
Denver Broncos
, new Denver football czar
John Elway
is streamlining his wish list.
If Denver fans are looking for a household name or seat filler, they may want to temper your hopes. While the list can change at any time, the current group of the Broncos' candidates is not filled with bright-light names.
Elway said Friday
the Broncos are likely out of the Harbaugh talks. Elway did say he is seeking permission to talk to former Denver assistant and current Houston offensive coordinator Rick Dennison and he may call former Giants coach Jim Fassel. Elway has ties to both men.
Other people Denver is going to interview are Giants defensive coordinator Perry Fewell (who may be the top choice at the moment) and Denver interim coach Eric Studesville. New Orleans defensive coordinator Gregg Williams is expected to be interviewed when the Saints' season is complete. Atlanta offensive coordinator Mike Mularkey (considered by many as a top Denver choice) has postponed his interview until after the Falcons' season ends.
Once you get past Mularkey and perhaps Fewell, this isn't an overly exciting list. It's not to say these aren't good coaches, but they are far from Harbaugh when it comes to name recognition.
In the end, I'm not surprised Harbaugh probably isn't going to end up in Denver. He was too costly for the Broncos' blood. Plus, I'm not sure if it was a great fit. It seems to me that Harbaugh is the type who will want to make his own decisions. After moving away from Mike Shanahan and Josh McDaniels in the past two years, the Broncos want their coach to just coach and not make personnel decisions.
Any of the above names would surely be fine with that arrangement.
I wouldn't be surprised if other names pop up. They could include former Baltimore coach Brian Billick, Miami defensive coordinator and former Denver defensive coordinator Mike Nolan, Philadelphia assistant Marty Mornhinweg, San Diego defensive coordinator Ron Rivera and Green Bay defensive coordinator Dom Capers.
Billick could be an interesting candidate. He likely wouldn't be overly expensive and he has had a lot of NFL success.
January, 6, 2011
1/06/11
1:40
PM ET
If the
Denver Broncos
want to hire a top offensive coach to start the
John Elway
regime, the legendary quarterback might have to call an audible in his first duty as the team's front-office leader.
ESPN's Adam Schefter reported
that Atlanta offensive coordinator Mike Mularkey has postponed his interview with Denver until after the Falcons' playoff run. That could be in a month if the Falcons – the No. 1 seed in the NFC playoffs – advance to the Super Bowl.
Mularkey will honor his Saturday interview with Cleveland because the Browns called first. Mularkey is trying to concentrate on the Falcons' playoff run. By NFL rules, coaches from playoff teams with first-round byes can interview during the bye.
Mularkey's decision likely won't make Denver happy. But perhaps the Broncos will wait for him. There was talk in league circles that Mularkey was at the top of Denver's list.
Elway tweeted that he respects
Mularkey's decision to hold off on the interview.
In addition to the Mularkey delay of game penalty, the Broncos might be close to losing out on Stanford coach Jim Harbaugh. Wednesday, Elway publicly said the Broncos will call Harbaugh. But Miami is
heavily pursuing
Harbaugh.
So, Denver might have to explore alternative routes. Other potential offensive coaching candidates include former Baltimore coach Brian Billick, Oakland offensive coordinator Hue Jackson and St. Louis offensive coordinator Pat Shurmur. If Denver really wants to spend big money, it could look into Jon Gruden, but that seems to be a longshot.
Denver has an interview set with Giants defensive coordinator Perry Fewell and is expected to talk to Saints defensive coordinator Gregg Williams when their season is over.
January, 5, 2011
1/05/11
9:00
PM ET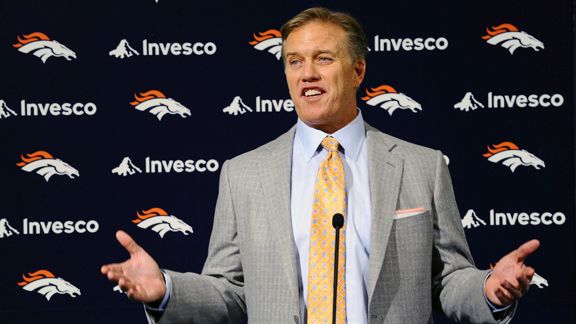 Ron Chenoy/US PresswireJohn Elway made it clear that the next coach will have to believe in Tim Tebow.
The Duke is back in charge in Denver.
In his introductory news conference to announce that he is the new front-office leader of the team, legendary
Denver Broncos
quarterback
John Elway
took command.
He made it clear that it will be his job to regain the fan base's trust that was lost during the Josh McDaniels debacle. Elway spoke on what he is looking for in a coach (he is going to call Stanford coach
Jim Harbaugh
) and he made it clear that any coach who doesn't believe in
Tim Tebow
, probably isn't the man for the job. McDaniels may have been the person responsible for bringing Tebow to Denver, but the quarterback has won over the rest of the organization, including Elway.
Here are some highlights from Elway's conference, with quotes provided by the Broncos' public relations department:
On whether he has maintained discussions with Harbaugh since the Orange Bowl
"I have not, not yet. We are going to put a call into him and see where he is falling and hopefully we get that done today or tomorrow and find out exactly where he is. Obviously, he just got back from the Orange Bowl. I think they got back yesterday and he had some different things that he had to do, so we do have a call into him (and) hope to hear back and see what direction he is going to go ... I did see Jim down there (at the Orange bowl). I did mention to him that I understood everything that was going on and did not want to take a lot of his time with the game that he had to play and the everything that he had to do. But, I did mention to him that if he decided that he wanted to jump to the NFL and wanted to go in the NFL direction that the Denver Broncos would be interested."
My take:
Elway is no on the record about wanting Harbaugh. Let's see if the Broncos can get him. The
San Francisco 49ers
have a head start -- they are meeting with Harbaugh on Wednesday.
AFC WEST SCOREBOARD
Saturday, 12/20
Sunday, 12/21
Monday, 12/22