October, 18, 2013
10/18/13
10:20
AM ET
SAN DIEGO -- There's no how-to instructional manual for how to be an NFL head coach.
If that were the case, postgame tirades by former head coaches Jim Mora and Dennis Green would not continue to pile up YouTube hits.
Two of the six new head coaching hires who had never served at the NFL level until this season will meet Sunday. Mike McCoy's
San Diego Chargers
travel to Florida to take on Gus Bradley's
Jacksonville Jaguars
.
[+] Enlarge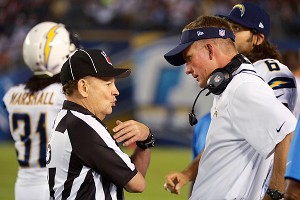 Donald Miralle/Getty ImagesMike McCoy emphasizes that all the people around him in San Diego have made his transition to an NFL head coach that much easier.
At 3-3, McCoy has the same record as Chip Kelly in Philadelphia and Rob Chudzinski at Cleveland through six games.
Doug Marrone in Buffalo is a game back at 2-4. Marc Trestman's
Chicago Bears
leads the pack at 4-2. And Bradley's Jaguars bring up the rear at 0-6.
McCoy honed his coaching chops working as an offensive assistant under coach John Fox in Carolina and at Denver, including four seasons as the Broncos offensive coordinator. Like every NFL coach, McCoy adheres to a rigid daily schedule, and is a stickler for details.
McCoy also understands the importance of hiring coaches that make your job easier. His coaching staff includes a former head coach in offensive coordinator Ken Whisenhunt, and defensive coordinator John Pagano, who has been with the Chargers' organization since 2002.
"The great thing is, I'm surrounded by a bunch of good people," McCoy said. "That was the most important thing in putting this staff together and bringing certain people in throughout the organization to help out, because when you surround yourself with good people, good things will happen.
"If I don't have the answer to something, I can quickly ask someone else and they'll have the answer for me. I'm still learning. I've made some mistakes. Whether it is in day-to-day operations around here on the field, there are some things, when I look back, I wish I could change. I'm making notes as we go along. I think the most important thing is the players are buying in to what we're trying to do here. That's the key. It's all about the players."
Like McCoy, Bradley said earning the trust of his players has been one of his main goals as he tries to turn things around in Jacksonville. Bradley saw up close how the rebuilding process works during his time as defensive coordinator for Pete Carroll in Seattle. Bradley was hired by Jim L. Mora to serve as Seahawks defensive coordinator in 2009, then stayed on when Carroll took over a year later.
Before that, he coached linebackers for Tampa Bay under defensive coordinator Monte Kiffin and head coach Jon Gruden.
So Bradley understands how to balance being patient with the progress of his team, along with instilling a sense of urgency in the daily performance of his players and coaching staff.
"In this profession, especially being a head coach, your convictions are going to be challenged," Bradley said. "I think that going through that with all of those guys, I think it's given me an opportunity to really have some solid convictions about how we want to go about doing it.
"If you came down and visited us, you would see a flavor of Seattle with Pete [Carroll], a flavor from Jim [Mora], a flavor from John Gruden -- you might feel all of that. But I think the biggest thing for me is I just want to stay true to myself. I'm not Pete Carroll and I'm not Jon Gruden, but I like some of their ideas and how they approach things. As long as it fits my personality, then you will see that flavor here."
October, 13, 2013
10/13/13
7:07
PM ET
DENVER -- A few thoughts on the
Denver Broncos
' 35-19
win
over the
Jacksonville Jaguars
:

What it means:
The Broncos talked all week about not letting point spreads and the Jaguars' winless ways get to them. Then they went out and played like it all got into their heads. The Broncos will speak of the Jaguars' effort -- and first-year coach Gus Bradley certainly should receive plenty of kudos for the kind of effort his now 0-6 team put in -- but the Broncos were not themselves Sunday and it almost cost them.
Stock watch:
When the Broncos selected
Malik Jackson
in the fifth round of the 2012 draft, they were hoping to get a swing player who could fill in on a situational basis at both defensive tackle and defensive end. Jackson has since carved out more and more playing time because he just gets it done. Playing for the injured
Robert Ayers
Sunday, at defensive end, Jackson had one three-play span in the third quarter when he had two sacks to go with a tackle for loss on a running play.
Out of sorts:
Right from the start the Broncos could not find a rhythm. And while they escaped with a win, the struggles impacted even quarterback
Peyton Manning
. Manning threw an interception that was returned for a touchdown by Jaguars linebacker
Paul Posluszny
in the second quarter. Manning dropped a low shotgun snap in the fourth quarter that the Jaguars recovered. Manning and center
Manny Ramirez
also combined for another fumbled snap in the first half. Couple all that with a return to Indianapolis set for next Sunday, and Manning doesn't figure to be in the best of moods this week.
More special-ness:
The Broncos have consistently made plays on special teams this season, including two blocked punts and two touchdown returns by
Trindon Holliday
over the season's first four weeks. Add Sunday's win to the list when Jeff Rodgers' group added a well-timed fake punt -- safety
David Bruton
took a direct snap for 35 yards on the second-to-last play of the third quarter. The Broncos scored to end that possession and scored on their next possession as well to finally break things open a bit.
What's next:
Get out the three rings, because it will be a circus this week in Denver. Linebacker
Von Miller
returns Monday from a six-game suspension for violating the league's substance abuse policy and Manning will be preparing for his first game in Indianapolis since the Colts released him following the 2011 season.
October, 11, 2013
10/11/13
12:00
PM ET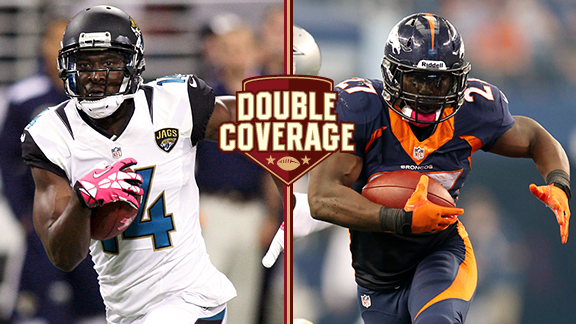 USA TODAY SportsJustin Blackmon and the 0-5 Jaguars face Knowshon Moreno and the 5-0 Broncos.
Already, it has been the subject of the biggest point spread in decades as well as an exchange of tweets from each team's official Twitter handle that included a "stay classy Denver" missive from the Jaguars. But the league's highest-scoring team and the league's lowest-scoring team will meet Sunday when the
Denver Broncos
and
Jacksonville Jaguars
get together at Sports Authority Field at Mile High.
The Broncos are 5-0 and the Jaguars come in at 0-5 in Gus Bradley's first season as head coach. ESPN.com Jaguars team reporter Michael DiRocco and Broncos team reporter Jeff Legwold break down this week's game.
Legwold:
Michael, it's been a tough go thus far in the first season of the new regime. How have Bradley and general manager Dave Caldwell handled it all? And have they grown weary of people saying they should sign
Tim Tebow
?
DiRocco:
Bradley has been amazingly positive with the media and with the players. It's probably the best approach to take because he's got a young team and everyone knew this was going to be a rough season, anyway. It's the only way to keep the players committed to the plan he and Caldwell have in place to turn the franchise around. If he were to all of a sudden go negative, he'd risk losing the team. That doesn't mean he is not acknowledging problems and poor play, but he is trying to be upbeat in doing so. Caldwell has not been as visible, but when he spoke last week, he talked about remaining committed to the long-term rebuilding plan and not trying to find a quick fix. As for the Tebow question, it's a dead issue among Bradley and Caldwell. They're not going to sign him and they're able to ignore the Tebow fervor, which has died down a bit over the past two weeks.
In terms of the Broncos, they are averaging 46 points a game and just scored 51 in a victory over the
Dallas Cowboys
. They look unstoppable. But what, in your opinion, is their Achilles' heel on offense, and is there a defense out there that can exploit that?
Legwold:
They lost All Pro left tackle
Ryan Clady
earlier this season, and his replacement,
Chris Clark
, had never started a game at left tackle in his career. Center
Manny Ramirez
never started an NFL game at the position until the regular-season opener after the Broncos moved him in as the starter in offseason workouts. Overall, the offensive line has played well so far -- Manning's been sacked just five times -- and there might be no player more adept at reading a defense's intentions in the rush and getting rid of the ball accordingly before trouble arrives than Manning. The trouble has come in the run game. The Broncos have had 53 carries this season for 2 or fewer yards because they haven't consistently won the line of scrimmage, even in mop-up situations late in games. So, for all the Broncos have done on offense this season -- and it has been remarkable -- it's still an unanswered question if they could win a slug-it-out affair on a bad-weather day or if Manning was just having a bad outing. But the other question is whether or not anybody could even get them into one of those games.
In terms of quarterback, what do you think the Jaguars' long-term plans are at the position, and if they get a top-three pick in next May's draft, would they pick one?
DiRocco:
This season's top priority was finding out if
Blaine Gabbert
could be the player around which Caldwell and Bradley build the franchise. Instead of relying on preconceived notions, they gave him a clean slate when they arrived. So far, though, Gabbert has missed two games with a hand injury and isn't likely to play Sunday because of a hamstring strain. He hasn't been very good when he has been on the field, either: 44.8 percent completion rate, seven interceptions (three returned for TDs). By the end of the season, management will likely come to the conclusion that Gabbert isn't the answer and they'll have to draft a quarterback.
Teddy Bridgewater
seems to be the best quarterback available, but a lot can change between now and May. He'd be whom I would take, and the Jaguars might very well agree, but I wouldn't be surprised if the Jaguars traded down to get more picks because this team needs so much help elsewhere.
Speaking of long-term quarterback plans, what are the Broncos thinking there? Manning is approaching 40 and has the neck issue, so he's got only one or two more good seasons in him, right?
Legwold:
When he signed with the Broncos in March of 2012, Manning wanted to construct a deal the Broncos could feel good about in terms of their ability to evaluate his physical status after his first season in Denver. At the time, Manning said he didn't want his deal to prevent the team from doing other things if it didn't work out. So, the two sides had it written into his contract that Manning would take a physical exam following his first season in Denver and if his surgically-repaired neck was cleared, it would then engage the next two years of the contract -- 2013 and 2014. Both of those seasons are now guaranteed, so those three years have always been the window people have operated in when discussing his time with the Broncos. However, that was before his assault on the record book this season. He looks stronger than ever. Manning does have two additional years on the deal -- 2015 and 2016 -- but those years are not guaranteed. Manning has always said he won't be a "hang-around" guy, and when he feels he can't compete at the level he wants to -- or no longer wants to go through the arduous preparation at the pace he currently keeps -- that would influence him as well. But on the field, many in the league are saying he's playing better than ever, and he says he still enjoys the day-to-day work it takes to reach that level.
Overall this season, can you tell folks about one or two Jaguars who offer some glimmers of hope for the future and who are performing well amid the team's struggles?
DiRocco:
Offensively, it's receivers
Justin Blackmon
and
Cecil Shorts
. Blackmon has played only one game (he was suspended for the first four), but his impact on the offense was immediate -- three catches for 90 yards and a touchdown in the first quarter against the
St. Louis Rams
. He's the team's best playmaker and had a fantastic rookie season in 2012 (64 catches, 865 yards, 5 TDs). Shorts (31 catches for 411 yards this season) is in his third season and is on pace for 100 catches. There are two rookies in the secondary who will be the backbone of the defense: safeties
Josh Evans
(sixth round) and
Johnathan Cyprien
(second). Cyprien has the size/toughness/coverage mix that's needed in the defensive scheme that Bradley brought over from Seattle. Evans was forced into the starting lineup by an injury to
Dwight Lowery
in the third game and hasn't missed a snap since. Both are learning on the go, but it's easy to see they're talented.
Jack Del Rio is facing his former team this week. Do you sense that this game means a lot to him because of the way his tenure ended, or is this just another game for him?
Legwold:
Del Rio will deflect, and has previously, most any discussion about how his time with the Jaguars ended. So, people shouldn't expect too many public fireworks from him in that regard, but, privately, I'm sure he'd like to see the Broncos dominate. His players like him and they respect him, so they will also want to give him a quality effort in this one. Especially since they just surrendered 506 passing yards and five touchdowns to Cowboys quarterback
Tony Romo
this past Sunday. They've got an awful lot to deal with, so I'm not sure Del Rio will publicly stroll down memory lane too much, but he's in a good spot with the Broncos as far as working day to day for a playoff contender. As far as being a head coach again, he's already been linked to the USC job -- he's publicly said "there's nothing to talk about there" -- and should the Broncos finish strong and play with a little more defensive edge when both
Von Miller
and
Champ Bailey
return, he could find himself in the NFL mix as well.
.
October, 9, 2013
10/09/13
6:35
PM ET
ENGLEWOOD, Colo. --
Denver Broncos
quarterback
Peyton Manning
has only been sacked a league-low five times. This is happening despite All-Pro left tackle
Ryan Clady
being on injured reserve, a center who never started an NFL game at the position until this season, and playing out of a wide-open, three-wide receiver look most of the time.
It is all a combination of how the offensive line has played, including
Manny Ramirez
at center as well as Clady's replacement,
Chris Clark
. But it is also because the Broncos keep opposing defenses off balance with both Adam Gase's play-calling and Manning's ability to draw defensive players offside and keep them from settling in up front.
"You'll see the defense not set on the field,'' said Jaguars coach Gus Bradley.
Already this season opposing defenses have been flagged twice for offside, five times for neutral zone infractions and three times for encroachment.
Manning has also gotten rid of the ball quickly so far, on his way to 20 touchdowns and a 75.8 percent completion rate. In fact, according to ESPN's Stats and Information, Manning is the fastest quarterback in the league this season. He is averaging 2.8 seconds before releasing a pass -- Lions quarterback
Matthew Stafford
and the Chargers'
Philip Rivers
, are both average 2.9 seconds. The Bengals'
Andy Dalton
is next at three seconds.
"Peyton knows what he wants to do with the ball,'' said Broncos cornerback
Champ Bailey
. "Those kind of guys are hard to get to because they already know where they're going before the snap.''
Cornerback Chris Harris was held out of Wednesday's practice per the league's concussion protocol. The policy reads if a player passes a cognitive test on Monday he can usually return to a full practice on Friday if he remains symptom free. Harris, who has started in place of Bailey thus far this season, wore his helmet during Wednesday's practice, but while his teammates were in full gear for the practice – as is customary for Wednesday practice for the Broncos – Harris did not have any pads on. However, following practice Harris said he was not experiencing any symptoms. "It was just a hard hit,'' Harris said. " … But they take concussions really seriously as soon as they tell me, as soon as they get me cleared, I'll be ready to go.'' Harris said he remains confident he will play Sunday against the Jaguars. And with Bailey having practiced fully Wednesday for the first time since he suffered a left foot injury on Aug. 17, the Broncos could have their secondary at full strength for the first time this season.
The Jaguars struggles on offense have limited running back Maurice Jones-Drew's impact thus far. Jones-Drew, who won the league's rushing title in 2011, has rushed for just 208 yards this season on 2.8 yards per carry. But Broncos defensive tackle Terrance Knighton, who signed with the team in free agency after four seasons with the Jaguars, said Jones-Drew should still be on the Broncos' minds this week. "He can do everything as a back,'' Knighton said. "He can block, he can run, he can catch out of the backfield, a smaller back, hides behind his blockers … a lot of people like to compare him to [the Saints' Darren] Sproles, but [Jones-Drew] is a totally different back … more of a power back. If you try to peek and find him, he'll find that gap and expose you.'' The Jaguars have trailed in games for virtually the entire time they've been on the field this season, so Jones-Drew has had just two games with more than 15 carries – 19 in the loss to Seattle and 17 in the loss Sunday to St. Louis. His 70 yards rushing against the Rams were a season best. "He's a tough guy to tackle,'' said Broncos safety Rahim Moore. "He's stout, he's strong.''
In case you may have missed it, the Broncos are a substantial favorite in Sunday's game. And it would be hard to miss it given how much attention it's gotten already this week. At one point Wednesday, Broncos coach John Fox showed his weariness with it as well when he offered; "I think Gus Bradley has done a terrific job. I know they're going to get sick and tired of hearing the same things I'm getting sick and tired of hearing.'' Fox has also broken out a little piece of Broncos' history to make his point to players this week as well. Fox was the Giants' defensive coordinator when the 13-0 Broncos played in Giants Stadium in 1998. The Giants won the game, 20-16. "In '98 we had a 15-0 (sic) Broncos team that was a 15-point favorite coming into Giants Stadium,'' Fox said. "They left with a loss … [The Jaguars] have beaten us, I think, four out of the last five times we've played, the last three in a row. So, there's nobody here taking anybody lightly.''
Manning on point spreads: "It's completely irrelevant to me.''
September, 6, 2013
9/06/13
1:00
PM ET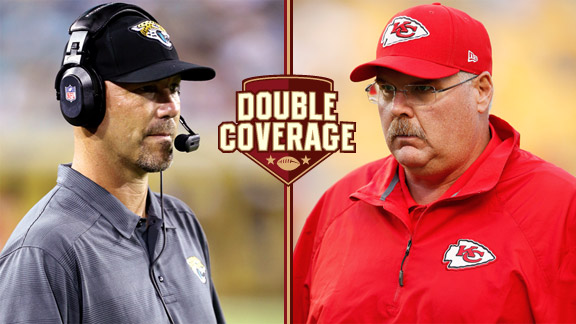 AP PhotoGus Bradley and Andy Reid are looking to get off to fast starts with their new teams.
JACKSONVILLE, Fla. -- Fans know a lot about their favorite teams, but they don't have the same depth of knowledge of the 31 other teams in the NFL. That's not going to be a problem any longer.
Each week the NFL Nation writers will team up Q&A style to help you get a handle on each team. Today, Kansas City Chiefs reporter Adam Teicher and Jacksonville Jaguars reporter Michael DiRocco help break down Sunday's matchup.
Michael DiRocco:
Is
Alex Smith
really an upgrade over
Matt Cassel
?
Adam Teicher:
He had better be or the Chiefs are in some trouble. Cassel and
Brady Quinn
turned over the ball far too many times last season. One thing we know about Smith is that he hasn't thrown many interceptions. He threw just 10 in his last 25 starts with the 49ers. So he's been a quarterback who protects the ball, and if he can just do that, he's already an upgrade over Cassel and Quinn. Another thing: Andy Reid's West Coast offense will succeed if the quarterback completes a high percentage of throws. Smith completed 70 percent last season. If he can get close to that number this season, he's even more of an upgrade.
Teicher:
How patient will the Jaguars be with
Blaine Gabbert
on Sunday and this season?
DiRocco:
This is a make-or-break season for Gabbert, who must prove he's capable of being a franchise quarterback. That's the team's No. 1 goal for the season, so there will be a certain amount of patience. It does no good to give him a half or one game and yank him because the team will essentially be where it was heading into the season. That being said, if Gabbert really struggles during the first two months of the season, then the team will have its answer and may turn to
Chad Henne
or the recently signed
Ricky Stanzi
for the remainder of the season.
DiRocco
: What's the biggest change Andy Reid has brought to Kansas City?
Teicher
: It's a change brought by Reid and John Dorsey, the new general manager. Everybody seems to be pulling in the same direction. The Chiefs went through plenty of infighting the past few years and it was dragging them down. People often had their own agendas or felt they had to align themselves with one person or another. Dorsey and Reid swept that out the door. Winning looks to be the only goal and it certainly appears everybody is on board with that. Of course, it's easy for a new administration to have everybody on board when it's undefeated. So it's an issue to keep an eye on once the Chiefs start losing some games.
Teicher:
What are the biggest changes Gus Bradley and Dave Caldwell have brought to the Jags?
DiRocco:
On the field, it's on defense, where Bradley is implementing a more aggressive attitude and trying to rebuild the secondary with bigger, more physical cornerbacks -- essentially what he did in Seattle. Off the field, Bradley and Caldwell have changed the culture in the locker room. There's a lot of energy and enthusiasm around the franchise even though everyone knows that the talent level needs a significant upgrade and the team likely isn't going to reach .500. It was a much-needed boost, because the atmosphere around the team the past few seasons under Jack Del Rio and Mike Mularkey had become somewhat stale.
DiRocco:
Some NFL experts have pegged the Chiefs as a playoff team just one season after finishing 2-14. What are a few things that have to happen for that to become a reality?
Teicher:
They have many good players, but from the GM to the coach to the coordinators to the offensive and defensive system to the quarterback to 29 other players who didn't play for the Chiefs last season, there's a lot new here. How quickly Reid and his staff can pull everything together will be a key. The Chiefs have a favorable schedule the first half of the season and they need to take advantage because it gets more difficult after that. On the field, the Chiefs have to fix a turnover differential that was minus-24 last season. Their defense and special teams have to do a better job of providing better field position for the offense. This offense won't make a lot of big plays, and if it has to go 80 yards on every possession, it will be a struggle.
Teicher:
What are realistic expectations for the Jags this season in terms of number of wins?
DiRocco:
I kind of let that slip in my earlier answer, but a six-win season would be the best-case scenario for the Jaguars. Four or five victories seems more likely, though, especially considering the team has back-to-back road games on the West Coast, plays San Francisco in London, and has to play at Denver, Indianapolis and Houston.
January, 15, 2013
1/15/13
6:05
PM ET
Before hiring Denver offensive coordinator Mike McCoy as head coach on Tuesday, the Chargers did consider some defensive coaching candidates such as Lovie Smith and Gus Bradley.

I think they made the right call by hiring an offensive coach. That's the side of the ball where the Chargers need to be fixed the most.

Defensively, the Chargers were strong in 2012 and they have several young, key pieces on that side of the ball. U-T San Diego has reported that McCoy wants to keep defensive coordinator and his staff on board. They are all under contract.

I think that is the right call. Pagano did a nice job last season and there needs to be some continuity on this team.

San Diego needs to let McCoy build his offensive staff and improve the offense and let Pagano continue to build upon a strong start in 2012.

San Diego's improvements must start on offense and pairing McCoy and Pagano is the smart way of doing it.
January, 14, 2013
1/14/13
11:30
PM ET
There is going to be some jockeying in the coming days between the five teams still without a head coach as they maneuver to get the best candidates.
The Chicago Sun-Times reports
Colts' offensive coordinator Bruce Arians is a finalist for the Chicago head coaching job. He is set to interview in San Diego on Wednesday. The Eagles announced Seattle defensive coordinator Gus Bradley is getting a second interview Tuesday.
ESPN's Adam Schefter reported earlier Monday that Bradley may be a favorite for the San Diego job along with Denver offensive coordinator Mike McCoy, who interviewed with the Chargers on Monday. Schefter reported the San Diego job is the one McCoy, who has interested from all five teams, wants. Arizona, believed to be highly interested in McCoy, and will interview him for a second time Tuesday.
The Chargers have been interviewing candidates for the past several days. With the process heating up around the league, we may see some decisions made soon.
In other AFC West news:
New Kansas City coach Andy Reid confirmed the expected -- the Chiefs will stay a 3-4 defense and that he will call the offensive plays. Also, the Kansas City Star reports defensive staff holdovers Gary Gibbs (linebackers) and Emmitt Thomas (secondary) may remain on the staff.
Kansas City front-office man Ray Farmer is a finalist Cleveland general manager job, according to Fox Sports. He probably doesn't have much of a future in Kansas City, anyway. He was bypassed in favor of John Dorsey for the general manager job.
The Broncos' brass stands by its late-game decisions in a double overtime loss to the Ravens on Saturday.
January, 14, 2013
1/14/13
2:30
PM ET
Now that the
Denver Broncos
' Super Bowl dreams have been derailed, they act as a coaching feeder outlet for the AFC West again.
ESPN's Adam Schefter reported that Denver offensive coordinator Mike McCoy is interviewing with the Chargers on Monday, and he may be a top candidate for the job. Schefter reported McCoy and Seattle defensive coordinator Gus Bradley (he interviewed with San Diego on Thursday) could be the two candidates the Chargers are zoning in on.
Also, Schefter reported that the San Diego job is the job McCoy is really shooting for. McCoy is arguably the hottest head-coaching candidate this year, as essentially every team with an opening has or will interview McCoy.
McCoy is popular because he is a young offensive mind and he's had success with both
Tim Tebow
and
Peyton Manning
in Denver. The Chargers' offense needs both a new philosophy and more talent. If Bradley gets the job, the Chargers will be enhancing their top area of need, but they will still have to find a way to improve the offense.
San Diego is talking to several candidates including Lovie Smith, Bruce Arians and Jay Gruden and Ken Whisenhunt.
If McCoy gets the San Diego job, it will be the second straight year an AFC West foe has plucked Denver's staff. Last year, Oakland hired Denver defensive coordinator Dennis Allen as head coach.
January, 11, 2013
1/11/13
10:25
PM ET
Catching up on the happenings of the AFC West after a long travel day:
The Chargers interviewed Lovie Smith on Friday and Seattle defensive coordinator Gus Bradley on Thursday. Former Arizona coach Ken Whisenhunt is expected to interview Saturday.
Colts offensive coordinator Bruce Arians and Cincinnati offensive coordinator Jay Gruden are also candidates. There have also been reports Denver offensive coordinator Mike McCoy could be a candidate in San Diego. He has had several interviews already. The Chargers will likely fill the job by the end of next week.
As expected, Denver ruled backup cornerback Tracy Porter out of Saturday's game against Baltimore because of a concussion. Everyone else on the roster is expected to be available to play.

AFC WEST SCOREBOARD
Friday, 8/22
Saturday, 8/23
Sunday, 8/24