September, 8, 2013
9/08/13
10:40
AM ET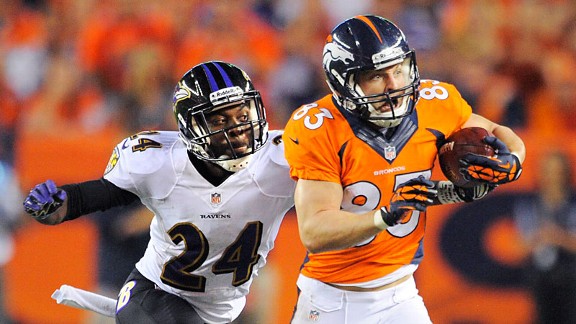 Lloyd Fox/Baltimore Sun/Getty ImagesWes Welker gives Peyton Manning and the Denver offense another weapon to work with.
ENGLEWOOD, Colo. -- After diving into the Broncos' win over the Ravens Thursday night, there was a lot to see beyond
Peyton Manning
's historical seven-touchdown performance. Here are some thoughts on the offense:
As they came down the stretch last season, the Broncos largely tossed aside the diversity element and became almost exclusively a three-wide affair when they had the ball. They had just five snaps against the Browns last December when they weren't in a three-wide set, and in the playoff loss to the Ravens last January they were in three wide all but seven snaps in a double-overtime game. By season's end in 2012, they had spent 64 percent of their snaps in three wide. Wes Welker's signing, for $12 million over two years, largely cemented that into the playbook so that percentage could go even higher this time around. And Thursday night the Broncos ran their first 20 offensive snaps -- penalty snaps included -- out of three wide. In the end, they were in three wide for 55 snaps (penalty snaps included), to go with eight snaps of two tight ends and five snaps with three tight ends as they tried to wind some clock at the end of the game. They still had troubles in protection out of three wide early in the game and it was a brief move to a two-tight end look to open a first-half series that help to reset things. They are still more efficient against some defenses, especially 3-4s, with two tight ends in the formation. So, it will be intriguing to see how they balance their desire to be a three-wide offense much of the time, because of the big-play potential they have in it, with the fact they do a better job keeping Manning out of harm's way when they do other things. As you would expect with so many plays out of three wide, all three Ravens sacks came against the formation, two of them when Manning was in the shotgun.

All of that three-wide action was also why Knowshon Moreno started, and played, the most snaps at running back for the Broncos. Moreno played in 37 snaps, Ronnie Hillman 15 and rookie Montee Ball had 18. Ball played predominantly in the multiple tight end sets. But pass protection, as well as handling the multiple audibles, were the major reasons Moreno was in the backfield the most. Ball went to the wrong side of Manning to take one fourth-quarter handoff -- the two adjusted nicely to avoid a fumble -- just one of those little things he's going to have to clean up to play more often when the game is tighter and the formation is open.

Manning simply owned the intermediate routes against the Ravens. Of his six completions between 21 and 30 yards, four were touchdowns.

With the speed the Broncos want to play on offense, as well as the complexity of the playbook, there is to be some rust expected coming out of the gate. And as difficult as it may be for an offense whose quarterback threw seven touchdowns to show some choppiness, the Broncos did at times. Of the nine penalties they were flagged for in the game -- one was declined -- six came on offense, including three false starts (Ryan Clady, Wes Welker and Louis Vasquez).

A look or two at the video confirmed what wide Eric Decker put on Twitter following the game -- it was a difficult night for the fourth-year receiver. He dropped a certain touchdown pass, dropped a certain third-down conversion and fumbled after one of his two catches in the game -- the fumble went out of bounds so the Broncos kept possession. Decker had a team-leading 11 drops last season on his way to his first 1,000-yard campaign. Some personnel executives believe he has trouble at times when he has to go get a ball low enough that he can't extend his hands toward the quarterback or track a has to track pass over his shoulder. Following the game, Decker posted on Twitter: "Much love to Broncos Country for reppin big last night! Big win! Def disappointed in my performance, unacceptable! Watch, learn, flush.''

The Broncos didn't consistently win the line of scrimmage in run-game situations. And while they won't be the first team to struggle with Ravens defensive tackle Haloti Ngata, 10 of the Broncos' 23 carries in the game -- 43.5 percent -- went for 2 or fewer yards. They had two carries for negative yardage and four for 1 yard.

When you look at how Manning attacked what the Ravens' defense was doing against the Broncos' passing game, Welker turned out to be the only constant. Welker was the only Broncos player to have at least two receptions in both the first and second half of the game. In the first and second quarters combined Thursday, Welker had four catches and tight end Julius Thomas had four catches (two for touchdowns). Demaryius Thomas had one reception in the first half, as did Decker. In the second half, with the Ravens trying to deal with Julius Thomas a little more, Demaryius Thomas had four receptions, including two touchdowns. Julius Thomas had one catch after halftime. Welker had five second-half receptions, including both of his touchdowns in the game. Manning has always preached the take-what-the-defense-gives-you mantra, but more than one defensive coordinator in the league believes Manning will play that way more than ever at this stage of his career with the variety of targets he has in the offense. It will make him tougher to pin down in terms of trends and predicting what he will do in certain situations.
April, 26, 2012
4/26/12
11:08
PM ET
Had Todd Haley remained the head coach of the
Kansas City Chiefs
, the selection of
Dontari Poe
may not have worked.
But the Chiefs are now Romeo Crennel's team, and that's why taking Poe at No. 11 in the NFL draft on Thursday might be a shrewd move for a team that has missed by taking defensive lineman high in the draft in the past decade.
Poe is a classic example of the long NFL draft process. He wasn't considered a top pick when the massive Memphis defensive tackle entered the NFL draft. However, after he stole headlines at the NFL combine in February, he became a projected top-five pick. That happens when a 6-foot-3, 345-pound man runs a 4.98 40-yard dash and bench presses 225 pounds 44 times. According to ESPN Stats & Information, Poe is the only player over 330 pounds to run a sub-five second time since 2006.
However, after Poe put himself in the spotlight, teams closely dissected him and saw a player with immense ability that didn't always show on the field against marginal competition. It was alarming and it still is.
"I'm still waiting for Poe to unleash the fury," ESPN analyst Jon Gruden said moments after the Chiefs made him the pick.
This is what ESPN analyst Todd McShay had about Poe last week:
"I see the workout numbers, and I found myself wanting and waiting and wishing and hoping is what I keep saying. Every single play I watched from Memphis just hoping that he would make a big play. He will disrupt and he'll be involved in some plays, but for a guy that you're talking about potential top 10, top 12 pick, I just didn't see the production, and I just didn't see a guy who understands and has a great feel for the game, and that's not to say he won't develop, and he very well may, and one day he may be a junior
Haloti Ngata
. But Haloti Ngata coming out was a much better football player than Dontari Poe is right now, and that scares me, and that's why I've dropped him to where he is as the third best defensive tackle, somewhere in kind of the middle range … I've got him at 19 overall in the class."
In the days leading up to the draft, there was talk that Poe's lack of consistent game film would override his off-the-charts ability, and he'd be picked in the 20-25 range. However, the Chiefs took another swipe at a defensive lineman early in the draft. Bypassing a safe pick such as Stanford guard
David DeCastro
, the Chiefs went boom or bust with Poe.
[+] Enlarge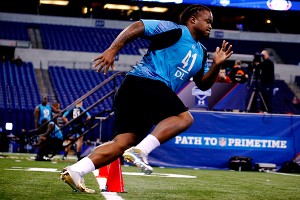 Brian Spurlock/US PRESSWIREDontari Poe became the only player over 330 pounds to run a sub-five second time at the combine, according to ESPN Stats & Info.
The decision to take Poe is understandable. The Chiefs, who had an outstanding free-agency period, do not have many holes. If Poe fills the nose tackle position as the team hopes he does, the Chiefs will be one of the most talented teams in the NFL and a real playoff threat. According to ESPN Stats and Information, last season Kansas City had one sack, two batted passes and three tackles for loss by its nose tackle -- and that was from the aging
Kelly Gregg
, a free agent.
The Chiefs hope to get better production out of Poe than they have from other defensive linemen they've taken in the first round of recent years. The team took
Ryan Sims
at No. 6 in the 2002 draft and he was a terrible bust. In 2008, they took defensive end
Glenn Dorsey
at No. 5 and in 2009 they took
Tyson Jackson
at No. 3. Both Dorsey and Jackson remain in Kansas City, but they have not been impact players.
Yet, they have improved in the past two years under Crennel, who became the Chiefs' defensive coordinator in 2010 before taking over for Haley. I think Crennel is a key to the Poe pick.
Crennel is known as one of the best defensive line coaches in NFL history and he is known for getting questionable motors to start.
Poe may have a new best friend in Crennel. He is nurturer and he believes in his players. We saw the impact Crennel had on the entire Kansas City roster. The players loved the difference between the impatient and often caustic Haley and the calm, encouraging Crennel.
If think Crennel will motivate and teach Poe. Haley would have berated him and goaded him. I have a feeling Poe may respond more positively to Crennel's approach. Crennel will teach him to become an NFL player and use his natural ability. Remember, this kid started high school as a drummer in the band. He is still raw.
Crennel has the patience and expertise to make Poe a good player and get the most out of this pick. If not, it will go down as another swing and miss on the defensive line in Kansas City.
September, 20, 2011
9/20/11
6:15
PM ET
It is not a shock that the
San Diego Chargers
and receiver
Vincent Jackson
did not reach a new deal before Tuesday's deadline to sign franchised players passed.
Baltimore Ravens
defensive lineman
Haloti Ngata
signed
a long-term extension
Tuesday. He was the 10th of the 12 franchised players (including
Kansas City Chiefs
linebacker
Tamba Hali
and
Oakland Raiders
linebacker
Kamerion Wimbley
) to sign a long-term deal. Only Jackson and
Miami Dolphins
defensive tackle
Paul Soliai
did not agree to terms. They are set to be free agents in March.
San Diego can't discuss a long-term deal with Jackson until after this season. This move was expected.
The Chargers have long planned to let Jackson play for the franchised deal. They want to see how he does this year and they want to see if he can stay out of trouble off the field before making a long-term commitment. Simply put, San Diego hasn't decided what it will do about Jackson. It could always put the franchise tag on him again in February.
But if Jackson continues to play like he did Sunday at New England, it could sway the Chargers to lock him up for the long term. Jackson had 10 catches for 172 yards in San Diego's 35-21 loss to the
New England Patriots
.
January, 5, 2011
1/05/11
4:00
PM ET
I caught up with Matt Williamson of Scouts Inc. to address the
Kansas City Chiefs
' matchup against Baltimore in a wild-card game Sunday.
Williamson thinks the key will be to stop Baltimore defensive linemen
Terrell Suggs
and
Haloti Ngata
. The Chiefs' offensive line is coming off its worst game of the season. Quarterback
Matt Cassel
was sacked seven times and was on the run nearly every play against Oakland in a 31-10 Raiders win.
Still, Williams thinks the Chiefs have a chance Sunday:
"I think Kansas City left tackle Branden Albert is their best lineman and he has to deal with Suggs, who is much more than just a good pass-rusher. He's really good against the run and he's just a tremendous player. Kansas City also has to deal with Ngata. This is more than a nose tackle -- he moves all over the line. Kansas City has to be ready for it.

In some ways, Oakland's defensive front is like Baltimore's because they have guys who move around. So, the Chiefs have to use the tape as a learning lesson. It has to improve there.

But this Baltimore defense isn't as good as many people think. They are old and they get tired. If the Chiefs can stick with their running, it could really pay off in the second half. I think the Ravens should win, but the Chiefs have a chance. I don't think the Ravens will dominate them."
April, 21, 2009
4/21/09
2:00
PM ET
Posted by ESPN.com's Bill Williamson
Next up on the AFC West draft rewind is No. 12, which is held by Denver:
The No. 12 Pick Since 1999
Year
Team
Player
Pos.
School
Comment
2008
Denver
Ryan Clady
OT
Boise State
Clady was an instant star for Denver. He was a second-team All Pro as a rookie.
2007
Buffalo
Marshawn Lynch
RB
California
Lynch has been excellent on the field and troubled off it.
2006
Baltimore
Haloti Ngata
DT
Oregon
He has become one of the best nose tackles in the league.
2005
San Diego
Shawne Merriman
LB
Maryland
Merriman is one of the most feared pass-rushers in the NFL.
2004
New York Jets
Jonathan Vilma
LB
Miami
Vilma has been good when healthy, but he's been injured often.
2003
St. Louis Rams
Jimmy Kennedy
DT
Penn State
Kennedy has flopped around the league and has not been an impact player.
2002
Arizona
Wendell Bryant
DL
Wisconsin
Bryant was a major bust and he never made an impact.
2001
St. Louis
Damione Lewis
DT
Miami
Another low-impact defensive lineman.
2000
New York Jets
Shaun Ellis
DE
Tennessee
Ellis has had a very solid NFL career.
1999
Chicago
Cade McNown
QB
UCLA
He was supposed to be part of a great quarterback class. His career never took off.