May, 19, 2013
May 19
11:00
AM ET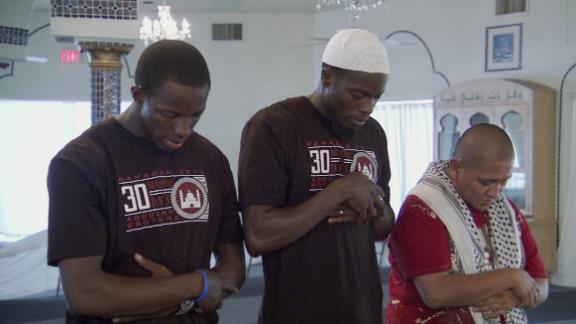 Back in the United States after a life-altering experience last fall,
Husain Abdullah
allowed himself to take a glimpse back at the world he temporarily gave up.
"I'd watch some NFL games on television last November," Abdullah said. "I missed the game, but I was not upset or sad. I was at peace with what I did. I wouldn't change it."
A safety who worked his way from undrafted rookie to starter in Minnesota, Abdullah surprised many in NFL when he hit the pause button on his football career at the age of 27 to fulfill a spiritual and family commitment last year. He is back in the NFL after signing with the
Kansas City Chiefs
in February.
"It was totally worth it," Abdullah said in a phone interview this week. "It was life changing, energizing and spiritual. ... Now I am back and I feel great about everything moving forward."
Husain and his brother, former Denver and Arizona safety
Hamza Abdullah
, made news when they took the 2012 season off to make the Muslim hajj to Mecca in October (their story is chronicled above in an "Outside the Lines" video from last year). The brothers and their parents were gone for 3 1/2 weeks. The focal point of the pilgrimage to Saudi Arabia, which draws Muslims from around the world, is prayer.
For Abdullah, the experience was all about fulfilling a lifelong spiritual quest. The highlights? Simply being able to pray at the hajj pilgrimage. Asked what he most remembers, Abdullah said: "Seeing Muslims from France, Brazil, Pakistan, all over the world, everyone being together for the same reason. … It was all about asking for forgiveness and guidance."
[+] Enlarge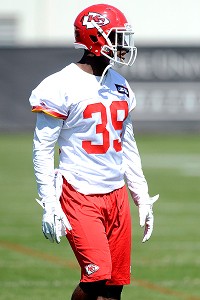 Denny Medley/USA TODAY SportsHusain Abdullah is back on the football field this month, working out with Chiefs during organized team activities.
Abdullah, who always fasted during the sunlight during the holy time of Ramadan throughout his career, said he had long wanted to take the trip. Last year, he and his family figured since they had the means to do it, they shouldn't delay the trip any longer. Even though it meant walking away from the NFL, the family decided it was time.
"I couldn't just ask to leave during the season," Abdullah explained. "I know I had to take the whole time off leading up to the experience. It was not really a tough decision, because it was something I always wanted to do. I felt the need to go."
Abdullah admits it did cross his mind that if he left the league on his own, he was risking the chance of never returning. He resumed heavy football training when he returned from his pilgrimage in November and had hopes of joining a team late in the season.
"But teams figured that I missed OTAs and training camp, that I might not be ready," Abdullah said. "I understood. So I had to wait. It crossed my mind that I wouldn't get a chance. I was at peace with that. I was so grateful do to something I waited my whole life for."
Now that he is back in the league, Abdullah is thrilled. He said he is enjoying the NFL experience greatly, even though it's just the organized team activity season.
"It's as fun as ever," Abdullah said. "To get the opportunity to be back is really special. I've really enjoyed the entire experience."
The Chiefs aren't simply giving Abdullah a chance to put on an NFL helmet one last time before he is cut. The team is high on Abdullah. He was signed shortly after he had a workout in February.
The Washington State product was known as a quality player when he left the game. He started 15 games in 2010 and he started nine games in 2011 in Minnesota before getting injured.
New Kansas City general manager John Dorsey jumped at the chance to take a look at Abdullah. Dorsey was previously in Green Bay and had a strong knowledge of him. He was always impressed by Abdullah's ability to work his way up the Minnesota roster. Dorsey said Abdullah has been a diligent worker this spring and he expects him to not just compete for a roster spot, but compete for a significant role on the team.
Dorsey looked at Abdullah's pilgrimage as an impressive feat. He had no worries about Abdullah being away from the game for a season.
"The way he works, you can tell that this is important to him," Dorsey said. "Anytime you get a chance to get a quality person, you should do it. He is one of the most refreshing guys I know. He is mature beyond his years. He has great self confidence. He is a wise, intelligent, deep guy. He is clearly spiritual and it's neat thing to have a guy like Husain in our program."
Abdullah said he plans to make the hajj pilgrimage often in the future. For now, though, he is back to concentrating on football in the fall.
September, 23, 2008
9/23/08
10:57
PM ET
Posted by ESPN.com's Bill Williamson

Lane Kiffin remains the coach in Oakland. At this point, he should be with the Raiders through Sunday's home against San Diego. Then, with Oakland's bye week looming, this whole silly watch should continue. It will be interesting to see how the Oakland crowd reacts Sunday.
The chances of Denver standout center Tom Nalen having had played his last down are significant, but the word is Nalen will wait several months before deciding if he wants to play again. Nalen, 37, was put on injured reserve Tuesday after his second knee surgery of the summer took longer than expected to heal. Nalen, a seventh-round pick in 1994 who is sure to get some Hall of Fame consideration, missed the final 11 games of last season with an arm injury. Nalen, the last remaining member of Denver's Super Bowl teams, is a free agent after the season. The Broncos are pleased with the play of his replacement, Casey Wiegmann.
The demise of safety Hamza Abdullah in Denver is surprising. He went to camp as a starter after finishing last season as a starter. But he fell out of favor after he returned from a minor injury this summer. Abdullah was actually getting some looks as a restricted free agent this winter. It wouldn't be a surprise if he is picked up soon.
Oakland defensive tackle Gerard Warren has a slightly torn pectoral muscle. He will likely miss Sunday's game but could be back Oct. 12 at New Orleans. Oakland guard Cooper Carlisle has an ankle sprain and could be a game-time decision Sunday.
The Broncos and Chargers have each had five offensive plays of 30 yards or more.
The Chiefs are tied with Detroit for the worst sack differential in the league. Kansas City has two sacks, but has given up 11.
September, 14, 2008
9/14/08
3:45
PM ET
Posted by ESPN.com's Bill Williamson
DENVER -- The injury-barraged San Diego Chargers may have gotten a break.
Both running back LaDainian Tomlinson and cornerback Antonio Cromartie are active for today's game between the Chargers and the Broncos. Both players were listed as questionable on the injury report heading into the game.
Both players did practice fully Friday, though. Tomlinson has a turf toe problem and Cromartie had a hip issue. Both players were hurt in last week's loss to Carolina.
If Tomlinson is affected by the injury, Darren Sproles and rookie Jacob Hester will run the ball for the Chargers in what is a crucial game against the 1-0 Broncos. First-round pick Antoine Cason will spell Cromartie if he can't go.
The Chargers continue to play without standout offensive linemen Nick Hardwick (foot) and left tackle Marcus McNeill (neck). Both players missed last week as well. Jeremy Newberry starts for Hardwick at center and L.J. Shelton plays for McNeill at left tackle.
San Diego's other inactive players are cornerback DeJuan Tribble, linebacker Anthony Waters, guard Kynan Forney, tight end Kris Wilson, defensive tackle Brandon McKinney and Charlie Whitehurst is the emergency quarterback.
For Denver, its inactive players are safety Hamza Abdullah, running back Ryan Torain. linebacker Louis Green, tackle Erik Pears, center Tom Nalen, receiver Darrell Jackson, defensive tackle Nic Clemons and defensive end Jarvis Moss.
This is the second straight healthy scratch for Moss, Denver's first-round pick last year. The Broncos have plans for Moss but Denver doesn't think Oakland and San Diego were good match-ups for the slender pass rusher. However, if you are a first-round pick, match-ups shouldn't play a part on whether you are active or not.
Jackson was added to the injury report Saturday with a calf injury.
August, 12, 2008
8/12/08
12:52
PM ET
Posted by ESPN.com's Bill Williamson
The Broncos made a roster move Tuesday morning, switching out cornerbacks.
In is Wale Dada. Out is Lamont Reid. Dada was cut by New Orleans on Saturday. Dada has also been with the Jets and the Seahawks.
Perhaps this will be the spot where Dada will flourish. He will certainly be comfortable. Dada is now the third Denver defensive back who entered the league from Washington State in recent years. He joins cornerback Karl Paymah and Hamza Abdullah in Denver, who entered the league in 2005. Dada joined his Cougars' defensive back mates in the NFL the following year.
Only Paymah was drafted by Denver. Abdullah was drafted by Tampa Bay but he was cut and signed by Denver in his rookie year.
July, 30, 2008
7/30/08
10:33
PM ET
Posted by ESPN.com's Bill Williamson
With John Lynch leaving the Denver Broncos, the team will likely use Hamza Abdullah and Marlon McCree in the starting lineup at safety.
| | |
| --- | --- |
| | |
| Abdullah | McCree |
Lynch was working with Abdullah at safety and McCree was working in nickel and dime packages with Abdullah. McCree, a former Charger, was signed this winter. The team is very high on Abdullah. He is a hard hitter and is decent in coverage.
Meanwhile, Denver will miss Lynch's leadership. His departure comes six days after Rod Smith officially retired. They were the undisputed leaders of the team. Last year, middle linebacker Al Wilson was cut, leaving another leadership void.
The team's best players, quarterback Jay Cutler and cornerback Champ Bailey, are not overly vocal on the field. Vocal leaders will need to develop in Denver as the team goes through another transition.