AFC West:

Indianpolis Colts
December, 30, 2012
12/30/12
11:20
PM ET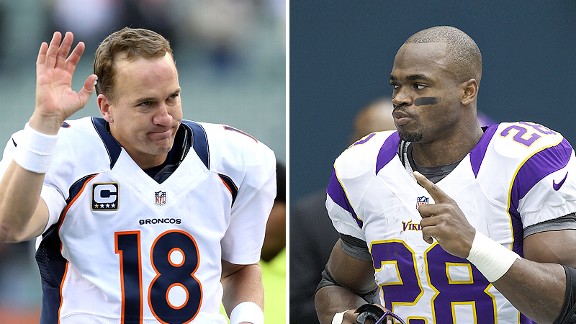 Getty ImagesDid Peyton Manning do enough to top Adrian Peterson for the MVP?
Let's look at some of the big AFC West developments Sunday:
The Denver Broncos get top seed:
The road to the Super Bowl goes through Denver.
This season keeps getting better for the Broncos. A few weeks ago, the Broncos looked like they were set to get the No. 3 seed and would have to play the maximum amount of playoff games. Now, the Broncos won't travel unless it is to New Orleans for the Super Bowl.
Credit coach John Fox for keeping his troops so focused. This team hasn't blinked since it trailed 24-0 at halftime in San Diego in Week 6. Denver is 13-3 and it is going into the playoffs on the steam of 11 straight wins. All 11 wins have been by at least seven points. The Broncos are rolling.
I have a difficult time thinking the Broncos will stumble in the divisional round. They will host the lowest seed of these three teams: Baltimore (No. 4 seed), Indianapolis (No. 5 seed) and Cincinnati (No. 6) on Saturday, Jan. 12 at 4:30 p.m. ET.
Denver has road wins over the Ravens and the Bengals. They did not play the Colts. There would be significant hype if
Peyton Manning
faces his old team.
I think Denver and New England is on a collision course to meet in the AFC title game. The Patriots are the No. 2 seed. We may see another Manning-
Tom Brady
showdown with a new twist.
New England beat the Broncos in October. It was the last time Denver lost. The Patriots aren't a great matchup for Denver, but playing at home would help the Broncos.
Did Manning do enough for MVP?
Manning vs.
Adrian Peterson
in the MVP race will not be announced for another month.
Both players will likely get a lot of support for the award. Peterson finished nine yards shy of the NFL single-season rushing record and he led his team to the playoffs. For the record,
Eric Dickerson
, who holds the single-season rushing record, did not win the MVP award when he set the mark in 1984. I think Manning will win the award in a close race. It would be his fifth MVP award.
Pryor prove himself?
I really liked what I saw from
Terrelle Pryor
on Sunday. He showed leadership, poise and heart.
He is not a finished product, but I think there is something Oakland can work with. There are a lot of young, dynamic quarterbacks in this league. I think Oakland had to make developing Pryor quickly a priority.
Carson Palmer
is 33, expensive, and not improving.
If Pryor makes big strides in the offseason, I don't think it would be a terrible idea for Oakland to consider handing him the starting job. This team will be still rebuilding for the next couple of years. Might as well give the kid a chance.
Coaching change timelines:
We could see big changes quickly in San Diego and Kansas City. And Oakland could dismiss some key assistants, starting with offensive coordinator Greg Knapp.
I think all of these moves will happen this week. I can see San Diego making a decision as early as Monday morning.
So, the regular season is over but in a lot of ways, we are just getting started in the AFC West.
November, 14, 2012
11/14/12
8:00
AM ET
Falling
Chiefs' discipline:
Add a lack of discipline and a lack of in-game intelligence to a laundry list of Kansas City's problems. The Chiefs were undisciplined and made silly mistakes in a loss at Pittsburgh. Getting a 15-yard celebration penalty after a touchdown that was overturned was inexcusable.
Faith in Oakland coach Dennis Allen:
Many Oakland fans are getting very restless. First-year coach Dennis Allen has not made a positive impact yet while first-year coaches such as Joe Philbin in Miami and Chuck Pagano/Bruce Arians in Indianapolis are. Allen is a defensive-minded coach and Oakland's defense is a mess. I'm not ready to declare Allen a failure because of a dearth of talent and injuries. But it can't be denied, Allen's tenure has started slowly.
Norv Turner's patience:
San Diego's coach lost his cool after Sunday's loss. Turner is usually calm. Much has been made of his mini meltdown. Is the pressure getting to Turner? Probably, but you can't blame him. It's been a tough go for Turner in the past month as his team has lost four of the past five games. Perhaps Turner's emotional outburst will spark his team.
Rising
Chances that this division race will be over soon:
Denver has a two-game lead over San Diego. If the Broncos beat the Chargers on Sunday at home, they will have a three-game division lead with six games to go, plus the tiebreaker over San Diego. It would be very difficult for Denver to blow such a lead.
Denver receiver Demaryius Thomas:
The third-year receiver is flourishing with
Peyton Manning
being his quarterback. Thomas is making a serious Pro Bowl push. According to ESPN Stats & Information, Thomas has 15 receptions on throws of more than 10 yards and eight catches of 30-plus yards in the past five games.
Denver's return game:
Denver has been dominant during a four-game winning streak and now the return game, once a weak spot, is thriving as well. Tiny returner
Trindon Holliday
-- claimed off waivers in October -- returned a kickoff for a score in Week 9 and a punt for a touchdown in Week 10. Now, a negative area has turned into a major bright spot for Denver.