October, 10, 2013
Oct 10
2:30
PM ET
The
Kansas City Chiefs
have not only surprised much of the NFL world this season. For the most part, they've confounded us as well. Why are they 5-0? How good are they?

The usual suspects don't provide an explanation. Their quarterback,
Alex Smith
, has provided leadership and security (only four turnovers) but has hardly been a dynamic player. (His QBR of 51.2, which takes into account 161 rushing yards, ranks No. 16 in the league.)
Tailback
Jamaal Charles
, meanwhile, has rushed for 397 yards, which projected over a full season would leave him short of his 16-game performances in 2010 and 2012.
But here is something that you probably wouldn't realize if you haven't watched the Chiefs' games: Their pass defense -- especially the game-changing play variety -- has been off the charts so far.
Technically, the Chiefs' pass defense ranks No. 4 in the league because it is giving up 198 yards per game. But more important, I think, is a metric that ESPN Stats & Information refers to as "disrupted dropbacks." It is a combination of sacks, passes defended, interceptions and batted balls, and the Chiefs are way out in front of the league in those kinds of big plays.
The chart shows the top five and worst five in the NFL based on percentage of dropbacks that have been disrupted. The Chiefs have disrupted nearly a quarter of all passing plays they've faced this season, significantly more than the next team and well ahead of the NFL average.
Indeed, the Chiefs lead the NFL with 21 sacks through five weeks of the season. Their 30 pass breakups, 10 batted passes and 20 passes defended also sit atop the league rankings. They are tied for third with seven interceptions.
(Linebacker
Justin Houston
leads the NFL with 12.5 disrupted dropbacks: 8.5 via sacks and four via batted passes. Defensive tackle
Dontari Poe
, meanwhile, has a total of 6.5 disrupted dropbacks -- tied for No. 10 -- with 4.5 sacks and two batted passes.)
These types of plays don't simply prevent the opposition from gaining yards. They disproportionately impact the outcome of games, leading from unfavorable down-and-distances to change of possession and ultimately failed offensive game plans. It's no surprise that opponents are averaging 11.6 points per game against the Chiefs, by far the lowest total in the league.
The NFL is so geared toward the passing game that the rarest of commodities is a defense that can stop the pass. That's why
Chicago Bears
coach Marc Trestman
told reporters this week
that, in truth, "this is a game of contested throws." Can receivers make catches against defenders who are in position? Or can the defenses make the play to keep the ball away?
So far this season, the Chiefs have done a better job of the latter than any team. If it continues, there is no telling how far Kansas City might go. A team with the playmakers to stop NFL passing attacks? Yes, please.
September, 24, 2013
Sep 24
2:07
AM ET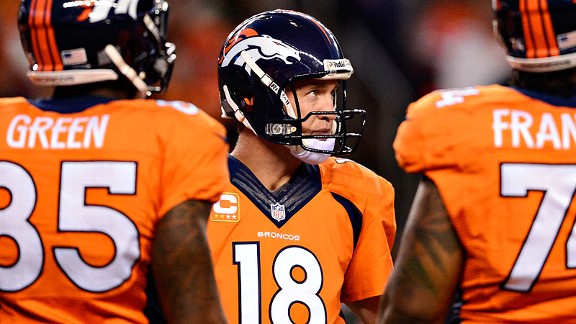 Aaron Ontiveroz/Getty ImagesPeyton Manning and the Broncos are geared toward a distant vision: the postseason.
DENVER --
Peyton Manning
was in a hurry Monday night. After one of the sharpest games of his Hall of Fame career, he hustled into the
Denver Broncos
' locker room. Then he jumped into a cold tub. He emerged after 20 minutes, dressed and spoke to reporters with his teeth still chattering and his hands stuffed deeply in his pockets.
"Short week," he said, gasping for air as he warmed up. "Trying to recover."
No sir. Manning didn't take a single moment to consider what he accomplished during the Broncos'
37-21 victory
over the
Oakland Raiders
. He didn't seem to care a lick, as he might say, about becoming the first quarterback in NFL history to throw 12 touchdown passes in his first three games. His icy glare betrayed no interest in Monday night's 86.5 completion percentage, the highest for his career in games with at least 20 attempts.
If he was pleased with the Broncos' 127 points and 1,460 yards through three games -- the second- and fourth-best marks, respectively, in NFL history -- he gave no indication.
"I still think there is plenty we can improve on," he said. "I really do."
This reaction seemed wholly appropriate to me. It reflected my own and perhaps yours as well. Like Manning, we've been here and done this before. We've dutifully recorded his individual records and accomplishments. It's as if we're numb to his elite play.
Oh, Manning completed 32 of 37 attempts for 374 yards and three touchdowns? Huh. Was it in the Super Bowl?
Yes, the only drama remaining in Manning's Hall of Fame career, and the only thing most of us are really paying attention to, is what will happen when this Broncos team reaches the playoffs. Admit it. We're all in a hurry to get there, Manning included. Can he win another Super Bowl? Or is this another year of regular-season romps and a playoff dud?
A survey of the Broncos' locker room revealed an undercurrent of the same feeling. Receiver
Wes Welker
shrugged his shoulders when asked about Manning's performance. After all, what is there to say about a prologue? Fellow receiver
Eric Decker
, who caught eight passes for 133 yards, said that "our goal is to win championships" and added that "you don't think about" individual game accomplishments.
Frankly, these are
nothing but preseason games for the Broncos,
warm-ups to the real thing that is still more than three months away. There is no sense judging anything this team does until then.
We've done that enough already. As you are surely aware, Manning's teams have made eight one-and-done playoff appearances -- including the Broncos' 2012 divisional-round loss to the
Baltimore Ravens
. So pardon me -- and Manning, and the rest of the Broncos -- if we can't get too worked up about another brilliant regular-season game.
"Maybe in 10 or 15 years," Decker said, "I'll look back at stuff like this."
To be fair, Manning is playing as well as he ever has. What we saw Monday night was an elevation of even his elite standards. He carved up every defensive look the Raiders gave him, completing 15 consecutive passes at one point in the first half. All five of his incompletions were either knocked down by Raiders defenders or dropped by his receivers, according to ESPN Stats & Information.
Through three games, Manning has had just 33 passes fall incomplete and hasn't thrown an interception in 122 passes. I'm not trying to diminish any of that.
Manning, of course, briskly shook his head when asked to compare this start to others in his career. (Or maybe he was still cold.)
"I don't have a great comparison to other years," he said.
Of course he does. He just isn't interested in discussing it, not yet anyway, not when there is so much time between now and what really matters. The Broncos might be the best team in the NFL at the moment, one that will get better when suspended linebacker
Von Miller
and injured cornerback
Champ Bailey
return, but we all know that doesn't mean a thing.
If the NFL crowned a champion of the regular season, Manning would have more rings than fingers. It doesn't, of course, and he knows it as well as anyone. So let's hurry this thing along. Is it January yet?