September, 24, 2014
9/24/14
7:30
AM ET
ENGLEWOOD, Colo. -- The
Denver Broncos
have faced
Andrew Luck
,
Alex Smith
and
Russell Wilson
over the course of their first three games.
They've had moments of the-future-is-bright dominance, and had some other moments "where we just didn't get ourselves where we need to be," said defensive tackle
Terrance Knighton
.
"We're still looking for that consistency," said cornerback
Chris Harris
Jr. "Where we do all the good things we're doing without any issues in between. That's what we want."
After a long look at the game video here are some thoughts on the Broncos defense and special teams:
[+] Enlarge

AP Photo/John FroschauerNate Irving (56) made a couple key stops on Seattle's Marshawn Lynch early in the game.

The last time the Broncos tried Nate Irving at middle linebacker -- in training camp in 2013 and some during the season -- they eventually moved Wesley Woodyard into the role instead because Woodyard was a more consistent tackler on the interior. But when Irving squared up Seattle Seahawks running back Marshawn Lynch twice during a Seahawks' drive that followed a first-quarter Broncos fumble deep in Denver territory, it showed how far Irving has come to earn the playing time he has now. His second stop on the hard-charging Lynch came on a third-and-goal from the Broncos' 1-yard line and forced the Seahawks to kick a field goal. Defensive coordinator Jack Del Rio almost called the shot when he said; "On Nate, that was a question mark I got I don't know how many times in training camp. 'Will Nate be able to do it?' Well, Nate can do it."
Linebacker Von Miller was consistently disruptive against the Seahawks and his 67 snaps in the game were his highest total of the season as he is just eight months removed from ACL surgery. Throughout the day Miller gave Seahawks rookie Justin Britt an uncomfortable look at what an athletic strong-side rusher can look like with power up the field and speed to the edge, all while playing with discipline that kept Seahawks quarterback Russell Wilson hemmed in, at least until overtime. On Miller's first quarter sack, Miller simply pushed Britt into the backfield and then shed Britt to tackle Wilson as Wilson tried to escape the pressure. It was the kind of play Miller made only sporadically last season after he returned from his suspension, but not nearly as often as he made in his 18.5-sack season in 2012.
Interceptions can be more difficult to come by in man coverage when the defensive back is often facing away from the quarterback to play the receiver as opposed to zone looks when the defensive backs often face the quarterback. But Chris Harris Jr.'s interception was a result of Aqib Talib's instincts in man coverage, one of the top-shelf reasons the Broncos were so quick to sign Talib to a deal in the offseason. With the Broncos giving Wilson a steady diet of man coverage -- "all we played in man," Harris Jr. said -- Talib anticipated where Wilson was trying to put the ball and left his receiver on the outside to tip a ball intended for Harris Jr.'s receiver (Percy Harvin). Harris Jr. caught the deflection and five plays later the Broncos cut the Seahawks lead to 17-12 with 9 minutes, 20 seconds left in regulation. Overall the game showed the confidence level the Broncos have when fully staffed in the secondary as they matched up on Seahawks' receivers throughout the game and largely left Harris Jr. on Harvin out of the slot. It was Harris Jr.'s most extensive work in the slot this season as Talib and rookie Bradley Roby manned the outside spots in the nickel.
Rookie Isaiah Burse should take note of how he's carrying the ball when the Broncos return from their bye weekend because opposing special teams coaches are. Burse, who has let the ball get into his pads too often when fielding punts in training camp and the preseason, tends to swing the ball away from his body when running in the open field as well. Part of the reason Burse escaped for a 15-yard punt return in the first quarter was the Seahawks took a swipe or two at the ball as he went by. They didn't force a fumble this time, but Burse can expect others to try.
Rookie linebacker Lamin Barrow, who played 11 snaps on defense Sunday, has carved out a large role on special teams. Barrow was on the field for 29 special teams plays against the Seahawks. Only linebacker Steven Johnson, with 30 special teams plays, played more Sunday.
September, 2, 2014
9/02/14
11:55
PM ET
ENGLEWOOD, Colo. -- Though the revelation of
Wes Welker
's suspension closed out a headline-filled day in the NFL --
Indianapolis Colts
owner Jim Irsay was suspended,
Michael Sam
planned to visit the
Dallas Cowboys
and
J.J. Watt
discussed his $100 million contract -- it's clear now the
Denver Broncos
have been preparing for Welker's four-game absence for some time.
After he suffered two concussions last season, on Nov. 17 and Dec. 8, the Broncos were in a position to consider what they would do if Welker missed time in the future. So the suspension was simply another issue for the Broncos to consider with regards to Welker's availability.
Early on in their offseason planning, the threat of another Welker concussion was a big enough issue, coupled with
Eric Decker
's departure in free agency, that the Broncos considered
Emmanuel Sanders
their top target offensive free agent target. Executive vice president and general manager John Elway called Sanders "our No. 1 guy at the position we wanted to bring in. He fits what we do and what we wanted."
The Broncos then used a second-round draft pick on wide receiver
Cody Latimer
because they considered him a tough, fast, physical receiver, who could play immediately in the team's red zone packages, and steadily earn more playing time as he grew into the offense. Latimer then sped his development with extra sessions with quarterback
Peyton Manning
. Latimer was already poised for premium snaps before Tuesday's Welker announcement.
[+] Enlarge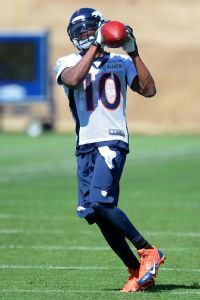 Ron Chenoy/USA TODAY SportsJohn Elway has called Emmanuel Sanders "our No. 1 guy at the position we wanted to bring in. He fits what we do and what we wanted."
As they moved through their offseason work and Welker's flagged test in the performance-enhancing drug policy became an issue, the Broncos made plans. They knew he could miss time. Whether that missed time would be caused by a concussion, which Welker suffered Aug. 23 against the
Houston Texans
, or the threat of a suspension remained to be seen.
So when they cut the roster to 53, a team that wanted to keep five wide receivers kept six.
Granted, rookie
Isaiah Burse
was kept largely for his potential as a returner. The coaches said all along any player kept as a returner would have to show enough to contribute at another position. And just after the Broncos made the cuts, Elway said of Burse: "He's a bright kid. He's a kid that can play all positions, too. When it comes to that, he's a guy that can come in and help us on the offensive side, too."
The Broncos also kept two more wide receivers on the practice squad --
Bennie Fowler
and
Nathan Palmer
-- who had been through training camp and know the offense. Palmer also spent time on the Broncos' practice squad during the 2013 season.
The Broncos had also worked a heavy rotation in training camp, giving a variety of receivers at least some snaps with the first- and second-team offenses.
Welker was excused from practice Aug. 20-21 for his appeal hearing, and that offers a glimpse into the timetable the team had as it prepared for the suspension. When a player is notified of a suspension -- a written "notice of discipline" -- he has five days to request an appeal hearing, according to the league policy on PEDs.
That appeal hearing is to take place within 20 days of the request, excluding extenuating circumstances for either league officials or the player. Within two days of the scheduled hearing, the two sides exchange documents and/or any evidence that will be presented.
The policy states a decision on the appeal will then be rendered within "five calendar days" of the hearing. It is likely the Broncos and Welker were well aware of the suspension as players reported for training camp July 23.
When asked about Welker's absence from practice last month, Broncos coach John Fox said, "We need to get him back and see what state of mind he's in and where he is in our game plan and just go from there."
August, 3, 2014
8/03/14
12:45
PM ET
ENGLEWOOD, Colo. -- The
Denver Broncos
' annual summer scrimmage is a good time to gauge where things are with the team's depth chart. The first of four preseason games is closing in on the horizon and choices will soon be made.
The Broncos, however, didn't have many available spots on the depth chart when training camp began. Like many teams with the pieces in place to be in the postseason conversation, their personnel folks could have likely quickly listed 46 or 47 names of what will eventually be a 53-player roster even as camp opened.
So, this isn't some scrape-it-to-the-foundation effort. This is a team that's gone 26-6 in the last two regular seasons, with a Super Bowl appearance. The Broncos don't have what-to-do questions in tow. They have is-it-enough questions. And after their first real live tackling effort this weekend, there are a few things for them to consider.
July, 30, 2014
7/30/14
7:45
PM ET
ENGLEWOOD, Colo. -- A daily review of the hot topics coming out of
Denver Broncos
training camp:
Maybe it was the weather, or that Demaryius Thomas still isn't in the full rotation at wide receiver after missing the first five days of practices, or just the way Broncos defense was aligned Wednesday, but Wes Welker was quarterback Peyton Manning's favorite target in a downpour. Manning consistently worked the ball to Welker in both 7-on-7 and team drills. On a tough weather day the Broncos were at their catch-and-run best on offense. and it was difficult for the defensive players to keep their footing at times. Rookie linebacker Lamin Barrow slipped and fell chasing tight end Jacob Tamme at one point.
The practice was the Broncos' second open-to-the-public session at Sports Authority Field at Mile High. Despite the terrible weather and the fact the practice was a on weekday morning -- it started at 11:30 a.m. MT -- there were still 9,207 brave souls who came through the turnstiles. "I've got to give a shout-out to those fans," coach John Fox said. "It was very hard conditions to practice in, I thought our team handled it great ... people who don't have to be here, those Broncos fans are tremendous, to weather all that for two-and-a-half hours." The last of three stadium practices will be Saturday.
The Broncos will get their first taste of what the league's emphasis on illegal contact and defensive holding will mean for defensive players, as referee Scott Helverson and his crew will be in the Broncos' complex starting Thursday. They will give a presentation to the Broncos players and coaches as well as call penalties in practices through the end of the week. "It will be fun to get them in there to visit with the players, show the videos, not just rules changes, but also the enforcement and how they're going to attack that in the preseason," Fox said. It's an important time for a team who wants to be more aggressive on defense, particularly in the secondary, where the Broncos have added Aqib Talib and T.J. Ward this past offseason. Defensive coordinator Jack Del Rio said the Broncos can adjust to how things are called as long as there is consistency. The Broncos were tied for the league lead in combined defensive holding and illegal contact penalties (16) last season.
Even with Thomas, Welker and Emmanuel Sanders already in the mix, the Broncos believed second-round pick Cody Latimer could find a way in the rotation when they drafted him in May. Latimer, who consistently won the ball on contested catches during his college career, has shown that aggressiveness already in camp. He made a diving catch on a throw from Manning Wednesday after splitting the Broncos' starting safeties and beating fellow rookie Bradley Roby for a grab up the sideline earlier in the day.
Undrafted rookie wide receiver Isaiah Burse has gotten plenty of work in the return game thus far. The Broncos signed him following the draft in hopes he could compete for the punt return or kickoff return job -- he had two punt returns for scores for Fresno State last season. Burse has flashed some of those skills while also bobbling a few in the early going but has also quickly learned a lesson of NFL life. "In college and high school I was able to dance. I would cross the field, stop and come back all across the field. The speed here is different ... Here you have to make a cut and go. You'll be way more success if you just make a cut instead of dancing.''
Odds and ends: The Broncos held DeMarcus Ware (right lower leg) out of Wednesday's practice. Ware did some conditioning work off to the side and looks poised to return soon ... Kayvon Webster had a pick six on Manning, cutting in front of Welker to snag Manning's throw ... Rookie cornerback Lou Young left the practice with a groin strain.
July, 30, 2014
7/30/14
7:30
AM ET
ENGLEWOOD, Colo. -- The
Denver Broncos
haven't had the usual throngs of their faithful waiting for them when they arrive at the practice field.
They've had no roars of approval for long passes completed or the customary oohs and aahs for interceptions, forced fumbles and
Peyton Manning
being Manning.
[+] Enlarge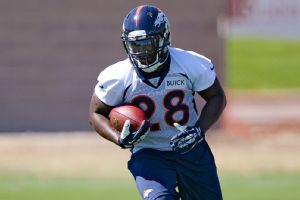 John Leyba/The Denver Post/Getty ImagesMontee Ball seems to have Denver's starting tailback job wrapped up, but who will back him up?
As Manning put it, "It's kind of going to be on us to keep ourselves going."
The Broncos, who will hold the second of three open-to-the-public practices at Sports Authority Field at Mile High as the $35 million makeover continues at their complex, are a deep team with very few roster spots truly in play. Still, after the first week of training camp, there are some questions they still need to answer in the coming weeks, including:
Depth chart at running back:
Montee Ball
was handed the starting job in the offseason, much like
Ronnie Hillman
was a year ago. Hillman didn't keep the job, but Ball clearly will.
He's shown vision in the run game, decisiveness in his cuts and consistent, quality work in the passing game. He's poised for a big season and perhaps even the first 250-carry season for the Broncos since Reuben Droughns had 275 carries in 2004.
Knowshon Moreno
had 247 in 2009 and 241 last season, while
Willis McGahee
had 249 in 2011.
Hillman has also responded after a listless 2013. He's been a little grittier in pass protection and seems to have learned the sometimes painful lesson that he has to stay on his toes to have a chance to stay in the lineup.
C.J. Anderson
,
Juwan Thompson
and
Brennan Clay
will hash it out for the other spots. Anderson was sluggish in OTAs and minicamp at 234 pounds. After his performance in those offseason workouts, there were plenty of folks with the team who were not confident he would keep a roster spot at that weight.
He's now about 215 pounds in camp and looks more like the guy who made the roster last season as an undrafted rookie. But all three of those backs should be camped out at special-teams coordinator Jeff Rodgers' door because the No. 3 running back got all of 55 carries a year ago and might not get anywhere close to that this time around.
Right tackle:
Chris Clark
has worked with the starters thus far, but the decision hasn't been made. He has struggled at times with some of the power moves from the Broncos' defensive linemen in pass-rush drills and hasn't always gotten his hands in the right spots on initial contact. He played well in place of an injured
Ryan Clady
at left tackle last season, but the strong side is a different deal, and he hasn't yet slammed the door on the competition for the job.
The Broncos can help the right tackle with a tight end if they need to but would prefer not to have to. So, consider auditions still open, and the position will bear watching in preseason games.
Returner(s):
There are some candidates who have flashed some explosiveness such as Hillman, rookie wide receiver
Cody Latimer
, undrafted rookie
Isaiah Burse
,
Omar Bolden
and
Andre Caldwell
, among others. But none of them has consistently caught the ball well enough in practice so far to be considered the front-runner.
At least one of them has to step forward in the coming weeks in the return game and handle the ball consistently. Otherwise the Broncos will be faced with eschewing the idea of an impact returner in lieu of simply fielding the ball without a bobble.
That would be an awful lot of field position left unsecured before the Broncos' offense takes the field.
May, 12, 2014
5/12/14
7:30
AM ET
Before a pick had been made in this year's NFL draft, John Elway knew that it was going to be a tough sell to get some of the better undrafted players who remained on the team's draft board to sign with the
Denver Broncos
.
After all, the Broncos were a Super Bowl team last season with fairly young players on the depth chart. Denver also was one of the league's most active teams in free agency, making for limited spots to keep the team's undrafted player streak alive.
The Broncos were able to convince 15 undrafted players to agree to terms Saturday night. And for the past 10 seasons at least one undrafted rookie has made the team's cut to 53 players before the season opener. Last year it was running back
C.J. Anderson
who made the roster.
[+] Enlarge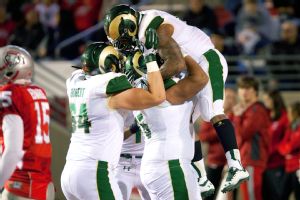 AP Photo/Eric DraperColorado State celebrated touchdowns by Kapri Bibbs on a regular basis in 2013.
"It got much harder last year, and I'm sure it'll be harder this year once the draft is over and we do start calling the college free agents," Elway said last week. "But there's no question, it makes it more difficult when you have a real good football team, because those kids are looking for opportunities and trying to go to the places where they're best going to be able to make a roster. So it makes it more difficult for us … it's a good problem to have."
This year's road figures to be bumpy for those undrafteds because the Broncos simply don't have much room for any of them on the roster. But there are some possibilities.
There are three players who were invited to the scouting combine this past February in the group – Colorado State running back Kapri Bibbs, Fresno State wide receiver/returner Isaiah Burse and Michigan State wide receiver Bennie Fowler.
The Broncos are a little thin at running back, so there is some room for Bibbs to make a push. Bibbs entered the draft as a redshirt sophomore after a 1,741-yard, 31-touchdown season. In a quirky bit of production Bibbs, who had 603 yards rushing combined in back-to-back games last season, had more games with fewer than 100 yards rushing last season (eight) than he did with more than 100 yards rushing (six).
But the Broncos are on the hunt for another back in the rotation, so Bibbs has a shot as does another undrafted player signed Saturday -- Duke's Juwan Thompson. Thompson played for David Cutcliffe at Duke -- Cutcliffe was
Peyton Manning
's offensive coordinator at Tennessee -- and he came with a quality recommendation from Cutcliffe to the Broncos.
Manning and the Broncos pass-catchers were at Duke for some workouts earlier in the offseason. At 5-foot-10 ½ inches tall and 226 pounds, Thompson is a big back well versed in the passing game. He ran a 4.57 in the 40-yard dash at his pro day.
He'll be a player to keep an eye on in training camp. Duke had six players carry the ball at least 62 times last season and none of the players had more than 113 carries. Thompson finished the season with 64 carries for 355 yards to go with seven receptions.
Burse, too, will have a quality chance because of his ability as a returner. At 5-10 3/8, 188 pounds, Burse was an undersized receiver in a draft class filled with tall, big and fast wideouts. But Burse was one of the better punt returners on the board, averaging 12.5 yards on punt returns with two touchdowns this past season.
"Obviously with Burse he's a good slot, productive receiver,'' Broncos coach John Fox said. "[Return work] obviously helps his chance, but his skill set is something we were impressed with.''
For Fowler's part, he ran 4.35 (hand-timed) at his pro day to go with an attention-grabbing 17.3 yards per catch last season, but he has suffered fractures in both feet during his career.
Colorado State linebacker Shaquil Barrett was the Mountain West's Defensive Player of the Year last season and set the conference's record for tackles for loss (20.5). His play speed is far better than his workout numbers, so he could find a way on the roster if he makes a quick impact on special teams.
The Broncos did take two linebackers in the draft -- LSU's
Lamin Barrow
and Oklahoma's
Corey Nelson
-- so it will be an uphill trek, but there is a slim opportunity available.
Also, Mister Cobble, a 333-pound defensive tackle from Kentucky, shows quick feet for a player his size in his game video. Cobble missed time in the 2012 season with an infection, had shoulder surgery in 2011 to repair a torn labrum and missed most of the 2010 season with academic issues.
But the Broncos like that kind of bulk in the middle of the defensive line, so Cobble will get a long look.