July, 27, 2012
7/27/12
10:35
AM ET
While the
San Diego Chargers
wait to see if the knee injury suffered by backup quarterback
Charlie Whitehurst
is serious (he doesn't think it is) the team has covered its bases by contacting other quarterbacks,
U-T San Diego reports
.
They should make one call -- to
Billy Volek
. And I would be shocked if Volek wasn't on their list.
Volek, 36, was cut by the Chargers this offseason in a salary-cap move because Whitehurst was cheaper and younger. To me, it makes perfect sense for Volek to be re-signed if Whitehurst is going to be out for an extended period of time.
Volek knows the system and starting quarterback
Philip Rivers
is very comfortable with him.
Sure, there are other quarterbacks out there -- including
Donovan McNabb
, A.J. Feeley,
Dennis Dixon
and
J.P. Losman
-- but none makes more sense in San Diego than Volek if Whitehurst's injury turns out to be bad.
Meanwhile, the Oceanside, Calif., home where Chargers legend
Junior Seau
committed suicide on May 2 is for sale.
May, 18, 2010
5/18/10
9:30
PM ET
January, 29, 2010
1/29/10
2:00
PM ET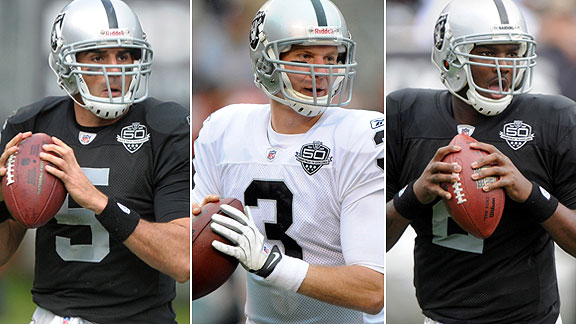 Kirby Lee/Image of Sport/US PresswireBruce Gradkowski, Charlie Frye and JaMarcus Russell started at quarterback for the Raiders in 2009, but looking ahead, there's no clear-cut starter for next season.
The quarterback situation in Oakland is far from settled.
The Raiders clearly want former No. 1 overall pick
JaMarcus Russell
to be the answer. But that is a long way from a sure thing. The Raiders will have to think of other options in case Russell proves again he is not capable of being a winning NFL quarterback.
Here is a breakdown of Oakland's current possibilities, plus some other potential options, as the team hits the early stages of the offseason.

Russell
JaMarcus Russell
Current role:
He is considered the front-runner to be the starter in 2010. But he ended the season as a backup after he was benched because of ineffectiveness.
Why he should get a shot:
He is getting $32 million guaranteed from the team. The Raiders really need Russell to show something. That's why he is still in the conversation. Oakland owner Al Davis apparently still believes in Russell and wants to give him one more shot to produce. One of the reasons Ravens quarterbacks coach Hue Jackson was hired this week as offensive coordinator was to re-energize Russell. Jackson has a history of working with young quarterbacks.
Why he may not be the best option:
He has not been good at all in the NFL and he has taken steady steps backward. Russell is not a leader and his teammates are not inspired by him. If he is given a chance in the regular season in 2010 and fails, it could ruin another season in Oakland.
Prediction:
Russell will go into training camp as the starter, but he will have competition. If he fails early, the Raiders will pull the plug and his days in Oakland will be over.

Gradkowski
Bruce Gradkowski
Current role:
In a lot of ways, Gradkowski has to be considered the returning starter. He replaced Russell on merit in November and then he was sidelined for the season in December with a knee injury. Had he been healthy, he would have ended the season as the starter.
Why he should get a shot:
His teammates and Oakland fans love him. Gradkowski was becoming a cult hero in Oakland. He isn't overly talented, but he has a great heart and he moved the ball. Gradkowski is full of energy and has a will to win.
Why he may be not the best option:
He has been a journeyman to this point. Because of his limited ability, his success may have a short shelf life.
Prediction:
The Raiders will re-sign the free agent. He wants to be in Oakland.

Frye
Charlie Frye
Current role:
Frye was the backup to Gradkowski after Russell was benched. Frye did start when Gradkowski got hurt. But he had a difficult time staying healthy.
Why he should get a shot:
Like Gradkowski, the rest of the Oakland offense responded to Frye. He is a leader and he is a student of the game.
Why he may not be the best option:
He is injury prone, he makes too many mistakes, and he may be, ultimately, a poor man's Gradkowski.
Prediction:
Frye probably won't be in the mix. Oakland probably will add to the position and he may have a hard time making the 53-man roster.
J.P. Losman
Current role:
He was the fourth quarterback on the roster. He was signed after Gradkowski was hurt.
Why he should get a shot:
He is a former first-round pick who has a strong arm. He is the type of player who gets the coaching staff excited.
Why he may not be the best option:
He was just a late-season addition. The team is not married to him.
Prediction:
Unless Oakland gets a late start on adding quarterbacks to the mix, Losman could have an early exit from Oakland.
Draft a rookie early
Possibilities:
Oklahoma's
Sam Bradford
, Texas'
Colt McCoy
, Notre Dame's
Jimmy Clausen
, Florida's
Tim Tebow
and Cincinnati's
Tony Pike
.
Why this may be an option:
If Russell is deemed a bust, Oakland doesn't have a long-term answer at the position.
Why it may not be the best option:
The Raiders may not want to invest another huge contract in a young quarterback so soon after Russell was drafted. The team has other areas to address.
Prediction:
I don't think Oakland will or should take a quarterback in the first two rounds. If a standout falls to the third round who the Raiders believe fits their system, they should take him. Still, drafting a young quarterback early won't cure Oakland's immediate ailments.
Sign or trade for a veteran
Possibilities:
Baltimore's
Troy Smith
, Philadelphia's
Donovan McNabb
, Washington's
Jason Campbell
, Philadelphia's
Michael Vick
, Cleveland's
Brady Quinn
or
Derek Anderson
and free agent
Jeff Garcia
. (These names are listed based on speculation on who might become available as the offseason develops.)
Why this may be an option:
Oakland needs a strong insurance policy. If Russell can't improve and Gradkowski is only a backup, the Raiders will be in bad shape. A proven veteran, even if he is a stop-gap option, would help Oakland get through a transitional season.
Why it may not be the best option:
I don't think there are any negatives in Oakland adding a quarterback who has started in the NFL this year.
Prediction:
Oakland will bring in another veteran quarterback, but it is difficult to figure out now whom it will be. We'll have to see the quarterback market develop, but expect a familiar name to come to Oakland.
January, 22, 2010
1/22/10
12:00
PM ET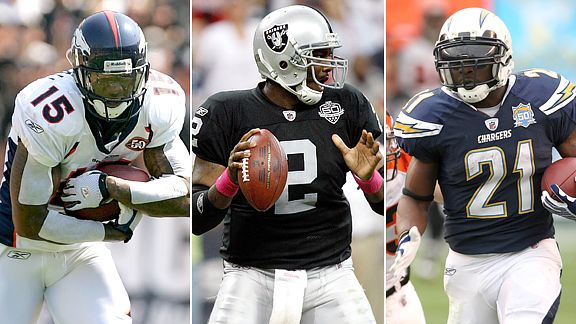 Getty ImagesThe futures of Denver's Brandon Marshall, Oakland's JaMarcus Russell and San Diego's LaDainian Tomlinson are all hot topics this offseason in the AFC West.
With San Diego wondering what happened last Sunday against the
New York Jets
instead of preparing for the Colts in the AFC championship game, the 2009 season in the AFC West is officially over.
The focus is fully on the offseason. Here is a look at the most pressing issue for every team in the AFC West.
Denver
Biggest offseason issue:
The future of Pro Bowl receiver
Brandon Marshall
, who will likely be a restricted free agent.
Why:
Marshall had a tumultuous year with Denver coach Josh McDaniels. First, Marshall -- whose off-field issues continued in 2009 -- wanted to be traded and he held out of a minicamp. Then, in training camp, Marshall was suspended for 10 days after he was filmed making a mockery out of a practice. After a strong season in which he appeared to make amends with the team and caught 101 balls -- including an NFL record 21 passes in a December game -- Marshall's problems resurfaced. McDaniels benched him for the final game of the season even though Denver still had playoff hopes. Marshall was benched after he showed up late to a rehab session to treat a hamstring injury three days before the season finale.
Predicted outcome:
Marshall will be gone. The Broncos are fed up with him. The team doesn't want to deal with Marshall anymore. If it is an uncapped year, Marshall will be a restricted free agent. Thus, the team could end up getting a high draft pick for him or essentially work out a trade for Marshall.
Other situations to watch:
In addition to Marshall, quarterback
Kyle Orton
, linebacker
Elvis Dumervil
and tight end
Tony Scheffler
are all likely to be restricted free agents. Watch for the team to try to keep Dumervil and Orton and jettison Scheffler.
Kansas City
Biggest offseason issue:
Eyes around the league will be watching to see if Kansas City will spend more in the offseason to improve a team that has won a total of 10 games in the past three seasons and was 4-12 in the first season of the Scott Pioli era.
Why:
Pioli, despite a boat load of salary cap room last year, did very little last offseason. He did bring in quarterback
Matt Cassel
and gave him a big contract. But most of the moves Pioli made were under-the-radar additions. The Chiefs still have a lack of talent. Big-time talent is needed.
Predicted outcome:
Whether it's a capped or an uncapped year, it will affect Kansas City. If the year is uncapped, Kansas City could have trouble keeping up with some of the richer franchises. But Kansas City knows it needs talent. It added big-name coordinators Charlie Weis and Romeo Crennel. Expect Pioli to supplement those coaching moves with some quality additions. He may not go crazy, but expect Pioli to be more active in his second year on the job.
Other situations to watch:
There are sure to be some issues that will arise, but the Chiefs are fairly stable as of now.
Oakland
Biggest offseason issue:
The status of quarterback
JaMarcus Russell
.
Why:
Russell proved in 2009, his second season as the starter, that he is not up to the job. Russell -- the No. 1 overall draft pick in 2007 -- regressed badly. He was benched after he failed to improve. Oakland's anemic offense showed life with both journeyman
Bruce Gradkowski
and
Charlie Frye
leading the offense in Russell's absence. Still, Raiders owner Al Davis is said to want to give Russell a chance to succeed because of the team's financial commitment to Russell and the lack of another long-term answer at the position.
Predicted outcome:
Russell will be given a chance in training camp to show he can handle the job. Expect Oakland to give Gradkowski a chance as well. Don't be surprised if either another veteran or rookie is given a chance to compete along with veterans Frye and
J.P. Losman
. Still, if Davis wants Russell to get another chance, he'll get one.
Other situations to watch:
Of course there is coaching staff issues and the team will likely either sign defensive end
Richard Seymour
to a long-term contract or give him the franchise tag.
San Diego
Biggest offseason issue:
The status of legendary running back
LaDainian Tomlinson
.
Why:
The Chargers' run game has to get better. San Diego's run offense was ranked No. 31 in the NFL. In his ninth season, Tomlinson's production slipped dramatically. He didn't have a 100-yard game all season. He averaged just 52 yards a game and he was ineffective in San Diego's playoff loss. It is time for the Chargers to bring young legs to the position no matter how emotional it is going to be for the franchise and for the city.
Predicted outcome:
There will be a new lead back in San Diego in 2010. The Chargers nearly didn't bring back Tomlinson in 2009. Perhaps Tomlinson could be kept in a much reduced role (at a much reduced price from the $5 million he is due this season). But expect the Chargers to look for a new primary back either early in the draft or through free agency.
Other situations to watch:
Free agency is huge in San Diego. Stars
Vincent Jackson
,
Marcus McNeill
,
Shawne Merriman
and
Darren Sproles
all must be addressed.
December, 18, 2009
12/18/09
4:00
PM ET
»
NFC Final Word
:
East
|
West
|
North
|
South
»
AFC
:
East
|
West
|
North
|
South
Five nuggets of knowledge about Week 15:
Fight for the No. 2 seed:
A mini-playoff game will break out in San Diego on Sunday. The 10-3 Chargers play host to the 9-4 Bengals. The winner will have the inside track on earning the No. 2 seed in the AFC playoffs. That is a huge advantage. The No. 2 seed gets a first-round bye and is just a home win away from going to the AFC title game.
[+] Enlarge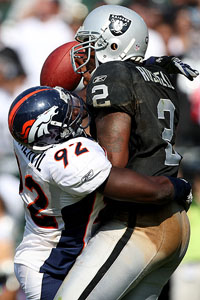 Jed Jacobsohn/Getty ImagesElvis Dumervil looks to add to his league-leading sack total Sunday against Oakland.
A scary memory for Denver:
The Broncos are 8-5 for the second straight season. That does not bring back great memories in the Rocky Mountains. Denver entered Week 15 last season needing to win one of its final three games or have San Diego to lose one of its final three games. Neither happened. The Broncos finished 8-8 and out of the playoff mix. The Broncos, once again, are closing in on a playoff spot this season with an 8-5 record. If the Broncos beat Oakland at home on Sunday and Kansas City at home in the season finale Jan. 3, they should earn a wild-card spot. Let's see if the 8-5 blues strike Denver again.
Cable could be working for his job:
Coach job security is never super strong in Oakland. So, at 4-9, Tom Cable is no sure thing to return next year for his second full season as Oakland's coach. With quarterback
Bruce Gradkowski
, who gave Oakland a major spark when he replaced
JaMarcus Russell
, injured, Oakland could have difficulty winning Sunday at Denver with
Charlie Frye
making his third start in three seasons. Cable needs to do his best to win Sunday and in the final two games. If the Raiders finish 4-12 or 5-11, Cable could be in trouble. Oakland just brought in quarterback
J.P. Losman
. He enjoyed a resurgence this year in the United Football League, working with former NFL coach Jim Fassel. Fassel probably would jump at the chance to coach in Oakland. A Losman-Fassel reunion could be intriguing. Cable has to do his best to keep Oakland from considering other options.
Can the Chiefs end their Arrowhead Stadium season on a good note?
When they first saw the 2009 schedule in April, the Chiefs had to feel good about the chance to fatten their record in December with three home games in a row. But it hasn't worked out that way. Kansas City lost the first two games to Denver and Buffalo; only Sunday's game against Cleveland remains. The Chiefs (3-10) aren't going to the postseason, and it would be good for team morale to end the home slate with a win and salvage what looked to be a great opportunity when the schedule was released.
Dumervil has to be licking his chops:
Oakland's offensive line allowed six sacks in the second half last week against Washington. The line simply fell apart. If the Raiders don't find a cure, Denver's
Elvis Dumervil
could easily break the franchise's single-season sack record. Dumervil has 15 sacks, which leads the NFL. The Denver team record for sacks is 16, set by Simon Fletcher in 1992. If the Raiders don't address the issue, Dumervil could be celebrating often Sunday.
December, 15, 2009
12/15/09
11:15
PM ET
The fact that the
Oakland Raiders
are
bringing in quarterback
J.P. Losman
means that the team has major doubts that
Bruce Gradkowski
will be able to play out the rest of the season.
The Raiders have not ruled Gradkowski out of the season, but Oakland coach Tom Cable said Monday that Gradkowski is doubtful to play Sunday at Denver. Losman would give Oakland four quarterbacks.
Losman, a former top pick by Buffalo, recently played in the United Football League. Losman had success in the league. It is doubtful Losman could be ready to play against the Broncos. But perhaps he could be an option in the last two games to challenge
JaMarcus Russell
and
Charlie Frye
if Gradkowski is, indeed, out.
With Russell not looking like a viable option for the future, Losman is, at least, worth a look for Oakland. The Raiders don't have much to lose.
April, 23, 2009
4/23/09
11:35
AM ET
Posted by ESPN.com's Bill Williamson
Denver
Report: The Broncos like free-agent quarterback J.P. Losman.
My take: The report suggests Denver could pursue the former Bills top pick if it doesn't take a quarterback in the draft. I think Denver will take a quarterback this weekend, whether it's Mark Sanchez in the first round or a developmental quarterback in the late rounds. Still, Denver's interest in Losman shows the Broncos aren't sure about the veteran quarterback pairing of Kyle Orton and Chris Simms. If Losman was brought in, he'd surely be in the mix during training camp. Whether it's Losman or not, it is clear there will be another quarterback in Denver very soon.
Kansas City
Here's another take on whether Aaron Curry will be the Chiefs' choice at No. 3.
My take: It could all be moot if Curry ends up the No. 1 choice in Detroit. But I do believe Curry will be available at No. 3 and the Chiefs will ultimately take him. There are other options, including taking a tackle, a receiver, a defensive lineman or a trade. But Curry may be the safest pick and safe is always good that high in the draft.
San Diego
The Chargers could be eying Ohio State defensive back Malcolm Jenkins.
My take: Jenkins could be moved from cornerback to safety. In San Diego, Jenkins would be moved to safety. Jenkins, I believe, is one of the top defenders on San Diego's wish list. The team does need a safety, but I think there are surer bets out there. Why risk taking a player who needs to switch positions to help you? San Diego should take a player such as linebacker Rey Maualuga or defensive end Tyson Jackson, if they are available, in the first round and take a safety later.
December, 21, 2008
12/21/08
3:29
PM ET
Posted by ESPN.com's Bill Williamson
Pre-game news and notes from Denver:
Denver star left cornerback Champ Bailey is active and is expected to start against Buffalo. Bailey has missed the past seven games with a torn groin. Bailey said last week that he needed to get on the field at least once if Denver were to make the playoffs so he felt good in January.
Buffalo quarterback J.P. Losman is the Bills' No. 3 quarterback Sunday behind Trent Edwards and No. 2 quarterback Gibran Hamdan. Losman had been starting in recent week with Edwards injured.
Buffalo left tackle Jason Peters is inactive and is replaced by Kirk Chambers.
The game-time temperatures are expected to be in the high teens in Denver. It is very cold but clear.
Denver rookie free safety Josh Barrett will start for the injured Marlon McCree.
Buffalo top pick Leodis McKelvin is starting for the injured Jabari Greer at cornerback.
Denver rookie left tackle Ryan Clady will play despite an ankle injury that kept him out of two days of practice this week.
Denver right guard Chris Kuper will play despite a hand injury that kept him out of two days of practice this week.
Denver No. 3 receiver Brandon Stokley will play despite being hobbled for the past two weeks with a foot injury.
As promised by Denver coach Mike Shanahan, there are no updates from the Chargers game in Tampa Bay on the stadium scoreboards or in the Denver locker room. The televisions in the locker room, which are usually tuned into the early action, are turned off Sunday. Denver will clinch the division in the Buccaneers beat San Diego. The Chargers are leading 27-24 midway in the fourth quarter.
October, 18, 2008
10/18/08
12:00
PM ET
Posted by ESPN.com's Bill Williamson
Weekend mail call:
Ryan from San Diego: Being an AFC West blogger you must be loving what the next decade will hold in store for two rival quarterbacks Cutler and Rivers. I was wondering what you thought of Cutler opening his mouth to Best Damn Sport Show about his feelings towards about Elway and Rivers. For all the crap Rivers has received for being a trash talking QB, he has at least left it on the field. Seems rather ironic and hypocritical for Cutler to call out Rivers on it. Also since you used to write for the Denver newpaper how did you feel about him showing up Elway, as well as the rest of the NFL QBs regarding his arm strength? Whether its true or not is seems very arragont for a QB that hasn't done anything at any level yet, college or NFL. That being said Cutler and Rivers both bring certain qualities that are valuble. Cutler has the edge physically, arm strength and mobility. Rivers has those intangibles that champions are made of and that couches and players love; leadership, tenacity, football smarts and that IT factor that couches talk about that go beyond physical gifts. They are also both very accurate passers. Their rivalry could be bigger than Brady vs. Manning given the fact that they are guaranteed to play each twice a year and unlike Brady and Manning, genuinely seem to dislike each other. Both have very bright careers ahead of them and I'm sure they'll both hold Superbowl trophies one day. Sorry for the length of the email but I appreciate your time and hopeful reply back.
Bill Williamson: I think Cutler's comments and Rivers' penchant for yapping are a bit overplayed. So they talk -- so what? They are leaders on their respective teams. They shouldn't be meek. On the field, both are very good players who will be around for several years and they should be rivals for years to come. That's great for football. I think that should be the focus, not what they say.

---
Jason from Sacramento:
Bill, the Chiefs will be looking for a starting qb next year, and Matt Stafford aint it. Wouldn't JP Losman, or even
Alex Smith
make sense?? I can live with Brodie as the #2, but we need a starter and I think a change of environment would help either of those two
BW: Interesting, Jason. But I do think the Chiefs need to find their franchise quarterback next year (If they decide Croyle isn't it). Smith or Losman would be stopgaps. The Chiefs are trying to build a winner. They need to do it with a young franchise type, not a retread.

---
Jon C from Loma Linda:
do you think Jamarcus Russell is a bust?
BW: Jon, I think it's too early to say that. Russell has a lot of work to do and needs to become a more accurate passer. But he is young. His struggles are not uncommon. Yes, he needs to get better but time is on his side.

---
Shon from Louisville:
Why is michael bush not getting more playing time. He has good speed, size and great hands. Bush was making progress with limited touches while
Justin Fargas
was out
BW: The San Diego Union Tribune reported this week that he was nearly traded to the Chargers. I don't understand why Bush isn't playing much. I think he is a good weapon. The Raiders need to rely more on the running game these days as Russell finds his way, and I think Bush needs more carries.

---
Gary Hunter:
I am probably the only person in the world who does not know what the GU stands for on players uniforms and helments. Help!
BW: Hi Gary. It is a tribute to Gene Upshaw, the Raiders' Hall of Fame guard and executive director of the NFL player's union, who died this summer from a short bout with cancer.

---
Tyler from Los Angeles:
When I hear people discuss
Philip Rivers
, they almost always knock his arm strength, yet I just watched a game in which he consistently threw gorgeous, accurate deep balls (against New England). In fact, I've never seen him struggle with deep passes in all the time he's been in San Diego. I DO remember
Drew Brees
having a tendency to underthrow receivers during his tenure as a Charger. What's the deal with this arm strength criticism? Are sports pundits watching different games than I'm seeing or has "Philip Rivers has a weak arm" become an excuse for them to not do their homework and actually analyze his strengths and weaknesses as an NFL QB?
BW: I'm with you, Tyler. I have no problem with Rivers' arm. He aired it out pretty well against New England, didn't he?