September, 5, 2014
Sep 5
5:50
PM ET
ENGLEWOOD, Colo. – When the
Denver Broncos
opened their offseason program, the middle linebacker spot in their defense was one of the few spots on the depth chart that was considered wide open.
And
Nate Irving
got the first shot.
All these weeks and months later, the Broncos are just two days out from their regular-season opener against the
Indianapolis Colts
and Irving is still in there, having done his part to take what was characterized as a competition and turn it into a chorus of crickets.
[+] Enlarge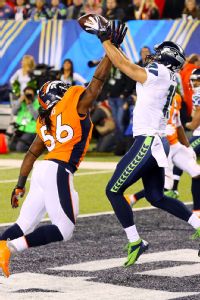 Ronald Martinez/Getty ImagesNate Irving figures to have a hand in more action this season for the Broncos.
"Nothing is ever set in stone,'' Irving said after Friday's practice. "And this is a production-based job, if I'm not doing it somebody else is going to have to come in and do it. But right now I'm not happy to be here, I'm still going to work, trying to help my team, become a better player overall.''
This time around Irving seized the opportunity in front of him. Last summer they tried him at middle linebacker as well and while he eventually went on to fill in well for
Von Miller
at strong-side linebacker, especially following Miller's Week 16 ACL injury and into the postseason, the middle linebacker thing just didn't go the way Irving had hoped it would.
The Broncos moved
Wesley Woodyard
into the middle early in the season and after Woodyard suffered a stinger Oct. 6 against the
Dallas Cowboys
, the Broncos then put Paris Lenon, who they had signed during training camp, in the middle.
This time Irving has gone in and stayed in.
"For the coaches to have that faith in me, for my teammates to have that faith in me and to have faith in myself was a pretty big deal to me,'' Irving said. "And I thank them for it.''
In these current pass-happy times, the middle linebacker in the base defense is essentially a specialty position. But defensive coordinator Jack Del Rio has consistently said the Broncos' ability to keep opposing offenses in down-and-distance situations that favor the Broncos' pass rushers, the ones where a defense can get sacks, force turnovers and change games, will be dependent upon standing tall in the base defense.
Some scouts said when Irving, a third-round pick in the 2011 draft, entered the league that they weren't sure Irving could consistently square up blockers in run defense to be in position to shed blockers and make tackles as a middle linebacker without surrendering a running lane, Perhaps he was better suited to play on the outside. And at times, when Irving previously played at middle linebacker, the Broncos wanted more from him in that role.
And they've seen it so far.
"I think he's very familiar with our defense, he has some confidence with the way he played last year when he filled in for Von, he understands what he's supposed to do, where he's supposed to be,'' Del Rio said. "He's a heavy-handed guy, who's done a good job in what we're doing. We like what he's done.''
The Broncos, with the Indianapolis Colts' injury struggles in the offensive line, expect the Colts to pound away out of some heavier formations at times in the run game. That would put the Broncos in their base defense, with Irving in the middle, in position to stop the run, especially early in the game.
"I just think you try, each year, be better than you were at that point last year, that's the goal,'' Irving said. "How much have I progressed? From my rookie year until now? Mountains, man. I've come a long way, but I haven't arrived yet, so I still have a long way to go. But I'm excited to have the chance.''