September, 9, 2013
9/09/13
5:53
PM ET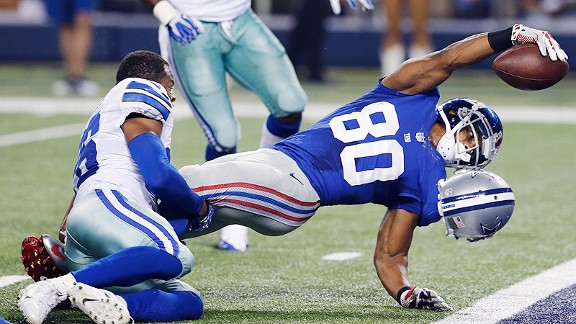 AP Photo/LM OteroThe Broncos will likely deploy more defensive backs when taking on the Giants and Victor Cruz.
ENGLEWOOD, Colo. -- Fresh off the feel-good season opener the
Denver Broncos
' secondary will get an entirely different kind of test Sunday against the
New York Giants
.
Baltimore Ravens
quarterback
Joe Flacco
had limited options on the outside -- once
Jacoby Jones
left with a knee injury on a second-quarter punt return.
Brandon Stokley
is 37 years old and was signed after training camp opened;
Dallas Clark
is 34, has struggled with injuries in recent seasons and was signed after training camp open;
Marlon Brown
is a rookie; and
Ed Dickson
struggled mightily in a receiving role last Thursday night. So, despite not having either
Champ Bailey
(left foot injury) or
Von Miller
(suspension) in the lineup, the Broncos did not surrender a pass play longer than 34 yards in the game.
The Giants, however, present a different set of troubles. In their turnover-marred loss in Dallas, New York still had three wide receivers finish with at least 100 yards in the game --
Victor Cruz
with 118 yards on five catches,
Hakeem Nicks
with 115 yards on five catches and
Rueben Randle
with 101 yards on, yes, five catches. Cruz finished with three touchdowns in the game.
"Their receivers are dynamic,'' said Broncos safety
Rahim Moore
. " … They have so many targets.''
"Honestly, Cruz is getting the bulk of the attention, but they have weapons all over the place,'' said safety
Duke Ihenacho
.
The challenge will be how the Broncos matchup with the size the Giants have on the outside, especially if Bailey isn't ready to return to the lineup this week. Randle is 6-foot-2, Nicks is 6-foot-1 and Cruz comes in at 6-0. The Broncos can counter with 6-2
Dominique Rodgers-Cromartie
and the 6-0 Bailey, if the 12-time Pro Bowl selection is ready to return to the lineup.
Cornerback
Chris Harris
, an aggressive player who consistently fends off the challenges, is 5-foot-10 and cornerback
Tony Carter
, who has routinely come in when the Broncos go to the nickel in games Bailey doesn't play and the dime when Bailey is in the lineup, is 5-foot-9 and 175 pounds. When Carter plays in the nickel, he lines up in one of the outside positions and Harris goes inside to the slot.
Flacco sought Carter out in coverage on several occasions in last January's playoff win as well as last Thursday night. This is especially true if Carter allows the receiver to get a free release off the line of scrimmage, and
Eli Manning
would likely do the same.
The Broncos will also use rookie cornerback
Kayvon Webster
at times in some of their specialty looks and if they get into some of the longer down-and-distance situations, defensive coordinator Jack Del Rio will use a seven defensive back package. The Broncos used it for two snaps against the Ravens, but figure to use it more against the Giants' attack.
Giants coach Tom Coughlin's peers in the league have long considered him one of the more aggressive coaches in the NFL, whether it be during his tenure in Jacksonville or now with the Giants. He signs players who once worked for an upcoming opponent in the days before his team plays that opponent. And if things go well for former Broncos running back Willis McGahee Tuesday, he could join the list. Per ESPN NFL Insider Adam Schefter, McGahee will be one of three backs -- Brandon Jacobs and Joe McKnight are the others, who will work out for the Giants Tuesday. The Broncos released McGahee in June after McGahee had skipped the majority of the team's offseason workouts. The running back cited "family reasons.'' McGahee will turn 32 next month and hasn't played in a game since tearing an MCL on Nov. 18 against the Chargers on a hit from now-Broncos cornerback Quentin Jammer. McGahee had two years left on his deal when the Broncos let him go with a scheduled $2.5 million base salary this season and $2 million base salary in 2014. But with the Broncos having used a third-round pick on Ronnie Hillman in the 2012 draft to go with the second-round pick they used on Montee Ball in April's draft, the combination of McGahee's injury and contract pushed the Broncos toward the young guys at the position. So much so, the Broncos were willing to take a $1 million dead money hit against the salary cap to release McGahee. The Broncos had some concern about McGahee's ability to stay healthy over the long term and after he took part in the team's mandatory minicamp in mid-June, they released him. The Giants benched running back David Wilson Sunday after two fumbles and some bobbles in pass protection.

Wide receiver/kick return Trindon Holliday (left lower leg), cornerback Omar Bolden (left shoulder) and linebacker Wesley Woodyard (right ankle) were not on the field for the Broncos' workout Monday. The practice was essentially an extra opportunity for some on-field work for the Broncos -- what coach John Fox calls "a Broncos on Broncos practice.'' Wide receiver Eric Decker, who suffered a right shoulder injury in last Thursday's game, did participate in the practice. Bailey (left foot) did not take part. Tight end Joel Dreessen, who had two arthroscopic surgeries on his left knee since May, is closing in on returning to practice on at least a limited basis. Dreessen worked with strength and conditioning coach Luke Richesson. Rookie running back C.J. Anderson also did drills alongside Dreessen, work that included some short sprints.

The final Manning tally for the season's opening week: 912 passing yards -- both finished 27-of-42 passing in their respective games -- and 11 touchdowns. Peyton Manning was 27-of-42 for 462 yards with seven touchdowns without an interception in the Broncos' 49-27 victory over the Ravens on Thursday night. Eli Manning was 27-of-42 for 450 yards with four touchdowns and three interceptions in the Giants' loss to Dallas Sunday. The two brothers will face each other Sunday at MetLife Stadium -- it's the third time they have played each other in the NFL.
September, 1, 2013
9/01/13
6:21
PM ET
Broncos quarterback
Peyton Manning
has assembled an all-time football resume, piles of 4,000-yard seasons, four MVP awards and a Super Bowl win.
And yet, as he approaches his 16
th
season opener, he said he remains as excited as ever at what a new season might bring. Asked Sunday if he still gets butterflies before the opener, Manning said:
[+] Enlarge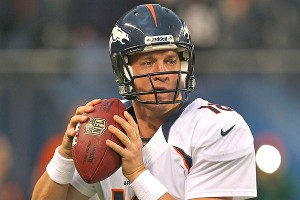 Jonathan Daniel/Getty ImagesHe might appear calm under center, but Broncos QB Peyton Manning admitted that he'll be a bit nervous before Thursday night's season opener.
"I do, I do. I think if you don't you probably ought to be doing something else. Sixteenth opening day, having played in this opening game three times. It's got a little something extra to it … Healthy butterflies, it's a good thing.''
Some things to consider as the Broncos formally kicked off their practice week Sunday for Thursday night's affair:
With a night to sleep on it, the Broncos came to the conclusion – as expected, perhaps -- that six linebackers wasn't enough on the roster after the initial cutdown to 53 players. That was especially true since one of the players they formally list at linebacker – Shaun Phillips – lines up at defensive end for the majority of his snaps. So, the Broncos claimed second-year linebacker Adrian Robinson off waivers Sunday and he's expected to practice with the team Tuesday. Robinson is a 250-pounder who made the Steelers roster last season as an undrafted rookie largely because of his special teams play. The Broncos are also his third team since Aug. 23. That's when he was traded to the Eagles, for running back Felix Jones and the Eagles then waived him Saturday. He played at inside linebacker in the Steelers' 3-4 look and the Eagles tried them there in their new 3-4 as well. The Broncos use plenty of 3-4 principles in their defense, though their base look is technically a 4-3, but if his game video is any indication Robinson will have a chance to contribute quickly on special teams. To make room for Robinson, running back Jacob Hester was released.

The Broncos have obviously had their turn-the-page meeting leading up to Thursday's season opener. Any and all questions about the crushing double-overtime loss last January, when the Broncos let the home-field advantage slip away, were met with some kind of what's past is past response. That is Gameweek 101, to be sure, but those in the seats at Sports Authority Field at Mile High may be a different matter entirely. Football fans in the region have done little else but re-hash the playoff loss, the kneel-down the Broncos took just before the end of regulation with two timeouts in hand and the Joe Flacco to Jacoby Jones touchdown to tie the game late in the fourth quarter. Should the Broncos start slowly Thursday, it will be curious to see how those on hand respond. Asked Sunday if revenge played any part in the discussion about the game, from his perspective Manning said: "If people need that as extra incentive that's fine. But I think there's plenty, just with the schedule and the timing of when we're playing.'' Some players said thinking about the loss may have helped push them through offseason workouts at times, but that Thursday's game is the fresh start for the 2013 season.

Hester's release unquestionably makes Knowshon Moreno the most accomplished back in pass protection for the Broncos. Because of that, Moreno could see plenty of work in some longer down-and-distance situations in place of rookie Montee Ball and Ronnie Hillman. Hester was signed last season, in large part, because the Broncos believed they needed help in pass protection at the position. Hester had spent most of this year's training camp and the preseason at fullback. And the Broncos will run the offense with three wide receivers or two tight ends in the formation far more than they will out of a traditional two-back look, so Hester's spot became somewhat expendable given the numbers at linebacker. Tight end Virgil Green would line up in the backfield much of the time if the Broncos wanted a lead blocker in front of the running back. It also confirms how determined the Broncos are to keeping rookie quarterback Zac Dysert on the roster at the moment.

A look at the starting lineups for the playoff game last Jan. 12 does show how change arrives in the league. Nine players who started for the Ravens in that game are not on this year's roster, including seven on defense. The Broncos weren't hit quite as hard by full-blown departures, but some things have changed. The Broncos had four starters in the game who are no longer with the team – Justin Bannan, Brandon Stokley, Keith Brooking and Elvis Dumervil. Also, Dan Koppen is now on injured reserve, Von Miller is suspended for the first six games of the season and neither Chris Kuper nor Joel Dreessen are expected to start Thursday. "Both teams have a lot of new guys,'' said wide receiver Demaryius Thomas. "They were other places for that game.''

Broncos safety Rahim Moore, when asked if he had won back the fans after last year's playoff loss: "Camp is camp, there is nothing you can really tell by just practice. You can go out there and just show your hard work, but you're judged by your games. What you're doing week in, week out is how people judge you.''

The Broncos signed seven players to their practice squad Sunday, including two draft picks from this past April they had released in tackle Vinston Painter and wide receiver Tavarres King, who were the team's sixth- and fifth-round picks, respectively. Also signed to the practice squad were wide receiver Gerell Robinson, running back Edwin Baker, defensive tackle Ben Garland, tackle Paul Cornick and defensive end John Youboty. Baker is the only player of the seven who was not in training camp with the Broncos. The 200-pound second-year back rushed for 1,201 yards as a sophomore at Michigan State in 2010.
August, 13, 2013
8/13/13
12:00
PM ET
ENGLEWOOD, Colo. -- Live on Colorado's front range long enough, and you live with an unshakable, that's-the-way-it-is truth. That most days, as in 300 or so a year, the sun shines brightly and the skies are blue.
But when the storm clouds come rolling down the mountains, it's an ambush -- they come fast and with menacing intent. And that, really, is the story of the Broncos' offseason.

"Hey, you have to deal with all kinds of things along the way," said Broncos cornerback
Champ Bailey
, now entering his 10th season with the team. "And we've had plenty of things to deal with around here over the years; sometimes we've done a good job with it, sometimes we haven't. I tell the young guys all the time, we'll see how we handle things. We can be good, but we have to get to work, because thinking you're good and being good are always two different things."
The Broncos entered free agency as Super Bowl favorites, then they signed
Wes Welker
to a
Peyton Manning
-led offense that had already been good enough to be No. 2 in scoring in 2012. They drafted well, and filled some other needs with veteran signees
Dominique Rodgers-Cromartie
,
Stewart Bradley
and
Shaun Phillips
.
Yep, football sunshine and blue skies.
Then there was Faxgate and
Elvis Dumervil
's rather messy exit from the team that drafted him in 2006.
Then two high-ranking front-office executives -- director of pro personnel Tom Heckert and director of player personnel Matt Russell -- were arrested on drunken driving charges a month apart. Heckert was eventually suspended a month without pay -- he's due to return to the team Thursday -- and Russell was suspended indefinitely.
Then defensive playmaker
Von Miller
was slapped with a four-game suspension for violating the league's substance abuse policy, a revelation that came with the rather troubling fact that Miller had previously violated the policy to get to the suspension phase.
Miller's appeal will be heard Thursday by league officials, and a decision is expected before the regular-season opener against the Ravens.
Toss in a pile of injuries, especially to the offensive line, and it's clear coach John Fox's task will be to keep a talented team on track as it wrestles with the expectations around it, as well as the pothole-filled road it has already traveled.
"It's been my experience if you don't expect a lot, you don't get a lot," Fox said. "Keep the bar low, and that's where people go. We're going to keep the bar high -- I don't mind expectations -- and I think the guys have had good focus. They know the work that has to be done, and I know they'll do it."
THREE HOT ISSUES
1. Deal with it.
Former Broncos defensive end
Alfred Williams
might have said it best. Williams said the Broncos are the only team in the league "with 20 preseason games."
So true. After a 13-3 finish that included an 11-game winning streak dissolved into a crushing playoff loss to the Ravens, the team's fan base essentially sees the coming regular season as little more than an inconvenience before another postseason chance.
That can be a lot to handle for a team, especially if players and coaches get too focused on the potential lack of appreciation from the outside world for anything that happens along the way. More than one person inside the team's Dove Valley complex has expressed frustration in the past six months over the fact that few folks bring up the 13-3 record, the win streak or the division title, and that it is all Ravens, all the time in any discussion about the 2012 season.
Frustrating indeed, but the Broncos have to find some peace of mind somewhere as they move through the next four months.
[+] Enlarge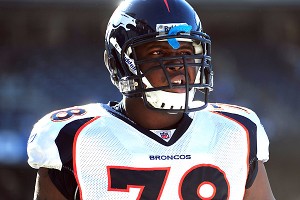 Harry How/Getty ImagesWhile the Broncos wait for star left tackle Ryan Clady to return from shoulder surgery, the team has many questions on the offensive line.
2. Front-line issues.
Left tackle
Ryan Clady
, a newly minted five-year, $52.5 million contract in hand, is still working back from offseason shoulder surgery and is not yet 100 percent.
Center
J.D. Walton
had ankle surgery just before minicamp and isn't expected back in the lineup until late October or early November at the earliest. He was just seen at the Broncos' complex this past week without a walking boot on for the first time since the operation.
Walton's backup,
Dan Koppen
, tore his ACL in the first week of training camp and is done for the year.
It leaves
Manny Ramirez
, who just started his first career game at center in the Broncos' preseason opener in San Francisco, and 31-year-old
Ryan Lilja
, who was signed out of retirement after two surgeries (knee, toe) earlier in the offseason, as the options in the middle.
Given that defensive coordinators routinely believe the best way to pressure Manning is through the middle of the formation, the Broncos will need an answer to protect him.
3. Defense will tell the tale.
We get it, it's a quarterback league. The rulebook essentially begs/demands that people put the ball in the air almost nonstop in any situation. Offense puts people in the seats.
Whatever. Remind me, but wasn't the Super Bowl -- a Super Bowl played by the two teams that ran the ball the most during the playoffs -- won on a goal-line stand when an offense couldn't/wouldn't punch it in from the doorstep?
The Broncos put up 35 points this past January and were sent home to the collective couch. And when you get right down to it, in back-to-back playoff losses, the Broncos have surrendered 694 passing yards and nine passing touchdowns with just one interception and one sack combined against
Tom Brady
to close out the 2011 season and
Joe Flacco
to close out 2012.
So, Manning to Welker,
Demaryius Thomas
and
Eric Decker
looks nice on a magazine cover, but how the guys on the other side of the ball do will have plenty to say about how far this team goes.
REASON FOR OPTIMISM
It's a talented roster with one of the greatest quarterbacks of all time behind center and a remember-when defensive talent bursting with potential in Miller. Denver is a balanced team that finished in the top five in both offense and defense last season with one of the great home-field advantages in the league. Oh, and the guy running the team is a Hall of Fame quarterback who knows a thing or two about what a title-winning locker room should look like.
REASON FOR PESSIMISM
There are some in the league who looked at the Broncos' drama-filled offseason and said they had the tumultuous profile of a team that had won the Super Bowl instead of losing two rounds before the title game. The Broncos have had the infamous fax issues, the off-the-field troubles, a reality show, a looming suspension of a superstar and more than their share of injuries. Maybe when the games count, none of that will matter, but history is littered with teams that put the championship cart before the horse, content to enjoy the fruits of potential rather than the actual title.
OBSERVATION DECK
[+] Enlarge

Marc Piscotty/Icon SMIThere will be plenty of opportunities for Wes Welker in Denver's offense.

Welker's signing is going to work out -- barring injuries, of course -- exactly the way everybody wanted it to, including Welker. He fits the offense. Broncos offensive coordinator Adam Gase will even expand Welker's reach in Denver's playbook compared with what Welker did in New England, and Welker has worked hard to fit in. There has been some hand-wringing both near and far about where the "catches" were going to come from for a guy with five 100-reception seasons. The answer is that the catches are already in the offense. Working mostly out of the slot last season, tight end Jacob Tamme and wide receiver Brandon Stokley combined for 97 receptions, 1,099 yards and seven touchdowns. Those numbers from Welker would fit quite nicely.

The offensive line is an issue to keep an eye on until the Broncos prove it's not. Getting Clady back in the lineup -- he's still on track to start the opener -- will help greatly, but they've struggled to protect the quarterbacks in practice against their own high-end defense, as well as in the preseason opener. If things don't improve, the Broncos will spend an awful lot of time tossing dump-offs to the hot receiver or shallow crosses because they can't protect long enough to go down the field.

Miller's potential and ability are almost limitless. Former longtime Broncos defensive coordinator Joe Collier, the guy who called the shots for the Orange Crush defense, has said Miller has the potential to be the franchise's best-ever defensive player. But Miller, the results of his appeal of his four-game suspension notwithstanding, has to hold up his end of the bargain, both on and off the field, to make that happen. And the Broncos will have to decide over the next season or so -- his contract is up after 2014 -- just how high they'll want to go on an extension and whether the investment will be worth it over the long term.

Folks can wish it were different, especially as they wrestle with their fantasy lineups each week, but every indication on the practice field -- as in EVERY indication -- is that Ronnie Hillman and Montee Ball are going to share the workload in a variety of down-and-distance situations. And Knowshon Moreno and Jacob Hester figure to at least be in the third-down mix as well at times.

Hillman, however, should benefit from Gase's concerted effort to create more impact in the run game outside the hashmarks. The Broncos weren't all that good, or committed, to the outside runs last season. And if Hillman runs with decisiveness and the Broncos can get it done up front -- they brought longtime assistant Alex Gibbs back to help with the zone-run game -- there are some big plays waiting.

The games will ultimately be the gauge, but safety Rahim Moore has had a quality camp in an offseason in which many wondered how he would bounce back from the ill-fated leap in the playoff loss to the Ravens. But the bottom line is Moore played more snaps (1,044) than any other player on the defense last season with substantial improvement over his rookie year in 2011, and if everyone else had played their assignments on the Jacoby Jones touchdown, Joe Flacco wouldn't have even thrown the ball that way in the first place. So, those guys should buy Moore a nice dinner for taking the heat and watch him in the starting lineup again.

Thomas sported a heady 15.3 yards-per-catch average on the way to 1,434 yards receiving last season. But that per-catch average should go up given the choices defenses are going to have to make with Welker in the formation. If defenses double in the short and intermediate area to deal with Welker, the Broncos' tight ends and Thomas can overpower most defensive backs down the field.

Defensive end Robert Ayers has consistently said, since the team made him the 18th pick of the 2009 draft, that he has far more to offer when the opportunity comes. And the opportunity has arrived with Dumervil's departure. Ayers has just 6.5 career sacks in his four seasons and has played for four defensive coordinators along the way, each of whom wanted something a little different from him. But Jack Del Rio is back for a second consecutive year, and Ayers is the starter at rush end. Now's the time.

Reports of Bailey's demise are exaggerated, but he is certainly a 35-year-old entering his 15th season. Or as he put it: "I had some plays in the playoff game I should have made, pure and simple. I didn't, but I can let it drag me down or just get back to it. I still think I can play and I think I have shown I can still play at a high level." The Broncos will pick their spots more when they single him up, but he has been top-shelf throughout training camp while running stride for stride with the Broncos' best receivers.

The Broncos have an awful lot riding on how Gibbs and offensive line coach Dave Magazu get things worked out on the offensive line. If the Broncos can add some pop out of the play-action run game and consistently protect Manning out of a three-wide receiver set, the points should follow.

Some say Welker's presence in the offense means the Broncos will throw more in '13. However, Manning's 400 completions last season amounted to the second-highest total of his career, and his 583 attempts were the third-highest. In a perfect world, the Broncos would like those totals to be slightly lower this time around -- Manning himself has said "we'd like to run it more" -- because it would mean they simply ran the ball to close out games in which they already had the lead.
February, 21, 2013
2/21/13
12:45
PM ET
INDIANAPOLIS -- The last we saw of
Rahim Moore
, he made an unforgettable, inconceivable error that cost the
Denver Broncos
their 2012 season.
However, it will not be the last we see of Moore in Denver.
In the final seconds of regulation in the AFC divisional playoff round, Moore, a second-year safety, inexplicably allowed Baltimore receiver
Jacoby Jones
to get beyond him on a desperation 70-yard bomb from
Joe Flacco
that sent the game to overtime. The Ravens won 38-35 in double overtime. Denver was a Super Bowl favorite and were seconds away from punching a ticket to hosting the AFC title game.
There has been speculation that the Broncos will move away from Moore. Instead the Broncos are embracing him. The team fully expects him to be a major part of the defense in 2013.
"Craziness," Denver coach John Fox said Thursday at the NFL combine. "He made a huge leap from Year 1 to Year 2 and I expect the same leap to be made this year … He made a mistake, we all did. We have to perform better and we have to coach better."
Fox said the team began to work on getting Moore to move on from the play "the next day." The coach also said the bitterness of the defeat lasted through the Super Bowl and that he and the team had "spit out" the bad taste of the Baltimore loss. As for Moore, Fox said: "he spit it out, too."
February, 16, 2013
2/16/13
12:00
PM ET
The winter doldrums of a football-less mid-February are taking over in the Rocky Mountains. The days are a little colder and a little darker as the
Denver Broncos
come to grips with what could have been.
Watching confetti fall on the jubilant
Baltimore Ravens
after their Super Bowl victory Feb. 3 had to further damage the Broncos' collective psyche -- part of a haunting winter theme of "it could have been us."
The Broncos saw their Super Bowl push end in a 38-35 double-overtime defeat to the visiting Ravens in the AFC divisional round. Denver was 13-3 in the regular season, had the No. 1 seed in the AFC playoffs and entered the playoffs on an 11-game winning streak in which it won every game by at least a touchdown. Its early exit from the postseason was stunning -- and particularly painful for the Broncos because they know it was so avoidable.
[+] Enlarge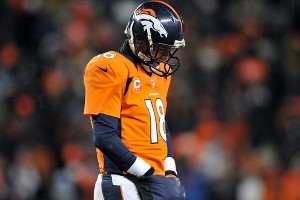 Dustin Bradford/Getty ImagesFilling a few holes, including at receiver, could give Peyton Manning and Denver a better end in 2014.
Baltimore sent the game to overtime on a 70-yard bomb from
Joe Flacco
to
Jacoby Jones
on a play in which Denver safety
Rahim Moore
inexplicably allowed Jones to get behind him in the final seconds of regulation. Countless former players said they had never seen an NFL defensive back make that type of play. Had Moore simply done his job, Denver would have advanced.
Instead, the Broncos will try to regroup and move forward. Despite the sobering end of the season and its painful aftereffects, the Broncos should feel good about themselves heading into the 2013 season as NFL Comeback Player of the Year winner and MVP runner-up
Peyton Manning
prepares for his second season in Denver at age 37.
"There's a lot of young players in this locker room that need to use this as motivation, as a spark to have that fire burning inside of them this offseason and come back stronger," veteran middle linebacker
Keith Brooking
said shortly after the season. "This is a great locker room. The Denver Broncos are really close."
The Broncos are not alone in building high expectations for the immediate future. The Las Vegas oddsmakers have made the Broncos the early favorite to win next year's Super Bowl. In an Insider piece, ESPN.com pegged them as
a strong early contender for next season

.
Matt Williamson of Scouts Inc. had this to say about the Broncos heading into next season: "I think their roster is exceptional."
Still, it would be inaccurate to say this is the perfect roster. The Broncos, two years removed from a 4-12 season, need to upgrade at certain spots. With the No. 28 pick in the draft and expected room under the salary cap, Denver should be able to improve. Let's take a look at some areas the Broncos should look at as they aim for a long Super Bowl run next season:
Running back:
The Broncos have the making of a decent stable of running backs but could use another pair of legs. I think Denver needs to find a bigger back to help in short-yardage situations.
Jacob Hester
did a nice job at the end of the season, but Denver might want to find a better back. Again, with
Willis McGahee
, a revived
Knowshon Moreno
and young
Ronnie Hillman
, there is a lot to like in the immediate future. But another talented runner wouldn't hurt.
Receiver:
Brandon Stokley
did a nice job at age 36 as the slot receiver, but I could see Denver looking for a younger, more special option. There will be some interesting options available, including
Wes Welker
in free agency and perhaps
Percy Harvin
in a trade. Denver could even try to go big and add a player such as
Mike Wallace
. If Denver's brass decides it can afford to make a big splash, this could be an area where Manning can take advantage. The truth is that the future is now in Denver. Manning has only so many years left, so Denver could be intrigued by striking big at this spot.
Defensive tackle:
Denver's defense made huge strides in 2012 under first-year defensive coordinator Jack Del Rio. Veteran defensive tackles
Kevin Vickerson
and
Justin Bannan
were good in their roles. But both are free agents, and Denver might want to get younger. There could be some solid options in the first round at this position, such as Purdue's
Kawann Short
and Georgia's
Johnathan Jenkins
. Denver should find a good, young run-stuffer to plug in the middle of an explosive defense.
Middle linebacker:
Brooking played well last season, but he was 37 and Denver needs to find a better starting option, whether via free agency in the form of someone like Baltimore's
Dannell Ellerbe
or in the draft if Notre Dame's
Manti Te'o
, Georgia's
Alec Ogletree
or LSU's
Kevin Minter
is available. Denver has a lot of young pieces on defense. Adding another one at this position wouldn't be a terrible idea.
Secondary:
The last time we saw the Broncos, it wasn't a great day for Denver's secondary. In addition to Moore's last-second gaffe, surefire Hall of Fame cornerback
Champ Bailey
was torched. But Bailey, who will turn 35 in June, had a good season and the Broncos will keep him for another year with young, promising
Chris Harris
and
Tony Carter
. As at receiver, though, Denver could be tempted to go big and try to get into the
Darrelle Revis
trade talks if the Jets make a move. I also could see Denver looking to upgrade at safety. Moore, a second-round pick in 2011, made strides in 2012, and the team likely will not give up on him because of the one bad play. But adding another safety might be smart.
January, 31, 2013
1/31/13
11:00
AM ET
Want to learn how not to play defense in crucial situations against the
Baltimore Ravens
?
Just watch tape of the AFC West.
According to U-T San Diego
, the
San Francisco 49ers
have watched and learned from the Chargers' awful defense on the famous
Ray Rice
fourth-and-29 first-down conversion that turned what looked like a sure San Diego win into a Baltimore overtime victory. The last-gasp play came late in regulation Nov. 25.
I'm sure that, as they prepare to face the Ravens in Super Bowl XLVII on Sunday, the 49ers have also watched
Rahim Moore
's horrendous defense in the Broncos' meeting with the Ravens in the divisional playoffs. The 70-yard bomb from
Joe Flacco
to
Jacoby Jones
over Moore tied the game late in regulation and set up the Ravens' win in double overtime.
I witnessed both gaffes in person. And, no, I still can't believe either happened. But the truth is, if the Ravens win the Super Bowl, they can thank the two colossal AFC West misplays for helping them get there.
January, 18, 2013
1/18/13
8:00
AM ET
Trent Dilfer understands what John Fox was thinking last Saturday night.
There has been a lot of made of the way the
Denver Broncos
staggered into overtime of an eventual 38-35 double overtime loss to visiting Baltimore in the AFC Divisional playoffs. With a Denver victory all but assured, Baltimore tied the game on a 70-yard bomb from
Joe Flacco
to
Jacoby Jones
during the final minute as Denver safety
Rahim Moore
made a terrible mistake by allowing Jones to get behind him.

Fox
Instead of trying to get a game-winning field goal, Fox had quarterback
Peyton Manning
take a knee at the Broncos' 20-yard line with 31 seconds left and Denver having two timeouts. Fox said his team needed to regroup and go to overtime, because it was shocked by the Ravens' touchdown.
In an ESPN conference call to talk about the NFL championship weekend, Dilfer, an ESPN analyst and a former NFL quarterback, was asked about the situation. He understood Fox's decision.
"It's like getting kicked in the groin," Dilfer said. "(The Baltimore touchdown) happens and it just sucked the life out of everybody on the Denver sideline. And no matter how poised these coaches are, and they are, I know John (Fox) and Jack (Del Rio) and Mike (McCoy) very well ... Their brain still had to be scrambled.
"Such an egregious error by your secondary, especially the safety, that you're sitting there and you just know the life's been sucked out of you. You're out of breath. And I think that's where discernment kind of comes in. Let's regroup before we do anything crazy here. And that's how I felt. I was so shocked by the whole thing that I kind of felt the same way, like 'wow they just need to regroup here; they just got kicked in the groin and wiser heads will prevail. Calmer heads will prevail.' Now, they didn't. But I think that's the logical thought process behind that."
January, 15, 2013
1/15/13
8:15
PM ET
There are usually ramifications to all-time postseason blunders and this is no exception. ESPN's Adam Schefter reported that the
Denver Broncos
have fired secondary coach Ron Milus
.
His firing comes three days after second-year safety
Rahim Moore
was out of place and allowed Jacoby Jones to get behind him on a desperation 70-yard bomb from
Joe Flacco
that tied the game. Baltimore would eventually win in double overtime.
UPDATE
: The Broncos have acted quickly to replace Milus, whose contract was not renewed. Cory Undlin replaces him. He was with defensive coordinator Jack Del Rio in Jacksonville. Team maintains the Milus firing was not all on Moore.
Countless former NFL players have said that they've never seen a safety so out of position like Moore was on that play. Moore, a second-round pick in 2011, made strides in 2012 and the team is not going to give up on him.
So, Milus is paying for not putting his player in position. Is Milus' firing all about that one play? Perhaps not, but the timing is curious. Plus, He was brought to Denver by head coach John Fox in 2011 after coaching three years for him in Carolina. At the very least, the Moore play was a major part of Milus' firing.
Denver's secondary, overall, had a good season in 2012. But the Moore play will forever be remembered for costing Denver the Baltimore game and ramifications were bound to concur.
In other AFC West news:
Denver left tackle Ryan Clady has withdrawn from the Pro Bowl because of a shoulder injury. It is not expected to affect him in 2013.
New San Diego coach Mike McCoy coached both San Diego tight end Dante Rosario and receiver/returner Eddie Royal in Denver, so he has some instant familiarity.
As expected, New Kansas City coach Andy Reid hired former Chicago special teams coach Dave Toub for the same job. Toub is considered one of the best special teams in the NFL. Toub worked for Reid in Philadelphia earlier last decade.
Also, former Kansas City defensive coordinator Gary Gibbs was retained as linebacker coach and Emmitt Thomas has been kept as the secondary coach. Reid has brought in Eugene Chung as the assistant offensive line coach. He was in the same role on Reid's Eagles' staff last season.
January, 13, 2013
1/13/13
10:00
AM ET
The Denver Broncos' season suddenly ended Saturday in an epic double-overtime 38-35 home loss to Baltimore. The No. 1 seeded Broncos' season ended at 13-4.
Recap:
We can go on and on. So much had to happen for this to result -- and it all did. Denver saw its 11-game win streak end for oh so many reasons. Quarterback
Peyton Manning
committed three turnovers that resulted in 17 points for Baltimore. Denver safety
Rahim Moore
committed a cardinal sin of secondary play by allowing
Jacoby Jones
to get behind him on a desperation bomb in the final seconds of regulation. Star cornerback
Champ Bailey
had a rough day. Denver's offensive and defensive fronts faltered. Coach John Fox had a bad day. It was a total team-effort defeat.
Biggest offseason area to fix:
The Broncos are in good shape, but they probably need another impact defensive player, likely at middle linebacker or at safety.
Biggest area to build on:
This is a good roster. It's just not Manning. Denver should be good again in 2013.
What to watch for:
The Broncos have more than $18 million in salary-cap room, the most in the AFC West. The first order of business will be either extending All-Pro left tackle
Ryan Clady
or franchising him. Denver has the No. 28 pick in the first round of the draft.
January, 13, 2013
1/13/13
12:06
AM ET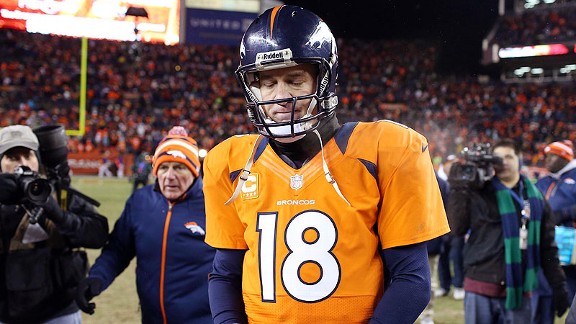 Chris Humphreys/USA TODAY SportsPeyton Manning fell to 9-11 in playoff games with Saturday's defeat against Baltimore.
DENVER -- Before
Jacoby Jones
even crossed into the end zone to tie this classic game,
Jim Leonhard
knelt over on the field in utter disbelief and helplessness.
Was this magical season really going to go down like this? It couldn't. Not with
Peyton Manning
on the Denver sideline. He'd make it better. He'd have overtime to counter a miraculous
Joe Flacco
bomb to Jones with 31 seconds to go in regulation Saturday at Sports Authority Field.
Right? He'd have to. Right? He's Peyton Manning. In one season, he turned the
Denver Broncos
into perhaps the best team in football. He'd get it done.
Yet what the Flacco-Jones connection did was give Manning another opportunity to add to his playoff misery.
And he did.
This
38-35 Baltimore victory
-- sealed 1 minute, 42 seconds into the second overtime -- will always be remembered not only for the Baltimore Bomb (really, can you count five better playoff plays?) but also as another postseason hit on Manning's legacy.
With Denver trying to drive for a game-winning score late in the first overtime, Manning made a poor decision and was intercepted by Baltimore cornerback
Corey Graham
at the Denver 45. Baltimore won on a 47-yard field goal six plays later.
The interception was Manning's third turnover of the game. The turnovers resulted in 17 points for Baltimore, including an interception return for a score by Graham in the first quarter on a deflected pass.
The loss is another chapter in the one flaw in Manning's career -- he has not always been clutch in the postseason. Manning is 9-11 in the playoffs and tied for the most playoff losses by a quarterback. Manning also fell to 0-4 in playoff games when the temperature was below 40 degrees; it was in the single digits at the end of the game.
Is it fair to pin this loss on Manning and his lack of playoff success?
"He was trying to make a play," Denver coach John Fox said of Manning's last interception. "There were a lot of different plays in that game that were costly. That was one of many."
Fox is correct. This loss was not all on Manning, not by a long shot. He had moments where he shined, but the stable of Denver goats in this game is crowded.
Second-year safety
Rahim Moore
might never be forgiven in Denver for allowing Jones to get behind him on the desperation touchdown pass. All Moore had to do was play normal defense, and he blew it. Future Hall of Fame cornerback
Champ Bailey
gave up two touchdown passes to
Torrey Smith
. Late in the second quarter, Fox called for a long field goal attempt by
Matt Prater
, which failed and set up a Baltimore touchdown just before the half. Late in the game, Fox got conservative. The vaunted Denver pass rush was nonexistent for much of a game that saw the NFL's No. 2 defense savaged. It also wasn't a great day for the officials, who made several questionable calls.
In all, it was the perfect formula to suddenly end the season of the NFL's hottest team and the No. 1 seed in the AFC playoffs. Denver rode an 11-game winning streak into the game. Talk of the Super Bowl was legitimate.
But it all ended in a flurry of crazy occurrences. And Manning -- who had beaten the Ravens nine consecutive times, including last month in Baltimore -- wasn't there to save his team.
It should have never gotten to the point of Manning needing to rescue the Broncos, though. According to ESPN Stats & Information's win-probability model, Denver had a 97.2 percent chance of capturing the game before the Jones touchdown.
[+] Enlarge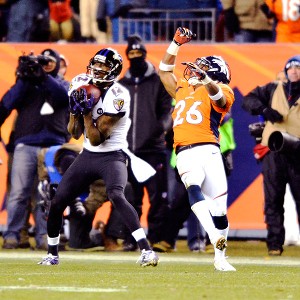 Ron Chenoy/USA TODAY SportsLetting Baltimore's Jacoby Jones get behind him was an unfathomable error for Denver's Rahim Moore.
Manning did enough in regulation to help his team win, despite the first two turnovers. But he also was not perfect. He wasn't at his best, whether it was due to the weather or the pressure of leading his new franchise to a playoff win.
"I probably wasn't quite as good as I wanted to be," Manning said, "and it probably cost us a couple scoring opportunities."
A master of the short pass, Manning had his first pick on a throw outside the pocket this season on his fatal interception, an example of his struggles throwing short Saturday. According to ESPN Stats & Information, Manning completed 74 percent of his passes for 10 yards or fewer this season; Saturday he completed 65 percent.
He didn't get much help, though. Manning was under constant duress in the second half. He dropped back 24 times and was pressured 10 times, according to ESPN Stats & Information, after not being pressured at all in 22 drop-backs in the first half. Manning couldn't single-handedly make up for the sudden lack of protection.
For the past three months, everything went right for Manning and the Broncos. On Saturday, it all crumbled.
This goes down as a miserable end to a wonderful first season in Denver for Manning. When the shock wears off, Denver will be proud of its campaign. The Broncos weren't expected to be in this game. Manning wasn't expected to play at an MVP level, and Denver wasn't expected to be a Super Bowl contender.
The future is still bright for Denver as it licks the wounds from its most hurtful playoff loss since 1996, when Jacksonville stunned the top-seeded Broncos in Denver. The Broncos responded by winning the next two Super Bowls in John Elway's final two seasons at the ages of 37 and 38.
Manning will turn 37 in March, right about the time the Broncos, whose staff will now coach in the Pro Bowl in Hawaii, will be planning to wipe off the stink of the defeat and try again.
Next season there will be bigger expectations and constant questions about whether the Broncos can rebound from this horrible day. Until then, we'll all talk about another disappointing playoff outing for one of the greatest quarterbacks of all time.
January, 12, 2013
1/12/13
9:03
PM ET
DENVER -- A look at a classic AFC divisional playoff game, won
38-35
by the
Baltimore Ravens
in the second overtime:


What it means:
The
Denver Broncos
' season is over. Ravens rookie
Justin Tucker
connected on a field goal 1 minute, 42 seconds into the second overtime to stun Denver in a wild, wild game. Denver had won the previous 11 games and was the No. 1 seed in the AFC playoffs. Now, its season is done. Denver quarterback
Peyton Manning
threw an interception late in the first overtime to set up the game-winning field goal. Manning committed three turnovers (two interceptions and a fumble); they resulted in 17 Baltimore points. It is the eighth time in his career Manning has gone one-and-done in the playoffs. He is 9-11 in the postseason and 0-4 in games in which the temperature was less than 40 degrees. The temperature was in single digits by the end of this one. The loss snapped a nine-game win streak by Manning over Baltimore.
Stunned:
In the final minute of the fourth quarter, Baltimore tied the game at 35-all with a desperation 70-yard bomb from
Joe Flacco
to
Jacoby Jones
with 31 seconds left. Denver safety
Rahim Moore
badly misplayed the ball. The miracle attempt will go down in playoff history.
D. Thomas does it again:
Denver receiver
Demaryius Thomas
broke several tackles on a 17-yard screen pass for a touchdown in the fourth quarter to break a 28-all tie. Last season, Thomas ran for much of an 80-yard touchdown pass from
Tim Tebow
to beat Pittsburgh on the first offensive play of overtime in a wild-card game. This time, it wasn't enough.
It's a Holliday:
Trindon Holliday
is becoming a folk hero in Denver. The tiny return man brought a punt back 90 yards for a score in the first quarter, then took the opening kickoff of the second half 104 yards for a touchdown. Both were NFL playoff records. Again, it wasn't enough.
Miller, Dumervil shut down:
Denver pass-rush stars
Von Miller
and
Elvis Dumervil
were shut down until they combined on a huge sack of Flacco in overtime to force a punt. The Baltimore offensive line did a great job in this game after struggling when the teams met last month in Baltimore.
Tough game for Bailey:
Denver's future Hall of Fame cornerback
Champ Bailey
was burned twice by
Torrey Smith
for touchdowns in the first half. Denver did a nice job of adjusting in the second half.
Moreno hurt, Hillman steps up:
Denver running back
Knowshon Moreno
left with a knee injury, which left rookie
Ronnie Hillman
as Denver's primary running back in the second half. The third-round pick made some big runs in the fourth quarter to help. Hillman has a bright future.
What is next:
Denver's season is over. On to free agency and the draft. An AFC West team has not gone to the Super Bowl since the 2002
Oakland Raiders
. It is the longest division drought in the NFL.