May, 6, 2014
5/06/14
8:00
AM ET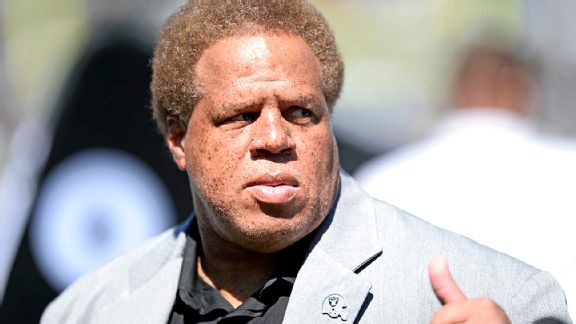 Bob Stanton/USA TODAY SportsOakland Raiders GM Reggie McKenzie needs to find a playmaker with his first-round pick.
And with the fifth pick in the 2014 NFL draft, the Oakland Raiders select ...
Clemson receiver
Sammy Watkins
? Reggie McKenzie can only hope.
Buffalo linebacker
Khalil Mack
? McKenzie can only dream.
South Carolina defensive end
Jadeveon Clowney
? Let's not get crazy now.
This much is true, though: In advance of the draft getting underway Thursday at Radio City Music Hall in New York, McKenzie needs to get his first pick right, and the Raiders general manager has no excuses this time around.
McKenzie's initial draft in Oakland saw him without a selection until the end of the third round, No. 95 overall, which he used on offensive lineman
Tony Bergstrom
, who has played in nine games. Total.
Last year, McKenzie had the No. 3 overall pick and was so enamored by injured cornerback
D.J. Hayden
that he would have taken him third had he not found a willing trade partner in the
Miami Dolphins
to move back to No. 12, where Hayden was still available. Forget for a second, if you can, that Hayden had undergone heart surgery the previous November after a practice collision nearly killed him. In pure football terms, the Raiders' biggest need was seemingly on the interior of the defensive line and
Star Lotulelei
and
Sharrif Floyd
were available.
Hayden played catch-up all season and appeared in just eight games before going on injured reserve with a groin injury. But even if Hayden turns into the second coming of Mike Haynes and the Raiders figured Season 1 of Hayden's four-year rookie contract was a wash when they drafted him, it would be a strange philosophy for a franchise in Year 2 of a two-year "deconstruction," no? Think of it this way: What team would essentially surrender the first quarter of a football game, banking on the final three quarters?
Now, this is not to suggest that McKenzie's job is on the line with this draft -- coach Dennis Allen's seat figures to get warmer first -- but he has a lot of work to do to re-establish trust from a leery fan base after a pair of 4-12 seasons. Even if owner Mark Davis knew how tough the first two years were going to be.
If the Raiders are to get a jump-start on Year 1 of their "reconstruction," it begins with their first pick in this draft.
So, yeah, if either Watkins or Mack is still on the board when the Raiders' turn comes up at No. 5, the choice is obvious -- it's whichever playmaker is there. Oakland has so many holes on defense, and with both McKenzie and Allen being defense-minded guys, Mack probably would be the call.
But if Mack is gone and Watkins is still there, the Raiders would be ecstatic with a game-changing receiver who would help make new quarterback
Matt Schaub
's transition smoother.
But what if both are gone in the first four picks?
That decision should be just as easy -- trade back; even if one of the top offensive tackles is still there, as they should be. Because while either Auburn's
Greg Robinson
(physical freak), Texas A&M's
Jake Matthews
(product of a pro lineage) or Michigan's
Taylor Lewan
(nasty disposition but with potential legal baggage) would add to the O-line mix to help deal with the departure of
Jared Veldheer
, McKenzie did enough to address the offensive line in free agency. At least for the immediate future.
Of course, trading back is easier said than done.
Consider: The Raiders are not all that interested in
Johnny Manziel
the football player. The ticket-selling circus? Maybe. But drafting Manziel at No. 5 would torpedo the Schaub move. While Oakland has gone all-in with the former
Houston Texans
Pro Bowler, the first time Schaub throws an interception, the fans would don their silver and black apparel, pitchforks and torches and march to the Coliseum for Johnny Football and Schaub, in need of a fresh start and renewed confidence, would be looking over his shoulder. The Raiders just endured that last season with the
Matt Flynn
-
Terrelle Pryor
-
Matt McGloin
-
Tyler Wilson
fiasco.
McKenzie and his staff may not have garnered a lot of trust in their QB evaluating abilities, but at least McKenzie's vision is clear. He wants a veteran at quarterback and should draft another drama-free old soul who was a college winner in, say, the fourth round, because the Raiders are currently without picks in the fifth and sixth rounds to learn at the knee of Schaub. Not a polarizing rock star. So think Alabama's
AJ McCarron
. Or Pitt's
Tom Savage
. Or even San Jose State's
David Fales
. Unless Fresno State's
Derek Carr
is still there in the second round when the Raiders go at No. 36 overall, pending any trades, of course. Then all bets would be off.
Now, the Raiders can't trade that far back from No. 5, not if they still want an immediate difference-maker.
The
Detroit Lions
at No. 10 could be motivated to move up in front of the
Tampa Bay Buccaneers
, who draft seventh, in a race to get Texas A&M receiver
Mike Evans
. And at 10, Pittsburgh defensive tackle
Aaron Donald
should still be on the board for the Raiders.
Then again, the 6-foot-5, 231-pound Evans might make a solid value pick for the Raiders as an
Andre Johnson
2.0 for Schaub.
"It's," McKenzie said slowly last week, "a chess match."
For his sake, you just hope he's the one yelling, "checkmate."
April, 25, 2014
4/25/14
8:00
AM ET
It is becoming clearer by the day the
Oakland Raiders
' wish list in the NFL draft goes something like this: defensive end
Jadeveon Clowney
, receiver
Sammy Watkins
, linebacker
Khalil Mack
, offensive tackle
Greg Robinson
.
But what if, as is a very good possibility, all four of those players are gone when it comes time for the Raiders to pick at No. 5?
According to ESPN NFL Insider Todd McShay, there are four "elite" players in this draft -- yes, Clowney, Watkins, Mack and Robinson -- before a slight drop-off begins.
[+] Enlarge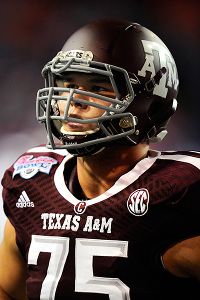 Dale Zanine/USA TODAY SportsTeams in need of an offensive tackle may be eager to trade up with the Raiders to select Texas A&M's Jake Matthews.
Sure, Oakland could stay put and stay "safe" with Texas A&M offensive tackle
Jake Matthews
. But the Raiders are also intrigued by Pittsburgh defensive tackle
Aaron Donald
and there have been rumblings about Oakland liking Michigan offensive tackle
Taylor Lewan
more than Robinson. Still, are either of those guys, or even Texas A&M receiver
Mike Evans
, worthy of the fifth overall pick?
Raiders general manager Reggie McKenzie loves his draft picks, and while he now has seven at his disposal, he does not have one in either the fifth or sixth rounds, though he does have three in the seventh.
Trading back in the first round, as Oakland did last year in going from No. 3 to No. 12, could again be in the offing for McKenzie.
But who makes an appealing trade partner?
The way McShay sees it, any of the four teams slated to pick immediately after the Raiders -- the
Atlanta Falcons
,
Tampa Bay Buccaneers
,
Minnesota Vikings
and
Buffalo Bills
-- could be, as well as the
New York Giants
, at No. 12.
"If some of the rumors you hear about Tampa legitimately wanting
Johnny Manziel
[are true and] he's there at 5, I guess that could be a possibility," McShay said in a conference call Thursday.
But McShay is not necessarily a fan of the top quarterbacks in this draft.
"There are four elite players and I think it would be a mistake to draft any of these quarterbacks over those four players," said McShay, referencing Clowney, Watkins, Mack and Robinson again as his "elite" players.
As for the Vikings, who pick eighth, McShay thinks they could get antsy if they want a quarterback.
"If it's
Blake Bortles
, if it's Johnny Manziel, whoever it is, if [the Vikings] were to look and say, 'You know what, we need to move up three spots and just get our guy,'" McShay said, then Minnesota might make a good trade partner.
And Atlanta?
"Let's say Greg Robinson goes in the first four picks," McShay said, "Atlanta's going there at 6, and they're highly concerned about not getting, I think, Jake Matthews. Just my opinion. They could want to move up one spot just to solidify to make sure no other team moves up and goes and gets Jake Matthews, because I think he fits better in terms of what they're looking to do."
All of which could start a domino effect for the Bills or even the Giants, who select 12th.
"I would look at Atlanta as a threat," to trade with the Raiders at No. 5, McShay said, "if I need an offensive tackle."
As far as extra picks go, the Vikings have two third-rounders, at No. 72 and No. 96 overall, the Falcons have two fourths (No. 103 and No. 139, though the latter is a non-tradable compensatory pick) and the Giants have two in the fifth round (No. 152 and No. 174, a comp).
April, 3, 2014
4/03/14
12:15
PM ET
The
Oakland Raiders
hold the No. 5 overall pick in the draft after going 4-12 last season. And as Raiders general manager Reggie McKenzie said, his team has needs -- with an "s" -- and he wants a playmaker.
In his latest Grade A mock draft,

Mel Kiper put on his GM hat for us and went through the draft selecting players for every team as if he were the one making the picks, rather than predicting the selections. His choice for the Raiders will raise more than a few eyebrows.
February, 24, 2014
2/24/14
8:00
AM ET
The
Oakland Raiders
have needs all over the roster, and with the No. 5 overall pick in May's NFL draft, it would seem likely they can address at least one of them with their first selection.
Of course, general manager Reggie McKenzie more than intimated he wants a playmaker. And more than a few prospects have already acquitted themselves quite well at the combine, thank you very much.
A brief look, then, at five who have impressed thus far in Indianapolis, but will they still be there at No. 5 come the draft?
WR Sammy Watkins (Clemson)
Sure, he seems to be
Denarius Moore
2.0, but if he's more consistent, that would be an upgrade, no? The 6-foot-1, 211-pound Watkins put on a show Sunday, running a 4.43-second 40-yard dash and showing body control and quick-twitch shiftiness in a 6.95-second three-cone drill and a 4.34-second 20-yard shuttle run. He also had a 34-inch vertical leap and a 126-inch broad jump. Perhaps more importantly, though, Watkins displayed his soft-yet-strong hands in catching passes.
QB Blake Bortles (Central Florida)
A seeming clone of
Ben Roethlisberger
, the statuesque Bortles (6-5, 232) surprised with athleticism. He ran a 4.93 40, while leaping 32.5 inches in the vertical jump and 115 inches in the broad jump, better than
Teddy Bridgewater
or
Johnny Manziel
, both of whom had 113-inch broad jumps. Where Bortles may have given himself an edge was in the fact that he actually threw to receivers, unlike Bridgewater and Manziel. Bortles showed an above-average arm as well as some touch on deep balls.
WR Mike Evans (Texas A&M)
Many are starting to wonder if the big (6-5, 231) pass-catcher is more what the Raiders need. He's not a burner (4.53 40) but he had a 37-inch vertical leap and timed a 4.26-second 20-yard shuttle run, faster than Watkins. Not necessarily playmaker numbers, but he is a football player, as McKenzie is fond of saying, and many see Evans as having the skill set to become a No. 1 receiver, rather than just a possession receiver.
OT Greg Robinson (Auburn)
The Raiders will have an issue on the offensive line if they are unable to re-sign left tackle
Jared Veldheer
. Robinson could be an option in that scenario. He blew minds on Saturday. The 6-5, 332-pounder ran a 4.92-second 40-yard dash and he also had a 113-inch broad jump with 32 reps in the bench press. His showing in positional drills has many wondering if he could turn into the draft's top overall prospect.
OT Jake Matthews (Texas A&M)
The 6-5, 308-pounder turned in the second-most impressive workout of an offensive tackle and, as noted earlier, if Veldheer is gone, the Raiders could do worse than to take a look at Matthews. He ran a 5.07-second 40 and added a 30.5-inch vertical leap and a 7.34-second three-cone drill. His blocking technique was considered flawless, which showcased his agility.
Keep an eye on:
South Carolina defensive end
Jadeveon Clowney
and UCLA linebacker
Anthony Barr
work out on Monday.