November, 9, 2012
11/09/12
6:40
PM ET
Romeo Crennel has had it with turnovers.

The
Kansas City Chiefs
coach has seen his team commit 29 turnovers in half a season. The next closest team in the NFL is Dallas with 19. Kansas City committed 28 turnovers all of last season.
Crennel told reporters Friday he has threatened his players with the loss of playing time if they fumble or throw a bad interception. Crennel said if he deems the turnovers inexcusable, players will stand next to him or on the bench for some plays.
"Sometimes [to emphasize corrections] you basically have to threaten them -- so if you fumble it I'm going to take you out of the game," Crennel said. "Then they will get the message."
Chiefs offensive coordinator Brian Daboll is behind Crennel's tough-consequences approach.
"I think [Crennel] has addressed the team, he continues to address the team in terms of the importance of turnovers," Daboll told reporters Friday. "We all know what it is and haven't done a good enough job with it. He told those guys that if they put it on the ground that maybe they should come over and stand with him for a little bit. He's their head coach and I support him and we've got to do a good job of protecting the football."
Starter
Brady Quinn
has not been cleared from suffering a concussion in Week 8. So it may be difficult for Crennel to sit quarterback
Matt Cassel
-- who has turned the ball over more than most NFL teams this season -- if he throws a bad interception Monday night at Pittsburgh. Crennel has indicated third-string quarterback
Ricky Stanzi
is not ready to play yet.
Meanwhile, new Kansas City defensive coordinator Gary Gibbs said new starting right cornerback
Javier Arenas
will be the nickel corner and
Jalil Brown
will play right cornerback in a nickel package. Arenas takes over as the starter for
Stanford Routt
, who was cut on Monday.
November, 5, 2012
11/05/12
5:25
PM ET
Kansas City head coach Romeo Crennel removed himself as defensive coordinator and promoted linebackers coach Gary Gibbs to the coordinator position on Monday. In another key move, the Chiefs cut starting cornerback
Stanford Routt
eight games into a three-year contract.
Let's look at what the moves mean:
Changes needed:
The first thing that pops to mind is the Chiefs brass feels like it has to do some things to prove they should keep their jobs after a 1-7 start by a team that was widely expected to contend for the playoffs.
Clearly, Crennel and general manager Scott Pioli believe shakeups were needed to show they want to turn the season around. I'm just not sure these moves will make a huge difference. Cutting Routt doesn't necessarily make the Chiefs better and giving Gibbs -- who was the defensive coordinator in New Orleans from 2006-08 -- the defense and allowing Crennel to focus on being the head coach doesn't seem like it will be a cure-all.
Easy to second guess:
Both of these moves are acts of the team admitting mistakes.
Routt, cut by Oakland in February, signed a three-year, $19 million deal shortly after being cut. The Chiefs chose Routt over keeping free-agent
Brandon Carr
, who ended up signing a five-year, $50 million deal with Dallas.
I believe Pioli's thinking was that even though Carr was younger and better than Routt, they were both starting No. 2 cornerbacks and going with Routt was a better alternative because he was cheaper.
I get that premise. But by cutting Routt now, the Chiefs are admitting they made a mistake and they may have been open to keeping Carr.
Javier Arenas
will replace Routt in the lineup. Now, the Chiefs will either have to go with Arenas and
Jalil Brown
competing for the job next year or bring in another cornerback to compete for the job.
As for Crennel, he will forever be asked why he didn't just hire a defensive coordinator when he was given the permanent job in January. Crennel said Monday that he is making the move because it is being perceived that he is spending too much time on the defense and is neglecting the offense.
Look, Kansas City is 1-7. We're beyond perception. It's all reality. If Crennel is kept in 2013, I'm sure he will searching for a defensive coordinator. Of course, if the Chiefs' defense soars in the second half; Gibbs will likely be kept as the coordinator.
What's next:
These moves show no jobs are safe in Kansas City. Still, there isn't a lot more that can be done.
Kansas City has already made a quarterback switch.
Brady Quinn
could start next Monday night at Pittsburgh if he is cleared after suffering a concussion in Week 8. Perhaps No. 3 quarterback
Ricky Stanzi
could get a shot if Quinn and
Matt Cassel
continue to struggle.
Regardless of these changes, more, perhaps drastic, moves are surely in the works after this miserable season ends.
September, 20, 2012
9/20/12
5:10
PM ET
Denver star pass-rusher Von Miller practice fully Thursday after being limited Wednesday with a hip injury. Also, nickel cornerback Chris Harris practiced on a limited basis for the first time since hurting his ankle in Week 1.
Oakland middle linebacker Rolando McClain is back at practice Thursday after being out Wednesday with a concussion. He should be able to play against Pittsburgh on Sunday.
Kansas City receiver Steve Breaston (wrist) and cornerback Jalil Brown (groin) both practiced fully Thursday after not practicing Wednesday and guard Ryan Lilja (back) practiced on a limited basis after being held out Wednesday.
Pittsburgh linebacker James Harrison (knee) and safety Troy Polamalu (safety) are expected to miss Sunday's game against the Raiders. Harrison has been out for several weeks and Polamalu missed last week's win over the Jets.
Peyton Manning made fun of himself Thursday at the Broncos' practice.
The Raiders-Steelers game will be shown on local television.
The Chargers' home game against Atlanta, though, is blacked out on local television.
September, 14, 2012
9/14/12
5:35
PM ET
There is no guarantee
Brandon Flowers
will make his season debut Sunday at Buffalo, but there are signs that he will be on the field.

The Chiefs have listed Flowers as questionable to play Sunday. He has been out with a foot injury since July 31. Flowers has practiced fully the past two days. Also, backup cornerback
Jalil Brown
is questionable with a groin injury.
There are four Chiefs out, though. They are defensive tackle
Anthony Toribio
(ankle). Safety
Kendrick Lewis
(shoulder), receiver
Devon Wylie
(hamstring) and defensive lineman
Allen Bailey
(ankle).
However, if the Chiefs get Flowers back, it will be a big boost. Kansas City coach Romeo Crennel told reporters Friday that Flowers could be eased back into action.
"I think that you have to kind of temper it and know that conditioning will be a factor, and if the guy is able to play, you may have to monitor his reps," Crennel said. "Then, some of that will depend on how the game goes. Probably asking him to play 100 plays would not be the thing to do, but if you can mix in here and there and give him a break now and then, then maybe he can get through a game."
In other AFC West news:
Oakland long snapper
Jon Condo
practiced on a limited basis. If he is not cleared to play by Sunday,
Nick Guess
will be promoted from the practice squad. Linebacker
Rolando McClain
(ankle) and running back
Taiwan Jones
(ribs) both practiced on a limited basis and are questionable to play. Receiver
Denarius Moore
is probable after missing several weeks with a hamstring injury. The Raiders are expected to ease him back into action Sunday.
The Chargers announced they have sold enough tickets to avoid a local television blackout Sunday against Tennessee in their home opener. The team received a 24-hour extension. The team is urging fans to wear white at the game. The Chargers will be wearing white jerseys and uniform pants.
Denver cornerback
Chris Harris
did not practice for the second straight day with an ankle injury.
Tony Carter
would be the nickel cornerback at Atlanta on Monday if Harris can't play.
August, 30, 2012
8/30/12
11:50
PM ET
A look at the Chiefs'
24-3
loss at Green Bay:
If I owned an NFL team, I don't think I'd meddle much. But I'd have one mandate: Do not play starters in the fourth preseason game.


That used to be a universal feeling in the NFL. But in recent years, teams have seemed to use starter some in the final preseason game.
Frankly, it is unnecessary and way too risky. And yes, it may have just bitten the
Kansas City Chiefs
. Again.
Last year, in the preseason finale, standout tight end
Tony Moeaki
suffered a season-ending knee injury. Thursday night, the Kansas City Star reported star linebacker
Derrick Johnson
may have suffered a significant ankle injury. Wow. Even if it is a minor ankle injury, Johnson may not be ready for Week 1 against Atlanta.
What a waste. Johnson didn't need to play in this game.
Now, there is a chance the Chiefs could be without Johnson, cornerback
Brandon Flowers
and
Kendrick Lewis
(they are both injured) and linebacker
Tamba Hali
serving a one-game NFL suspension) in that game. Good luck, Chiefs.
For a team that was hoping to bounce back from an injury-riddled season in 2011, it seems like Kansas City, is at least, starting the 2012 season with injury issues.
It doesn't stop on defense. The Kansas City Star reports backup quarterback
Brady Quinn
could have a significant injury as well. Quinn just beat out
Ricky Stanzi
for the backup job. If Quinn is going to miss major time, I'd think the Chiefs would pursue a backup quarterback. One option could be
David Garrard
, if he doesn't make the Dolphins' roster.
UPDATE:
Kansas City coach Romeo Crennel said after the game none of the injuries seem serious at this point.
The Chiefs' first-team offense and defense played sparingly and led the Packers' starters after the first quarter.
The Packers led 14-3 at the half, so their backups are probably a little further ahead of the Chiefs' reserves. No biggie.
Kansas City running back
Peyton Hillis
highlighted the starting lineups as he rumbled for 46 yards on six carries. Hillis looks ready for the start of the season.
Running back
Nate Eachus
made a great final push for a roster spot with 99 yards on 21 carries. He was terrific all summer. As a team, Kansas City ran well with 247 yards.
Cornerbacks
Stanford Routt
and
Jacques Reeves
stayed on the field after the rest of the Kansas City starting defenders left. Reeves could play extensively in Week 1 if Flowers and
Jalil Brown
are still injured.
August, 30, 2012
8/30/12
5:45
PM ET
Here is the Chiefs'
team preview page
and onto the intelligence report:
Five things you need to know about the Chiefs:

1. Pick your poison:
I know everyone is worried about
Matt Cassel
. But he has a ton to work with. The Chiefs' offense is loaded. Bowe is back after sitting out all of camp, second-year receiver
Jon Baldwin
can be great,
Steve Breaston
is solid, and young receivers
Dexter McCluster
and
Devon Wylie
will get slot opportunities. Tight ends
Tony Moeaki
and
Kevin Boss
will give defenses fits and running backs
Jamaal Charles
and
Peyton Hillis
will keep defenses honest. Cassel doesn't have to be great. He just has to spread the ball to all his weapons.
2. Belief in leadership:
There was little chance Romeo Crennel wasn't going to be promoted from interim coach to permanent coach in the offseason. Crennel's players love him. They love his calm personality, they love that he cares about them, they love that he is a proven NFL winner and they love that he treats them like men and he trusts them. This is a pretty happy place to be around these days.
3. Baldwin will be unleashed:
The Chiefs are going to give Baldwin a chance to have a big season. He has been a training camp and offseason star, and he definitely benefited from the lack of Bowe at camp. But Baldwin will get his cracks in the regular season with Bowe around. Baldwin is an athletic freak who can make the spectacular catch look silly easy. He is a big threat in the deep game. He will be fun to watch.
4. Back end of defense key:
The Chiefs' secondary has a chance to be stellar. Safety
Eric Berry
, who was a star as a rookie in 2010-11, is back after tearing an ACL in Week 1 last year. Fellow safety
Kendrick Lewis
is an underrated young player, and cornerbacks
Brandon Flowers
and
Stanford Routt
are a stout pairing. There is plenty of depth in the secondary, starting with cornerback
Jalil Brown
. This unit has a chance to be tremendous.
5. Poe no instant savior:
The Chiefs took Memphis'
Dontari Poe
with the No. 11 overall pick because the athletic nose tackle fills one of their last needs. He will get a chance to play as a rookie, but don't expect him to instantly become one of the team's best defensive players. He is going to be a work in progress. Playing nose tackle is one of the more difficult assignments on the field, and Poe will have an adjustment period. The Chiefs just want to see him blend into the defensive line and give a full effort as a rookie. The dominance can come later.
August, 25, 2012
8/25/12
8:15
PM ET
With starting cornerback
Brandon Flowers
still out with a foot injury he suffered almost four weeks ago and replacement
Jalil Brown
dealing with a groin injury he suffered against Seattle,
Jacques Reeves
is currently a starter alongside
Stanford Routt
.
Flowers and or Brown could be ready to play in Week 1 against the pass-happy Falcons. With Kansas City pass-rusher
Tamba Hali
serving a one-game suspension for violating the NFL's substance policy, the Chiefs will need as many weapons in the pass-defense game as possible.
Kansas City coach Romeo Crennel indicated that the starters could play some Thursday at Green Bay after the poor showing against Seattle. If that is the case, I don't expect the starters to play much in the preseason finale.
Crennel said he could announce his backup quarterback as soon as Monday. It would be a shock if it isn't
Brady Quinn
.
Ricky Stanzi
didn't play against Seattle and Quinn has been the better quarterback this summer.
August, 18, 2012
8/18/12
12:00
PM ET
ST. JOSEPH, Mo. -- This isn't a training camp for the leisurely.

Armed with the best roster the franchise has seen in years, the
Kansas City Chiefs
are moving quickly under new coach Romeo Crennel. For those who visited the Chiefs camp last year, this pace is foreign.
"There are no wasted moments," said quarterback
Matt Cassel
.
The final training camp under former coach Todd Haley will live in infamy in the Heartland. Last season's camp was essentially a three-week walk-through exercise. Haley chose to go that route because he wanted to ease the players back into the program after a lost offseason due the lockout. The plan didn't work, because the Chiefs were physically and mentally behind the rest of the league. They suffered several major injuries early in the season, were drubbed in early games, and it set the tone for a disappointing season.
However, speed is back in vogue as Crennel tries for success in his second go-round as a head coach. The tempo change has paid off so far. The Chiefs have looked crisp in practices and they were dominant on both sides of the ball against Arizona in the preseason opener last week.
The idea is to keep the forward tempo moving into the season as Kansas City tries to win the AFC West for the second time in three seasons.
"It's exciting to see what is happening here," Cassel said. "We have a lot of work to do, but we are all on the same page and all want to have success together."
THREE HOT ISSUES
1. The ACL Club:
In addition to bringing in several free agents, the Chiefs are getting back three standouts. Safety
Eric Berry
, running back
Jamaal Charles
and tight end
Tony Moeaki
all suffered torn ACLs last September, but all are on pace to be major contributors this season.
"All of those guys look great," Cassel said. "They're going to help us a lot."
2. Dwayne Bowe's absence:
It is over now. Bowe signed his franchise tender Friday, a day after camp ended. The Pro Bowl receiver did not participate in the offseason workouts, either. Bowe likely reported in time to learn the system of new offensive coordinator Brian Daboll and get into football shape. With him being out, the Chiefs' offense clicked and it gained a lot of confidence. Having Bowe back heading out of camp should only make this unit stronger
[+] Enlarge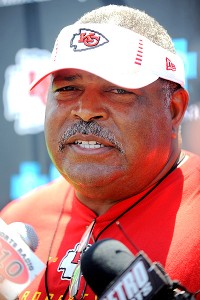 Denny Medley/US PRESSWIREChiefs coach Romeo Crennel has the respect of his players.
3. Good vibrations:
This team is in a good place. The players love playing for Crennel. One of the reasons Crennel was promoted from interim coach was the players' respect for him. It has continued now that he is the permanent coach. He is the polar opposite of Haley, who was known as somewhat of a loose cannon. Crennel offers a calm, steady hand. Players love that he's organized and up front. There is a lot of trust.
"They've worked hard and they know the possibilities this team has," Crennel said. "Every team feels good about itself this time of year, but this team's attitude is in the right place."
REASON FOR OPTIMISM
This is the best overall roster in the AFC West. It is one of the deepest rosters in the AFC. There is proven talent throughout the roster and the team has the right mix of veteran and young players. Still, the Chiefs are the youngest team in the NFL. They are the only team in the league not to have a player over the age of 30.
"When I was on my visit, I just looked up and down this roster and saw so much talent," free-agent pickup, tight end
Kevin Boss
said. "It is just loaded with talent."
When you look at this roster, there isn't much not to like.
REASON FOR PESSIMISM
The Chiefs will be dismissed as playoff contenders until Cassel proves otherwise. Many don't believe in them because they don't believe in Cassel, even though he has already delivered a division title in Kansas City. Many scouts don't think he can be a difference-maker, and that because he is the least talented of the four quarterbacks in the AFC West, he will not be able to overcome the other teams in the division. I believe there is enough talent on the roster to help Cassel lead the Chiefs deep into the playoffs, but he must prove his mettle.
OBSERVATION DECK
The rap on No. 11 overall pick Dontari Poe is that the defensive tackle wasn't productive at Memphis. The Chiefs didn't feel that way. They reviewed every college snap he ever played and were impressed that he played 60 percent of the snaps at 346 pounds. For what it's worth, Poe's college statistics and combine measurables compare favorably to Green Bay's B.J. Raji, who has become a star after being the No. 9 overall pick in 2009. Poe is two inches taller and nine pounds heavier than Raji, yet he ran a 4.9 40-yard dash at the combine compared to Raji's 5.23. Poe had nine more tackles and four more quarterback hurries than Raji in college despite the fact Raji played 16 more college games. This is not to suggest Poe is going to be a better NFL player than Raji, but it does take some steam out of the argument that Poe wasn't a productive college player.

[+] Enlarge

John Rieger/US PRESSWIREThe Chiefs like what they've seen from first-round pick Dontari Poe so far.

When Bowe held out, Jon Baldwin thrived under the professional guidance of veteran receivers Steve Breaston and Terrance Copper. Some folks in camp think Baldwin is making strides because he is taking cues from Copper and Breaston.

Defensive ends Tyson Jackson and Glenn Dorsey are plus players for the Chiefs. Neither is spectacular and they will always get grief for not living up to their draft billing. Dorsey was the No. 5 overall pick in 2008 and Jackson went No. 3 a year later. But both players are excellent run-stuffers and are among the best in the league in that area.

While the focus is on Poe at nose tackle, Anthony Toribio and 2011 draft choice Jerrell Powe are also in the mix.

Inside linebacker Brandon Siler looks good after missing all of last season with an Achilles injury. He could push Jovan Belcher for playing time.

While Haley was known for his ranting and raving on the field, Daboll is also fiery. He scoots around the field, barking instruction.

His new teammates love running back Peyton Hillis. His toughness and competitiveness have created buzz during camp.

Left tackle Branden Albert is quietly becoming the player the former Kansas City regime thought it was getting when it took him No. 15 overall in 2008. I expect the Chiefs to try to extend the pending free agent at some point. He's been stellar.

I wouldn't be surprised if the Brady Quinn-Ricky Stanzi battle to be Cassel's backup continues all season, but with Quinn winning the job initially. The Chiefs like where they stand with both players.

The Chiefs are excited about the potential of tight ends Moeaki and Boss. Expect both to have high-profile roles in the offense.

Second-year pass-rusher Justin Houston has been terrific, and the Chiefs are bubbling over at what kind of pass-rush combination Tamba Hali and Houston can become.

The team appreciates the flexibility of third-year player Dexter McCluster, who has bounced from receiver to running back to receiver again. McCluster may never have a classically defined role, but he will have a role in this offense.

Undrafted rookie receiver Josh Bellamy still has a chance to make the 53-man roster, but in a numbers game, he could wind up on the practice squad.

So far, so good for new center Rodney Hudson. The second-year player looks comfortable playing with Cassel and vice versa.

Camp observers believe kicker Ryan Succop has gotten bigger and stronger, which will help with his field goal range.

The team's fourth-round pick, receiver/returner Devon Wylie, is explosive. He will be given a chance to contribute.

Keep an eye on defensive end Ropati Pitoitua. He has outplayed 2011 third-round pick Allen Bailey and he may be a keeper.

Brandon Flowers' foot injury has allowed second-year cornerback Jalil Brown to blossom. I expect Brown to be on the field often in the regular season.

Fourth-string quarterback Alex Tanney is a curiosity because of his YouTube trick throwing video. But Tanney isn't making much real football tread in this camp. The best he could hope for in 2012 is the practice squad.
August, 7, 2012
8/07/12
6:25
PM ET
Several Denver players got new Air Force sabers and an Air Force helmet to replace the items Broncos' defensive tackle Ben Garland lost in the recent Colorado wildfires. The items were at his grandparent's home. Garland had no idea his teammates had the items replaced.
"He's a great guy, an awesome guy, a great player," Denver linebacker Joe Mays said. "You want to do special things like that for a person such as Ben."
In other AFC West news:
Kansas City cornerback Jalil Brown was working on the right side opposite left cornerback Brandon Flowers on Tuesday morning. Brown excelled for the past several days when he played for Flowers, who was out with a bruised foot. Kansas City coach Romeo Crennel said Stanford Routt is still the starting right cornerback, but he just wanted to make Brown flexible and use him on the right side. It will be interesting to see how much Brown plays moving forward. At the very least, he will make a valuable third cornerback, which is vital in the NFL.
Denver linebacker D.J. Williams participated in some practice Tuesday. He is not practicing because he is facing a six-game NFL suspension and the Broncos' coaching staff wants to get the other linebacker ready.
Denver cornerback Champ Bailey, in a radio interview, said quarterback Peyton Manning makes practices more difficult than games.
ESPN's John Clayton offers his camp observations from his visit to the Broncos.
Oakland receiver Denarius Moore is reportedly not practicing again Tuesday as he nurses a hamstring injury.
June, 25, 2012
6/25/12
11:00
AM ET
We continue to do our positional rankings with a deep secondary group:
1. Champ Bailey, Denver:
The future Hall of Famer continues to play at a high level.
2. Eric Berry, Kansas City:
I expect him to be a star after injuring his knee in Week 1 last year.
3. Eric Weddle, San Diego:
Weddle is becoming a premier playmaker.
4. Brandon Flowers, Kansas City:
One of the better cornerbacks in the NFL. An unheralded standout.
5. Tyvon Branch, Oakland:
He is a tackle machine. The Raiders will do what it takes to keep him for the long run.
6. Stanford Routt, Kansas City:
Now that he is a No. 2 cornerback again, expect his play to increase.
7. Tracy Porter, Denver:
The Broncos think they got a steal in free agency.
8. Quentin Jammer, San Diego:
The Chargers need a bounce-back season from Jammer.
9. Michael Huff, Oakland:
He makes a lot of plays and he gives up a lot of plays.
10. Antoine Cason, San Diego:
A solid No. 2 corner.
11. Kendrick Lewis, Kansas City
: Many scouts think he has a real future.
12. Michael Adams, Denver:
He should be a solid addition to a solid secondary.
13. Ronald Bartell, Oakland:
The Raiders have to hope his neck issues are a thing of the past.
14. Atari Bigby, San Diego:
The Chargers like what they see from this veteran so far.
15. Drayton Florence, Denver:
He brings solid experience to the nickel position.
16. Shawntae Spencer, Oakland:
Let's see if he can fend off the youngsters for the starting gig.
17. Quinton Carter, Denver:
I think the safety has a real future.
18. Javier Arenas, Kansas City:
There's a place in this terrific secondary for Arenas.
19. Chris Harris, Denver:
The undrafted free-agent find in 2011 is a fine player.
20. Matt Giordano, Oakland:
He's limited, but he can make some plays in a pinch.
21. Mike Mitchell, Oakland:
I would like to see this former second-round pick make more of an impact.
22. Brandon Taylor, San Diego:
The Chargers may have something in this third-round pick.
23. Rahim Moore, Denver
: He has to regain his confidence after a shaky rookie year.
24. Marcus Gilchrist, San Diego:
He has potential, but he's still learning.
25. Darrell Stuckey, San Diego:
He will have to compete for playing time.
26. Chimdi Chekwa, Oakland:
I think he could push Spencer for a starting spot.
27. Jalil Brown, Kansas City:
He has some potential.
28. DeMarcus Van Dyke, Oakland:
he has to show he is more than just fast.
29. DeQuan Menzie, Kansas City:
Late-round pick knows how to play the game.
August, 19, 2011
8/19/11
1:00
PM ET
ST. JOSEPH, Mo. -- Been looking for post-lockout, smashmouth NFL action?

Hope you didn't come to Chiefs camp during the past three weeks.
Kansas City's training camp wasn't the most exciting place in the NFL. The Chiefs started very slowly, only going to pads last Sunday. The team's starters did virtually nothing in a 25-0 loss to Tampa Bay last Friday night. Coach Todd Haley said he may take the same approach this Friday at Baltimore.
It's a lockout-caused plan for Haley as the Chiefs take the big-picture approach and begin their AFC West title defense.
Haley was concerned about the length of the lockout and didn't want to rush his team into action because of the lost time. He wants this team to be fresh for the season. Other teams have crammed in as much physical play as possible. Haley, known for his physical camps in his first two years in Kansas City, is taking a much different approach.
At this point, he said, getting his team conditioned to make up for lost time is more important to him than practicing hard. Haley said he will concentrate on heavy football drills toward the end of the preseason to ensure the team stays as healthy as possible heading into the regular season.
The coach is taking some heat for taking the cautious approach. Many fans are concerned that the Chiefs will not be ready when they open the regular season against visiting Buffalo on Sept. 11.
"I'm sticking to my convictions," Haley said. "This is what is best for this team. I believe we will be ready for the season."
The Chiefs picked up the intensity in practice this week, but they will not turn their starters loose until the third preseason game. There is even a chance that the starters will play in the final preseason game, which routinely doesn't happen around the league.
"This is the approach Coach Haley wants us to take," Kansas City quarterback
Matt Cassel
. "We are fully behind him."
THREE HOT ISSUES
1. Work with the quarterback:
Cassel's development is still the No. 1 priority for this team, and camp time is essential. There is no doubt that Cassel progressed last season, but he fell off at the end of the season and now has to get used to working with new quarterback coach Jim Zorn after a one-year stint with Charlie Weis as a his offensive coordinator. Weis now has the same job at the University of Florida. Cassel and Zorn lost valuable time due to the lockout. However, they are said to have built a good relationship and gotten comfortable working together this summer.
[+] Enlarge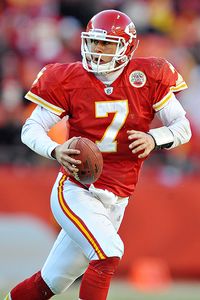 Kirby Lee/US PresswireChiefs quarterback Matt Cassel will have plenty of options when distributing the ball this season.
2. Spread the ball around:
The Chiefs are spending this camp getting their varied passing-game weapons in order. This can be a dangerous passing offense and this camp is being spent on how to best utilize it. Cassel has many directions in which to look. It starts with No. 1 receiver
Dwayne Bowe
, but the Chiefs have given him help by drafting
Jon Baldwin
in the first round and signing slot receiver
Steve Breaston
, who played for Haley in Arizona and caught 77 passes in 2008 under Haley's guidance. Add tight end
Tony Moeaki
and running back/receiver
Dexter McCluster
and there are a lot of options. Figuring out the best way to utilize all of them is what camp is for.
3. Figuring what's best for Charles:
It has driven many Kansas City fans crazy that the Chiefs don't give
Jamaal Charles
more carries.
Thomas Jones
had 245 rushing attempts last season, while Charles had 230. Jones fell off toward the end of the season, but Charles was spectacular. He had 1,467 rushing yards, second in the league. The Chiefs want to increase his numbers but also want him to stay fresh and healthy, so don't expect his workload to fly through the roof. To help both Charles and Jones, who will likely get 8-10 carries per game, the Chiefs signed former Baltimore fullback
Le'Ron McClain
, who runs the ball more than the average fullback. The Chiefs are working all three backs during this camp to figure out the most advantageous carry distribution.
ARE THEY GOING TO JARED?
The Chiefs' camp got interesting last week when the team picked up former Baltimore left tackle
Jared Gaither
. Known as an above-average left tackle, Gaither missed all of last season with a back injury. The Raiders considered signing him early in camp, but they passed because of his back.
The Chiefs signed Gaither during camp and he is now practicing with the second team. If his back holds up, there is a strong chance he could move into the starting lineup and send
Branden Albert
to right tackle. Albert, a first-round pick in 2008, has been a decent but not great left tackle. The Chiefs have long considered making him a right tackle, where many scouts think he'd flourish. If he moves to right tackle, Albert would replace
Barry Richardson
. If the massive Gaither (6-foot-9, 340 pounds) is healthy and motivated, this could be a significant move for Kansas City.
CHIEFS MAY NEED TO BACK IT UP AT QB
The Chiefs are keeping a close eye on backup quarterbacks
Tyler Palko
and rookie
Ricky Stanzi
during camp. The two struggled in the preseason opener last week. If they continue to struggle, Kansas City could potentially consider bringing in a veteran backup such as
Jake Delhomme
to be the No. 2 quarterback. Still, Stanzi, a fifth-round pick from Iowa, should be a lock to make the team. Palko will have to increase his production to survive the final cuts.
OBSERVATION DECK
The team loves the addition of nose tackle Kelly Gregg. He has been a leader, has been working hard in camp and has been a positive influence on young players, including draft pick Jerrell Powe.
The Chiefs are working on increasing their turnover numbers on defense. They had the eighth-fewest takeaways in the NFL last season.
[+] Enlarge

Denny Medley/US PRESSWIREFirst-round draft pick Jon Baldwin, along with new acquisition Steve Breaston, are expected to make an impact this season.

Baldwin was hampered by some minor issues. Camp observers said he struggled early in camp getting off the line of scrimmage, but the coaching staff is confident the No. 26 overall pick in the 2011 draft will catch up quickly. Baldwin had a reputation for being difficult in college, but the Chiefs haven't seen any of indications of that and are more than satisfied with his attitude.
UPDATE:
ESPN's Adam Schefter confirmed that Baldwin is doubtful for the rest of training camp after
a locker-room fight
with Jones. Baldwin's incident occurred after the Chiefs brass praised his attitude. This event has to be alarming for the team.
Veteran backup Jerheme Urban has been running with the first team with Bowe as Baldwin and Breaston get acclimated. Don't expect that to last. Baldwin and Breaston were brought in to play a lot of snaps.
Haley has paired veterans with rookies to help the younger players through camp. The players room together, and Haley often matches up players from opposite sides of the ball to help team continuity.
Veteran Andy Studebaker has been working with the first team at outside linebacker opposite star pass-rusher Tamba Hali. The Chiefs are going to use several players to pressure the quarterback, but Studebaker has a chance to have a key role while rookie Justin Houston learns the team's system.
McCluster has been working mostly out of the backfield as Haley suggested he would in May. Still, expect McCluster to line up at receiver some as well. The Chiefs are looking to create as many matchup problems as they can with McCluster, especially on third downs.
Rookie DE Allen Bailey has a chance to contribute right away as a pass-rusher. He has been working diligently in that area in camp.
Rookie offensive lineman Rodney Hudson has been looking good. The second-round pick could play at guard and at center.
The team also likes the progress of second-year guard Jon Asamoah, who has a chance to shine in the aftermath of the release of Brian Waters.
Former San Diego inside linebacker Brandon Siler is making a push for major playing time. He is a solid talent who also helps on special teams.
Linebacker Cameron Sheffield has played well. And he could be a contributor. He missed all of last season after suffering a neck injury in the preseason.
One undrafted free agent to watch is Temple linebacker Amara Kamara. He has caught on to the defensive scheme very quickly.
Cornerback Jalil Brown, a fourth-round pick out of Colorado, has been impressive and has a chance to be contributor in some packages and on special teams.
July, 28, 2011
7/28/11
6:20
PM ET
The San Diego Union Tribune reports
San Diego running back
Darren Sproles
will soon decide between playing for the Chargers, Saints and Eagles. I don't think the Chargers are going to offer the moon, so Sproles is probably looking at a smaller deal than expected. The Chargers could use him, but I think the team is also OK if he leaves.
Meanwhile, ESPN's Adam Schefter said San Diego receiver
Malcom Floyd
may be the next receiver to go off the board after
Santonio Holmes
and
Sidney Rice
have agreed to big-dollar deals. Schefter reports Minnesota, among other teams, may make a run at Floyd. The Chargers likely will not match a huge deal for Floyd.
The Chiefs just announced they signed six draft picks. They are:
Allen Bailey
,
Jalil Brown
,
Ricky Stanzi
,
Gabe Miller
,
Jerrell Powe
and
Shane Bannon
.
UPDATE:
Agent Joe Linta just told me second-round pick Rodney Hudson has agreed to terms with the Chiefs.
Here is another connection
between defensive tackle
Aubrayo Franklin
and the Chiefs. It would be a great fit.
The Saints have agreed to re-sign left tackle
Jermon Bushrod
. He had been connected to Kansas City.
Denver signed
second-round pick
Rahim Moore
and now have signed its top three picks.
The Lions have some interest in San Diego inside linebacker
Brandon Siler
.
The Bears will release
tight end
Brandon Manumaleuna
. The Chargers liked him when he was there. If he could come cheaply, I could see him coming back to San Diego. The Chargers missed him.
Guess we can forget that
Chad Ochocinco
-Hue Jackson reunion. The receiver is headed to the Patriots. Jackson coached Ochocinco in Cincinnati and the two remain close. Just a thought, but maybe the idea of New England getting another receiver will make the Jets ramp up their effort to sign
Nnamdi Asomugha
.
The Broncos have their eyes on one
of John Fox's former players to fill a key need.
UPDATE:
The Bengals agreed to terms with former Oakland starting linebacker Thomas Howard. He was a backup last year and he was not in Oakland's plans.
May, 2, 2011
5/02/11
11:35
AM ET
A couple of post-draft, receiver-related Kansas City nuggets:
Seattle general manager John Schneider told reporters the Chiefs called the Seahawks to congratulate them on picking Georgia receiver
Kris Durham
. Schneider said Durham visited the Chiefs last week and was a player they wanted. Durham was taken in the fourth round at No. 107. The Chiefs took Colorado cornerback
Jalil Brown
11 picks later.
First-round pick Jon Baldwin of Pittsburgh was the one receiver in the Chiefs' nine-player draft class.
ESPN.com's Jeffri Chadiha doesn't think
Baldwin and the Chiefs are a great marriage because of Baldwin's diva qualities. Chadiha does point out that Kansas City coach Todd Haley has a history in dealing with self- absorbed receivers. My money is on the never-back-down Haley in this one. Baldwin will succeed in Kansas City or he'll be shown the door.