October, 15, 2010
10/15/10
12:00
PM ET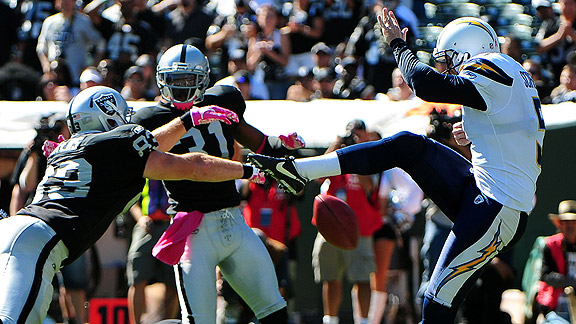 Kyle Terada/US PresswireSan Diego's Mike Scifres had two punts blocked in Sunday's loss to the Oakland Raiders.
It was a Tuesday afternoon during the NFL season.
Instead of game planning and trying new ways to bust the wedge and to protect his punter, Gary Zauner was about to take a swim at his Arizona home. Asked if he desired to become a special-teams coach in the NFL again, Zauner, 59, didn't hesitate.
"No, because I don't want to be asked questions about why my special teams are bad," said Zauner, who now owns his own special teams consulting firm, which specializes in working with kicking specialists. After 13 years as an NFL special teams coach, Zauner clearly had enough of the pressure of coaching the unappreciated third phase of the game.
Zauner feels for his friend Steve Crosby, the special teams coach of the
San Diego Chargers
. Known as one of the better special teams coaches in the NFL, Crosby is under scrutiny because his once air-tight unit has been disastrous through the first five games.
San Diego (2-3) could easily be 5-0 if it weren't for its dreadful special teams. In San Diego's three losses this season, the special teams have surrendered 30 points. The Chargers have lost the three games by a combined 22 points.
San Diego has allowed a 94-yard punt return for a touchdown at Kansas City, two kickoff returns for touchdowns at Seattle and two blocked punts at Oakland in less than five minutes, which resulted in a touchdown and a safety.
Football Outsiders
believes the Chargers are on their way to having perhaps the worst overall special-teams unit in the history of the NFL.
"It's every phase of the special teams in San Diego," said Matt Williamson of Scouts Inc. "It is killing a good team. It's a brutal way to lose. It's so repetitive. It's just a massive problem for an otherwise really good team."
San Diego coach Norv Turner scoffed at talk that Crosby would be fired earlier this week when he responded to a question about the assistant's job security by saying: "Don't be silly." Miami coach Tony Sparano didn't have the same patience after Week 4 when he fired John Bonamego following the Dolphins' special-teams miscues that directly led to 21 points for New England in the spotlight of "Monday Night Football."
"I've been there before," Zauner said. "When I had good players on special teams, I was a good special teams coach. When I had bad special-teams players, I was a bad special-teams coach … Steve Crosby is a fine special-teams coach. He's one of the best. He's the not the problem."
So, what is the problem in San Diego?
"It's probably several little things," Zauner said.
How can the problems be fixed?
"It's not that easy," Zauner said.
Added Scouts Inc.'s Gary Horton when asked how the Chargers can turn around their fortunes on special teams: "I wish I knew the answer. It's just baffling."
Zauner said there are no quick fixes for broken special teams during the season, just some Band-Aid solutions. Zauner said the Chargers can kick to the corners of the field to try to cut down on long returns and ask punter
Mike Scifres
to try to punt with a better hang time but not worry about punting as long as he usually does. To guard against blocked punts, perhaps the team could put starting offensive linemen on the line. Zauner said putting more starters on the coverage teams can help too.
"It really comes down to personnel," Zauner said. "You either have good special-teams players or not."
The Chargers are missing two key players and it is clearly making a huge difference. Coverage ace
Kassim Osgood
signed with Jacksonville as a free agent because he wanted a chance to play receiver, which wasn't an option in San Diego. The team doesn't have the coverage aptitude it had with Osgood, even though San Diego kept 28 defensive players on the original 53-man roster in an attempt to load up on quality special-teams coverage players. Often, the best special-teams players are backup linebackers and defensive backs.
In addition to the Osgood departure, San Diego is playing without long-snapper
David Binn
for the first time since 1993. Binn is known as one of the best snappers in NFL history. He was lost for the season at Kansas City with a hamstring injury he suffered while trying to make a play on rookie
Dexter McCluster
's team-record punt return.
In the next two weeks, two of Binn's replacements,
James Dearth
and
Ryan Neill
, were lost for the season with injuries. The team is on its fifth snapper of the season after going 17 seasons with only one. Ethan Albright was released this week in favor of rookie Mike Windt. Zauner believes the loss of Binn and subsequent flux at snapper have created obvious timing issues.
Scifres has had three punts blocked in the past four games. He had one punt blocked in six previous NFL seasons. There haven't been any blatant issues in the place-kicking game.
"They miss Binn and Osgood," Zauner said. "Those are big losses and the Chargers are feeling it. ... Those are hard players to replace."
Still, Horton said there are more issues. He studied film of the two blocked punts against Oakland and saw clear trouble.
"On one of the [blocked punts], the guy came in unblocked," Horton said. "Something is going on there. I know they work on it and they watch film, but something is not working there. I don't know the answer, but it has to be fixed. They have to fix it."
The special-teams trouble in San Diego could sink the team, and there are no sure solutions. Perhaps that's why Zauner would rather swim during football season.
October, 13, 2010
10/13/10
7:10
PM ET
Sandwiched between three temps, the San Diego long snapping job has gone from a 17-year veteran to a rookie who has never snapped in an NFL game in exactly one month.
In a continually baffling story, the turnstile at the long snapper has continued in San Diego. For those still able to keep count,
the Chargers are on their fifth snapper of the regular season.
The newest San Diego long snapper is Mike Windt. He is a rookie who was a standout at the University of Cincinnati. He went to camp with the Bengals. Now, he better be ready for prime time.
San Diego had the most stable snapping situation in the NFL heading into the season with
David Binn
, who was on the job since 1994. However, Binn, the longest tenured Charger in history, suffered a torn hamstring in the season opener at Kansas City on Sept. 13.
The team then signed veteran
James Dearth
. He was injured at practice before he even played in a game of the Chargers and was sent to the IR. Then, there was
Ryan Neill
. He played but was quickly sent to the IR. Then, there was the
Ethan Albright
era.
He was the snapper Sunday when Oakland blocked two field goals, which resulted in nine points, in the first five minutes of its upset win over San Diego. Albright was sent packing Wednesday, opening the door for Windt.
Now, Windt is on the clock.
September, 28, 2010
9/28/10
6:20
PM ET
The San Diego Chargers' staggering string of bad fortune at long snapper has continued.
After having one long snapper since 1994, San Diego is now on its fourth snapper of the season. Amazing.
Long snapper
Ryan Neill
, who snapped in the second and third games, is now out for the year with a knee injury. So, San Diego has now turned to veteran
Ethan Albright
. He is in his 16th NFL season. He snapped in every game through 1996-2009. He was last with Washington.
Let's see if Albright can bring back stability to the position in San Diego. The craziness began when
David Binn
, the longest tenured Charger ever, was lost for the season in an opening-season loss at Kansas City. The team then signed veteran
James Dearth
. He was lost for the season when he was hurt in practice before playing a game for the Chargers.
The Chargers made some other moves Tuesday. San Diego signed safety
Quinton Teal
and brought back
Dante Hughes
, who was cut Saturday. Running back Curtis Brinkley was cut. He will likely go back to the practice squad. He was signed to the 53-man roster Saturday as insurance at running back. His release probably means rookie starter
Ryan Mathews
will be back against Arizona. Mathews has missed the past six quarters with an ankle injury. There were indications Monday that Mathews would play this week.
The team also put linebacker
James Holt
on the injured reserve with a shoulder injury.
September, 17, 2010
9/17/10
6:30
PM ET
Before this week, the
San Diego Chargers
had only one long snapper dating back to 1994.
Now, they're on their third snapper since Monday.
In a dizzying turn of events, San Diego has gone from the venerable
David Binn
to untested
Ryan Neill
as their snapper. San Diego signed Neill on Friday. He snapped in nine games for the Rams last season.
Binn snapped in 256 games for the Chargers over 17 years. He has played in the most games and is the longest tenured Charger in team history. He suffered a torn hamstring in Monday night's loss at Kansas City on a punt return for a touchdown by Chiefs rookie
Dexter McCluster
. Binn was put on the injured reserve Wednesday.
San Diego signed 10-year veteran
James Dearth
on Wednesday to replace Binn. However, Dearth suffered a foot injury in practice Thursday and was lost for the season.
The Chargers struggled on special teams against the Chiefs. It will be interesting to see if these dramatic changes at snapper will play a major detrimental role Sunday against visiting Jacksonville.
September, 15, 2010
9/15/10
9:25
PM ET
Usually, the loss of a long-snapper isn't overly concerning for a team. However,
David Binn
is not a usual long-snapper.
Putting an explanation point on a stinging loss Monday night in Kansas City, Binn suffered a torn hamstring on
Dexter McCluster
's 94-yard punt return for a touchdown in the Chiefs' 21-14 win. Binn, who has been with the team since 1994, finished the game.
Replacing Binn may be difficult and it certainly will be awkward. The team signed former Jet long-snapper
James Dearth
. San Diego punter
Mike Scifres
and kicker
Nate Kaeding
will have to adjust to working without Binn for the first time.
Binn, who set a franchise record by playing in his 179th consecutive game on Monday, has played in 256 NFL games. It is a franchise record as his 17 seasons with the team. Dearth spent nine seasons with the Jets before being released in a cost-cutting move.
San Diego's special teams had a tough night Monday night (
and it was noticed
by former star
Kassim Osgood
who will visit San Diego with Jacksonville on Sunday) and it will be interesting to see if Binn's absence causes an issues.
Meanwhile, San Diego linebacker
Shawne Merriman
was limited in practice with Achilles issues that has been bothering him for a month. It kept him out of the Kansas City game. Linebacker
Stephen Cooper
did not practice with a knee injury.