April, 15, 2011
4/15/11
2:00
PM ET
Earlier Friday
, we looked at the risk of taking a defensive lineman with a top-five pick. Over the past 20 years, taking a defensive end or a defensive tackle early has not always turned out well.
The
Denver Broncos
are in the midst of studying defensive linemen in the draft. The Broncos have the No. 2 pick of the draft and are considering taking a defensive lineman.
It's no surprise they are still trying to find an answer on the defensive line. They've long tried to score at the position. From 194-2003, there were a dozen defensive linemen who were taken in among the top five picks.
Denver acquired five of those 12 players after they failed elsewhere. They were
Dan Wilkinson
,
Simeon Rice
,
Courtney Brown
,
Gerard Warren
and
Dewayne Robertson
. Only Warren had some form of success in Denver. Denver traded for Wilkinson but the deal was eventually rescinded because Wilkinson refused to report.
All of those players were brought in by former coach Mike Shanahan. Former Denver coach Josh McDaniels didn't have much luck with defensive linemen, either. He signed free agents
Jamal Williams
,
Justin Bannan
and
Jarvis Green
last year. Green was cut before the season and Williams and Bannan were cut this offseason.
Now, it's new Denver coach John Fox's turn to try to finally score on the defensive line in Denver.
September, 8, 2010
9/08/10
4:00
PM ET
Mid-week mail call:
Tony from Denver wants to know
if I think the Broncos' leadership knows what it is doing in light of curious personnel decisions.
Bill Williamson:
Well, Tony, there are reasons to question Denver's recent decisions.
Jarvis Green
and
Brandon Stokley
were released after they were given bonuses. Second-year cornerback
Alphonso Smith
was traded to Detroit for little in return a year after Denver gave up its No. 1 pick in 2010 (No. 14) to draft him in the second round. Last month, Denver cut tackle
Tyler Polumbus
only to see the Lions claim him and then quickly trade him to Seattle for a pick. These decisions alone won't make Denver a losing team, but they are signs that the front office may have to police itself better.
Eric from Fresno wants to know
if I think second-year safety
Mike Mitchell
is safe in Oakland.
BW:
Well, he's on the team and that's all we can go by. We've all heard the talk that the Oakland coaching staff didn't want to keep Mitchell on the 53-man roster but owner Al Davis did because he was a second-round pick last year. I think all we can do is see how much Mitchell plays and if he makes any improvements. If he doesn't, he will eventually fade away. Maybe Mitchell will turn into an impact player, but most NFL teams had him rated as an undrafted free agent. So, it's fair to wonder.
Nico from Alexandria, Va., wants to know
if Denver coach Josh McDaniels is fired before the 2012, what happens to Tim Tebow's future as the starter in Denver.
BW:
That's, a very interesting question, Nico. Here's the setup:
Kyle Orton
is set to by the starter through 2011 with Tebow likely taking over in 2012. That will be McDaniels' fourth season in Denver. If the Broncos flounder in the next two seasons, McDaniels may be in big trouble. However, because he has a good working relationship with Tebow, Denver ownership would be patient with McDaniels even if the team did struggle because it wanted to see how Tebow would perform. But if McDaniels were to be fired before Tebow takes over, I think the next coach would be asked to give Tebow a chance. Too much is invested in Tebow to go away from him before he is given an opportunity to lead the team.
September, 4, 2010
9/04/10
6:25
PM ET

Check
here
for a full list of Denver's roster moves.
Biggest surprise:
There were a few surprises from Denver on Saturday. The two big ones involved second-year cornerback
Alphonso Smith
and free-agent pickup
Jarvis Green
. Denver traded Smith to Detroit for reserve tight end
Dan Gronkowski
. Smith was the No. 37 overall pick last year, and Denver gave up its first-round pick in 2010 (No. 14) for Smith. He was a failure in Denver. Still, basically giving him away was a shocker. Denver paid Green several million to come in and be a starter on its new-look defensive line. Yet, Green could never win a starting job, losing out to
Ryan McBean
. Still, it never appeared Green's job was in jeopardy. Also cut was second-year guard
Seth Olsen
. He was a fourth-round pick in 2009. Thus, Denver got rid of second-round pick and a fourth-round pick from a year ago. That's not the way to build a program.
No-brainers:
A big reason why Smith was expendable was the play of rookie cornerbacks
Perrish Cox
and Syd'Quan Thompson, fifth and seventh-round draft picks, respectively. These two players are keepers. Expect Cox to immediately play a huge role as the nickel cornerback and as a return man. Matthew Willis had a great camp and he deserved a roster spot. Keeping Willis was made easier when Denver put receiver
Brandon Stokley
on the injured reserve with a groin injury. There were reports earlier Saturday that Stokley was released. Recent pickup, linebacker
Jason Hunter
, excelled in the preseason and was an easy choice to make the roster, as was backup running back
Lance Ball
What's next:
Denver will look to upgrade at a few spots. First on the list is running back. The Broncos have been decimated by injuries at the position this summer, and it is not clear if starter
Knowshon Moreno
will be ready to play opening day at Jacksonville. Denver will look at every running back option available. Other areas Denver could look to upgrade include tight end, offensive line, receiver and the defensive front.
September, 4, 2010
9/04/10
2:15
PM ET
There is a lot going on Saturday as teams cut down their rosters to 53 players, and the movement will only get wilder throughout the day. Let's catch up on the early developments of the day:
Mike Reiss of ESPNBoston.com is reporting
that Denver is cutting defensive lineman
Jarvis Green
and
linebacker Darrell Reid
. Green was a free-agent pickup this offseason and Reid was brought in as a free agent last year. Green's release would be a surprise since he was signed to be a starter this year on Denver's new-look defensive line. However, he didn't crack the starting lineup this summer. Perhaps Denver decided to go with youth over a veteran backup. Reid is a special-teamer who has been injured.
ESPN's Adam Schefter is reporting
San Diego has cut receiver
Josh Reed
. That is not a shock. He was signed as insurance earlier this summer, but he never established himself. His fate was sealed when San Diego traded for
Patrick Crayton
on Friday.
NFL.com is reporting
Denver is shopping second-year cornerback
Alphonso Smith
. The report says Denver wants a fifth-round pick for Smith. In the 2009 draft, Denver traded its 2010 first-round pick (No. 14) to trade up and take Smith at No. 37. He has been a major disappointment. It will be interesting to see if Denver cuts Smith if a trade isn't worked out.
Schefter reports
Washington is cutting
Willie Parker
. Denver badly needs running backs, but I'm not sure Parker is the answer.
Schefter reports
defensive lineman
William Joseph
is among Oakland's cuts. He was been on and off Oakland's roster last year.
Tampa Bay has cut
receiver
Michael Clayton
. Add his name to the list of potential receivers who could attract interest from the AFC West. Each team in the division could use receiver depth.
August, 11, 2010
8/11/10
11:46
AM ET
ESPN.com NFL Power Ranking
(pre-camp): 23
ENGLEWOOD, Colo. -- After he watched one key player after another limp to the training room this summer, Josh McDaniels came to a conclusion: The
Denver Broncos
are going to find a way to get better as a result.
Call it medical motivation.
"Sometimes, when everybody around you thinks the sky is falling because of injuries, it could rally a team," the second-year Denver coach said. "That's what we are doing. We are going to be motivated to show we can withstand what has happened to us. We're not sitting here feeling sorry for ourselves."
McDaniels swears Denver is having a productive training camp despite being the most injured team in the NFL. The biggest hit was the loss of star linebacker
Elvis Dumervil
. He is likely out for the season with a torn pectoral muscle. Other players who have been lost during camp include running backs
Knowshon Moreno
and
Correll Buckhalter
, receivers
Demaryius Thomas
and
Eric Decker
, safety
Brian Dawkins
and linebackers
D.J. Williams
and
Jarvis Moss
. Don't forget that left tackle
Ryan Clady
is out until sometime in September after hurting his knee in the offseason.
Still, McDaniels said it's not a time of despair, because everyone but Dumervil is expected back in the near future.
"It hurts to lose Elvis, but maybe the other injuries are good that they happened now," McDaniels said. "We are not worrying about who is not here. We trust our depth and we're dealing with it."
THREE HOT ISSUES
[+] Enlarge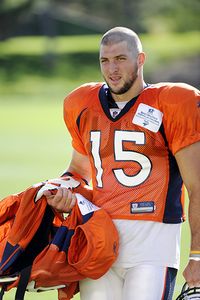 AP Photo/Jack DempseyTim Tebow got a new haircut on Tuesday, replacing the monk haircut from earlier in the week.
1. How will the Tebow factor affect the team?
There is not a rookie in the NFL who is getting the attention that
Tim Tebow
is receiving. From special Nike shoes to a
hideous training-camp haircut
to operating in short yardage situations, the Tebow Watch is in full force.
The question is how his work in camp will affect the team on the field. The former Florida star quarterback has operated in short-yardage situations and he will likely be used in the Wildcat formation and in the red zone. That likely means Denver will keep quarterbacks
Kyle Orton
,
Brady Quinn
and Tebow on the 45-man roster on game days. In June, McDaniels said he was leaning away from that.
But it is clear that Tebow is being groomed to be active as a rookie. Unless Tebow completely leapfrogs Quinn in training camp and in the preseason, Denver could be using three quarterbacks on game days, which will take away from another position.
2. Can this team forget the final 10 games of 2009?
Denver was the most perplexing team in the NFL in 2009. It shocked the league by starting 6-0. However, it suddenly fell apart and lost eight of its final 10 games.
Which team will we see in 2010? McDaniels, of course, won't guarantee anything, but he believes Denver is heading in the right direction because of a strong training camp.
He said the team is making big strides this year because his program is established after 14 years under Mike Shanahan. McDaniels pointed out how much smoother and productive Denver was in its team scrimmage last weekend compared to last year's scrimmage.
"It's night and day," McDaniels said. "Everybody knows the system now and that has helped camp."
[+] Enlarge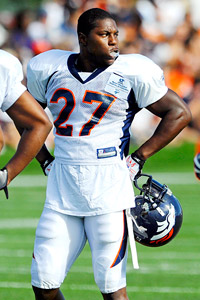 Ron Chenoy/US PresswireKnowshon Moreno, the team's leading rusher last season, is out with a hamstring injury.
3. Can the running backs stay healthy?
Moreno (hamstring) and Buckhalter (back) are supposed to be ready this month. But seeing the top two running backs go down on the first full day of camp had to be scary for Denver. The team has big plans for Moreno and Buckhalter.
Denver brought in veteran
LenDale White
to help in camp and perhaps as a short-yardage runner once he serves a four-game NFL suspension. The team is discussing signing former Oakland tailback
Justin Fargas
, perhaps as soon as Wednesday.
This is still the Moreno and Buckhalter show, but the Broncos have been forced to look at other options. Expect Moreno and Buckhalter to be handled very gingerly for the rest of camp and in the preseason in an attempt to ensure their health for the start of the regular season.
BIGGEST SURPRISE
The Broncos are excited about their receivers.
Brandon Lloyd
and
Matthew Willis
have been outstanding.
Eddie Royal
is playing well in camp and the team hopes he can bounce back from a poor first season under McDaniels. After catching 91 passes as a rookie, Royal had just 37 catches last season.
Add rookies Thomas and Decker and Denver could have a decent receiving crew. That looked shaky after the team sent talented but troubled
Brandon Marshall
to Miami in April.
BIGGEST DISAPPOINTMENT
How can it be anything other than the injury to Dumervil? He is arguably Denver's best player and he just signed a huge, new contract. Denver was looking for him to have a dominant season. Dumervil led the NFL with 17 sacks last season.
Denver will have to find a pass rush elsewhere. A top candidate is 2009 first-round pick
Robert Ayers
. He struggled as a rookie. But he has been good in camp. Ayers will get every chance to turn it on and help make this bad situation workable.
OBSERVATION DECK
[+] Enlarge

Jeff Fishbein/Icon SMIKyle Orton passed for 3,802 yards, 21 touchdowns and 12 interceptions for the Broncos last season.

Orton has quietly been a star in camp. He had a strong offseason and is, by far, the most accurate of three quarterbacks. While the future is Tebow's in Denver, Orton is going to do everything he can to make 2010 special before he hits the free-agency market in 2011.

Quinn, the current No. 2 quarterback in Denver, has been inaccurate often. The Broncos still like Quinn, who was acquired from Cleveland in March. However, with Orton being the immediate starter and Tebow being the future starter, he has his work cut out for him to find a spot in Denver.

Keep an eye out for fifth-round pick Perrish Cox. He's been outstanding in camp. "Every day, I look up and Perrish is making another big play," Royal said. Cox is second at left cornerback behind star Champ Bailey. Cox will likely be the nickel cornerback. He is also dynamic as a return man.

While Cox is ascending, second-year cornerback Alphonso Smith is still not progressing. Smith was the No. 37 overall pick in 2009. Denver gave up its first-round pick for Smith in 2010 (which was No. 14). He floundered as a rookie and he is not showing much improvement in camp as Cox is stealing the show.

Richard Quinn, a second-round pick in 2009, is blocking very well in camp. He still must improve as a receiver, but Denver should feel comfortable with him in double tight-end sets with starter Daniel Graham.

So far, defensive end Ryan McBean is holding off free-agent pickup Jarvis Green. However, the team likes Green and he is very versatile.

Denver likes what it sees in former San Diego defensive tackle Jamal Williams in the early stages. With Dumervil out, a lot of Denver's defensive burst must start from him at nose tackle. That may mean Williams may be on the field more than Denver likes. But he is showing, even at 34 and after missing all but one game in San Diego last year, he could still be a force.

Denver knows it won't all be roses, but it is at terms with rookies J.D. Walton (center) and Zane Beadles (guard) starting. Both players have showed intelligence and toughness in camp. Most importantly, they are big and strong and they are well suited for the power-blocking scheme McDaniels is adopting. Denver is scrapping the zone-blocking scheme used during the Shanahan era. One of the reasons is McDaniels wants a bigger offensive line that can stay fresh throughout the season.

D'Anthony Batiste is doing well at left tackle. The Broncos think he will be a valuable backup when Clady returns from a knee injury in September.

Inside linebacker Joe Mays, acquired from Philadelphia for running back J.J. Arrington less than two weeks ago, is impressing. He has worked some with the first team. He is likely to be a key backup and a special teamer.

Veteran defensive lineman Marcus Thomas is buried on the depth chart. If he doesn't pick up the rest of camp, he could be a candidate to be cut.

Punter Britton Colquitt, the younger brother of Kansas City punter Dustin Colquitt, is doing well and he will likely win the job. He is going unchallenged, but if he falters, Denver could scour the waiver wire. So far, he is showing that may not be necessary.
June, 7, 2010
6/07/10
12:00
PM ET
This was a very difficult ranking and not because of all the top-notch talent. Actually, this group is not very deep and it includes several unknown commodities. It may become a strong group, but right now, this unit as a whole is a big question mark in the AFC West.
1. Richard Seymour, Oakland:
Seymour is, by far, the best defensive lineman in this division. It's not even close. Still, Seymour, who is entering his second season in Oakland, has plenty to prove. Seymour, 30, has to show he is still in his prime and he can bounce back from an inconsistent first season in Oakland.
2. Luis Castillo, San Diego:
Castillo is a nice player. But he probably should be the second-best defensive lineman in a division. He's solid, not great.
3. Glenn Dorsey, Kansas City:
This was tough. I guess I still believe in Dorsey. But he has to show more in this third NFL season. He was expected to be much better than he has shown so far.
4. Jacques Cesaire, San Diego:
A solid journeyman. He should be lower on this list next year if other players develop as expected.
5. Tyson Jackson, Kansas City:
Like Dorsey, Jackson has to show up better than his rookie season. He was nowhere near as productive as the No. 3 overall pick is expected to be. But he's a hard worker and he should make strides in his second season.
6. Justin Bannan, Denver:
This free-agent pickup is underrated. He's versatile and he knows how to play winning football.
7. Jamal Williams, Denver:
The former Charger may be on his last leg. But until he hangs it up, this massive nose tackle has to be respected.
8. Tommy Kelly, Oakland:
Kelly is a big, well-paid man. But he is an underachiever.
9. Lamarr Houston, Oakland:
Houston was drafted in the second round this year to help Oakland's terrible run defense. The tackle looks like he will be very active.
10. Jarvis Green. Denver:
This free-agent pickup is a decent pro. He'll help Denver.
11. Vaughn Martin, San Diego:
The second-year player is an interesting prospect. He is very raw, but talented.
12. Cam Thomas, San Diego:
I like this fifth-round steal. Expect him to get a chance to replace Williams right away.
13. Wallace Gilberry, Kansas City:
This is a diamond in the rough. Gilberry is a project who has nice pass-rush skills.
March, 12, 2010
3/12/10
12:00
PM ET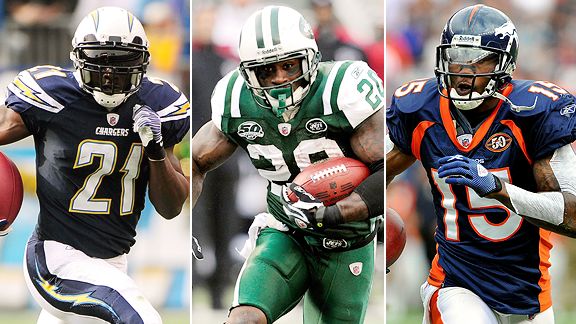 US Presswire/Icon SMI/US PresswireLaDainian Tomlinson is out in San Diego, Thomas Jones has a new home in Kansas City and Brandon Marshall's future in Denver remains uncertain.
We're a week into free agency. Here is a look at the key aspects of the offseason for each team in the division so far and what's ahead:
Denver

Big news: Brandon Marshall.
The Broncos set the stage for Marshall's departure by putting the first-round tender on him. It didn't take long for Marshall to attract interest. Seattle set up a visit to bring in Marshall on the first day of free agency. The Marshall situation could drag on, especially if other teams show interest. But the fact that Marshall was in another team's building over the weekend is big news.
Surprise: The new-look defensive line.
Last year, in his first as Denver's coach, Josh McDaniels remade the Broncos' defensive line. He is doing it again in his second year. The Broncos have signed defensive linemen
Justin Bannan
,
Jarvis Green
and
Jamal Williams
. All three of these players are expected to play major roles.
Best decision: Giving Elvis Dumervil the high tender.
Dumervil, 26, represents the future for Denver. He led the NFL with 17 sacks last season. Had Denver not put the high tender of a first- and third-round pick on Dumervil, he would be popular in free agency. With the high tender, Dumervil probably is staying put.
Worst decision: Not being flexible on Marshall's compensation.
It has been reported that the Broncos will keep Marshall if they don't get a first-round pick in return for him. Perhaps this is posturing. But unless other teams start pursuing him, I don't see Seattle giving up a first-round pick. Yet, the Seahawks could offer other creative compensation. Ultimately, the Broncos want to part ways with Marshall, but this high price tag could prevent that from happening.
What's needed: Continue to get bigger.
The Broncos added size to the defensive front. Now, they have to do so on the offensive line. Denver is moving away from the zone-blocking scheme to a more traditional power-blocking attack. The Broncos need a left guard and a center.
Kansas City

Big news: Thomas Jones signing.
Next to the trade for quarterback
Matt Cassel
last year, this is the biggest move of the Scot Pioli era to date. The addition of Jones shows Kansas City is willing to spend and it wants to get better. The veteran running back will help this offense.
Surprise: How aggressive the Chiefs planned to be.
Last year, the Chiefs were criticized for not being active. This year has been a different story. They were planning to pursue San Diego's
Darren Sproles
had he hit the open market, and they tried to trade for receiver
Anquan Boldin
. Before signing Jones, Kansas City also was considering fellow running backs
Justin Fargas
and
Willie Parker
. It is clear the Chiefs are determined to get better.
Best decision: Re-signing Chris Chambers.
Adding Jones and keeping Chambers will help Kansas City's offense evolve in the first year under new offensive coordinator Charlie Weis. Chambers was Cassel's favorite target when he was claimed off waivers by San Diego in November. A full season of playing with Chambers should help Cassel.
Worst decision: Not trading for Boldin.
A receiving crew of Chambers, Boldin and
Dwayne Bowe
would have been formidable. The Chiefs have two second-round picks next month. It might have been worth it to trade one to get Boldin and really open up the offense.
What's needed: Keep spending.
The Chiefs are on the right track. But they need more talent throughout the team. They need to add more pieces, perhaps on the offensive line and in the defensive back eight.
Oakland

Big news: No big spending.
For the second year in a row, the Raiders are watching free agency as bystanders. Two years ago, the Raiders spent wildly. It didn't work, and most of their 2008 free-agency class has been cut. The Raiders are sitting on the sideline in this uncapped year. You would think Al Davis would make a splash or two, but he has been very quiet.
Surprise: The release of Greg Ellis.
The defensive end was cut after one season with the team. Ellis had seven sacks last year, but he dealt with injuries. Still, he may have a year or two left. Yet, the Raiders decided to go with youth at the position. Perhaps that is a good sign of things to come. Of course, they gave another 30-year-old defensive end,
Richard Seymour
, the franchise tag after giving up a 2011 first-round pick for him. You never know the thought process in Oakland.
Best decision: The release of Javon Walker.
This move was a long time coming. Walker was one of the worst free-agent decisions in NFL history. Oakland gave him a six-year, $55 million deal with $16 million in guaranteed money in 2008. He had 15 catches in two seasons in Oakland. He never helped.
Worst decision: Giving Stanford Routt the high tender.
The backup cornerback was given the high tender of a first- and third-round pick. Routt is not a starter and is a marginal backup. Even if Oakland put the first-round tender on Routt, he wouldn't have attracted interested. The move simply cost the Raiders money and served no purpose.
What's needed: The Raiders have to spend some.
It's admirable that Oakland has learned its lesson from its horrible spending spree of two years ago. But the Raiders need help. This isn't a playoff- quality roster. The team needs help in several areas. The Raiders don't have to spend huge, but they do need some new players.
San Diego

Big news: The team is losing numbers.
The Chargers cut former stars
LaDainian Tomlinson
and Jamal Williams. Then they traded cornerback
Antonio Cromartie
and lost free agents
Kassim Osgood
and
Brandon Manumaleuna
. The Chargers have not added any players of note. San Diego prides itself on its depth and none of these players are irreplaceable, but the Chargers could miss some of them.
Surprise:
The Chargers gave the high tender to running back Darren Sproles. San Diego was expected to let the change-of-pace running back/return star test the market, but Sproles was tendered at the deadline. Good thing for San Diego, because Sproles probably would have been signed within 48 hours on the open market.
Best decision: Trading Antonio Cromartie.
The team grew tired of the cornerback, who struggled at times on the field and had some off-field issues. Cromartie was sent to the Jets for a 2011 third-round pick that could turn into a second-round pick, depending on playing time. It was a good value for a player San Diego couldn't wait to part ways with.
Worst decision: Not re-signing Jamal Williams.
Only because it allowed Denver to sign him. Williams probably doesn't have much left. But if he does, the Chargers will regret seeing Williams play well for a rival.
What's needed: A running back.
The Chargers are taking a calculated risk. They are not impressed with the free-agent class, so they are waiting for the draft. It is a deep draft. The Chargers clearly feel they can get a primary back then. Still, it is a tad scary waiting for an unknown rookie to be the primary back.
March, 10, 2010
3/10/10
7:45
PM ET
Something had to give as Denver revamped its defensive line -- and it was
Kenny Peterson
.
The Broncos released Peterson on Wednesday. He started 14 games last season and he had 40 tackles.
However, Denver signed defensive ends
Jarvis Green
and
Justin Bannan
in free agency. It also signed nose tackle
Jamal Williams
. So, there was little room for Peterson. The Broncos other starting end in 2009,
Ryan McBean
, could stay with the team.
Denver also cut backup guard
Mitch Erickson
.
March, 9, 2010
3/09/10
9:50
PM ET
The Broncos have been busy revamping their defensive line with the signing of
Jarvis Green
and
Justin Bannan
, who will likely start at the end positions, and
Jamal Williams
, who will play nose tackle.
The group is an improvement from last season. Still, the new players are making Denver a very old defense.
A lot will happen in free agency and in the draft, but there is a chance Denver will have nine defensive starters over the age of 30. Six of Denver's starters last season __
Champ Bailey
(31),
Brian Dawkins
(36),
Andra Davis
(31), Andre Goodman (31),
Mario Haggan
(30) and
Renaldo Hill
(31) – will be 30 or older by the start of the 2010 season. Bannan will be 31 next month, Williams will be 34 next month and Green is 31.
The only current key Denver defenders are linebackers
Elvis Dumervil
(26) and
D.J. Williams
(27). Apparently, Denver believes this unit is built to win now. It better be because this group won't be around together for long.
March, 9, 2010
3/09/10
8:15
PM ET
We enlisted the help of Matt Williamson of Scouts Inc. to breakdown the two big additions in the AFC West on Tuesday. Kansas City signed running back
Thomas Jones
and Denver signed former San Diego defensive tackle
Jamal Williams
.
Williamson on Jones:
"I love it. He is not an elite player, but he still has something left. I've been saying the Jets will regret letting him go. He is going to help the Chiefs. He really will help young running back
Jamaal Charles
. The Chiefs don't have a great line and they aren't going to win the Super Bowl this year, so it doesn't make sense to give Charles the ball 25 times. Now, he can be given the ball 15 times and extend his career and Jones can help carry the load. This move will also help Charles watch Jones and learn how to become a pro. Jones is a good blocker who understands the passing game. He will help
Matt Cassel
. This is a great move."
Williamson on Williams:
"This is hard to comment on if you're not a doctor. I'm just not sure how much he has left. He dealt with the triceps injury and he had knee injuries before that. Before he was lost for the season last year, I wasn't really impressed. But who knows how much he was hurting. I wouldn't be surprised if come training camp his body broke down and he had to retire. But if he does have something left, it is a very limited amount. I do like what Denver did at end with
Jarvis Green
and
Justin Bannan
. I really like Bannan. He is versatile and he can help any team. Even if Williams is banged up, the front three of Green, Bannan and Williams is better than what the Broncos had last year."
March, 9, 2010
3/09/10
6:50
PM ET
This move will likely hurt San Diego fans more than it will help the Denver Broncos.

Williams
Jamal Williams -- one of the great all-time Chargers -- is now a Denver Bronco. He just signed a three-year deal,
according to ESPN's Adam Schefter.
The Chargers cut Williams last week because he was due a hefty bonus.
Continuing its focus on revamping the defensive line, Denver's acquisition of Williams is intriguing. The 6-foot-3, 348-pound Williams was one of the game's premier nose tackles. He was a great run-stuffer and anchor to a fine defense. Denver defensive line coach Wayne Nunnely is no stranger to Williams' greatness. He coached him in San Diego.
Williams was known as a big-time Bronco killer. He ate up Denver's small offensive linemen. The Denver line was usually effective using its zone blocking schemes, but Williams always had success against Denver.
Still, there are plenty of risks in this deal. Williams will turn 34 next month and he missed all but one game last season with a triceps injury. He has also had knee issues.
But if Denver uses Williams in a rotation and limits him 15 to 25 snaps a game he could be effective. Denver has also added defensive linemen Justin Bannan and Jarvis Green. With all of these additions, the Broncos likely will not be looking for defensive linemen in the early stages of the draft.
The Williams deal can help if he can stay healthy. Even if Williams' better days are behind him, the sight of him in blue and orange will likely be crushing to San Diego fans.
March, 9, 2010
3/09/10
4:45
PM ET
After relying heavily on players from his former team (New England) last year, second-year Denver coach Josh McDaniels went back to the Patriot well Tuesday as he remakes his defensive line.
The Broncos signed New England defensive end
Jarvis Green
. He signed for four years in a deal that
will be worth
a maximum of $20 million. Denver signed Baltimore defensive tackle
Justin Bannan
last week.
Both Green and Bannan should play significantly. Last year, Denver's starting defensive ends were
Kenny Peterson
and
Ryan McBean
, and the nose tackle was
Ronald Fields
.
The Broncos are still trying to get a deal done with former San Diego nose tackle
Jamal Williams
to play him in a rotation.
Green is a solid but not a spectacular player. He started 12 games and he had one sack last season. Green, a veteran in the 3-4 scheme, has 28 sacks in eight seasons.
With all of the moves Denver is making on the defensive line, it may mean the Broncos will not use an early-round pick on a defensive lineman.
Meanwhile,
it is being reported
Denver could make a run at Tennessee veteran center
Kevin Mawae
.
March, 8, 2010
3/08/10
9:25
PM ET
After it was reported that former San Diego star defensive tackle Jamaal Williams is
set to visit
New Orleans,
the Denver Post reported
that Williams is currently visiting Denver.
The 348-pound Williams would be a great fit on paper for Denver, which is going into its second year using the 3-4 defense. In his prime, Williams was the premier 3-4 nose tackle in the NFL. He was a fabulous run stuffer and he set the tone for San Diego's defense. He played for Denver defensive line coach Wayne Nunnely in San Diego.
Yet, there are questions about Williams. He turns 34 next month and he missed all but one game last year with a triceps injury. He also has dealt with recent knee injuries.
Still, if Denver uses him in a rotation, Williams could help. San Diego reportedly wants Williams back at a reduced price. Perhaps seeing that Williams is in Denver will cause San Diego to make a move. He was released last week right before he was due to receive a roster bonus.
Denver is
also set to bring in
New England defensive lineman
Jarvis Green
for a visit.