March, 30, 2013
3/30/13
1:00
PM ET
We have discussed extensively what the
Kansas City Chiefs
might do with the No. 1 pick. Now, leading up to the NFL draft (April 25-27), we will take deeper looks at possibilities for the three other teams in the AFC West. We start with the
Oakland Raiders
, who have the No. 3 overall selection:

Ansah
EZEKIEL ANSAH, DEFENSIVE END, BYU
Why is he a top prospect?
He has a great combination of size, speed and athleticism and is a hard worker.
How would he help?
The Raiders have a need at defensive end and he could be an immediate contributor.
What are the risks?
Ansah will turn 24 in May and is still pretty raw. There are worries that the NFL game would be too big for him.
How he could be the choice:
He'd probably be considered a surprise. He is looked at more as a top-10 selection, not a top-three choice. But if the Raiders think he is the best defensive end, he could be the pick.

Fisher
ERIC FISHER, LEFT TACKLE, CENTRAL MICHIGAN
Why is he a top prospect?
He is a huge, athletic tackle who appears to be NFL-ready.
How would he help?
He could be moved to right tackle and, along with left tackle
Jared Veldheer
, give Oakland a monstrous pair of bookend tackles.
What are the risks?
Fisher comes from a small school and there is concern that NFL defensive ends could be too strong for him.
How he could be the choice:
If the Raiders are bent on working on the offensive line, he could be the pick.

Floyd
SHARRIF FLOYD, DEFENSIVE TACKLE, FLORIDA
Why is he a top prospect?
Great athlete. He has all the tools. Scouts think he can be a dominant player.
How would he help?
He would slide right into the middle of Oakland's defensive line and become an anchor on a unit that is being rebuilt.
What are the risks?
His game film didn't always live up to the billing. He might look better than he plays.
How he could be the choice:
If the Raiders believe his ability is too much to pass up, and if he gets past the first two picks, I think Floyd can easily be the choice.
Joeckel
LUKE JOECKEL, LEFT TACKLE, TEXAS A&M
Why is he a top prospect?
Ideal NFL left tackle. Hard worker, wants to be great.
How would he help?
See Fisher.
What are the risks?
Some worry that he might not be stout or mean enough to be a great NFL player.
How he could be the choice:
Many think Joeckel is the best player available. If the Raiders agree and think he is too good to pass up at No. 3, he could be the choice.
Jones
JARVIS JONES, OUTSIDE LINEBACKER, GEORGIA
Why is he a top prospect?
Many people think he is the most productive and dynamic pass-rusher available.
How would he help?
The Raiders are begging for a pass-rusher. They badly need one.
What are the risks?
There are medical concerns (Jones has suffered from a narrowing of the spine), and he doesn't have ideal speed.
How he could be the choice:
He will probably drop, so he could be an ideal choice if Oakland trades down.

Jordan
DION JORDAN, OUTSIDE LINEBACKER, OREGON
Why is he a top prospect?
Great size and work ethic. Teams think he has a huge ceiling.
How would he help?
Oakland needs great defensive players. Jordan could be one of the best players on this defense when he steps onto the field.
What are the risks?
He might never reach his ceiling.
How he could be the choice:
He is like Ansah -- a draft riser. But will he go as high as the third pick?
Lotulelei
STAR LOTULELEI, DEFENSIVE TACKLE, UTAH
Why is he a top prospect?
Great numbers across the board and he produces on the field. Very disruptive.
How would he help?
Like Floyd, he'd fill a huge void on a rebuilding defense.
What are the risks?
Medical evaluations at the combine discovered a heart issue, but Lotulelei has since been cleared. Still, teams will worry about his long-term health.
How he could be the choice:
If Oakland feels good about his health and thinks Lotulelei is a better fit than Floyd, he could be the pick.
Milliner
DEE MILLINER, CORNERBACK, ALABAMA
Why is he a top prospect?
Many scouts think he is the best cornerback available. He has great speed.
How would he help?
The Raiders are desperate for help at cornerback and Milliner could be a long-term solution.
What are the risks?
Some scouts think that Milliner is not worth the No. 3 pick and that he might never become a great player.
How he could be the choice:
If the Raiders believe they must get a young player at this pivotal spot, they could look to Milliner.
Mingo
BARKEVIOUS MINGO, DEFENSIVE END, LSU
Why is he a top prospect?
Classic pass-rusher. Long body, great athlete.
How would he help?
Again, this team needs an impact pass-rusher.
What are the risks?
He is raw and there is concern his great ability won't translate to the NFL game.
How he could be the choice:
If the Raiders believe Mingo has greater upside than most of the players on this board, I can see the fit. But right now, taking him with the No. 3 pick might be high.

Smith
GENO SMITH, QUARTERBACK, WEST VIRGINIA
Why is he a top prospect?
He is the best quarterback available in a weak class. He has a good skill set.
How would he help?
If
Carson Palmer
is cut and if the Raiders don't trade for Matt Flynn and if they don't believe
Terrelle Pryor
is a long-term answer.
What are the risks?
Scouts worry he will never be exceptional. There are a lot of question marks.
How he could be the choice:
If the Raiders fall in love, Smith will be a Raider. There is no more important position on the field -- even if it means Oakland takes Smith instead of filling other needs.
March, 21, 2013
3/21/13
6:50
PM ET
Jarvis Jones
may be pushing himself out of consideration of being as a top choice by an AFC West team.
The Georgia pass-rusher reportedly had a "terrible" pro day workout Thursday
as he ran a sluggish 4.90 40-yard dash. The poor workout comes after Jones was one of the stories of the NFL combine last month because of a medical concern regarding a narrowing of his spine. Physicians have said Jones should be able to enjoy a healthy NFL career.
But there are no guarantees. Combined with the poor workout, Jones -- once considered a top-five pick -- could tumble down in the first round despite his dynamic ability. The Chiefs, who have the No. 1 pick, are scheduled to visit privately with Jones. But they are talking to several players and he seemed like a long-shot to be the top pick even before Thursday's workout.
Oakland could use a pass-rusher and there was some thought Jones could be in the mix. But his tough offseason may scare off Oakland, which has other defensive needs, anyway.
In other AFC West notes:
Ryan D'Imperio, formerly of the Vikings, signed with the Chiefs. He played 12 games last season. He is not a lock to make the roster.
The AFC West has a combined 28 draft picks, which is the fewest of any division.
March, 18, 2013
3/18/13
1:05
PM ET
The Oakland Raiders' signing of
Kevin Burnett
may be a major hint that the team will, at the very least, use some 3-4 alignments this season.
Burnett is a 3-4 linebacker, and the team also has signed
Nick Roach
and
Kaluka Maiava
. The Raiders like second-year linebacker
Miles Burris
, who started as a rookie. I doubt the team plans to give Burris less playing time, so there's reason to believe all four of these linebackers will have a starting role.
The versatile
Lamarr Houston
could be a nice 3-4 defensive end. The team signed 335-pound
Pat Sims
and he could be strong anchor at nose tackle. Perhaps
Tommy Kelly
could be kept at a reduced price to play some nose tackle as well.
Florida defensive tackle Sharrif Floyd could be a target for Oakland with the No. 3 pick, and scouts think he is athletic enough to play end in a 3-4 defense, so that option could still be on the table if Oakland does become a 3-4 team. Perhaps a pass-rusher like Jarvis Jones of Georgia could be looked at as well.
Oakland coach Dennis Allen will likely say that his defense will be multiple and they will use both 3-4 and 4-3, but the truth is, every team has a base defense. While a team can be multiple, it will have a look that is more prevalent than the other.
Matt Williamson of Scouts Inc. says he thinks this could be the time to make a switch because the Raiders are starting in the front seven.
"If the coaches prefer the 3-4, this is a fine time to switch, but I don't see anyone resembling a 3-4 outside linebacker or pure nose tackle on the roster," Williamson said. "I do love Houston as a 3-4 defensive end, though."
If Oakland moves to a 3-4, three AFC West would have three teams to use a 3-4 defense. Kansas City and San Diego also run a 3-4.
March, 10, 2013
3/10/13
2:05
PM ET
Yahoo reports the Titans, Colts and Bills are all chasing top guards,
Louis Vasquez
of the
San Diego Chargers
and Buffalo's
Andy Levitre
.
The Chargers also have interest in Levitre. The report states Vasquez's chances of returning to the Chargers are slim. The Chargers have massive issues on the offensive line, so they better figure something out.
Regarding the Chargers' most pressing need on the offensive line, San Diego general manager Tom Telesco
told U-T San Diego
there is nothing imminent going on with the status of left tackle
Jared Gaither
. I expect the Chargers to address their needs and then make a decision on Gaither.
Meanwhile,
Early Doucet
could potentially be a name the receiver-needy Chargers look at as a No. 3 receiver. He played for new San Diego offensive coordinator Ken Whisenhunt in Arizona, Doucet was a favorite of the coach there.
In another AFC West-related note:
The Chicago Tribune is reporting
that Georgia pass-rusher Jarvis Jones received good medical news. There has been concern because he has a narrowing of the spine. If healthy, Jones could be an option for Oakland with the No. 3 pick.
February, 23, 2013
2/23/13
6:35
PM ET
INDIANAPOLIS – One of the bigger stories Saturday at the NFL combine was the health of Georgia star pass-rusher
Jarvis Jones
.

Jones is considered one of the top prospects in the draft -- and a definite possibility for Oakland, which picks third overall. However, there are long-term health concerns about Jones' neck; he had to leave USC four years ago after being given a diagnosis of spinal stenosis.
Jones met with the media after spending most of Saturday getting "pulled and yanked" by physicians. Jones said initial talks with doctors have eased his mind. Jones points to the fact that he was healthy and productive for three years at Georgia, including a redshirt season, as evidence he will be fine.
Though he wouldn't guess at what NFL teams might make of his injury history, Jones said he is fully confident he will have a long, healthy pro career.
Clearly, the complete medical reports and team physicals will be crucial for Jones in the next couple of months.
I think it is premature to take him off any team's list, including Oakland's. To be sure, this is the high season for over-analysis on such matters.
Jones is a fine player with a medical issue. He isn't the first NFL prospect to fit that description. So, unless there is evidence he is regressing, I'd still consider him a top prospect for the Raiders.
January, 3, 2013
1/03/13
12:00
PM ET
With the Oakland Raiders' season over, let's take an early look at where the team might be heading in the draft.
First pick:
No. 3

Top draft needs:
Cornerback, linebacker, defensive line, safety, offensive line.
Possible first-round picks:
Notre Dame linebacker
Manti Te'o
, Texas A&M defensive end
Damontre Moore
, Georgia linebacker
Jarvis Jones
, LSU defensive end
Barkevious Mingo
, Florida State defensive end
Bjoern Werner
.
Intangibles:
While the Chiefs are in a bad spot because of the lack of draft talent compared to their needs, the Raiders are in a great spot. This is a defense-rich top end of the draft and the Raiders badly need help at every layer. At worst, they will get the third-highest-rated defensive player on their board. They just have to stack their board and pick the best fit. At least three of the above players should be available to Oakland -- a can't-lose situation. The one wrinkle is that Oakland could decide to trade down because it has a lot of needs and doesn't currently have a second- or a fifth-round pick. That said, the opportunity to get an impact defender could be enough to sway Oakland to keep its top choice.
January, 3, 2013
1/03/13
11:00
AM ET
With the Kansas City Chiefs' season over, let's take an early look at where the team may be heading in the draft.
First pick:
No. 1

Top draft needs:
Quarterback, receiver, cornerback, inside linebacker, safety.
Possible first-round picks:
Utah defensive
Star Lotulelei
, Notre Dame linebacker
Manti Te'o
, Texas A&M defensive end
Damontre Moore
, Georgia linebacker
Jarvis Jones
, Texas A&M left tackle
Luke Joeckel
.
Intangibles:
There are many. For starters, the top of this draft doesn't mesh with the Chiefs' needs. The players listed above are fine, impact players. But they don't fill major needs for Kansas City. Because of that, I think Lotulelei and Te'o might be the best fits, because you can make arguments for their selection over the others because of position fits. Joeckel could be in play if
Branden Albert
leaves as a free agent. Of course, the Chiefs badly need a quarterback. There just aren't any quarterbacks worth taking at No. 1. The Chiefs could trade down to stockpile picks and perhaps select North Carolina State
Mike Glennon
or West Virgina's
Geno Smith
, but those two signal-callers seem like projects. The Chiefs will have new brass and there will be a lot to discuss.
December, 30, 2012
12/30/12
9:50
PM ET
The
Kansas City Chiefs
are on the clock.
Now, the fun begins.
The Chiefs, who went 2-14 and who will have the No. 1 pick in the April draft, desperately need a quarterback, but there doesn't appear to be any quarterback worthy of the top pick. There are no Andrew Lucks or RGIIIs this year.
The draft appears to defense-heavy at the top. The Chiefs aren't really lacking at any defensive position.
So, it will have to come to a tough decision. Of course, with general manager Scott Pioli on the hot seat, the ultimate decision may be made by someone who is not yet in the organization.
If the Chiefs don't reach for a quarterback such as West Virginia's
Geno Smith
or North Carolina State's
Mike Glennon
, the Chiefs could try to trade down or take the best defensive player available. The trade market may not be great for the top pick because of the dearth of quarterback prospects.
Here is a look at five players who the Chiefs could consider with the top pick:
Utah defensive tackle Star Lotulelei:
He may be the best overall. He could be a perfect 3-4 nose tackle for the Chiefs. But if the new regime uses a 4-3, he could fit again. The selection of another defensive lineman in Kansas City may not excite the masses, but if he's the best player available, he needs to be considered.
Notre Dame linebacker Manti T'eo:
The top pick may be too high for T'eo. But if the Chiefs' brass really likes him, he may be worth it. He would complete an outstanding linebacking crew in Kansas City.
Texas A&M defensive tackle Damontre Moore:
He is a top pass-rusher. The Chiefs are pretty set at pass-rusher, though.
Texas A&M left tackle Luke Joeckel:
If
Branden Albert
leaves through free agency, this may be the choice. The Chiefs could take Joeckel.
Georgia linebacker Jarvis Jones:
He is like Moore. He is extremely talented, but he doesn't really fit the Chiefs' needs.
November, 28, 2012
11/28/12
2:05
PM ET
The 2013 NFL draft is going to be important in the AFC West.
The 1-10
Kansas City Chiefs
are on pace to get the No. 1 pick and the 3-8
Oakland Raiders
and 4-7 Chargers are not far behind. As of now, Oakland is on pace for the No. 4 pick and the Chargers are on pace for the No. 7 pick.
So, it's time to think ahead.
That is exactly what Mel Kiper Jr. and Todd McShay have done
for this week's Hot Read. Let's highlight some of parts of the project that are of interest in the AFC West.
[+] Enlarge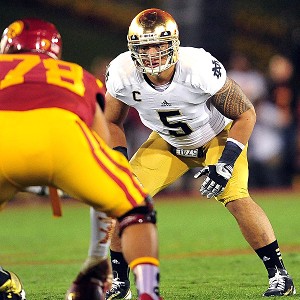 Gary A. Vasquez/US PresswireWithout any can't-miss quarterbacks at the top of the draft, the Chiefs could consider drafting Notre Dame linebacker Manti Te'o.
Kiper lists the five players he thinks could go with the No. 1 pick. Note he does not have a quarterback on the list and that is, by far, the Chiefs' greatest need. Here's the list:
" Jarvis Jones, a brilliant, relentless pass-rusher out of Georgia;

" Manti Te'o, the prototype middle linebacker out of Notre Dame (a very high standing for an interior linebacker, I admit);

" Star Lotulelei, the best defensive tackle in the class, who plays at Utah;

" Luke Joeckel, the best left tackle in the class, of Texas A&M; and

" Damontre Moore, also of Texas A&M, and a rival to Jones as the best current pass-rusher on my board.
The players don't address huge needs for the Chiefs. Based on fit, I'd say Te'o or Lotulelei could be the picks.
Oakland could be in real good shape with this list. All four defensive players on the list would fit. A fly in the ointment? Oakland has very winnable home games against Cleveland and Kansas City in the next three weeks. Of course, the team will want to win, but victories could take the Raiders out of the mix for an impact defensive player. Don't get me wrong -- I'm not suggesting Oakland should tank games, just pointing there can be negative aspects of a losing team winning games late in the season.
Here's McShay's take on the weak quarterback class:
It's early in the process and there's still a lot of tape that needs to be watched. A year ago at this time, I didn't think much of Ryan Tannehill. Come April 1, I really liked him as a top-10 pick.

There's no one right now who I'd sit at a table and fight for, but I still haven't done all the tape.
McShay says defensive line is the deepest position in the 2013 class. That is good news for Oakland, which could use help there, and everywhere on defense. Here are McShay's thoughts:
Defensive line is the deepest group in 2013. You could split hairs over defensive ends or defensive tackles, but if you're a team looking for a defensive lineman, you should be fired up over this group right now. As I count now, nine of the top 15 and 17 of the top 40 players in this draft are on the defensive line.
Kiper thinks the Chiefs can be one of the top newsmakers in the draft even if they wait until the second round to take a quarterback. Here are his thoughts:
Kansas City is also in line to deliver a huge splash. The Chiefs could draft No. 1 overall, and quarterback is a huge need. Right now, I don't have a QB rated among my top 20 overall players, but when that position is a major need, sometimes the value equation changes. That said, what if the Chiefs were to take Te'o with their first pick, and then target value at quarterback early in Round 2, landing them (Geno) Smith, (Matt) Barkley, Tyler Wilson, a talent like Mike Glennon or a high-ceiling project like Logan Thomas? It's so early that the QB evaluations will change a great deal (think of where RG3 was last year before the combine and workout process) and K.C. will have time to figure out the value at that early pick. But for splash, they're an early candidate.
Again, we will be focusing on the draft very soon in the division and this is a nice primer to get you thinking about it.
November, 16, 2012
11/16/12
12:00
PM ET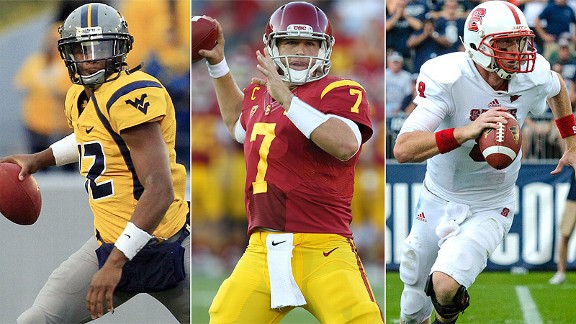 AP Photo/Cal Sports MediaWest Virginia's Geno Smith, USC's Matt Barkley and NC State's Mike Glennon are the top prospects in what is considered a weak quarterback draft class.
Much has gone wrong for the
Kansas City Chiefs
this season. Things could get more complicated after the worst season in recent memory for the franchise.
Things are so bad for the Chiefs, even the lone benefit of having a disastrous season may not automatically play in the their favor. It looks like 2013 is going to be a bad draft year to need a quarterback.
Kansas City is 1-8 and on pace to get the No. 1 overall pick in the draft. Despite their awful record, the Chiefs do have talent throughout their lineup. Their most glaring hole is at quarterback.
Matt Cassel
has lost his starting job and
Brady Quinn
appears to be a stop-gap answer.
Ricky Stanzi
, a fifth-round pick in 2011 doesn't appear to be the answer, either. The Chiefs need a quarterback, but they may be a year too late.
The 2012 quarterback draft class may go down as one of the great all-time quarterback draft classes. Five rookies from that draft class are starting and
Andrew Luck
and
Robert Griffin
III, the first two picks from the draft, appear to be transcendent talents.
What about the 2013 class? Scouts Inc. college scout Steve Muench calls the upcoming quarterback class "terrible." West Virginia's Geno Smith, USC's Matt Barkley and North Carolina State's Mike Glennon may be the only quarterbacks worthy of a first-round pick, but none of those players appear to be sure things. And if they go in the top three overall picks, they might be massively over-drafted.
In fact, Muench thinks Barkley's draft stock is "free-falling" and Muench believes Glennon will have work to do between now and late April to secure a spot in the first round. ESPN draft experts Todd McShay and Mel Kiper have both often said this fall that this quarterback class lacks certainty. Much like the 1984 and 2000 quarterback classes that immediately followed terrific quarterback classes, the 2013 class appears to lack the tremendous talent level of the quarterback class of 2012.
"The Chiefs need a quarterback, so they have to look hard there," Muench said this week. "But it would have been nicer if they were in this position last year. It would have been a lot nicer. ... There's no Lucks here."
Are the Chiefs, who definitely appear headed for a top-three pick, out of luck in the 2013 draft?
Not necessarily, but it appears there aren't any clear-cut easy connections for Kansas City at any spot. There appears to be better value at the top of the draft at other positions. (Remember, this is always subject to change, especially during the time of the NFL combine in late February.)
Muench said the top five players on
Scouts Inc.'s list
include Utah defensive tackle Star Lotulelei, Georgia outside linebacker Jarvis Jones, Notre Dame inside linebacker Manti Te'o, Alabama guard Chance Warmack and Texas A&M defensive end Damontre Moore.
None of those positions are major need areas for the Chiefs, certainly not in the same scope as quarterback. Would the Chiefs really take a guard at No. 1? I Don't think so, either.
Still, Muench thinks, as of right now, Lotulelei and Jones will be worth the No. 1 pick and the Chiefs should consider taking either players if they get the top pick. He thinks both players will be superstars and instant impact players.
The issue is neither player is a great fit for the Chiefs. Lotulelei may be the better fit for the Chiefs because of his value. Muench thinks he'd be a terrific defensive end in a 3-4 scheme. Kansas City, which has drafted three defensive linemen in the top 11 of the draft since 2008, could put Lotulelei at an end position to pair with 2012 first-round pick
Dontari Poe
at nose tackle.
"That could work," Muench said.
Jones, whom Muench describes as an "absolute terror," is a dynamic 3-4 pass-rushing outside linebacker, but the Chiefs are stacked there with
Tamba Hali
and
Justin Houston
.
Muench does think if the Chiefs end up with the top pick, they should seriously consider taking Smith over Lotulelei and Jones. Yes, the two defensive stars appear to be more of sure things, but the quarterback factor is huge. Quarterbacks have more value and they often get drafted higher than players at other positions because of their chances of becoming stars.
Muench thinks Smith is a middle-of-the-first-round talent. Yet, he does think he can become a franchise player.
"He is not near Luck or Griffin," Muench said of Smith. "But I do like him and he can hit big. He needs to get better under pressure, but he is excellent in the pocket and he has a lot of skills. I think he will be taken very highly because of the position and the potential, and I think the Chiefs very much should consider him if they get the No.1 pick. There is no sure thing, but he could hit big. What if he becomes a star and the Chiefs don't take him? They'd still have a hole at the most important position on the field and they would blow a chance at a star. That's hard to recover from."
Matt Williamson of Scouts Inc. doesn't think the Chiefs' dilemma is big at all. He doesn't care about the risk or the chance to get a better overall player elsewhere. Here are his thoughts on the subject: "It has to be a quarterback for Kansas City."
It may be a year late, but the Chiefs' draft thoughts may have to start at quarterback, regardless if it's not a golden year at the position.
October, 11, 2012
10/11/12
5:00
PM ET
In an Insider piece,
ESPN draft analyst

Todd McShay looks at some top-five draft pick possibilities.
Using this week's ESPN.com's Power Rankings as his guide, McShay looks at what the Chiefs, 1-4, could take with the No. 3 pick and what the Raiders, 1-3, could take at the No. 4 pick.
For the Chiefs, McShay hones in on West Virginia quarterback Geno Smith and USC quarterback Matt Barkley. If the Chiefs do have the No. 3 pick and one of these two players are available, I see Kansas City rolling with a quarterback in the first round for the first time since it took Todd Blackledge with the No. 7 overall pick in 1983.
For the Raiders, McShay focuses on a quarterback or a pass-rusher such as Georgia linebacker Jarvis Jones or LSU defensive end Barkevious Mingo. Because the Raiders gave up so much for
Carson Palmer
, I think they should look for defensive help. A game changer on defense is needed.
What are your early draft ideas about these two teams? fill up the comment section below with your thoughts?

AFC WEST SCOREBOARD
Friday, 8/22
Saturday, 8/23
Sunday, 8/24