September, 27, 2013
Sep 27
11:00
AM ET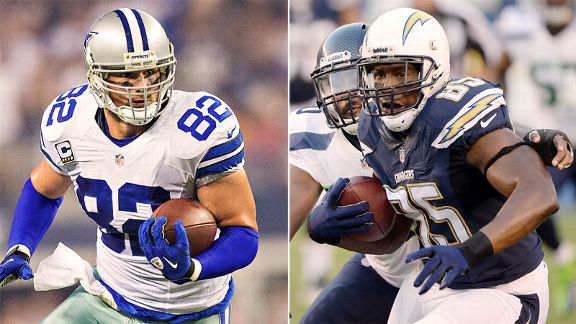 Getty ImagesJason Witten and Antonio Gates -- ranked No. 2 and 3 in all-time tight end catches -- meet Sunday.
SAN DIEGO -- They don't make them like they used to.
That's the sentiment of
San Diego Chargers
tight end
Antonio Gates
, and his counterpart, the Dallas Cowboys'
Jason Witten
.
Both arrived in the NFL in 2003, and a decade later, the duo sits No. 2 and No. 3 in receptions among active leaders for tight ends behind future Hall of Famer
Tony Gonzalez
of the
Atlanta Falcons
.
Gates' and Witten's teams will face each other for perhaps the final time in their impressive careers when Dallas travels to Qualcomm Stadium on Sunday.
"They're very talented," San Diego coach Mike McCoy said. "They're different in their own ways. I think they're the quarterback's best friend. They have a lot of confidence in how they play the game and what they do, and the way they run routes and everything, but they're very good football players.
"It's great to have guys like that, weapons you know. Regardless of what the situation is, whether it's in the red area, whether it's third down, when the game's on the line, it's a guy that you know you can count on."
Gonzalez is the active leader in receptions with 1,253 catches in 17 seasons. Witten is No. 5 on the list with 822 catches, and Gates is No. 12 with 657 catches.
Gates said what makes he and a handful of other tight ends different than other guys coming into the league are they are complete players. They can and dominate as a blocker in the run game or beat a defender down the seam of the defense in the passing game.
"It's a mutual relationship where the respect is there," Gates said about Witten. "Granted, he's always been an NFC guy, and I was always an AFC guy. He's more a traditional, true tight end that can catch the ball.
"Some of these guys are receivers who they've converted to tight ends. But when I think of Jason, I think of a true tight end -- a guy who fits the position."
Between them, Gates and Witten have earned invitations to 16 Pro Bowls -- eight apiece. Witten said those weekends in Hawaii provided opportunities for the two to swap stories and trade secrets. Specifically, Gates played for six seasons under former Chargers coach Nor Turner, who served as a mentor for Dallas coach Jason Garrett.
"Over the years it's been interesting, because Norv and Jason's are very similar systems and we can pick each other's brains about that, so you're kind of talking the same language," Witten said. "You're always competing against him, but it's somebody you definitely have a lot of respect for. I don't know about the box score, but you take a peek at the film every once in a while and see what kinds of plays they're running."
At 6-foot-4 and 255 pounds, the 33-year-old Gates was a standout basketball player at Kent State, but chose to purse football in the pros, signing with the Chargers as an undrafted rookie free agent in 2003.
Gates' size, agility and athleticism help him create mismatches against opposing defenses in the red zone. His 84 touchdowns rank second-most among tight ends in NFL history behind Gonzalez (104).
"Obviously he was a basketball player and has great feel and athletic ability," Witten said. "At the end of the day it's all about body and leverage. I think he understands, just like I do, that those are the matchups you want to create -- whether it's on a linebacker or a safety, how do you use that leverage and your quarterbacks have confidence in you. I think Philip (Rivers) has a lot of confidence in him, quite like Tony (Romo) and I."
At 6-6 and 261 pounds, Witten was a third-round selection in 2003 by the Cowboys out of Tennessee. The 31-year-old Witten is the Cowboys all-time receptions leader, and has developed a reputation for reliable hands, polished route running and a knack for making the big play.
"Football is very important to him," Garrett said about Witten. "His attention to detail is as good as anybody I've been around in my career. Nothing is too small to make sure he gets right. He goes about it that way in meetings and in walk-throughs on the practice field. There's no secret behind his success. He works very hard at it. He's a talented guy, and you put those two things together, you can be a consistently good player, as he is."
While Gates believes the number of players who can do everything required of a tight end is dwindling, giving way to more athletic pass catchers built like big receivers, he understands that fans will see two of the best to ever do it in San Diego on Sunday.
"We're different in a sense of what he's able to do help his team, as opposed to what I'm able to contribute," Gates said. "But I have so much respect for him because he's still able to make it happen, and contribute to help his team win football games."
ESPN Dallas Cowboys reporter Todd Archer contributed to this story.
September, 10, 2013
Sep 10
5:21
PM ET
ENGLEWOOD, Colo. -- The one thing the seemingly endless parade of defensive coordinators who marched through the Broncos' Dove Valley complex in recent years couldn't bring with them was continuity.
From Larry Coyer to Jim Bates to Bob Slowik to Mike Nolan to Don Martindale to Dennis Allen right up to Jack Del Rio, over seven consecutive seasons, everybody had a different vision of what the playbook should be and what the Broncos' players should do in it.
And while that made consistency in the draft as well as free agency anywhere from difficult to impossible to achieve because all the coaches wanted different kinds of personnel, it had another effect on things as well.
[+] Enlarge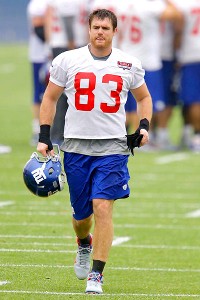 Jim O'Connor/USA TODAY SportsExpect the Giants to try to use Brandon Myers to beat the Broncos' defense.
"And I think it makes it harder to fix something,'' is how
Champ Bailey
put it. "You're so busy getting everybody used to what you expect, how you're going to do things and you can't really deal with too much of what happened before. You're getting another system in place and sometimes you can't really work through some things that happened the year before because you're kind of starting over.''
While any Broncos success could certainly put Del Rio in the head coaching mix in the next offseason, the guys in the Broncos defensive huddle at the moment are certainly glad to finally see the same face in front of them every day this time around. They also believe it could help the Broncos repair -- in a 2012 filled with good stuff on defense -- a glaring issue in their output last season.
A defense that tied for the league lead in sacks, finished second overall in fewest yards allowed and fourth overall in fewest points allowed, simply could not consistently cover opposing tight ends in the passing game. And Sunday, in the Giants'
Brandon Myers
, the Broncos begin a run through the NFC East over the next month that will include the Cowboys'
Jason Witten
and the Eagles'
Brent Celek
as well.
"That's always something you know quarterbacks are looking for,'' said Broncos linebacker
Wesley Woodyard
. "It seems like every team has a big guy who can run and make plays.''
Last season opposing tight ends finished with 81 catches for 948 yards and a staggering 11 touchdowns combined against the Broncos. That's 25 percent of the receptions the team allowed last season and 44 percent of the receiving touchdowns allowed. And in a league where 19 of the top 20 players in receiving yardage last season were wide receivers (43 of the top 50), it shows a departure from business as usual to find what opposing offenses believed was a winning match-up, especially in the scoring zone.
Last year, three of the six 100-yard receiving games surrendered by the Broncos were to tight ends –
Jermaine Gresham
,
Greg Olsen
and
Dennis Pitta
. Also, of the four players to have two receiving touchdowns in a game against the Broncos last season, three of those were tight ends --
Antonio Gates
, Olsen and Pitta.
Pitta's hip injury kept him out of the season opener against the Broncos last Thursday night, but that didn't keep Ravens quarterback
Joe Flacco
from trying to work the theme. Flacco targeted tight end
Ed Dickson
five times in the game, but Dickson, who struggled with drops in the game, made just one catch for 13 yards.
This week the Broncos must focus on Myers, who had seven receptions for 66 yards and a touchdown in the Giants' loss in Dallas -- a game in which the Giants had three wide receivers top 100 yards. The Broncos faced Myers plenty during his four seasons in Oakland. In Myers' breakout 79-catch season in 2012, the Broncos were able to limit him to one catch in each of the two meetings.
Woodyard and
Danny Trevathan
are the linebackers who most often get coverage duty on opposing tight ends and the Broncos will also use their safeties when they get into some of their specialty packages.
"We know when we're in coverage, we can't let the ball in there,'' Trevathan said. "You don't want any completions, we want to get stops and get off the field.''
"It's a match-up league, it always has been, it always will be,'' said Broncos coach John Fox. "Every team is looking for those match-ups to take advantage of. We always look at things we maybe haven't done as well as we can because we don't want bad things to happen again. The thing about mistakes is you admit them, fix them and try not to repeat them.''
May, 31, 2011
5/31/11
1:00
PM ET
For the second time in
our positional Power Rankings list this spring
, I cost
Adrian Peterson
big.
I promise I have nothing against the Minnesota running back. I think he's a big-time player. But I think there are other big-time players in the NFL as well.
I just think there are some better players in the NFL than Peterson at the moment. That's why I placed Peterson seventh on our list of top-10 (non-quarterbacks) offensive players in the NFL. My replacement cost Peterson big. He finished in a first-place tie with Tennessee running back
Chris Johnson
. Had I placed Peterson sixth, he would have been in first place by himself.
In our running back Power Rankings in March
, I ranked Peterson third behind Tennessee's Johnson and Kansas City's
Jamaal Charles
. It gave Johnson the No. 1 overall ranking. I used the same formula on this current vote as I did in the previous one; I had Peterson as my third running back behind Johnson and Charles.
That's why he's seventh on my list. Again, I like Peterson a lot and I think he's special. Being the seventh best player on this list is pretty strong.
As for the AFC West, Charles and San Diego tight end
Antonio Gates
finished in a tie for 10th place. I had Charles ranked fifth and I ranked Gates ninth. In our tight end Power Rankings, I had Gates ranked first. He was edged out by Dallas'
Jason Witten
. I placed Charles higher than Gates on this list based on the importance of position and the fact that Charles is just entering his prime at the age of 24 while Gates is about to turn 31.
No other AFC West player received a vote.
March, 29, 2011
3/29/11
1:00
PM ET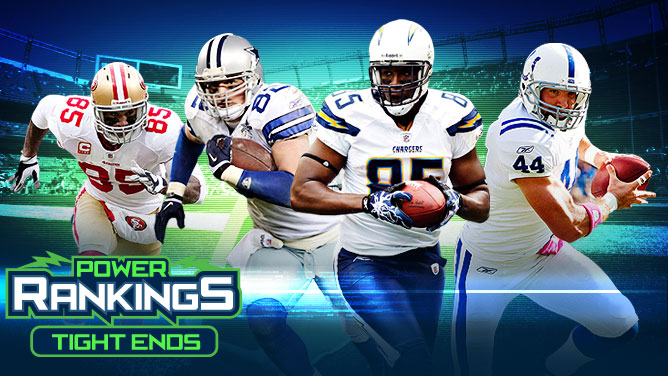 ESPN.com IllustrationDallas' Jason Witten earned the top spot in our voting over San Diego's Antonio Gates.
ESPN.com's NFL writers rank the top 10 tight ends in the league today. Next week: Top 10 coaches.
Antonio Gates
has received the
Adrian Peterson
treatment.
This guy didn't do it this time.
Up from the NFC South rises Pat Yasinskas into the ESPN.com Power Rankings' hot seat. Embrace the heat, my friend. In another airtight positional Power Rankings battle, Dallas'
Jason Witten
edged out Gates by one vote to be crowned the almighty ruler of all NFL tight ends.
How in the name of Kellen Winslow did it happen, San Diego? Talk to Yasinskas.
Yasinskas ranked Atlanta's
Tony Gonzalez
No. 2. He had Witten No. 1 and Gates No. 3. Witten finished with 76 voting points. Gates had 75. No other voter placed Gonzalez higher than fifth. He finished sixth.
Send your cards and letters to Yasinskas, Dallas
. If you must let him know your thoughts, stay classy, San Diego.
Yasinskas reasoned that he sandwiched Gonzalez between Witten and Gates because of Gonzalez's incredible career. Gonzalez, 35, owns every major receiving record by a tight end.
"Yes, he's nearing the end of his career, but this is the best tight end in history," Yasinskas said. "I think that counts for something. Gonzalez still is playing at a high level. He has great chemistry with quarterback
Matt Ryan
and the desire for a Super Bowl ring is keeping Gonzalez going strong."
Here is the rest of the top 10 after Witten and Gates: Indianapolis'
Dallas Clark
(53 points), San Francisco's
Vernon Davis
(50), Washington's
Chris Cooley
(36), Gonzalez (33), Tampa Bay's
Kellen Winslow Jr.
(26), Jacksonville's
Marcedes Lewis
(21), Detroit's
Brandon Pettigrew
(18) and Green Bay's
Jermichael Finley
(15).
Witten and Gates clearly stand out as the game's elite tight ends. Witten was ranked first on four ballots and second on the other four. Gates received the other four first-place votes. He received three second-place votes and Yasinskas' third-place vote.
The only thing that separated Witten and Gates in 2010 was health. Witten, 28, had 94 catches for 1,002 yards and nine touchdowns last season. Gates, 30, was on his way to a brilliant season when it was derailed by nagging ankle and foot injuries. Gates ended up on injured reserve and missed six games. He finished with 50 catches, 782 yards and 10 touchdowns.
Matt Williamson of Scouts Inc. said both Witten and Gates are game-changers.
"Witten to me is the class of the two-way tight ends," Williamson said. "Receiving needs to trump blocking because that is what the league is right now. If someone put Witten first on the list, I can buy that. In terms of doing it all, I think he is the best. … I think he is the best of the two-way guys if you put an equal amount of faith in both receiving and blocking. He is the all-around tight end prototype. If you put more weight on receiving, which I would, you have to give the nod to Gates. He was awesome last year. He was hurt and that was the only negative other than blocking. He played hurt a lot and was great."
Let's dig deeper into the rankings:
Not easy pickings:
Several of our voters were surprised by the difficulty of this process. This is our fourth position in the series. We previously looked at receivers, running backs and pass-rushers. The pass-rushers process was very difficult. This vote was not a cool breeze, either.
This is a very strong league for tight ends these days.
"After a hellish pass-rusher ballot, I thought tight ends would be far easier," AFC South blogger Paul Kuharsky said. "They were just as difficult. There is a great deal of young talent too. I steered clear of first-year guys, but in another season or two, this could be even more brutal to sort through."
Blame injuries:
In addition to the glut of talent, a primary reason this vote was so difficult was the fact that there were major injuries at this position in 2010. In addition to Gates, Clark, Finley and Houston's
Owen Daniels
were injured. That changed the voting landscape.
"I thought it was tough because there are a lot of guys with mitigating circumstances," NFC North blogger Kevin Seifert said.
Clark's injury prompted Yasinskas to rank him 10th. No other voter placed him lower than fourth.
"There's no doubt this guy has had a great career," Yasinskas said. "But I ranked him a little lower than most and that's almost entirely because he missed 10 games last season. Clark is 31 and I'm not sure he'll be the same player going forward."
[+] Enlarge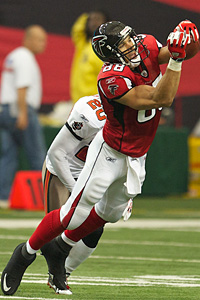 Dale Zanine/US PresswireWill star Falcons tight end Tony Gonzalez finally notch his first playoff win on Sunday?
Not everyone loves Tony G.:
Clearly, Yasinskas believes in Gonzalez. He gets to see him play regularly and thinks he's still an impact player. That's why he ranked him second. But not everyone agrees that the future Hall of Famer is still an elite player. Kuharksy left Gonzalez off his ballot altogether.
"Gonzalez is still an excellent player," Kuharsky said. "But as I struggled to find room for the 10 I felt needed to make the cut, he fell off. In 2010 his numbers suggest he was more quantity than quality. I'm not looking for giant plays from my tight end, but Dallas Clark replacement
Jacob Tamme
matched Gonzo's 9.4 yards a catch, and while Gonzalez's first-down percentage was good (55.7), it was way lower than that of the three top rookies and smaller than that of guys like
Heath Miller
,
Ben Watson
and
Todd Heap
, whom I hardly considered. One final note: As I've got access to Frank Wycheck during three shared radio appearances a week, I asked him for a ballot. I'm sure he admires Gonzalez's body of work. But right now Gonzalez wasn't in Wycheck's top 10 either."
The Davis flip-flop:
The 49ers' immensely talented tight end received a wide range of support. Four voters had him third. Yet, I had him ranked ninth and Yasinskas had him eighth. I like Davis, but I'm not convinced we always see his best effort.
NFC West blogger Mike Sando was among those who voted Davis third. Sando argued that Davis has made an impact despite playing with subpar quarterbacks.
"It's easy to forget about Vernon Davis because he plays for a low-profile team that has struggled," Sando said. "If you've seen the 49ers much, you know Davis makes the huge play better than any tight end in the league. He'll catch touchdown passes for 60 or 70 yards, outrunning even cornerbacks. He remains unrefined and can still improve his all-around game quite a bit, but his 20 touchdown receptions over the past two seasons rank first among tight ends."
This position is in it for the long haul:
I remember a conversation I had with Gates prior to the 2009 season. He was glowing over all the young talent at the position in the NFL. Gates rattled off several young tight ends he expected to have bright careers.
There's no doubt, this is a special time for tight end play. As Gonzalez puts the cap on the most brilliant career by anyone at the position in the history of the game, the position is well stocked for the future.
Five players on the list -- Davis, Winslow, Lewis, Pettigrew and Finley -- are 27 or younger. The only players who are 30 or older on the list are Gonzalez, Clark and Gates.
Oakland's
Zach Miller
and the Jets'
Dustin Keller
, who finished 11th and 12th, respectively, are also young players. Miller is 25 and Keller is 26.