October, 13, 2013
10/13/13
7:38
PM ET
KANSAS CITY -- It would be easy to point a finger at
Terrelle Pryor
's stat sheet, look at the final score and then peg Pryor as the main culprit in the
Oakland Raiders
' 24-7
loss
to the
Kansas City Chiefs
.
What's that old adage about a quarterback getting too much credit when things go well, too much blame when the wheels fall off?
Exhibit A was on display for all to see Sunday afternoon at Arrowhead Stadium.
[+] Enlarge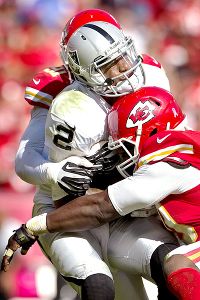 David Eulitt/Kansas City Star/MCTThe Chiefs sacked Terrelle Pryor 10 times in the Oakland's loss to the Chiefs on Sunday.
Because at one point, Pryor was seven of nine passing for 100 yards and a quarterback rating of 150.0 as the Raiders built a 7-0 lead and Oakland was winning every aspect of the game.
But Pryor finished with a passer rating of 45.7, with 18 completions in 34 attempts for 216 yards, a touchdown and three critical interceptions.
He also became the first Raiders quarterback to be sacked 10 times in a game since
Jeff George
in 1998, the first quarterback since
Donald Hollas
that same year to be sacked at least eight times and be picked off at least three times in a game. Pryor is the 10th such quarterback in the NFL since 1982 with that dubious double.
"It's part of the learning experience," said Raiders coach Dennis Allen. "He's under a lot of pressure for the majority of the day and he still has to learn when to take those risks, when to give up on the play, get rid of the ball, don't take a hit and don't allow a sack. But those are things that, when we get a chance to go in and watch film (Monday), are all teachable moments and learning experiences for him."
Then there was this: Pryor's offensive line liquefied in front of him.
Center
Andre Gurode
, who was starting his second straight game for the injured
Stefen Wisniewski
, was lost in the first half with a knee injury.
Right tackle
Tony Pashos
, who missed last week with a groin injury, re-aggravated it and sat out the second half.
The result? A line comprised of LT
Khalif Barnes
, LG
Lucas Nix
, C
Mike Brisiel
, RG
Lamar Mady
and RT
Matt McCants
.
Besides the 10 sacks, there were 14 quarterback hits by the Chiefs.
"That's a hard pill to swallow," said Raiders running back
Darren McFadden
. "You don't want your quarterback to get hit that many times."
Pryor did have a team-high 60 yards rushing on six carries.
"There were a few times I was holding my breath when he took off," said Chiefs coach Andy Reid. "We were able to keep him boxed up for the most part, but when he goes and takes off and runs, he can take off and run."
Then there was the noise -- the Chiefs claimed they set a new world record for an outdoor sports stadium with a decibel count of 137.5 -- and the 11 flags, six of which were pre-snap penalties, three delay of game and three false starts. Plus, two more delays were avoided by timeouts being called by the Raiders.
"It's a learning process, but at the same time, it's not," Pryor said. "It's time to go. We'll be ready. Like I said, A lot of people fall, but it's about who gets back up. And I'm back up. I'm going to make sure everybody on the team is up.
"We'll be back. Two and four? We can get to the playoffs."
Except…
It's good to have goals, no doubt. And the biggest learning lesson of this game was probably Pryor figuring out when to not throw the ball. His three picks resulted in 17 points for the Chiefs. And the final margin was 17 points.
"It's hard for me to do because I'm a playmaker," Pryor said. "I love making plays. I just love making plays. I have to realize sometimes it's time to quit."
Or learn to live for another play.
April, 2, 2009
4/02/09
7:44
PM ET
Posted by ESPN.com's Bill Williamson
There is no question that the Denver Broncos got good value by trading quarterback Jay Cutler to the Chicago Bears on Thursday afternoon.
| | |
| --- | --- |
| | |
| | Jeff Hanisch/US Presswire |
| | Kyle Orton is not a suitable replacement for recently-traded Pro Bowler Jay Cutler. |
But it is way too early to say if it was a good trade for Denver.
The problem is that Jay Cutler should have never been on the trade block. That is the bottom line. It is absolutely insane to think the Broncos just traded a 25-year-old Pro Bowl quarterback who has just 37 NFL games under his belt. The guy isn't even in his prime yet.
That's why Chicago gave up so much to get their new franchise quarterback. Here is the trade breakdown: Denver gets the Bears' No. 18 overall pick this year, their first-round pick in 2010, a third-round pick in 2009 and quarterback Kyle Orton. Denver gave up one of its fifth-round picks this year in addition to Cutler.
Indeed, the Bears gave up a lot for Cutler. But he is worth it. Teams are built around quarterbacks. That's why the Bears made this deal.
Now, Denver has to go find its new franchise quarterback. You know, like it did three years ago when it traded up in the draft to get Cutler, who did his part by developing quickly. Now, new Denver coach Josh McDaniels, who started the Cutler saga in late February by trying to trade for Matt Cassel, has to figure out who his new quarterback is going to be.
McDaniels clearly has an eye for quarterbacks and he needs to identify one in this draft. The Broncos have the No. 12 and No. 18 picks. One of those picks should be spent on USC's Mark Sanchez if he is still on the board, which may be wishful thinking. I don't think Denver should package both picks to secure Sanchez or Matthew Stafford. Denver has too many needs on defense that have to be addressed.
It will be tempting for Denver to take two defensive standouts at No. 12 and No. 18 or to package the two picks (perhaps all the way up to Seattle at No. 4) to get a defensive star such as Boston College defensive tackle B.J. Raji.
But I don't know if Denver can ignore its quarterback position for a year. I'm sorry, but Orton is not the answer.
| | |
| --- | --- |
| | |
| | NFL.com Video |
| | The Broncos traded Jay Cutler to the Bears. |
He is serviceable. He is an accurate thrower who you can compete with. Orton is a game manager but he is not special. Cutler is special. Cutler always gave Denver a puncher's chance because of his strong arm and his overall abilities.
McDaniels is a system coach and Orton is a system quarterback so maybe this can work to some extent, but Denver will need to score a lot of points with a young defense. I'm not sure if Orton can be a scoring machine even with a solid supporting cast. Cutler shined with Denver's weapons.
With Cutler entering his prime, Denver was ready to compete now, at least on offense. The Broncos are already young. They didn't need to get younger. They needed to get better. I'm not so sure the Broncos are better today without Cutler on the roster. Yes, they got draft picks but often draft picks don't pan out.
While this trade certainly downgrades Denver's quarterback position, it does deserve a hat tip for getting so much out of Chicago. There were several teams pushing for Cutler and Denver squeezed as much as it could. In the proposed Cassel trade, Denver was going to trade Cutler straight up for Cassel, so the Broncos did better in the end.
It was likely the third-round pick Chicago gave up that made this trade possible. Washington and Tampa Bay just couldn't compete with the Bears' offer.
On paper, this trade looks good for Denver. But it still has to find its quarterback. You just can't trade Jay Cutler and move on. A capable replacement is needed. Now, Denver has to go find him.
March, 28, 2009
3/28/09
11:00
AM ET
Posted by ESPN.com's Bill Williamson

The agent for Kansas City running back Larry Johnson, who has requested a trade, said the player plans to attend the start of the team's offseason conditioning program Monday.
Johnson's stance, apparently, is he will work out with the team as long as he is part of the team. This is a good faith move that could lead to the two parties coming together. After all, Johnson's beef was with the Chiefs' previous regime. So, maybe something could be worked out.
Also from the AFC West:
Jay Cutler has been compared to Jeff George in the past. And apparently, George isn't too thrilled about the comparison.
The Raiders have set up pre-draft visit with safety Chip Vaughn. The team will likely address that area sometime during the draft.
The word out of San Diego is that the Chargers are still hopeful to get a long-term contract extension finalized with quarterback Philip Rivers before the start of the 2009 season.
March, 20, 2009
3/20/09
10:40
AM ET
| | |
| --- | --- |
| | |
| | Byron Hetzler/US Presswire |
| | Broncos quarterback Jay Cutler has formally asked Denver to trade him. |
Posted by ESPN.com's Bill Williamson
A large part of the intrigue of the Jay Cutler fiasco is that it is so rare.
Sudden divorces between young, standout quarterbacks and their teams seldom occur. When teams get ahold of young, talented quarterbacks, they usually try to hang onto them. Every team's goal is to get a franchise quarterback.
The Denver Broncos, who drafted Cutler with the No. 11 pick in 2006, clearly thought he was that player to lead them for the next decade-plus. Now, thanks to the mess that began with Denver considering trading him three weeks ago, which resulted in Cutler publicly asking for a trade, that plan is in jeopardy.
What seemed inconceivable three weeks ago could now happen. A 25-year-old Pro Bowl quarterback who isn't in his prime yet (he has started only 37 NFL games) could be traded. It just doesn't happen much.
Here is a look, going back 15 years, at some of the QBs who were traded in the middle of their careers and how it worked out for them and their new teams.
We will start with Jeff George, who is the most comparable to Cutler because of age.
Jeff George
Year traded: 1994
Age: 26
From where to where: Indianapolis to Atlanta
Cost: Two first-round picks and a third-round pick.
How it worked: George had some success in Atlanta, but he didn't live up to the trade cost. He got his passing yards in the Falcons' run-and-shoot offense and the team made the playoffs in his second season in Atlanta. But the George-Falcons marriage fell apart in 1996, his third season with the team. He was shipped to the Raiders in 1997. It began a vagabond NFL life for George. He ended up playing for seven teams in 17 NFL seasons.
Compared to Cutler: Cutler will be 26 next month. George was 26 when the Colts traded him. He was considered a young gun as Cutler is now.
Year traded: 1999
Age: 30
From where to where: Minnesota to Washington
Cost: First-, second- and third-round picks.
How it worked: Johnson played well in 1999. He blossomed into a star and he had one of the best seasons ever by a Redskins quarterback, making the Pro Bowl. It seemed as if Johnson was worth the steep price, but he made a lot of mistakes in 2000 and fell out of favor. He was traded to Tampa Bay after the 2000 season and won a Super Bowl in his second season with the Buccaneers. Johnson, released in the offseason by Dallas, has had an average NFL career and he wasn't worth the bounty the Redskins gave up for him.
Compared to Cutler: Not a very similar situation because he was already 30 and the Vikings had Randall Cunningham when Johnson was dealt.
Rick Mirer
Year traded: 1997
Age: 26
From where to where: Seattle to Chicago
Cost: Mirer and a fourth-round pick were traded for a first-round pick.
How it worked: Mirer was a high-pick flameout in Seattle after four years and his career didn't take off after the trade to Chicago. He barely played in Chicago and was cut the following year. The Bears gave up plenty for Mirer and he never was worth the cost. Mirer flopped around the league, playing for five more teams after being cut by Chicago.
Compared to Cutler: Yes, Mirer was young when he was traded, but he already was a failure as a starter. Cutler is establishing himself as a premier player.
Year traded: 2001
Age: 30
From where to where: St. Louis to Kansas City
Cost: Green and a fifth-round pick for a first-round pick.
How it worked: Pretty well. While Green was injury-prone often in his career, he was a solid player for the Chiefs. He was a legitimate starter in his six seasons with Kansas City and the Chiefs were regular playoff contenders. Green wasn't a star, but he was a solid player and he gave the Chiefs a chance to win.
Compared to Cutler: Not very similar. Green was older, but he wasn't as established as Cutler -- he had started only 19 games before he was traded.
From where to where: Atlanta to Houston
Year traded: 2007
Age: 25
Cost: Two second-round picks
How it has worked: Schaub has the look of a solid player. He has been a starter since going to Houston. He has battled injuries and growing pains. But the Texans remain committed to him and he seems like he could have a good future. It appears that it was a worthwhile trade for Houston.
Compared to Cutler: Schaub was young, but he was a backup with very little game experience when he was traded, so his situation doesn't compare as well to Cutler's as George's does.
If you want to go further back, you can look at Brett Favre and Steve Young being traded, but again they don't compare to George and Cutler.
| | |
| --- | --- |
| | |
| | NFL.com Video |
| | Highlights of the best moments from Jay Cutler in 2008. |
Favre had almost no game experience when he was dealt from Atlanta to Green Bay in 1992. Young, who was 25 when he was traded from Tampa Bay to San Francisco in 1987, was a backup for several years after he was dealt. And, of course, there is Matt Cassel, who played a central role in the Cutler fiasco. He was traded to Kansas City along with linebacker Mike Vrabel from New England for a second-round pick after one effective season with the Patriots. But we have no idea how that will play out.
Quarterback trades are not completely foreign, but their success rates vary and the reasons usually have to do with age and skill level.
Cutler is young and has shown he can play at a high level. Thus, as you can see, there are few trades involving quarterbacks that compare directly to Cutler. That's why this situation is so rare.