AFC West:

Jeremiah Johnson
August, 28, 2013
8/28/13
6:23
PM ET
The list of guys who have started at quarterback in the final Broncos' preseason game in recent summers, a list that includes
Caleb Hanie
, Tom Brandstater, Darrell Hackney (twice) and Alex Van Pelt, is not one filled with long-term starters for the team, but it's one
Brock Osweiler
is still happy to join these days.

That's because it means he's expected to be behind center to open Thursday night's game with the
Arizona Cardinals
. And that means some significant playing time, another chance to run the show, and another chance to see where he is on the developmental curve.
"There's no replacement for game reps,'' Osweiler said following Wednesday's practice. "So, I'm really looking forward to getting more (Thursday) night and trying to make the most of my opportunity.''
Peyton Manning
and most of the other Broncos regulars won't see the field against the Cardinals, so it will give some of the other folks on the depth chart the chance to dive into a game situation.
Zac Dysert
, a seventh-round draft pick in this past April's draft, is also expected to get his first significant game action of the preseason when he follows Osweiler into the game.
Dysert, who projects to the Broncos' practice squad during the season, played briefly in the preseason opener in San Francisco.
"(I'm) very excited for the opportunity to get out there with the guys in a game-like environment and just show people what I can do,'' Dysert said.
For their part, the Broncos like what Osweiler's done with his game over the past year, but they want to see him manage the offense Thursday night, work through some pre-snap audibles and make good decisions with the ball. He has been under siege at times, having been sacked eight times in just three preseason games behind some shaky line play, but the Broncos want to see him work through things without fumbling a snap as he did last week against the Rams, or throwing an interception when he forced a ball against St. Louis as well.
"The interception, we can put that on both of those guys (quarterback and receiver),'' said offensive coordinator Adam Gase. " … But he has to protect the ball, he knows that's his number one priority."
Center Manny Ramirez has been the starter since offseason workouts opened. And since he has seen the team sign three centers -- Dan Koppen, Ryan Lilja and Steve Vallos -- and Broncos coach John Fox has been asked almost daily if Ramirez is still the center. But Ramirez is still on the job and plans to keep it that way when the Broncos' offense opens against the Ravens and beyond. "That happens, even without injuries, you never wish injuries upon anybody, especially here where the offensive line is so close, but they're always going to bring guys in, no matter what,'' Ramirez said. "So, even without the injuries they might have brought some centers in, I'm always here for competition and put my best foot forward, and if the other person beats me out, he beats me out, but I'm going to give it all I got. And right now it's my position to lose, and I don't see myself letting that go, no matter what people say.'' Ramirez has not started a regular-season game at center in his career, but he is a powerful player in man-on-man blocking situations. He has struggled at times in passing situations if he loses his base and gets caught leaning a bit. He had a holding penalty early on in the preseason when he didn't beat the defender to the spot in the zone run game. "But I'll keep working, keep my head down and continue to work and grind it out,'' Ramirez said. "That's my approach."
Osweiler got the opportunity to run the starting offense during team drills in Wednesday's practice. Manning was given the day off essentially as the Broncos face a quick turnaround after Thursday night's game. The Broncos, because they play in the Sept. 5 regular-season opener, will begin their formal game-week preparations for the coaches on Friday, to go with the bulk of the roster cuts to get to 53 players, while the players will come in Saturday to start their game week.
At least publicly, Broncos coach John Fox only ruled out linebacker Stewart Bradley (wrist), cornerback Champ Bailey (foot), tight end Joel Dreessen (knee) and running back C.J. Anderson (knee) for Thursday's game because of injuries. It remains to be seen how much somebody like Lilja, who missed several practices with knee pain/swelling, or running back Jeremiah Johnson, who missed an extended time because of a knee injury, play against the Cardinals. Johnson, who is out of practice squad eligibility, is in a bit of a squeeze on the depth chart at running back.
Fox on telling a player he's been cut; "Most everybody, whether you're in NFL football or just a fan, you've either been fired or had to fire somebody. It's not easy. It's an annual thing, this cut … it's hard on the players, it's hard on the coaching staff."
August, 15, 2013
8/15/13
7:50
PM ET
ENGLEWOOD, Colo. -- The
Denver Broncos
wrapped up the public portion of training camp Thursday morning and quarterback
Peyton Manning
finished his day on the field by tossing a pass or two to Colorado Gov. John Hickenlooper.
In all the Broncos set an attendance record at their practice complex with 41,925 fans over the 15 open workouts held at their Dove Valley complex. The total surpassed the previous record of 41,304 over the 15 open workouts in last summer's training camp, which was also Manning's first year in Denver.
The Broncos do not have bleachers next to the main practice fields, so fans simply sit on a grassy hillside to view the action. The Broncos also drew a crowd of 44,439 to a rain-soaked scrimmage Aug. 3 at Sports Authority Field at Mile High.
"[The fans] are unbelievable,'' said Broncos coach John Fox. "The epitome of that was our practice down at the stadium when it poured rain and they stuck around to see us play.''
[+] Enlarge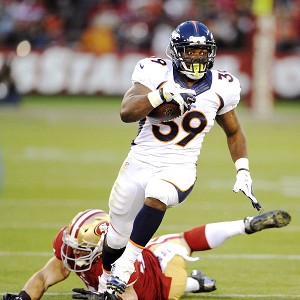 AP Photo/Eric BakkeC.J. Anderson, who has had an impressive training camp, could now be out for as much as six weeks.
• Broncos running back
C.J. Anderson
, an undrafted rookie who led the team with 69 yards rushing in the preseason opener in San Francisco last week, severely sprained his right MCL during Thursday morning's practice.
Anderson, who was taking snaps with the second-team offense because
Knowshon Moreno
is currently sidelined with a bruised right knee, was helped to the locker room with just more than 20 minutes remaining in the workout.
Depending on swelling and how Anderson's rehab goes in the coming days he could miss as much as six weeks in all. The Broncos must cut to 75 players on Aug. 27 and to 53 players on Aug. 31.
"It's awful, just awful," Manning said. " … It surely did not look good. You could hear him out there grimacing, which is not a sound any player likes to hear."
"He's having such a great camp,'' said cornerback
Champ Bailey
. " … I just hope he can bounce back faster than normal.''
With Moreno not expected to play in Saturday's preseason game in Seattle after being held out of practices Wednesday and Thursday,
Lance Ball
figures to get plenty of work in the second half of the game against the Seahawks.
Anderson has made a significant jump on the depth chart with his work thus far in camp. At 224 pounds he is also the team's biggest back and has looked like a potential fit for one of the reserve spots when the roster choices get made.
Ronnie Hillman
and
Montee Ball
have split work with the starters all the way through camp -- Hillman has been the No. 1 -- with Moreno working as the No. 3 and
Jacob Hester
the No. 4. Hester can play at running back when needed and at fullback when the team uses a two-back set. He is also one of the team's most consistent pass protectors at the position and has a full docket of special teams work.
MCL sprains as severe as Anderson's routinely take a minimum of four weeks to heal and players, particularly skill position players, usually are not ready for a full return until six weeks have passed.
The Broncos will likely have to consider Anderson's progress when they make their roster decisions.
• Linebacker
Von Miller
was excused from practice for personal reasons -- he was in Washinton D.C. meeting with officials from the NFL Players Association -- so the Broncos offered a glimpse of how the defense would look to open the regular season if the All-Pro selection does not win his appeal of a four-game suspension for violating the league's substance abuse policy.
As they have shown in recent days,
Stewart Bradley
would play the middle in the base defense while
Nate Irving
, who was the starting middle linebacker through all of the offseason program, lined up on the strong side. When the Broncos went to some of their specialty packages in passing down work, times when Miller moves to defensive end or another rush position,
Shaun Phillips
played in Miller's usual spots.
"Shaun Phillips was in there playing linebacker and playing defensive end some on third downs and you had Nate Irving in there as well with Stewart Bradley,'' Manning said. "Any time you have a player injured or a player that is not able to go, somebody else has to step up and that's what teams have to be able to do."
Miller is expected to start and play in Saturday's game in Seattle.
• Broncos director of pro personnel Tom Heckert, who had been suspended without pay for a month in the wake of a drunk driving arrest in June, returned to the team Thursday. Heckert will travel to Seattle with the team Friday and has resumed his normal duties. He was arrested June 11 in Parker, Colo., just 36 days after he had been hired by the team.
"I walked by his office and he was all smiles,'' Fox said. "It was good to see him back and we support him.''
With Broncos' director of player personnel Matt Russell also suspended indefinitely for a separate drunk driving arrest, Broncos executive vice president of football operations John Elway had not elected to hire an outside consultant or former general manager to help with player evaluations during the suspensions. Instead the duties were divided among other members of the Broncos' personnel department such as Lenny McGill, the team's assistant college scouting director, and assistant pro personnel director Anthony "Champ" Kelly.
• Odds and ends:
With just more than 2,000 fans on hand Thursday, the Broncos still used a speaker system to simulate crowd noise when the offense had the ball in team drills … The starters are expected to play most, or all, of the first half Saturday night against the Seahawks … Bailey intercepted Manning in the endzone during team drills. When asked if he will enjoy watching it later on the practice video, Bailey said; "Oh yeah, love watching that. When Peyton throws it, it's even more meaningful.''
• In addition to Moreno, running back
Jeremiah Johnson
(knee), wide receiver
Quincy McDuffie
(hamstring), wide receiver
Greg Orton
(ankle), wide receiver
Lamaar Thomas
(concussion) and safety
Quinton Carter
(knee) were held out of practice. None are expected to play against the Seahawks unless they show significant improvement in Friday's short workout before the team leaves. Tight end
Joel Dreessen
(knee) is still expected to miss the preseason.
August, 14, 2013
8/14/13
7:30
PM ET
ENGLEWOOD, Colo. -- Quarterback
Peyton Manning
has often spoken about how the Broncos' defense, with its speed all over the formation, can make the team's offense better during training camp.
That the first-team against first-team work -- the kind that rarely, if ever, is done during the regular season as a team gets ready for an opponent each week -- can be revealing for a playoff hopeful.
"Because you've got a lot of talent over there [on defense] and they compete hard on every play, they don't give you anything,'' Manning said. "That's what you want.''
[+] Enlarge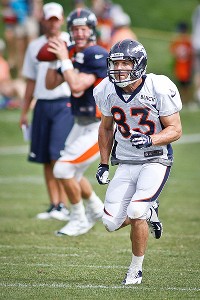 Marc Piscotty/Icon SMICompeting against the likes of Peyton Manning and Wes Welker during camp has benefited Denver's defense, safety Rahim Moore said.
Safety
Rahim Moore
believes turnabout helps just as much. That a Broncos defense good enough to finish second in the league in points allowed last season, is getting as much, or more, from dealing with Manning every day.
"
Wes Welker
is a great receiver, I believe he will be a future Hall of Famer one day, [
Demaryius Thomas
] is a rising star,
Eric Decker
is a rising star and Peyton Manning is the greatest quarterback to ever touch a football to me,'' Moore said. " ... You feel like you go against those guys every day, makes you ready for anything.''
It doesn't always go without the rough spots at times, however. Wednesday Moore and running back
Ronnie Hillman
got into a brief post-play scuffle in a particularly heated set of team drills.
"I look at it like if you're not really out there fighting, having some kind of controversy, you're not really playing,'' Moore said.
"It's like two brothers fighting ... you slap 'em on the side of the head and move on,'' coach John Fox said.
In other Broncos news:
Broncos rookie running back C.J. Anderson, who led the team in rushing in the preseason opener in San Francisco last week, believes he got an advance look at what an NFL no-huddle offense looks like in his last season at California.Anderson, who was signed by the Broncos as an undrafted rookie immediately following the draft, rushed for 790 yards in his senior season with the Bears. And in the summer before the 2012 season began, former Cal coach Jeff Tedford spent a week with the New England Patriots and coach Bill Belichick.

Tedford, at the time, said he was looking for some inspiration to use tight ends and running backs more ways out of a spread look.

"I think it gave me a glimpse of what that kind of offense would like in the NFL,'' Anderson said. "It gave a feel for what it looks like on Sunday. ... I think it's helped me some here.''

Anderson got a few additional plays in Wednesday's practice because Knowshon Moreno was out with a bruised right knee. It meant Anderson got to run a few plays with the second-team offense.

The Broncos have liked Anderson's work with the ball in his hands, but want to see him far more consistent in his assignments and avoid the concentration lapses he's shown at times.

At times Manning takes practice to the next level when it comes to trying to cover every scenario in training camp. the Broncos will, despite the expected presence of a few thousand fans at the last open-to-the-public practice of camp Thursday morning, likely break out the jumbo speakers for the workout.The Broncos use the speakers to pump in crowd noise during the regular season -- when the offense has the ball in the days leading up to road games and when the first-team defense is working in the days leading up to home games. The Broncos want to give the offense a little taste of a road atmosphere before the team heads to Seattle Friday afternoon for Saturday night's preseason game.

In the bad is good department, Broncos running back Ronnie Hillman made a big play out of a botched one during team drills. Hillman fumbled the ball forward as he tried to turn the corner around the right end and the ball bounced twice before he scooped it up on a dead run. Hillman then outraced all of the defenders, including safety David Bruton, for what would have been a scoring run.

Rookie wide receiver Lamaar Thomas, who left Tuesday's practice after a blow to his helmet in a red zone drill, is being treated for a concussion. He was held out of Wednesday's practice. ... In addition to Moreno, safety Quinton Carter (knee), running back Jeremiah Johnson (toe), wide receiver Quincy McDuffie (hamstring) and wide receiver Greg Orton (ankle) did not practice Wednesday. ... Former Broncos coach Red Miller, who guided the team to its first Super Bowl appearance to close out the 1977 season, was at Tuesday's practice. ... NASCAR veteran Kurt Busch is expected to visit Thursday's practice.
November, 21, 2012
11/21/12
1:55
PM ET
In a procedural move, the
Denver Broncos
are placing starting running back
Willis McGahee
on injured reserve with the ability to bring him back for the AFC championship game if the team makes it that far.
This move is essentially a move to add a player to the roster. McGahee suffered a torn MCL in his knee Sunday against San Diego and the team doesn't think he will be ready to come back for about two months.
The Broncos could add a running back to the roster. Candidates include
Jeremiah Johnson
from the practice squad and
Steve Slaton
, who worked out for the team Tuesday.
Monday, we looked at what McGhee's loss will mean to the team.
September, 1, 2012
9/01/12
2:10
PM ET
The
Denver Broncos
have announced seven members of their practice squad. They have one more move to make.
The list is highlighted by defensive tackle
Ben Garland
. The Air Force product is a team favorite and he has a chance to develop. Also on the Denver practice squad are safety
Duke Ihenacho
, tight end
Cornelius Ingram
, running back
Jeremiah Johnson
, receiver
Greg Orton
, nose tackle
Sealver Siliga
and guard
Wayne Tribue
.
In other AFC West notes:
It's interesting that Oakland has kept punter
Marquette King
. He was put on injured reserve with a toe injury. If star punter
Shane Lechler
leaves after the season as a free agent, perhaps King can be groomed. King is not NFL ready, but he has a live leg and he has potential.
The Chiefs reportedly are considering signing quarterback
Mike Kafka
, who was cut by the Eagles on Saturday.
September, 20, 2011
9/20/11
10:00
PM ET
The Broncos signed receiver
Quan Cosby
to the 53-man roster to help their injured receiver group. Cosby was previously with Cincinnati. Denver receiver
Brandon Lloyd
and
Eddie Royal
have groin injuries. Lloyd missed Sunday's game and his status for this week's game at Tennessee is not yet known. Royal is out for 2-4 weeks.
Denver running back Jeremiah Johnson was cut. He was promoted from the practice squad last week and will likely be headed back there. The Broncos did add tight end John Nalbone to the practice squad. He finished last year there.
The Broncos visited with veteran safety Darren Sharper on Tuesday. He was not signed. If Denver feels the need for a safety later in the season, he could be an option. He played for Denver defensive coordinator Dennis Allen while they were with the Saints.
The Chargers need to sell 4,600 seats to Sunday's game against Kansas City to avoid a local television blackout. The Chiefs' terrible start isn't helping ticket sales, I'm sure.
Chiefs' star safety Eric Berry will have surgery to repair his torn ACL in his knee this week. He suffered the season-ending injury in Week 1.
September, 4, 2011
9/04/11
6:55
PM ET
August, 17, 2011
8/17/11
2:00
PM ET
Mid-week mail call:
Tommy from Kansas City wants to know
if I think the Chiefs are down on rookie quarterback
Ricky Stanzi
.
Bill Williamson:
Not at all, Tommy. I think the Chiefs are high on Stanzi. He struggled in his preseason debut last week against Tampa Bay. But it was his first game action. It's to be expected. The Chiefs are committed to him and they will work with him. I fully expect Stanzi to be on the Chiefs' roster whether it's as Matt Cassel's backup or as a third stringer.
James from Norwich, Conn., wants to know
if I think San Diego undrafted rookie
Darryl Gamble
will make the team.
BW
: I think he will get a long look, sure. Gamble had a great game against Seattle last week. He had eight tackles and a sack. The Georgia product moved from inside to outside linebacker earlier in camp. If he continues to make plays in games, I think he will have a strong chance to make the team. If Gamble puts together good game film, other teams will be waiting to pounce on him on the waiver wire if the Chargers cut him. San Diego knows that.
Spencer from Aspen, Colo., wants to know
if running back
Jeremiah Johnson
has a chance to stick in Denver.
BW:
This is another young, interesting player. The second-year player from Oregon played well for Denver in Dallas. He will need to play well for the rest of camp. If he does, I can see Denver keeping him. He is interesting project player. Still, I'd be surprised if he plays well enough to work his way into the playing rotation in the regular season. I think he is more of a long-term prospect at this point.