September, 3, 2011
9/03/11
10:35
PM ET
Check
here
for a complete list of the Oakland Raiders' roster moves.

Surprise move:
Oakland cut several defensive backs, including
Lito Sheppard
,
Walter McFadden
,
Jeremy Ware
,
Stevie Brown
and camp star
Sterling Moore
. Veteran running back
Michael Bennett
and receiver/returner
Nick Miller
survived the cuts, which was somewhat unexpected. Oakland kept linebacker
Darryl Blackstock
, who had been out of the league. He played for Oakland defensive coordinator Chuck Bresnahan in the UFL. Quarterback
Trent Edwards
was cut after he was signed this summer with designs of being the backup. But
Kyle Boller
separated himself from Edwards. It's a bit surprising Edwards was cut now with
Terrelle Pryor
starting a five-game suspension. Still, if he's not picked up (perhaps Kansas City will be interested), Edwards could always be brought back to Oakland before Pryor joins the roster.
No-brainers:
There was speculation receiver
Chaz Schilens
and safety
Mike Mitchell
(a second-round pick in 2009) could be on the chopping block. They made the team. Both have been dealing with injuries, but both players have potential. Now, if we're still talking about injuries and untapped potential this time next year, their futures could become cloudy. But they both deserve to be in Oakland this season.
What's next:
I think Oakland will continue to look for cornerbacks and safeties. The Raiders will also still look at weakside linebackers, and they will look to upgrade the offensive line. And I know Oakland likes its receivers, but I could also see it keeping an open mind about the position.
September, 3, 2011
9/03/11
8:48
PM ET
The last team in the AFC West to release their cuts will be the
Oakland Raiders
. The team has said it will release the list of the cut players after everything goes through the NFL offices. Fair enough.
The wait shouldn't be too much longer. I will pass along the list when I see it.
There have been some reports of player released
. It affects the secondary as cornerbacks
Walter McFadden
,
Lito Sheppard
and
Jeremy Ware
were reportedly cut as was safety
Stevie Brown
. That likely means undrafted rookie
Sterling Moore
made the team. Sheppard was signed last week. I could still see Oakland pursuing a veteran, perhaps
Joselio Hanson
, who was cut Saturday by the Eagles, at cornerback.
More to come when we get the list from the team.
September, 2, 2011
9/02/11
7:10
PM ET
As far as I'm concerned the 53-man cut-down date (which occurs Saturday) is an overrated event.
Many players who survive the cut end up being gameday inactives during most of the season and teams are always looking to improve the back end of the roster. Yet, the final cutdown time is upon us, so let's look at some of the players on the bubble for each AFC West team:

Denver:
There's not a ton of big names here that stand out as certain bubble players. Safeties
Darcel McBath
and
David Bruton
, both taken in 2009, could get the axe. Second-year cornerback
Perrish Cox
-- who is facing an October sexual assault trial that could imprison him for life -- could also be on the bubble. But the season-ending Achilles injury to key backup cornerback Syd'Quan Thompson could help Cox's cause to make the team.

Kansas City:
There's not a lot big names here, either. Receivers
Verran Tucker
,
Jeremy Horne
and
Keary Colbert
are fighting for a spot. Running back
Jackie Battle
is likely an odd-man out. Defensive backs
Donald Washington
, Rashard Langford,
Sabby Piscitelli
and
Travis Daniels
are also on the bubble.

Oakland:
Defensive backs
Walter McFadden
,
Jeremy Ware
, Steve Brown and
Sterling Moore
are all on the bubble. It will be interesting to see what happens there. Veteran running back Michael Bennett could also be on his way out as well as receiver/punt returner
Nick Miller
.

San Diego:
The Chargers' receiver situation is interesting. It looks like
Bryan Walters
could make the team. But what about Seji Ajirotutu,
Laurent Robinson
and
Kelley Washington
? Veteran linebacker
Stephen Cooper
and
Kevin Bentley
are on the bubble as is rookie undrafted quarterback
Scott Tolzien
.
What are your thoughts about the final cut downs. Fill up the comment section below with your thoughts.
July, 29, 2011
7/29/11
11:00
PM ET
Its
Stanford Routt
's time to show those glossy numbers from last season were no fluke.
Routt is about to be tested.
Unless the Raiders snare a veteran like
Antonio Cromartie
or
Nate Clements
, Routt is expected to the Raiders' No. 1 cornerback now that
Nnamdi Asomugha
has flown off to the Eagles.
The Raiders clearly anticipated that. They gave him a three-year, $30 million deal to keep him from entering free agency. That's starter money, folks.
One of the reasons why the Raiders paid to keep Routt was his outstanding statistics.
His "burn rate' was one of the lowest in the NFL
in 2010. Now, that he will be a full-time starter and now that he'll likely play against the opponent's best receivers all the time, Routt must step up.
He is not alone. The Raider's young cornerbacks and veteran
Chris Johnson
will need to elevate their game if the Raiders don't add a starter.
Youngsters
Walter McFadden
,
Jeremy Ware
and draft picks
Chimdi Chekwa
and
DeMarcus Van Dyke
will all be expected to contribute in Asomugha's absence.
November, 7, 2010
11/07/10
11:24
PM ET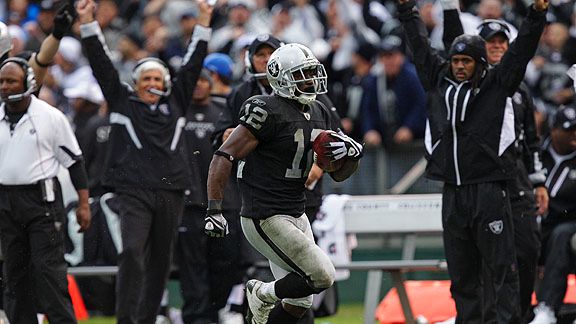 AP Photo/Marcio Jose SanchezJacoby Ford returned four kicks for 158 yards and added 148 yards receiving.
OAKLAND, Calif. -- It's as simple as this: The
Oakland Raiders
are making more plays than their opponents.
That's why Oakland is a legitimate playoff contender.
In a sloppy, physical, intense game that had the feel of a playoff primer, the Raiders moved within a half-game of first place in the AFC West with
a 23-20 overtime win over Kansas City
that served notice to the Chiefs and the rest of the AFC that this team now has the fortitude to win games on a regular basis.
Kansas City is 5-3 and Oakland sits at 5-4. San Diego is 4-5. This game conjures the possibility of a delicious Week 17 rematch in Kansas City that could decide the AFC West and end the Chargers' four-year stranglehold on the division crown. This became clear Sunday: The Raiders, who were led by fourth-round kick returner/receiver
Jacoby Ford
, are going to stick around.
"We're not the old Raiders," safety
Mike Mitchell
said. "We're going to fight all game long."
It may have taken a while, but the Raiders have learned how to win games in any situation. After hammering Denver and Seattle by a combined score of 92-17 in the past two games, Oakland had to fight until the final play to defeat the Chiefs. Oakland, which tied the score at 20 at the end of regulation on a 41-yard field goal by
Sebastian Janikowski
, won the game on a 33-yard field goal by Janikowski 2:53 into overtime.
This was a huge swing game in the division. Oakland's win means the Raiders probably will stay in the race all season. Had Kansas City won, it would have had a huge 2.5-game lead in the division. Oakland, which played without star cornerback
Nnamdi Asomugha
and standout tight end
Zach Miller
, is in fine shape with a 3-0 record against AFC West opponents. If Oakland wins one more game this season, it will win more than five games in a season for the first time since 2002, ending the NFL's longest streak of futility.
If Oakland continues to make timely plays, it will render that mark a distant memory. This was the Chiefs' game to win, but the Raiders lay in wait, looking to pounce when they needed to most.
At one point in the third quarter, Oakland had more penalty yardage than offensive yards. Kansas City led 10-0 at halftime and was dictating play.
It was the first time
Oakland has won after trailing 10-0 at the half in 18 years. But the Chiefs helped Oakland's comeback.
In a game that had 27 penalties for 240 yards (an NFL high this season), the Chiefs lost 10 points on penalties. The Raiders first showed life in the final minute of the first half when defensive back
Jeremy Ware
picked off a
Matt Cassel
pass in the end zone with the Chiefs poised to extend their lead.
Oakland continued the good vibes when Ford started to take over by returning the second-half kickoff 94 yards for a score. Two possessions later, the Raiders had their first long drive of the game, going 74 yards for a touchdown and a 14-13 lead. They extended the lead to 17-13 with a field goal in the fourth quarter.
After a questionable fumble by
Nick Miller
, the Chiefs scored a touchdown to take a 20-17 lead with 6:13 to go. But the Chiefs couldn't shake Oakland. After the Oakland defense made a huge stop, forcing the Chiefs to punt, quarterback
Jason Campbell
and Ford led Oakland on a field-goal drive after starting from its own 24 with 2:06 to go. The Raiders had their moments of misery on the drive, which they had all game, but they made the plays that mattered most.
The key play was a 29-yard pass from Campbell to Ford to the Chiefs' 22 to set up the tying field goal. After Kansas City was forced to go three plays and out on the opening drive of overtime, Campbell went back to his rookie receiver for a 47-yard pass play to the Chiefs' 15 on the Raiders' first play. The game was over two plays later.
Oakland was far from perfect Sunday, but it was clutch. It was very similar to Oakland's 35-27 win over San Diego four weeks ago. The Chargers could have run away from Oakland, but the Raiders wouldn't let them.
"It's been a process, but we know how to win games now," Oakland fullback
Marcel Reece
said. "We knew what was at stake in this game. We knew that if we're going to be a playoff contender, we had to hang in. But that's what we do."
Added defensive lineman
Richard Seymour
: "We're a different team. It started way back in training camp. People can see how this team plays now and know we have made a lot of progress."
The Raiders are entering their most joyous bye week in nearly a decade. It will be interesting to see where Campbell and Ford fit in when Oakland returns Nov. 21 at Pittsburgh. Campbell was playing for the fourth straight game because
Bruce Gradkowski
has a shoulder injury. Ford was starting because
Louis Murphy
is out with a lung injury. There is a good chance both Gradkowski and Murphy can return against Pittsburgh.
Ford has to stay on the field. He was the
first rookie since 1979
to have a kickoff return for a touchdown and more than 100 yards receiving in the same game. He had six catches for 148 yards. Murphy has been better than Oakland's other starter, 2009 No. 1 pick
Darrius Heyward-Bey
, so perhaps Ford will eat into Heyward-Bey's playing time. Heyward-Bey had no catches Sunday after having five catches for 105 yards last week. He has not been consistent at all.
And how do you take out Campbell after he has led the team to three straight wins? Campbell, the original starter in Oakland after being acquired in a trade from Washington in April, struggled early, but he did come through with big plays Sunday. Oakland coach Tom Cable has maintained that Gradkowski will be the starter when he is healthy. Sunday, however, he said he's not going to think about it right now, perhaps a signal that Campbell could remain the starter.
Campbell should keep the job. Oakland has a good thing going. It shouldn't be messed with.
July, 22, 2010
7/22/10
11:55
AM ET
By
ESPN.com staff
| ESPN.com
July, 15, 2010
7/15/10
2:36
PM ET
By
ESPN.com staff
| ESPN.com
Denver Broncos
Tim Tebow already had the No. 1-selling NFL jersey. Now fans can
buy Tebow shoes
: Nike unveiled a new, limited-edition shoe "inspired by Tebow's career at the University of Florida."
DenverBroncos.com has a
Q&A with linebacker Robert Ayers
, who counts becoming "a dominant player" as one of his goals.
Kansas City Chiefs
The Chiefs are third best in the league when it comes to talent under 25 years of age,
according to Bill Barnwell of Football Outsiders
.

Josh Looney of KCChiefs.com
profiles
Darren Mickell, the
only player in history to be selected by the Chiefs via the NFL supplemental draft.
Offensive coordinator Charlie Weis
will be the featured guest
at a July 23 fundraiser for Rep. Todd Tiahrt (R-Kansas).
Oakland Raiders
Raiders.com has a
video profile
of second-round pick Lamarr Houston.
Richard Seymour is
unlikely to have a multi-year deal
with the Raiders by Thursday's deadline, and probably will play under a one-year, $12.398 million franchise tender, reports NFL.com's Jason La Canfora.
The team
signed seventh-round rookie cornerback Jeremy Ware
to a four-year, $1.85 million contract.
San Diego Chargers
While the Chiefs have some of the best talent under 25 years of age, the Chargers have the second worst group,
according to Bill Barnwell of Football Outsiders
.

DEA agents
searched the offices of Chargers team doctor David Chao
two weeks ago because he reportedly wrote at least 108 drug prescriptions to himself since June 10, 2008. But the DEA does not believe Chao was
abusing prescription medications himself
.