May, 8, 2014
May 8
4:45
PM ET
Totally spit-balling here, like just about every other draft prognosticater out there, but if the
Dallas Cowboys
are as hot and heavy for
Johnny Manziel
as Twitter would have you believe, the
Oakland Raiders
might be sitting in prime position.
So long as two scenarios play out.
Manziel
The first, obviously, is that Manziel is still on the board when it comes time for the Raiders' choice at No. 5 overall.
The second, is that both
Khalil Mack
and
Sammy Watkins
are already gone, because if either of those guys are still available, that has to be Oakland's pick, at least, in this corner.
In that combined development, though, the Raiders could reach out to Jerry Jones and offer up that No. 5 selection for a boatload of picks. Using the Trade Value Chart, the No. 5 pick is worth 1,700 points. The No. 16 pick, which is where the Cowboys currently sit, is worth 1,000 points.
So, for the swap to work, the Cowboys would have to come up with 700 more points in draft picks, or a player. Dallas' second-rounder this year (No. 47 overall) is worth 430 points and its third-rounder (No. 78) is worth 200 points, while its fourth-rounder (No. 119) is worth 56 points. That gives the Raiders two seconds, two thirds and two fourths, but still nothing in the fifth or sixth rounds to go with three seventh-rounders. It also still leaves the Cowboys needing 14 points to make up the difference.
Of course, the Trade Value Chart is more of a guideline for teams than a hard fast rule, and the Cowboys would have to stomach gutting the middle of their draft, though they could conceivably involve future picks in such a deal.
Plus, from the Raiders' perspective, going from No. 5 to No. 16 is a pretty big drop (last year, they went from No. 3 to No. 12). Because as has been mentioned in this corner, Oakland needs an impact player with its first pick, rather than a developmental one like in general manager Reggie McKenzie's first two seasons in
Tony Bergstrom
and
D.J. Hayden
.
So who could
potentially
be there at No. 16? Think UCLA outside linebacker
Anthony Barr
, or Oklahoma State cornerback
Justin Gilbert
, or Notre Dame nose tackle
Louis Nix III
, or USC receiver
Marqise Lee
, or even Fresno State quarterback
Derek Carr
.
Or should the Raiders simply stay put at No. 5 and take the best player available?
October, 6, 2012
10/06/12
12:00
PM ET
Weekend mail call:
Andrew Varnell from Boulder, Colo., wants to know
what 2011 Denver quarterback would make the better starter for his current team.
Bill Williamson:
You bring up a great point, Andrew. There are brewing controversies involving all three signal-callers who moved on during or after last season, a tumultuous one in Denver.
Brady Quinn
could push
Matt Cassel
in Kansas City,
Tim Tebow
could push
Mark Sanchez
with the Jets and there have been some calls for
Kyle Orton
to take over for
Tony Romo
in Dallas. I'm not sure if any of those scenarios will happen. The longest shot is Orton taking over for Romo -- I can't see Jerry Jones pulling the plug. That said, I think Orton is the best of the three former Broncos. Perhaps Kansas City should have tried harder to keep Orton in free agency. I'd have a better feeling about him taking over for Cassel than Quinn.
---
Joseph McGready from Los Angeles wants to know
if I still rank Kansas City safety
Eric Berry
over San Diego safety
Eric Weddle
.
BW:
A lot of fans seem all hopped up over this.
I had both players ranked in the top 15 in the division
. It's not like I dismissed Weddle, who is one of my favorite players. I went with Berry because he was younger and has a huge ceiling. But Weddle is a special player, too. And right now, four games into the 2012 season, Weddle has been the better player -- indeed, he has been one of the best safeties in the game. He has had a tremendous start and is a key cog in a much-improved defense. Berry is still coming back from a major knee injury. He will be great. But, yes, Weddle has been better this season, no doubt.
---
Todd Ouellette from Missouri wants to know
what I think of Oakland defensive lineman
Desmond Bryant
.
BW:
A lot of Oakland fans are excited about Bryant, because he has made some plays from a reserve role and because veterans
Richard Seymour
and
Tommy Kelly
both appear to be slowing down. Bryant, 26, is athletic and I bet he will see more playing time as the season progresses if Oakland's starters continue to struggle.
---
December, 29, 2010
12/29/10
1:00
PM ET
»
NFC Stock Watch
:
East
|
West
|
North
|
South
»
AFC
:
East
|
West
|
North
|
South
FALLING
1. Norv Turner's popularity:
The Chargers have already said Turner will return as head coach despite the fact that the Chargers are 8-7 and they will not make the playoffs for the first time since 2005. But that doesn't mean San Diego fans will be happy about it. Turner's popularity was already wavering simply because he replaced the ever-popular Marty Schottenheimer. Now that Turner has given San Diego fans reason to doubt him, they will. This all means Turner will be on the hot seat in 2011. If he doesn't lead the Chargers back to the playoffs, fans will completely turn on the franchise and essentially force the hand of San Diego ownership. The pressure is officially on.
2. Oakland's defense:
In six of Oakland's eight losses it has allowed at least 31 points. Oakland is 2-4 in its past six games and it has allowed 137 points in the four losses. Oakland has made some strides this season, but Oakland's inability to stop teams on defense is a reason why this season is not ending in the playoffs.
3. San Diego's pass defense:
San Diego's pass defense was stout all season and the Chargers allowed a total of 259 yards of offense in the two games leading up to Sunday. But at Cincinnati, the Chargers saw their playoff hopes end at the hands of Bengals quarterback
Carson Palmer
. He shredded San Diego's secondary for 269 yards and four touchdowns. In a year in which this unit was very good, the season ended when a mediocre passing attack tore it up.
[+] Enlarge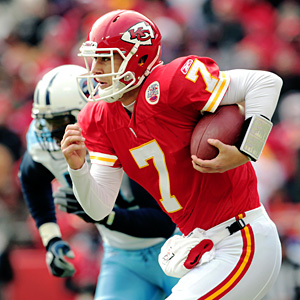 Jamie Squire/Getty ImagesMatt Cassel and the playoff-bound Chiefs are heading in the right direction.
RISING
1. Kansas City Chiefs:
The Chiefs are going to the playoffs. They are the feel-good story of the NFL season. Kansas City won a total of 10 games in the past three seasons. The Chiefs are 10-5 in 2010. Who would have thought that the original Dallas Texans had a better chance of playing in the Super Bowl at Jerry World than Jerry Jones' Cowboys?
2. Tim Tebow's chances of starting in 2011:
Unless Tebow totally implodes Sunday against San Diego; he has to be considered a near slam-dunk selection to be Denver's starting quarterback in 2011. The original thinking was that the new coach in Denver would have to approve the idea of moving forward with Tebow. Now, the new coach may be the one who has to get on board with the idea or don't come on board. Ownership knows how much excitement Tebow has created in Denver and it would be a tough sell to see Tebow's development go on hiatus with him on the bench after an intriguing start to his career, which was highlighted by a furious second-half comeback against Houston on Sunday. There's no doubt the subject of Tebow will be paramount in every interview with prospective coaches. Tebow hasn't been flawless, but what young quarterback is? The key is Tebow has shown the game is not too big for him and that will likely earn him a starting job going into next season.
3. Jacoby Ford's popularity:
A lot of NFL teams should be kicking themselves for letting Ford slip to Oakland in the fourth round. How many teams? I'd say 31 teams. This kid is amazing. He is a big-league weapon. Ford has returned three touchdowns for scores since Week 9. He is also a playmaker on offense. This is highly-skilled, super-fast player who could have a
DeSean Jackson
,
Devin Hester
-like presence in a year or so. He was a serious draft gem.
July, 2, 2010
7/02/10
10:00
AM ET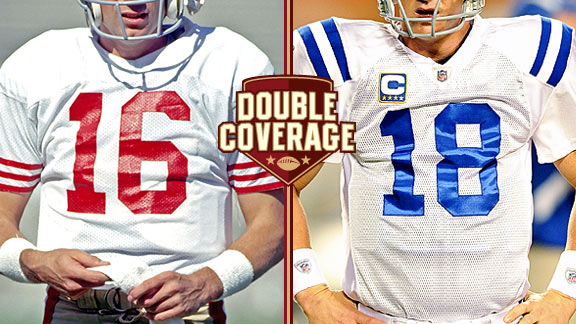 US PresswireLongstanding records would likely fall if the NFL moved to an 18-game regular season. But does that matter in the long run?
Who's up for more football?
The NFL would like to expand the regular season to 18 games and eliminate two preseason games by 2012. Seems like a no-brainer.
But at such a politically charged time, the NFL Players Association isn't willing to concede anything. There are reasons against lengthening the regular season. Injuries are prominent in the discussion, and players would like to be paid for playing additional games.
If the NFL wants an "enhanced season," as it's calling the proposal, then the players would like "enhanced compensation."
Beyond that, however, there are many reasons to debate the idea. That's why ESPN.com's Tim Graham and Bill Williamson are squaring off over it.
Tim Graham:
Let's waste no time here, Bill, and get to a fundamental aspect about the proposed expanded season. We can deliberate on injuries and tradition and whether the NFL needs to increase revenues -- and we will. But the root of the 18-game concept is that fans want more meaningful action and less preseason silliness. Season-ticket holders must pay full price to watch undrafted rookies and retreads with no shot of making the roster run around in exhibitions. Those games are irrelevant. What matters is the enthusiasm NFL fans have for getting the season started as early as possible. Take a look at the message boards and listen to the talk shows. They're frothing in anticipation of the upcoming season. More and sooner is better.
Bill Williamson:
OK, slick, let's get this right: We're supposed to see the greatest sport of mankind completely change its world because fans shouldn't have to pay for parking during the preseason? I totally agree the preseason is a waste of time after the first two games. But cutting back the preseason to add two games to the regular season -- risking further injury and mucking up the tradition of the game -- just doesn't make any sense. Cut the preseason to two games, keep the 16-game regular-season slate and be done with it. That's a win-win to me.
TG:
You know darn well lopping off two preseason games won't cut it with the owners, especially guys like Jerry Jones and Robert Kraft and Woody Johnson. Those games are moneymakers for the individual teams because they can sell local broadcast rights and advertising without having to share with the
Buffalo Bills
and
Jacksonville Jaguars
. That kind of cash grab can't evaporate without a trade-off. Two more regular-season games increase revenue streams for all 32 teams. As for your contention it would completely change the greatest sport of all time, I disagree. The fact the game is so remarkable is why we should be able to watch more of it.
BW:
Tim, you hit on two points that are going to be the reasons we ultimately end up seeing an 18-game regular season: revenue and fan base. Roger Goodell is a fine commissioner. He is a visionary. He is going to capitalize on the country's absolute rabid desire for the NFL. Fans will jump at the chance to see an 18-game regular-season slate (two more weeks of beer and chicken wings is admittedly appealing), and the owners will bathe in more money. But that doesn't make it right. Sometimes, enough is enough, and Goodell is going to be messing with a good thing. The players are the product, and they are going to suffer because of this. Then, in turn, the game is going to suffer. Who wins there?
[+] Enlarge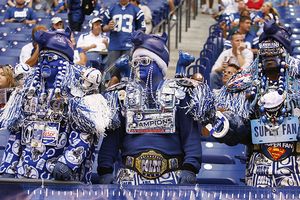 Brian Spurlock/US PresswireSundays during the regular season have become an event for NFL fans.
TG:
You just mentioned chicken wings and beer. I can think of two winners already.
BW:
Tim, I think we can both agree the toughest task for any NFL team to navigate a 16-game season is staying healthy. Nothing ruins a Super Bowl dream like a couple ripped-up knees. Going to an 18-game season will only increase season-ending injuries. Look, it's a month before training camp starts and there already have been several players lost for the season, including
Willie Colon
,
Limas Sweed
and
Thomas Davis
. It's a nasty game. Why make these guys risk further injury and further dampen their teams' Super Bowl hopes by playing two more games in the regular season?
TG:
I agree additional games will escalate the likelihood a given player gets seriously hurt. But some injuries are going to happen no matter what.
New England Patriots
receiver
Wes Welker
, for example, crumpled to the Reliant Stadium turf while making a cut in the regular-season finale. He wasn't touched. Who's to say he wouldn't have suffered the same injury the following Wednesday at practice?
BW:
Right, injuries happen all the time. That's my point. Why increase the season by 14 days and give players 14 more chances to get hurt in a game or in a practice? In an 18-game world, a team would have to play a minimum of 21 games to win a Super Bowl. It's currently 19 games. It may be only two more games, but that is a big difference down the stretch. It would be physically and mentally draining for players to wake up Dec. 1 and realize they have two extra games to play to reach their ultimate goal.
TG:
Wake up on Dec. 1 and then realize they have two extra games? Will the expanded schedule make comas more prevalent? The players, coaches and training staffs will prepare their players for the extra games from the start of the offseason conditioning program. Maybe, for once, organized team activities will become truly voluntary. Subtract some of those workouts. But there are possible in-season remedies too. I understand players will get beaten up with the accumulation of hits and strains. So return to a two-bye schedule, increase the roster size or do away with game-day inactives to give a team more players to use. The NFL also is talking about another developmental league to replace NFL Europa. That would help improve the quality of substitute players.
[+] Enlarge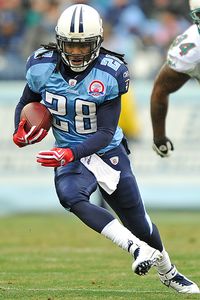 Don McPeak/US PresswireChris Johnson eclipsed 2,000 yards in 16 games. What would his target be in 18 contests?
BW:
The 16-game slate has been in play for 32 years, and it's working great. Every Sunday in the NFL is an event. Even in Detroit and Oakland, where the losses have been suffocating, game day is a cherished occasion. That's because there are only 16 game days a year. An NFL Sunday is a rarity. I love baseball. But if I miss my San Francisco Giants (who are killing me these days, by the way) on a busy Tuesday night, I know I'll have Wednesday to catch them. That's not the case with the NFL. Sundays in the fall are must-see NFL days. It also makes the season more urgent for the participants. "Don't mess up one of these 16 chances" is often the message from NFL coaching staffs to players. Increasing the number of games would take away from the game. What's next? Twenty games? Twenty-four games? Stop the madness. The football season is compact and intense. Why change it?
TG:
NFL games are events not because of how many there are, but because your team plays once per week. Fans revel in or grouse about the last game from the final whistle until about Wednesday morning, when they start looking forward to the upcoming opponent. The tension rises steadily as they talk trash about what's going to happen, they set their fantasy lineups, they maybe wager a few bucks, they attend a tailgate party and then settle into their seats for the opening kickoff. It's an unfailing routine. That's why fans go through a hangover the moment the season is over, and why they can't wait for the next season to commence. NFL games would remain an event if we had a 52-game schedule.
BW:
Let's not underplay the value of records. There are some stirring records out there that will be broken by the virtue of two extra games. That's not cool. Let baseball corner the market on asterisks. Why should the NFL have to play that game? It's just one more reason why moving to an 18-game slate would damage the integrity of the game. It's just not worth it. My message to Roger Goodell is this: Be happy with what you got. It's perfect.
TG:
Records, schmecords. NFL milestones stood up when the schedule was lengthened to 16 games in 1978. Running backs still target 1,000-yard seasons, but they stopped being special a long time ago. Last year,
Fred Jackson
hit quadruple digits. He'll be called a 1,000-yard rusher for the rest of his life.
Chris Johnson
rushed for 2,000 yards, and he was lumped in with O.J. Simpson, who did it in 14 games. Besides, records don't mean nearly as much as they used to because the game itself has changed. Steve Largent retired as the NFL's all-time leading receiver in 1989.
Derrick Mason
and
Larry Centers
, a fullback, have more catches, for crying out loud. Eighteen games. Bring it on.
March, 18, 2010
3/18/10
4:15
PM ET
If the
Dallas Cowboys
are interested in Oklahoma State prospect Dez Bryant, why wouldn't they be interested in Denver restricted free agent
Brandon Marshall
?

Marshall
Dallas has the No. 27 pick in the draft and it is
planning to work out
Bryant. Clearly, there is interest in adding a receiver. Bryant, even though he may slip down the draft board because of off-the-field questions, likely won't be available at No. 27. Dallas would likely have to trade up to get him.
If the Cowboys want Marshall, they could very well get him for the No. 27 pick. Denver put a first-round tender on Marshall and would like a first-round pick in return for him.
Yes, Marshall wants a contract extension and he isn't exactly looking for a bargain deal. Yes, Dallas also must address receiver
Miles Austin
. But Bryant wouldn't be a cheap pickup, either.
And we are talking about Jerry Jones here. There is enough money in Dallas for Marshall and Austin. If Dallas wants another big-play receiver, Marshall could be the answer.
May, 26, 2009
5/26/09
8:28
PM ET
Posted by ESPN.com's Bill Williamson
Denver wide receiver Brandon Marshall spoke about the team's offseason and the trade of his friend, quarterback Jay Cutler, in a radio interview. Meanwhile, a league spokesman said Tuesday that an investigation into an offseason arrest of Marshall is still pending. He was arrested in February after a domestic dispute. However, charges were dropped shortly after.
Dallas owner Jerry Jones said Tuesday that defensive end Greg Ellis is likely on his way out of Dallas. Keep an eye on Kansas City and Denver as potential landing spots. He'd fit in with both defenses and he'd give both teams a big pass-rushing boost.
The Oakland Tribune looks at Oakland running back Michael Bush.
The Chiefs announced they will start training camp July 31. There is no joint workout with Minnesota scheduled. The two teams have worked out together in recent summers.
March, 23, 2009
3/23/09
2:49
PM ET
Posted by ESPN.com's Bill Williamson

DANA POINT, Calif. -- Some early afternoon thoughts from the NFL owners' meeting where team officials are currently locked inside conference rooms.
The NFL is implementing a new policy that will stop teams from going from the Eastern time zone to the West Coast more than once a year.
Thus, teams from the East Coast will not have to fly out to both San Diego and Oakland in the same season. New England and the New York Jets had to make those two long hauls last season. The Patriots lost at San Diego and beat Oakland. The Jets lost both West Coast trips.
Meanwhile, the Broncos were hoping to host the second game of the "Monday Night Football" doubleheader on opening weekend, but the team doesn't expect it will get the game. The doubleheader games are expected to be announced later Monday afternoon.
The coolest scene so far: Oakland owner Al Davis and Dallas owner Jerry Jones laughing it up. The two are known for having their own styles but it was clear they have a strong respect for one another from observing their interaction.
February, 13, 2009
2/13/09
11:00
AM ET
Posted by ESPN.com's Bill Williamson
Now that every NFL team has a head coach (all of the jobs were filled when Oakland and Kansas City made hires last week), barring an unforeseen bombshell, Mike Shanahan will be taking the 2009 season off.
| | |
| --- | --- |
| | |
| | Rick Stewart/Getty Images |
| | Mike Shanahan will likely be a hot coaching candidate following the 2009 season. |
It will be Shanahan's first season away from being a head coach in the NFL since he was hired by the Denver Broncos in 1995. Denver unexpectedly fired Shanahan on Dec. 30 after 14 seasons with the team.
Shanahan said shortly after he was fired that he will definitely coach in the NFL again, and that he would require a special situation to coach in 2009. Several teams poked around Shanahan, but he opted to wait for an ideal situation.
He will now be part of an all-star cast of Super Bowl-winning coaches who could come back to the league in 2010. The others are Bill Cowher, Mike Holmgren and Jon Gruden. Shanahan will be as sought after as any of the coaches because of his pedigree, his offensive resume and his ability to lead a franchise.
Here is a look, alphabetically, at some of the potential fits for the former longtime Denver czar after the 2009 season:
Why: If the Bengals struggle again, coach Marvin Lewis will likely be in real trouble. The Bengals have a good passing game and Shanahan would have an instant centerpiece in quarterback Carson Palmer. Just like in Denver, Shanahan's biggest issue would be defense.
Stumbling block: Hiring a big-name, big-dollar coach such as Shanahan would be way out of character for the Bengals and Shanahan would likely have sexier options.
Chances: Not high.
January, 3, 2009
1/03/09
8:33
PM ET
Posted by ESPN.com's Bill Williamson

SAN DIEGO -- Qualcomm Stadium erupted when running back LaDainian Tomlinson was introduced with the San Diego starting offense. Tomlinson was riding a stationary bike to warm up before the game and he went back to the bike after San Diego's second possession. Tomlinson was a game time decision with a groin injury.
Tomlinson rushed for 13 yards and a first down on the first play and a two-yard run on the second play. He appears to be running with some pain.
The Chargers then went to their other injured star, tight end Antonio Gates, on the third play with a short pass. Like Tomlinson, Gates missed all week of practice. He had an ankle injury.
Chargers fans are in such a good mood that coach Norv Turner was cheered by fans. Turner was not so popular three weeks ago but after the Chargers rebounded from a 4-8 start to a 8-8 finish and AFC West division title, Turner got back in the fans' good graces.
Meanwhile, the NFL coaching carousel continues to turn. Dallas is looking at Denver coach Mike Shanahan, who was fired Tuesday, for a potential job in 2010.
Is it strange? Sure, but it's Jerry Jones. He does things differently. This situation could appeal to Shanahan. Those close to him said he may be leaning toward taking the season off. With a year off and the possibility of taking over the Cowboys in 2010, Shanahan could return refreshed.
Also, it is being reported that Oakland interviewed Giants offensive coordinator Kevin Gilbride on Saturday. He has been one of the team's top choices. If Gilbride doesn't end up with Oakland, the team could turn to interim coach Tom Cable who was 4-8 in 2008.
December, 30, 2008
12/30/08
10:25
PM ET
Posted by ESPN.com's Bill Williamson
OK, let's get this out of the way. Here's one job Mike Shanahan won't be taking: The Oakland Raiders.
Other than Shanahan's former team, all other bets are on.
If Shanahan decides he wants to coach in 2009, he will have his choice of jobs. But any job Shanahan takes probably will have to come with the same power he enjoyed in Denver, where he spent the past 14 years.
Many coaches who leave an organization after a long period take time off. Shanahan could decide to go that route. He has a home in Mexico and he could enjoy a year of golf.
Shanahan would be as attractive to teams in a year or two as he is now.
Still, Shanahan strikes me as a coach who would like to get right back in the game. And that was the indication Tuesday evening from people who know him.
Among the jobs that could interest Shanahan are Cleveland, the New York Jets and Kansas City. Shanahan probably would get the necessary power in all three of those spots.
There are a couple of jobs that, if they became available, probably would entice Shanahan. Both Dallas and Tampa Bay could be fits, if coaching changes were made. Dallas could be intriguing because Shanahan and Cowboys owner Jerry Jones have a good relationship and Shanahan has expressed his respect for Jones on numerous occasions.
Shanahan tried to get Terrell Owens to Denver, so he wouldn't be averse to working with the mercurial wide receiver. Also, he tried to sign quarterback Tony Romo -- Shanahan and Romo were quarterbacks at Eastern Illinois a generation apart -- as a college free agent. However, Wade Phillips would have to be fired before any Shanahan-to-Dallas talks could materialize.
Meanwhile, it is being reported that Shanahan's refusal to fire defensive coordinator Bob Slowik led to Denver owner Pat Bowlen firing him Tuesday afternoon. More details could come out Wednesday when both Bowlen and Shanahan address the media.