December, 26, 2011
12/26/11
5:20
PM ET
After 11 games, Denver rookie linebacker
Von Miller
was on pace to break the NFL rookie sack record.
Then, he suffered a serious thumb injury. Miller's production has slowed since. Miller was injured Nov. 27 at San Diego. He had his best game of the season that day. He had added a sack to increase his total to 10.5 sacks. He had 10 tackles in the game.
He missed the following week's game at Minnesota, but he had played the past three games with a cast on his right hand. Miller has one sack and seven tackles in the past three games.
"It's that big cast on his thumb," said Denver coach John Fox on Monday when asked in Denver about Miller's slip in production. "It's hard to play this game with both hands let alone just one. It's definitely a factor. A different type of cast isn't going to let him use his hand any differently because we still have to immobilize the thumb. We'll make due. He'll get better, and so will we."
Miller, the No. 2 overall draft pick, needs three sacks Sunday at Kansas City to tie Jevon Kearse's rookie record of 14.5 sacks, set in 1998. San Francisco's
Aldon Smith
, the No. 7 overall draft pick, has 14 sacks. He has 6.5 sacks since Miller's injury.
It will be interesting to see who wins the NFL defensive rookie of the year award. Miller has been on the field more than Smith and has he had a bigger impact throughout the year, but Smith's sacks numbers may be difficult to deny even though Miller has 29 more tackles than Smith.
In other AFC West news:
November, 27, 2011
11/27/11
7:58
PM ET
SAN DIEGO -- A look at an overtime thriller on an 80-plus degree day by the sea, where the
Denver Broncos
beat the
San Diego Chargers
16-13
:
What it means:
Denver is now 6-5 and has won five of
Tim Tebow
's six starts. It trails Oakland by one game. San Diego has lost six straight games and is 4-7. Cue the Norv Turner-gets-fired talk. It will probably happen at the end of the season.


Tomorrow's talker:
What do you think? Tebow's second NFL overtime game ends in victory. The kid got better as the game went on and once again he proved he gives this team a chance to win. The NFL's wildest, unlikeliest story continues.
Miller (and Doom) time:
Denver pass-rushers
Elvis Dumervil
and
Von Miller
are continuing to be a nasty duo now that Dumervil is healthy. Dumervil had two sacks and Miller had one Sunday. Dumervil has all 5.5 of his sacks in the past four games. Miller now has 10.5 sacks this season. He is four sacks off of
Jevon Kearse
's NFL rookie sack record.
Philip Rivers' protection caves in:
The Chargers are playing without six offensive linemen. Think about that. That's mind-boggling. They did a solid job last week at Chicago and for parts of Sunday's game, but the protection did collapse late.
Third-down conversion:
Denver football leader John Elway said he wants to see Tebow improve on third down. Denver improved some, but it wasn't great. It was 5-of-16.
Mathews comes on strong:
San Diego running back
Ryan Mathews
played well -- and he didn't fumble, which was has been a problem. He had 137 yards on 22 carries. He played winning football Sunday.
What's next:
San Diego plays at Jacksonville on "Monday Night Football" and Denver plays at Minnesota. Both are very winnable roadies.
November, 23, 2011
11/23/11
12:30
PM ET
As he makes a strong push to get the big award at the end of the season, the NFL has honored Denver rookie linebacker
Von Miller
as the AFC defensive player of the week.
Miller had 10 tackles, three tackles for loss and 1.5 sacks in a 17-13 Denver win over the
New York Jets
in Week 11. It was the first time a Denver defender won the award since Week 4 of 2009. Miller has 9.5 sacks and is five sacks from tying Jevon Kearse's rookie sack record of 14.5, set in 1998.
Miller is a leading candidate for the NFL Rookie of the Year award.
In other AFC West nuggets:
Here's a strange feud for you:
Oakland backup receiver
Chaz Schilens
and former Raider and current NFL Network analyst
Warren Sapp
. Apparently, Schilens is fired up because Sapp has often been critical of the Raiders. Schilens called Sapp a "fool" and a "joke." Of course, Sapp had his own response.
Of course, this dispute means little, but it does provide a little pre-Thanksgiving chuckle.
NFL.com is reporting
the
Houston Texans
are adding a quarterback, but it's not
Kyle Orton
. So, that likely means less competition for the
Chicago Bears
in the waiver-claim game. Kansas City could also put a claim in on Orton, who was waived by Denver on Tuesday. The Chiefs have claiming priority over the Bears. There are some other teams such as the Colts, Dolphins and Redskins who could also claim Orton. Denver would save $2.5 million if Orton is claimed. We will find out the results shortly after 4 p.m. EST Wednesday.
November, 22, 2011
11/22/11
1:00
PM ET
»
NFC Stock Watch
:
East
|
West
|
North
|
South
»
AFC
:
East
|
West
|
North
|
South
FALLING
1. Hue Jackson's patience:
The
Oakland Raiders
' first-year head coach complained publicly about the officiating in Oakland's win at the
Minnesota Vikings
on Sunday. Monday, he spoke to the league about his concerns. The Raiders, who lead the league in penalties, were flagged 12 times for 117 yards Sunday. Several of the calls were questionable.
[+] Enlarge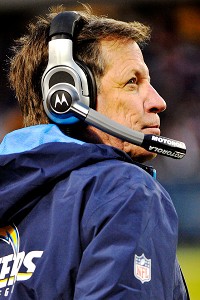 Rob Grabowski/US PresswireAfter a 4-1 start, Norv Turner can't seem to stop San Diego's five-game losing skid.
2. Norv Turner's time in San Diego:
If the
San Diego Chargers
don't somehow find a way into the playoffs, it likely will be the end of Turner's San Diego tenure. The Chargers have lost five straight games and have a 4-6 record. If San Diego finishes under .500 and out of the playoffs for the second straight year, the cry for Turner's firing likely will be too loud for ownership to ignore.
3. The Chiefs' momentum:
The
Kansas City Chiefs
have been a team of streaks all season, and their streaky ways continued Monday night at New England. The Chiefs scored the game's first three points only to see the
New England Patriots
score the game's final 34. Kansas City played very tough and very well through the middle of the second quarter before the Patriots took over. The Chiefs lost the first three games of the season, then won their next four games. Kansas City is now sitting on another three-game losing streak.
RISING
1. Tim Tebow's ball security:
Say what you wish about Tebow's accuracy problems, but the
Denver Broncos
quarterback is not throwing the ball to the wrong uniform. Tebow has thrown just one interception in 125 pass attempts this season, and he hasn't thrown an interception in his past three games. That is a real positive step for a young quarterback.
2. Kevin Boss, tight end, Oakland:
Boss had five catches in the win over the Vikings. He previously had been targeted just 11 times this season. He and new Oakland quarterback
Carson Palmer
are building a nice rapport.
3. Von Miller's rookie of the year candidacy:
Denver's linebacker is getting better each week. He had 1.5 sacks in the Week 11 win over the Jets. Miller has 9.5 sacks in 10 games and has a chance to break Jevon Kearse's 1998 rookie record of 14.5 sacks. Miller, the No. 2 overall pick of the draft, has to be the favorite to win the award.
October, 10, 2011
10/10/11
2:00
PM ET
Here is a look at the
Denver Broncos
and what needs to be done after the break:
Record:
1-4

Reason they are in their current state
: The Broncos are probably where they were expected to be. This is a franchise that is rebuilding and it is going to take a while. The Broncos are undermanned on each side of the ball. But to the credit of new coach John Fox, the Broncos have competed hard and could have won three of the four games they lost. So, this is not a team in total disarray. There is a vision; it's just going to take time.
Best player so far:
The Broncos have a star in No. 2 overall pick
Von Miller
. The linebacker has five sacks in five games. He is on pace to set the NFL sack record.
Jevon Kearse
had 14.5 sacks in 1998. Watch for Miller to get better as the season progresses.
What needs to be done:
The Broncos need to just keep their heads down and get better on each side of the ball. Fox and his staff are doing good work. Sooner or later, it is going to start paying off in the win column.
Fearless forecast:
Tim Tebow
will get the chance to be the starter for the rest of the season. It will be up to him to keep the job. But there's little chance the Broncos are going to go back to
Kyle Orton
as their starter after Tebow nearly pulled off a comeback win over San Diego. He was inserted in the second half Sunday with a 13-point deficit.
October, 5, 2011
10/05/11
8:00
AM ET
The NFL season is a quarter over. Let's look at some key developments of the first quarter of the season in the AFC West:
Story of the quarter:
Injuries have devastated the defending division champions. The
Kansas City Chiefs
entered Week 1 with standout second-year tight end
Tony Moeaki
out for the year with a knee injury. They also lost first-round pick, receiver
Jon Baldwin
late in camp (he is still not fully practicing) after he reportedly injured his thumb in a fight with teammate
Thomas Jones
. Then, the Chiefs lost stars
Eric Berry
and
Jamaal Charles
with season ending knee injuries in the first two games of the season.
MVP of the quarter:
Oakland Raiders
running back
Darren McFadden
. He is superstar and a difference maker. McFadden currently leads the NFL with 468 rushing yards.
Rookie of the quarter:
Denver Broncos
linebacker
Von Miller
. The No. 2 overall pick is a bright spot for the 1-3 Broncos. He has four sacks in four games and he is on pace to set the NFL rookie sack record.
Jevon Kearse
had 14.5 sacks in 1998.
Coach of the quarter:
I could go with the
San Diego Chargers
' Norv Tuner, who has his team at 3-1 and who has avoided another slow start. But I'm going with Oakland's Hue Jackson. The rookie head coach is changing the culture in Oakland and his offense is very potent.
Disappointment of the quarter:
The reports that Kansas City coach Todd Haley is on the hot seat. Haley is a good coach and has helped turn this program around. After a terrible first two games, the Chiefs have shown a strong spirit in the past two weeks.
Biggest unanswered questione of the quarter:
Are the Chargers ready to be an elite team? They are 3-1, but they haven't dominated. Their three wins have all come at home against teams that are a combined 1-11. They didn't blow any of those teams away.
Fearless prediction for the second quarter:
The Chargers and Raiders will still be separated by a game or so, if not tied, during the season's halfway point. This race is going to remain tight. By the way, the two teams start their third quarters of their season in Week 10 on a Thursday night special in San Diego.
October, 3, 2011
10/03/11
2:00
PM ET
Here are some areas the Denver Broncos need to focus on after a 49-23 road loss at Green Bay on Sunday:
Recap:
This game was a reminder of how far from the league's best teams the rebuilding Broncos are right now. The Broncos are simply not a good team right now. The program is on the right track, but it's going to take time. Denver just can't compete with the NFL's better teams. This game was never close.
Biggest area to fix:
The Packers' offense can score 49 points on a lot of teams, but Denver coach John Fox must address this effort. I know the Broncos are banged-up on defense, but giving up 49 points is not the Fox way.
Biggest area to build on:
The Broncos have a special player in rookie linebacker
Von Miller
. The No. 2 overall draft pick had two sacks Sunday. He has four sacks in four games. He could have a chance to set the rookie sack record. It is 14.5, set by
Jevon Kearse
in 1998. The presence of Miller is one of the reasons there is hope in Denver.
What to watch for:
Tebow mania. After every loss so far this season, Fox has spent Monday publicly sticking with
Kyle Orton
as his starter. After this blowout, I'm sure the cries for
Tim Tebow
will be especially loud Monday. The Broncos were down by 32 points Sunday and Fox still stayed with Orton. If the Broncos get blown out at home by San Diego on Sunday, their last game before the bye, I could see them considering a quarterback switch. You know the fans would be behind the move.
October, 2, 2011
10/02/11
7:31
PM ET
A look at the Broncos'
49-23 blowout loss
in Wisconsin:


What does it mean:
The Broncos are not close to being able to compete on the road against a champion. This game was predictable. Denver's defense has improved, but great offenses will shred it. Denver doesn't have the firepower on offense to keep up.
Tomorrow's talker:
If John Fox won't play reserve quarterback
Tim Tebow
in a blowout when will he play him? The Broncos are now 4-13 in Orton's 17 starts. He is not helping this team win. Expect Fox to be peppered about Tebow's status. This season is going nowhere fast.
Marvelous Miller:
Von Miller
is the goods. The No. 2 overall pick in the draft had two sacks Sunday and he now has four in four games. He is a threat to set the rookie sack record.
Jevon Kearse
owns the record with 14.5 sacks in 1998.
What's next
: The Broncos host San Diego next week before their bye. If the Broncos lose that game, the calls for Tebow to play after the bye will be off the charts.
April, 21, 2009
4/21/09
3:00
PM ET
Posted by ESPN.com's Bill Williamson
Next up on the AFC West draft rewind is No. 16, which is held by San Diego:
The No. 16 Pick Since 1999
Year
Team
Player
Pos.
School
Comment
2008
Arizona
Dominique Rodgers-Cromartie
CB
Tenn. State
He looks like he is on his way to having a decent career.
2007
Green Bay
Justin Harrell
DT
Tennessee
He has been injury plagued in Green Bay.
2006
Miami
Jason Allen
DB
Tennessee
He still has a chance to be a solid NFL player.
2005
Houston
Travis Johnson
DT
Florida State
Johnson has been a solid player for the Texans.
2004
Philadelphia
Shawn Andrews
OT
Arkansas
Andrews is a solid NFL player.
2003
Pittsburgh
Troy Polamalu
S
USC
Polamalu is the heart and soul of one of the best defenses in the NFL.
2002
Cleveland
William Green
RB
Boston College
Green was injured and a fast bust.
2001
New York Jets
Santana Moss
WR
Miami
Moss has been a decent NFL player.
2000
San Francisco
Julian Peterson
LB
Michigan State
Peterson has carved out a very nice career for himself.
1999
Tennessee
Jevon Kearse
DE
Florida
Kearse is one of the great all-time players in Titans' history.