August, 12, 2010
8/12/10
7:40
PM ET
Six months ago,
I played five questions
with Floyd Little shortly after he was elected into the Pro Football Hall of Fame. Thursday, we played it again, days after the former Denver Broncos running back was inducted into the Canton, Ohio museum:
Are you still on Cloud Nine from last weekend?
Little:
"It hasn't gone away yet. It was a fantastic experience that I will never forget. When I woke up at home [in Seattle] after the weekend, I was exhausted, but I'm still thrilled."
Your speech touched many people. Where you nervous before giving it?
Little:
"I didn't sleep the two nights before, preparing for my speech. I had worked on it for months, but preparing to give it in front of millions of people, there was some anxiety. But it worked out well and I hope I gave people something they will keep with them for awhile."
What was the highlight of the weekend for you?
Little:
"The message from [United States Vice President Joe Biden, who went to Syracuse with Little] was special. For Joe to take time out for my induction was really special and then my son Marc's presentation speech was really emotional. Those were two special moments."
What was your thoughts when your bust was unveiled?
Little:
"We got to preview it about a month early. But there were some finishing touches that made it fantastic. When I saw it, I thought, 'Wow, this is unbelievable.' ''
Did you receive any special phone calls after the ceremony?
Little:
"I received many. But Sunday morning I got a call from Bill Cosby. I've known Bill since 1965 when we were on the Johnny Carson show together. Bill said he was really touched by my speech. That was a nice call."
August, 4, 2010
8/04/10
12:00
PM ET
As a running back for the
Denver Broncos
, Floyd Little was an undersized player who never stopped fighting for the extra yard.
He never quit.
[+] Enlarge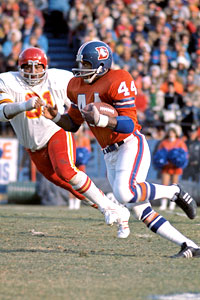 Rod Hanna/US PresswireDenver great Floyd Little had given up on being inducted into the Hall of Fame but will finally enter this month.
In 2008, Little now admits, he quit. He gave up on his dream of becoming a member of the Pro Football Hall of Fame.
"I gave up, I really did," Little said.
The only way Little, who starred for Denver from 1967 to 75, could get in was as a senior committee nominee. In 2008, the senior committee selected Bob Hayes as a nominee. It was his second go-around in the senior committee. Hayes was finally elected to the Hall of Fame in 2009.
"I thought once they were giving guys a second chance before I got a first chance that it would never happen," Little said."I thought I was so far in the hole they wouldn't find me."
However, in 2009, Little was nominated by the senior committee. As soon as he was nominated, he started to become hopeful. He kept focusing on the No. 44.
It was the number he wore in Denver. It was the number fellow candidate Dick LeBeau wore. The election was taking place the day before the 44th Super Bowl. Little's son, Marc, was turning 44 this year. The United States is on its 44th president, Barack Obama.
"It was all falling into place," Little said. "It was time for 44 to pay off."
It did. Little and his friend LeBeau were elected to the Hall of Fame in February. Marc Little will present his father at the Canton, Ohio, museum on Saturday.
"It's been surreal since I was elected," Littlie said. "I've waited 35 years and now that it is here, I have so much to do it is really overwhelming."
Little has been concentrating on his speech for several months. He has been spending the past month editing it. Candidates have just six to eight minutes for their speech. Little, 68, said he has a lifetime of people to thank for his journey to Canton.
"I need a minute for every year I've waited. I need 35 minutes," Little joked. Little admitted that there are "four or five areas" of his speech during which he is worried he will get emotional. He has been trying to work on it. Still, after his long wait, he knows it might be impossible not to break down.
Little is also hoping to have some special help on the stage. He is friends with Vice President Joe Biden. The two went to Syracuse together. Biden is trying to find the time to get to the ceremony. If so, Biden will help Marc Little unveil his father's bust.
"The only time Joe visited the Hall of Fame, he asked workers where my bust was," Little said. "They told him it wasn't there. He said he wouldn't be back until it was … It's been a long wait, but it's almost here. I'm walking on cloud nine."
February, 10, 2010
2/10/10
11:00
AM ET
I caught up with Floyd Little as he soaks in life as one of the newest members of the Pro Football Hall of Fame.
The running back – who was the face of the
Denver Broncos
from 1968-75 – was elected into the hall of fame Saturday in what was likely his final chance to be elected.
Little is still in Miami as he and the other newly elected members are going through a hall of fame orientation. Tuesday, Little was measured for his hall of fame jackets and had photos taken for his bust for this summer's enshrinement ceremony. Little took time out of his hectic schedule to play five questions:
How did you celebrate your election Saturday night?
"We had a group of 11 friends and family who went to a steakhouse. My old friend, baseball Hall of Famer Eddie Murray, was in Miami and he joined us. We had champagne and cake and we partied big time."
How many calls of congratulations have you gotten since your election?
My voice mail holds 60 messages and it is full. I have 150 emails. Many college teammates from Syracuse are calling and my Denver teammates are calling me. Two of the most special calls were from Vice President Joe Biden and Hall of Famer Joe Greene. He said I was the best player he ever played against. Joe Biden and I went to Syracuse together. He wants to come to the Hall of Fame ceremony.
Who is going to be your Hall of Fame presenter?
"My son, Marc. He was the first guy to write a letter to the Hall of Fame asking why I wasn't in. I told him if I ever made it, he'd be standing up there with me."
Who will be the next Denver player elected?
"It should either be Randy Gradishar or Shannon Sharpe."
What should the Broncos do with receiver Brandon Marshall?
"The tail can't wag the dog. He didn't play in the team's last game but he played in the Pro Bowl. But I think they have to find a way to keep him. He's the best receiver in the league, in my opinion. They have to find a way make it work."