March, 27, 2014
Mar 27
7:30
AM ET
ORLANDO, Fla. -- Denver's potential as a Super Bowl city might not hinge on how the league's title game went in the open-air MetLife Stadium last month, but rather in the snowstorm that hit the New York-New Jersey area the next day, stranding thousands of travelers who had come to see Super Bowl XLVIII.
At the league meeting this week NFL commissioner Roger Goodell and the gathered franchise owners did not discuss the prospect of future Super Bowls in cold-weather cities with open-air stadiums. So, any read on whether or not the league believes Denver is viable as a potential bidder for a Super Bowl in 2018, 2019 or 2020 will have to wait.
The
Seattle Seahawks
defeated the
Denver Broncos
, 43-8, in Super Bowl XLVIII in the league's first Super Bowl played in an open-air stadium in a cold-weather city. The temperature was 49 degrees at kickoff, but the following day a snowstorm affected hundreds of flights and forced scores of travelers to make alternate plans to try to get home.
[+] Enlarge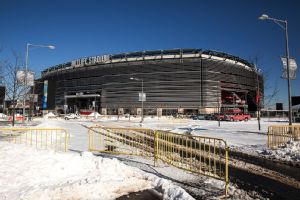 Andrew Burton/Getty ImagesMetLife Stadium in East Rutherford, N.J., on Jan. 22, 11 days before it was the site of Superbowl XLVIII.
Goodell said Wednesday the owners did not consider the pros and cons of awarding another open-air Super Bowl in a cold-weather city, but did review how things went in the New York-New Jersey area in February.
"We discussed the New York Super Bowl really in the context of what we achieved," Goodell said. "The successes that occurred, things that we can do better ... but the overall reaction was very positive."
Broncos president Joe Ellis said he believes, after speaking informally to team owners and other high-ranking executives around the league, the decision has not been made as to whether the NFL will have a repeat performance in a northern city with an open-air stadium, but that there are some hurdles that would have to be cleared.
"And it comes down to how appealing it is the league, the public, the ownership and how the fans really feel about it," Ellis said. "That game could have been played in conditions that were far worse this time, like the next day.
"And I think everybody needs to ask the question 'do you want to put the most important game of the season on in conditions people saw in New York the day after the Super Bowl?' Is that fair to fans? To players? To coaches? To the league? To the teams? Here you are showcasing the No. 1 event in the world and you're doing it in conditions that prevent you from doing it in the best way possible. I think that's something that needs to be considered, needs to be discussed before they go forward."
Ellis said beyond the weather issues, the contingency plans that came with Super Bowl XLVIII, which included playing the game on either Saturday or Monday, were expensive and difficult to schedule. That list included items like scheduling security and emergency personnel as well as the potential use of public transportation on a weekday if the game had been moved to Monday.
"There were a lot of risks taken there, and a bunch of contingency planning had to be in place that actually may have been somewhat costly and somewhat cumbersome up front before you even had to execute them," Ellis said. "It will be interesting to see how they feel about going through those exercises again."
All of that said, Broncos owner Pat Bowlen's desire to have a Super Bowl in Denver is well-known throughout the league, and if the league does open the bidding to cities like Denver with open-air stadium again, Bowlen would want to be in the mix. Cities like Boston, Chicago, Philadelphia and Seattle would likely want to make a bid as well.
"We could do it," Ellis said. "I know Denver could do it, and for all we know it would be 60 and sunny, or it could be different, but nevertheless there's no question in my mind that if the league chooses to go forward and do another game with these considerations in mind, cold-weather site and outdoor stadium, that we could do it as well as any city in the country. It's just a matter of whether or not that will be a consideration, something ownership wants to do again."
March, 26, 2014
Mar 26
4:45
PM ET
ORLANDO, Fla. --
Denver Broncos
owner Pat Bowlen was not at the league meetings this week, but by all accounts he'
s happy with the people who represented his team at the annual spring gathering and the direction they have taken the team over the last three years.
The Broncos just completed their third season with
John Elway
as the chief decision-maker on the football side with Joe Ellis as team president. A painful, somewhat embarrassing Super Bowl blowout last month aside, the results have been three consecutive AFC West titles, a favorable enough salary cap situation that allowed them to aggressively work free agency, and fan interest back where Bowlen always wants it to be.
All things, as the Broncos decision-makers adjourned from the meetings this week, have made Bowlen a happy team owner.
"He feels, we feel, the franchise is headed in the right direction," Ellis said as the meetings drew to a close. "Certainly hiring John Elway established the foundation, beginning of a trust that needed to be re-established with our fans, that was No. 1. No. 2, bringing John Fox on helped shift the culture both outside the building and inside the building. Those two hires have kind of re-established trust and re-ignited interest in the team."
Ellis said Bowlen likes the disciplined approach Elway has taken in terms of which players have gottten the long-term contracts that carry heavy salary-cap risks. In the four high-profile deals the Broncos signed with free agents this month --
Aqib Talib
,
DeMarcus Ware
,
T.J. Ward
and
Emmanuel Sanders
-- Ware's contract is the only one that carries a significant risk toward the salary cap beyond the 2014 season if Ware doesn't play how the Broncos expect him to.
Ware is also the only one of the four who is more than 28 years old. The Broncos have taken similar approaches in the previous two forays into free agency when, beyond the deal for quarterback
Peyton Manning
in 2012, the longer -- three years or more -- bonus-heavy deals have largely gone to younger players.
"John has done a very good job of bringing in players to help us win and he's done it with the short term in mind and the long term in mind," Ellis said. "He doesn't waver from that, sticks to his plan with discipline. I know Pat feels this way and so do I, we have the right team in place in football to have short- and long-term success. We've established a program that should allow -- they'll be blips in the road -- but should allow for sustained success."
Ellis added that both he and Bowlen believe the Broncos' approach has to be draft first and supplement with free agency if the team is to succeed both with Manning behind center and in the post-Manning era.
"People say we're all-in because of the players we signed, I don't see that way and John is very open and very honest in how he goes about shaping the roster," Ellis said. "He doesn't talk about this year, he talks about this year and beyond … . He and
Mike Sullivan
structure deals that make sure we're talking about this year and beyond."
"The clubs that have success, that have good performance over time, are the ones that stick to a discipline when it comes to picking players and paying players," Ellis added. "And at times in the past we may have gotten off track by signing players who were fix-it-now type players with fix-it-now type contracts and not showing any regard for financial discipline. Listen we need to spend to the cap to be competitive, we believe that, but you can't spend recklessly. Some say you're doing this through free agency, but I don't think John, and I don't want to speak for John, but the draft is equally important, if not more, to the organization."
March, 24, 2014
Mar 24
7:00
AM ET
ORLANDO, Fla. -- When
Denver Broncos
owner Pat Bowlen formally announced he had promoted Joe Ellis to team president and hired John Elway as the team's chief football decision-maker in early 2012, most with the team said it was a sign Bowlen intended to step out of the public eye.
And though Bowlen still works from his office at the team's complex when he is in Denver, he has a far lower profile than he once did in three decades worth, and counting, of ownership. When the team's officials arrived in Florida on Sunday for the league meetings, Bowlen was not with them.
Bowlen has been a fixture at the annual meetings, especially in his time on the broadcast committee when some of the most lucrative televisions contracts in league history were negotiated, so his absence was noted as team executives from across the league gathered in Florida. Ellis will represent Bowlen at the meetings and in any votes, including the "owner plus one" sessions that included the team owner and one other high-ranking team official. Elway will attend most of the sessions as well.
Bowlen has been in Hawaii in recent weeks. Elway joked after the Broncos' aggressive work in free agency, he may have some explaining to do when the owner returned to Denver.
"But the environment Pat Bowlen creates, his approach and belief that he wants to compete for the world championship every year, that's a big reason people want to play for the Denver Broncos," Elway said. "We all have a very clear expectation here that he wants to win, to do it the right way."
Since Bowlen largely turned over the business side of the franchise to Ellis and the football side to Elway, the Broncos have gone 34-14 with three consecutive AFC West titles to go with this past February's Super Bowl appearance, even as they kept their financial house in order against the salary cap.
Elway recently signed a contract extension that takes him through the 2017 season and Ellis said Elway had demonstrated "great vision and leadership" on the job. With a favorable salary cap position and enough cash flow to get the job done, the Broncos were one of the most aggressive teams in the hours after free agency opened.
The team signed defensive end
DeMarcus Ware
, cornerback
Aqib Talib
, safety
T.J. Ward
and wide receiver
Emmanuel Sanders
. The Broncos also signed defensive coordinator Jack Del Rio to an extension.
Coach John Fox has formally entered the last year of his contract with the start of the new league year and the Broncos have discussed an extension with Fox's agent Bob LaMonte in recent weeks, including a face-to-face meeting at the league's scouting combine in February in Indianapolis. Elway has repeatedly said he expected to get a deal done.
Elway has said of Fox: "He's done a nice job, I think you look at three AFC West championships, there's a lot to that, but there's also a lot to the expectations of we've got to continue what we're doing."
Offensive coordinator Adam Gase, who drew interest from the
Minnesota Vikings
and
Cleveland Browns
for their head coaching positions, is also in the final year of his deal in the 2014 season.
April, 19, 2013
4/19/13
3:30
PM ET
For those wondering if John Elway's role as the Denver Broncos' executive vice president of football operations is a short-term endeavor, stop.

Denver president Joe Ellis said the legendary quarterback, who is entering his third season as the team's top football decision-maker, is not going anywhere.
"He's dug in," Ellis told reporters Friday. "I went up and visited the draft meetings just to see the interaction and see how they were working in the room. They're in there early in the morning until early evening with a lot of conversation. John's listening, hearing everybody out. There's good dialogue between he and Coach Fox, back and forth, some of the assistant coaches, some of the personnel people. I run out of gas after about an hour and a half -- my attention span isn't quite as good as theirs when it comes to analyzing players over and over. But they're doing a lot of hard work. I don't see him wavering with that at all. I think he's very good about delegating and listening, but also strong enough and confident enough in his knowledge and his opinions to have the courage of his convictions and make good decisions on behalf of the organization, as I said, short-term and long-term. I believe he's going to be here for a while."
Elway has been widely considered a smashing success since taking over as a rookie decision-maker two years ago. Denver has won the AFC West title in both of Elway's years with the team, and he is the primary reason why
Peyton Manning
signed with the team last year. Ellis said he has no doubts about Elway.
"Somebody asked me, 'Are you surprised at how well he's doing?' My answer to that would be I'm surprised that people are surprised that he's doing that well, because he brings a lot to the table. He brings leadership, competitive fire -- he's one of the most competitive guys you know -- wants to win in the worst way, a lot of intelligence, knowledge, and he brings an outside business perspective to it, which is very, very rare. He's fully vested in the organization and the community. He understands all about the fans and how much this team means to them. He's disciplined. It's very, very noticeable in meeting with him and talking with him. He sticks to his plan. He stays disciplined. Teams get in trouble in this league when they sway from their plan and sway from what is their discipline. I know Pat (Bowlen) feels very, very confident that John will not do that. We're lucky to have him here."
In another AFC West note:
Quarterback coach Steve Clarkson is working with Oakland backup quarterback
Terrelle Pryor
in addition to
Tim Tebow
.
Clarkson told the San Francisco Chronicle
that he thinks Pryor can develop into a quality NFL player.
April, 6, 2012
4/06/12
12:00
PM ET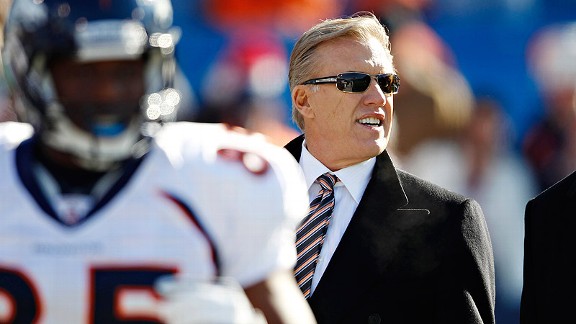 AP Photo/Derek GeeJohn Elway is bringing the competitiveness he exhibited as a player to the Broncos' front office.
It was midday on the Saturday of the NFL combine in February. The cavernous media room was bustling with activity when a trendy, middle-aged man walked briskly through.
Wearing designer jeans, a leather jacket and looking like he just walked out of a Beverly Hills hair salon,
John Elway
smiled winningly, shaking hands and offering quick quips as he breezed through.
In the often stodgy world of the NFL, Elway was working the combine his own way. NFL front-office leaders are usually not the leather-jacket-and-$100-dollar-haircut types. Neither are they Super Bowl winning, Hall of Fame quarterbacks.
"John is a very confident, calm, poised executive," Denver president Joe Ellis said. "There's no question, he is a qualified leader who is the right man for this franchise."
Back-to-back Super Bowl wins capped Elway's 16-year playing career with the Broncos. Now 15 months into his newest role, he is showing he has the chance to be successful in his second life in Denver. Since he became the team's primary decision maker in January 2011, the Broncos have begun the process of becoming a front-line franchise -- as they were for much of Elway's tenure as a player.
He took over a team that had gone 4-12 in 2010 and had lost 22 of its past 28 games. Elway spearheaded an effort that turned the Broncos into a surprise AFC West champion that upset Pittsburgh in the first round of the AFC playoffs -- the Broncos' first postseason win in six years.
Elway made the right choice in hiring John Fox and made the right call last April when the Broncos drafted linebacker
Von Miller
with the No. 2 pick. Miller notched 11.5 sacks and 64 tackles in his first campaign and was named the NFL Defensive of Rookie of the Year. The quarterback known for late-game brilliance engineered his greatest scoring drive as an executive last month when he won the
Peyton Manning
sweepstakes.
[+] Enlarge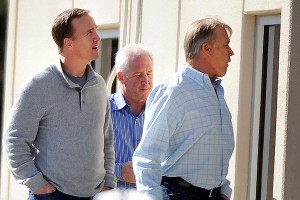 AP Photo/The Denver Post/John LeybaJohn Elway has likened signing free agent Peyton Manning to winning the Super Bowl.
When his kindred spirit picked up the phone on the morning of March 19 and told Elway that he had chosen the Broncos, Elway finally got the superstar quarterback he wanted. That let him end the
Tim Tebow
experiment. Tebow never fit what Elway wanted in his quarterback. Manning did.
Elway received much credit, inside and outside the organization, for outlasting Tennessee and San Francisco. Manning said at his introductory news conference in Denver that Elway played a major role in his decision to sign with the Broncos.
"Certainly, I have had a relationship with John and it goes back a long way, but I've seen John now in a different role," Manning said. "I've always seen him as a quarterback, never had to play against him, but that's always the role I saw him as. Now I've seen him as a leader of a franchise and I really like what he had to say. Everyone knows what kind of competitor he is as a player, and I can tell he is just as competitive in this new role. That got me excited, I know he's going to do everything he can do to help this franchise win."
Although the decision to move away from wildly popular Tebow could have been controversial, the decision to pursue Manning was considered a no-brainier around the league. Trading Tebow after a playoff win was a bold move by a decision maker bent on making a call he believed was in the best interest of his team -- the court of public opinion be damned.
Elway talked about the thrill he felt when he signed Manning
in a video interview with ESPN's Adam Schefter
. Elway likened it to the joy of winning a Super Bowl as a player. Those comments jibe with what some friends have said about Elway in the past year. They said this new role has filled a void in his life and given him a chance to compete, something he dearly missed. When he was hired in Denver last year, Elway joked that he had played enough golf in his retired life.
At the combine, Elway said his role as an executive has reignited his competitive juices.
"To go to Mile High on Sunday and to get butterflies, that's why I came back," Elway said.
After his retirement as a player, Elway, 51, was involved in several businesses and ran the Denver franchise of the Arena League with Broncos owner Pat Bowlen, whom he remained close to after his playing days ended. Elway often talked about joining the Broncos in a front-office role, but he wasn't around the team much. However, near the end of the disastrous 23-month Josh McDaniels era, the Broncos believed the time was right to hand the franchise's keys to their greatest and most beloved player.
The combination of Elway's experience as a Hall of Fame player, his Stanford education, his Arena League and business success -- and the fact that his late father, Jack, was a well respected Denver personnel man -- all made him an attractive leader. Still, everyone heard the whispers that Elway could be another in a long line of playing-field legends turned coaching or personnel failures.
"I think people underestimated how hungry John was and his love for the Broncos," Ellis said. "He's been waiting to do this. He brings a deep skill set, including a willingness to roll up his sleeves and work hard. … He has a terrific, deep base of football knowledge and he commands strong business skills. He is perfect for the big picture of our organization."
Elway has been praised by people inside the organization for not having any ego and for his willingness to learn on the job. "He knows what he doesn't know," one team employee said. Agents around the league have been impressed with Elway's professionalism and knowledge of players and contract situations. They have found him easy to deal with.
His first move may have been his most important. Elway and Fox have meshed beautifully, insiders say, and they have similar personalities and approaches.
"There's no question, we needed a culture change, and together, John and John Fox have created it," Ellis said. "We are very confident and happy about where we are with John as our leader."
April, 28, 2011
4/28/11
1:05
PM ET
Veteran safety
Brian Dawkins
led
a group
of 10
Denver Broncos
players in a meeting with team president Joe Ellis.
The players wanted to see if they could begin to work out at the facility. Ellis told them that, for now, they will not be allowed to work out there. Ellis did say the team may have an update for the players later in the day.
A team spokesman said the meeting was "pleasant."
The lockout situation is a fluid one, and there are a lot of moving parts. But it is clear players want to get back to work.
March, 13, 2011
3/13/11
2:10
PM ET
I know you would much rather read about signings and trades. Believe me, I'd much rather write about actual football-related business.
However, all we have is the lockout and we have to pay attention to it. Let's take a look at lockout-inspired news from each AFC West team, beginning with an interesting offer by the Broncos:
Denver

Broncos' CEO Joe Ellis said the team doesn't have a problem showing the players their own books. That has been a sticking point in the labor talks.
"If the league decides they want to open up the books of the Denver Broncos to present them to the union -- I don't know if the league is into identifying individual clubs because they're private businesses,"
Ellis told the Denver Post.
"But with a neutral [auditor] to verify the fact that certain teams haven't been operating as effectively as they did in the past, we're a willing and able participant.'"
That's nice to hear, but unless the league decides to open every team's books, nothing will happen.
Kansas City

Chiefs' owner Clerk Hunt is not losing his composure over the lockout. He said it is "part of the process."
"I really view it right now as just part of the process and hopefully the litigation process will lead both sides back to the bargaining table in the near future,"
Hunt told the Kansas City Star.
"It's a bump in the road, but hopefully one we can overcome."
I commend Hunt for his approach to this situation. It is not panic time. There is still time to get a deal done and save everything that goes along with an NFL season.
Oakland

The Raiders are taking
this lockout thing seriously.
Soon after the lockout began, they took down player images from their website. I can't blame the Raiders. They can do whatever they want.
San Diego

Chargers' center
Nick Hardwick
, who was the team's union representative, is taking a similar approach to Hunt. He is not panicking.
"In general, I'm optimistic,"
Hardwick told the San Diego Union Tribune.
"I'm going to stay that way. I'm going to control what I can control. I hope all my teammates have that same approach."
January, 5, 2011
1/05/11
9:00
PM ET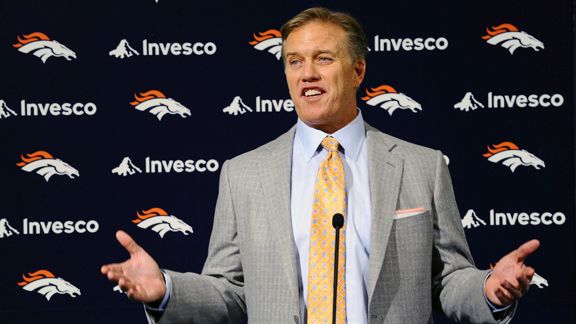 Ron Chenoy/US PresswireJohn Elway made it clear that the next coach will have to believe in Tim Tebow.
The Duke is back in charge in Denver.
In his introductory news conference to announce that he is the new front-office leader of the team, legendary
Denver Broncos
quarterback
John Elway
took command.
He made it clear that it will be his job to regain the fan base's trust that was lost during the Josh McDaniels debacle. Elway spoke on what he is looking for in a coach (he is going to call Stanford coach
Jim Harbaugh
) and he made it clear that any coach who doesn't believe in
Tim Tebow
, probably isn't the man for the job. McDaniels may have been the person responsible for bringing Tebow to Denver, but the quarterback has won over the rest of the organization, including Elway.
Here are some highlights from Elway's conference, with quotes provided by the Broncos' public relations department:
On whether he has maintained discussions with Harbaugh since the Orange Bowl
"I have not, not yet. We are going to put a call into him and see where he is falling and hopefully we get that done today or tomorrow and find out exactly where he is. Obviously, he just got back from the Orange Bowl. I think they got back yesterday and he had some different things that he had to do, so we do have a call into him (and) hope to hear back and see what direction he is going to go ... I did see Jim down there (at the Orange bowl). I did mention to him that I understood everything that was going on and did not want to take a lot of his time with the game that he had to play and the everything that he had to do. But, I did mention to him that if he decided that he wanted to jump to the NFL and wanted to go in the NFL direction that the Denver Broncos would be interested."
My take:
Elway is no on the record about wanting Harbaugh. Let's see if the Broncos can get him. The
San Francisco 49ers
have a head start -- they are meeting with Harbaugh on Wednesday.
January, 5, 2011
1/05/11
12:55
PM ET
The worst-kept secret in Colorado was officially revealed Wednesday when the
Denver Broncos
introduced legendary quarterback John Elway as the team's new executive vice president of football operations.
"John Elway's leadership, competitiveness and passion for the Denver Broncos will position this team for long-term success through his work leading our football operations," Denver owner Pat Bowlen said in a release by the team. "John has won championships as both a player and executive, and his experience will be a valuable addition to this franchise. He is the perfect fit for this role, and I am excited to welcome him back to the Denver Broncos."
Chief operating officer Joe Ellis was promoted to president and general manager Brian Xanders will remain.
But the new direction of the Broncos will revolve around Elway, as expected. This is directly from the team's release: Elway will have final authority over the Broncos' football operations and lead the club's head-coaching search. He will report directly to Bowlen and Ellis on all matters involving football operations.
The importance of Elway's solution has been known for weeks. Now it's time for him to officially go to work. Elway has to prove Denver made the right decision by entrusting him instead of an established executive to lead the team.
This is more than a ceremonial position. Elway is going from legendary quarterback to the man in charge of restoring the team's glory by wearing a business suit. We've seen numerous legends try this in the past in several sports and they haven't always been successful.
Elway has his work cut out for him, and the Broncos hope his nearly unmatched success as a player and his small-scale success as the leader of the Colorado Arena Football League team will result with the turnaround of the Broncos.
Elway's first duty is to find the right coach for Denver after the Josh McDaniels disaster. His early targets are Stanford coach Jim Harbaugh and Atlanta offensive coordinator Mike Mularkey.
Whoever he picks, Elway has to lead the Broncos to the end zone. At 4-12 and with several personnel issues, this is the front-office equivalent of the "The Drive" against Cleveland for Elway.
December, 11, 2010
12/11/10
10:00
AM ET
There will be a lot of names floated in connection to the
Denver Broncos
' head-coaching vacancy.
Here's one name to file away for next month: Mike Nolan.
It makes perfect sense that Nolan is somebody Denver considers. Ownership is familiar with Nolan as he had two previous stints with the Broncos, including last season when he was the team's defensive coordinator. He also brings head-coaching experience, after three season as head coach of the San Francisco 49ers.
While he and Josh McDaniels parted ways after one season because they decided they couldn't work well together, Nolan got along with other key factions of the team. Most importantly, the Broncos' defense was successful under Nolan. It has crashed badly ever since Nolan left to become Miami's defensive coordinator.
Denver has had five defensive coordinators in the past five seasons. It will likely have a sixth defensive coordinator next season. Bringing back Nolan would give the unit much-needed stability, something that the Broncos badly crave since McDaniels lasted only 23 months.
Another factor would be that owner Pat Bowlen can hire Nolan without breaking the bank. Bowlen still has to pay Mike Shanahan and McDaniels next season.
Denver COO Joe Ellis said earlier this week the new coach likely won't have the personnel power Shanahan and McDaniels had. I don't think that would be a stumbling block for Nolan, who would likely cherish the chance for another head-coaching opportunity.
I'm not saying Nolan will end up being the choice, or that he is the perfect choice, but his candidacy in Denver makes sense for a lot of reasons.
December, 7, 2010
12/07/10
1:00
AM ET
Random thoughts on Josh McDaniels' firing in Denver on Monday:
Expect to hear a lot of rumors in the next several weeks about replacements. Remember, nothing will likely happen until January.
The Broncos are already denying a local radio report that they are negotiating with Air Force coach Troy Calhoun. He may be a candidate down the road, but the Broncos haven't started the process yet. Like they did during the search two years ago, the Broncos have promised to be up front with the media during their search and won't hide interviews. Kudos for that.
Expect the
John Elway
talk to heat up. Elway has said he'd like to become a part owner and he would be open to a front-office job. Perhaps Denver will consider the legendary quarterback down the road.
The Broncos need help in the personnel department. It might not be a bad idea if they hire a general manager and give him power of all personnel decisions, including the hiring of the next coach. The Chiefs went that route when they hired Scott Pioli two years ago and it's worked out pretty well thus far. Denver is a team that needs a complete overhaul, starting with the direction of the front office.
Denver CEO Joe Ellis and interim coach Eric Studesville will meet with media on Tuesday. It'll be interesting to hear what direction the Broncos will go in. Before he was fired Monday, McDaniels indicated he wasn't interested in making rookie
Tim Tebow
the starting quarterback now that the Broncos are out of the playoff mix at 3-9. I'm sure Studesville will be asked about his thoughts on the subject.
November, 29, 2010
11/29/10
11:00
PM ET
My reaction to the news that Denver owner Pat Bowlen said Josh McDaniels will remain the team's coach in 2011: What else do you expect Bowlen to say?

McDaniels
We know fans in Denver want McDaniels out and many in the media think that should be the case based on his 5-16 record in the past 21 games and the recent videotape scandal that cost the team and McDaniels a combined $100,000 in fines.
But ownership put out signals last month that McDaniels will be back in 2011. A major reason for that is the team still owes money to former coach Mike Shanahan through next season. There is little chance Bowlen is going to pay Shanahan, McDaniels and a new coach in the same year.
Denver CEO Joe Ellis said Saturday that the scandal was not a cause for McDaniels' termination. Still, the fact that Bowlen, who has been keeping a low profile lately, publicly stated his current plans has to be looked at as a strong sign of support for McDaniels.
"Yes he will,"
Bowlen told Fanhouse
when asked if McDaniels will return next season. "I am not interested in making a coaching change."
"I'm very happy with Josh. Josh is doing a good job. I wish he had a few more wins, but we've got five games to go. I've got 27 years in this business. The ball bounces funny and it doesn't always bounce your way. We've had bad breaks, injuries. I've been around football long enough to know this happens and it's a part of the game. We've still got a chance to make the playoffs. People have been in a position like ours and it's been done before.''
The Broncos are 3-8. They are not going to the playoffs. Bowlen, who indicated that some of the staff may not be as safe as McDaniels, is just putting a happy face on this situation. He knows this team is going nowhere this year.
But neither is McDaniels. I know this will make many Denver fans very unhappy. But you had to see this coming. Denver is planning to give McDaniels another chance.
Now, things can always change. Ownerships in Dallas and Minnesota stood behind their head coaches until the day they were fired.
If fans stop going to Denver's remaining home games and the Broncos finish 3-13, the cries for McDaniels' termination will be loud. But as of Nov. 29, Bowlen is sticking to his plan -- McDaniels is staying in Denver.
It's not a shock.
UPDATE:
In a statement released to some media on Monday night,
Bowlen said the season
has been a disappointment and that everything will be evaluated at the end of the season. This was clearly an attempt to calm fans who may be in an uproar over his comments to Fanhouse.
November, 27, 2010
11/27/10
9:10
PM ET
The news that Denver's video director, Steve Scarnecchia,
filmed a San Francisco walkthough practice in London before the 49ers beat Denver on Oct. 31
will stain Denver's reputation for a long time.
But the NFL acted swiftly to allow the team and coach Josh McDaniels to move forward. It's now up to him to straighten out his team, a program that is on the brink of being in disarray in his second season.
The team and McDaniels were fined a combined $100,000 and Scarnecchia was fired. McDaniels was fined because he didn't immediately report the infraction. The league ruled that Scarnecchia acted alone and that McDaniels wasn't part of the plan to film San Francisco's workout.
The league has left the possibility for further discipline if new evidence comes to light. Rest assured, the league will be on alert. This incident shows that Spygate still lives, and I'm sure commissioner Roger Goodell is steaming mad that it does. The league thought it moved on from that form of high-level cheating.
But for now, the matter is closed. Denver will not lose any draft picks. New England was fined $750,000 and lost a first-round pick for its "SpyGate"escapade in 2007. McDaniels was part of New England's staff at the time.
And that's what will linger in Denver. This was not McDaniels' doing, but it came on his watch and it falls on him. People in Denver have started becoming skeptical of McDaniels' abilities because of some of his personnel decisions and for numerous issues with players. He has also lost 15 of his past 20 games and the Broncos are 3-7 heading into Sunday's home game against St. Louis.
For McDaniels to have to meet the media a day before a game about a matter like this puts the entire organization in a poor light. This is a new black eye.
But clearly, the Broncos are still behind McDaniels. Asked Saturday if there was cause for termination, Denver CEO Joe Ellis said this: "It is not, no. The discipline has been handed down appropriately in our mind and in the mind of the owner. We've gone through it with the league, with the coach himself. He's admitted his mistake. He's paying for his mistake. He needs to move on and finish the season. Hopefully we have some success on the field."
McDaniels apparently has a clean slate. He has to do everything he can to keep it as clean as possible or the Broncos will eventually have no choice but look for a new direction in leadership.